Everything you Need to Know for Finishing Math Homework
Table Of Contents
Even though the literature class ended two hours ago, she was still thinking about the last sonnet her professor explained in the lecture. Caroline was lost in her thoughts. Her Math professor noticed it and asked her a query. She neither remembered the formula nor knew the steps to solve it. Feeling ashamed, she apologized to her teacher for losing focus. It was clear to her that day that however hard she may try, Math questions would make her feel phobic and underconfident. But Caroline knew in her heart that for higher studies, she had to get a grip on Math, but she did not know where to start. With so many writing tasks at hand, Caroline was perplexed. She endlessly browsed day and night for "how to do Math homework" over the internet. In this way, she finally discovered a method to get direct assistance from top subject matter experts.
If Maths is not your favorite subject and similar issues like Caroline's has become part of your daily routine, then don't think twice about approaching academicians. However, before contacting them, understand the importance of Math in everyday life and quick solutions to handle immediate problems while finishing your Math homework.
Introduction to Mathematics 
Mathematics is a dynamic subject. Over the last two decades, it has evolved and become a more diverse area of study. Numerous sub-branches have emerged from the main branches of pure and Applied Mathematics. In addition, with every level and degree, the intricacy of the subject gets higher. On top of that, as a student, you also need to manage other domains. Irrespective of the course, you have to divide your attention among multiple areas of study. For instance, when you pursue a degree in applied Mathematics, you will have to study a few subsidiary subjects like computer science, finance, accounting, and so on. You may keep wondering how to do Math homework, but you may not find an immediate solution. So first understand the significance of why Math is important, and then read the suggestions recommended by experts. 
Importance of Maths in Daily Life 
Indeed, whatever you have learned in Mathematics will never be wasted. The knowledge of various fundamental concepts, principles, methods, and Mathematical areas of study can be applied in real-life situations. It is not restricted to examination papers and assignments. For instance, information about several measurements, quantities, volume, and ingredient ratios can be used while cooking some dishes. The relationship between all of them can help you a lot. Not only that, but there are many other domains where Mathematical rules are valid, such as Physics, Data Science, Chemistry Statistics, and so on.
Now that you know the relevance of Mathematics, delve deep into the difficulties with the information mentioned below. After that, you can go through the master tips to know how to do Math homework fast.
Difficulties Faced by Students in Doing Math Homework
Mathematics is an interesting area of study, yet it can be counted as one of the most complex domains. The major difficulties faced by pupils in doing Math homework are as follows:
Personal Preference for the Subject
Pupils can be divided into two types based on their attitudes toward subjects. For instance, the students who enjoy creative activities and express themselves as orators are right-brained, active individuals. They like studying domains like literature, drama, music, sociology, and so on. Their choice is opposite that of the left-brained individuals, who naturally love logical reasoning and critical analysis and who handpick areas of study like Mathematics, data science, and so on. There are a few scientific studies conducted by scientists and educators at top universities that support this argument. Hence, studying Math can be a difficult task for right-brained individuals. They may struggle and may not understand how to get Math homework done fast.
Absence of Mentors
Proper guidance and strong bonding between professor and student are necessary. The relationship between mentor and mentee helps pupils resolve all kinds of queries. It is a kind of support system to perform in the best way. Mathematics requires mastery of step-by-step processes, formulas, and a lot of practice. In the absence of a mentor, students can often become confused and remain stuck in a rut instead of learning fast solutions to resolve a problem. In such a situation, they should search for do my homework facilities and get guidance. 
Poor Time Management 
Time management is crucial at any stage of life. But it is especially important when you are a student, as you need to manage regular classes and writing tasks for many subjects together. In addition, you are required to participate in extracurricular events, volunteer activities, and so on. Furthermore, Mathematics is a subject that necessitates regular time and dedication. Overall, managing all of this together becomes a tedious process and experts understand it. They can help you in meeting deadlines for your homework and avoid procrastination.
Fear of Maths 
It is a common type of anxiety where students experience tension and fear while solving Math problems. They feel nervous and pressured, and the moment they start studying this subject, they turn blank. This is known as Maths Phobia. Even after multiple attempts, pupils in this condition fail to overcome the fear and end up scoring poor marks. In such conditions, it is best to seek Math homework help. 
Low Level of Patience 
Solving Mathematical problems is not easy. It takes a large amount of practice, perseverance, and dedication, as there are several steps and calculations involved in solving each question. Students with low tolerance and a desire for immediate gratification frequently struggle to complete Math homework. They feel frustrated and are unable to develop an interest. In such a situation, they become helpless. 
Lack of Academic References 
Often, students are not able to research and access quality material for reference. In addition, they get bewildered due to multiple suggestions of different channels for references by their professors, peers, and parents. For one topic, they read and refer to so many books, websites, tutors, and so on. They are unable to understand and study because there is too much information. In such conditions, they can take assistance on how to do Math homework fast under experts.
Now that you have a clear idea about the main issues that may become a hindrance while finishing Math homework, go through some key pointers that can help you to tackle them.  
Practical Solutions to Finish Math Homework
This question may have more than 20 possible answers: - How do you do your Math homework? But there are a few tried and tested techniques to tackle Mathematical queries. The following tips are essential hacks that you can execute to know how to do Math homework fast.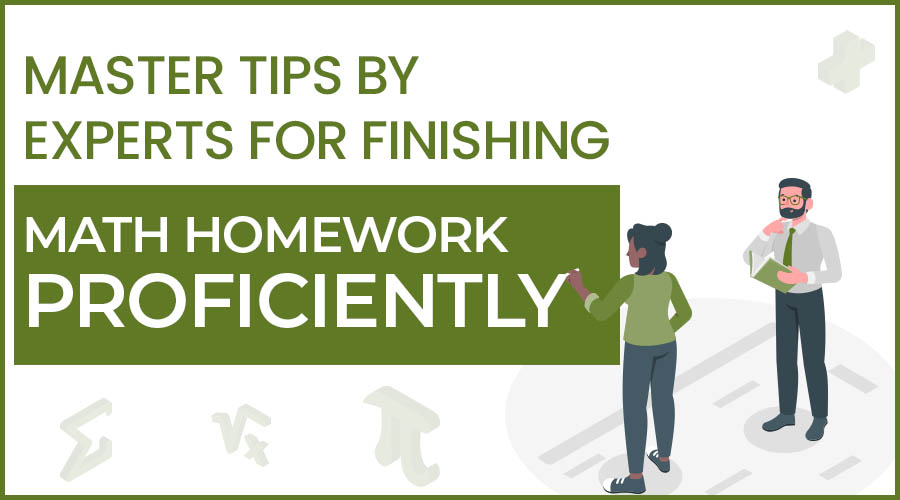 Listing Down of Problem Areas 
In Mathematics, there are several areas of study. The topics are divided between pure and applied Maths. At a higher level, you need to attain mastery in all areas to perform at your best and apply the learned knowledge. You should become skilled at interrelating all the subdomains. For instance, when you are dealing with the question of topology, you need to have clarity about the concepts covered in geometry because the former deals with the qualitative properties of space, and the latter deals with the quantitative properties of space, like distance and curvature. Hence, if you struggle to make a link and comprehend subdomains, make a list of the sub-topics. With this step, you will gain clarity over what areas you need to work on more. 
Join Extra Tutorial Classes 
Often, it is possible that you will not be able to understand the solution to some Mathematical queries from your immediate professor or colleague. You might need additional tutoring to develop a thorough knowledge and comprehend Mathematical problems. In such conditions, you should take extra tutoring from tutors. Different approaches to describing and explaining topics may help you better understand some topics. You can pursue the course both online and offline. You should be aware that along with Math, you can also get Programming homework help from experts with just a click. 
Organization of Important Information 
Mathematics is a wide area of study. The more you delve into it and the higher the degree you are studying for, the complexity keeps increasing at every step. It is not pragmatically possible that you can memorize all the information at once. So do not be ashamed to note down crucial data in one place. You can make an excel sheet where you note down all the formulas, names of theorems, symbols, and equations that are used multiple times in one place. Draft it by yourself. Use different colors to highlight the category. It will help you to remember all of them, and gradually you will realize that you can memorize the whole sheet and use it for your reference. With a lot of practice, you can do it all in your head. 
Take Abacus Course 
Mathematics is a subject that demands concentration. On top of that, you need refined critical thinking and analytical skills to resolve a problem. In addition, you also need to increase the speed of your calculations. For development and creating a balance of all of them together, you can join the abacus course. This course will give you an edge over others by increasing the speed of your calculations, give clarity of numbers, provide fluency in dealing with numbers and provide aid in the development of interest and passion in arithmetic for many youngsters. After all, the majority of students favor the topics they excel in. It will further enhance your confidence and give you strength while solving Maths questions. And you may not know that you might end up developing an interest in the area of study you are struggling with now and then. 
Create a Distraction-Free Environment 
In today's world, the majority of academic problems can be solved by looking at the working environment. It has become full of distractions and filled with unnecessary activities. The plethora of gadgets and their misuse have increased time-wasting activities. Altogether, this situation has resulted in chaos. It has led to a decrease in attention span among the majority of individuals. Hence one of the best tips experts give when they are asked how to do Math homework is related to the creation of silent surroundings. Create a soothing and calm environment, and make your physical area neat and clean. Then collect all the essential academic material in one place and begin finishing the document. 
Now that you know how to get your homework done quickly with the suggested methods, try to adopt these suggestions. But if, in any given condition, you feel unsure and require assistance or you are going blank over a constant thought - how to do Math homework. Then get homework help right away. 
Professional Assistance For Math Homework
These were some methods for completing Math homework quickly. If you feel there is scope for improvement in your write-up or you need guidance from a professional, then approach an expert. They can finish the document from scratch. Stop asking yourself and your peers, "how to do Math homework." Do not get bothered with this question now and then; take help now. 
Lowest price
USD 7.13
Get A+ Within Your Budget!
24/7 Customer Support
100% Customer Satisfaction
No Privacy Infringement
Quick Services
Subject Experts
Innovative Documents
FREE Tools
To Make Your Work Original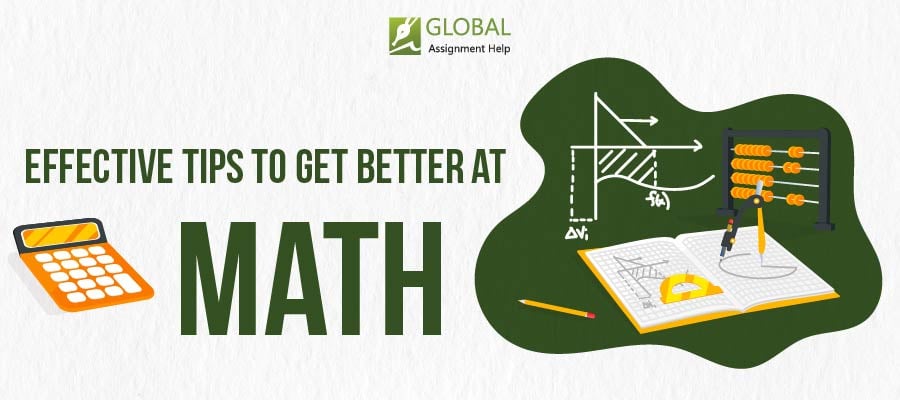 How to Get Better at Math to Improve your Academic Grades?
07-08-2023
220
12 minutes