Top 15 Funny Excuses to Skip Homework [Comic Reasons to Make You Laugh]
Table Of Contents
No one can beat the creativity of students when it comes to making funny homework excuses for not completing it. They can tell thousands of hilarious reasons in less than a minute. These can be specific and valid ones to totally random and hilarious ones. Sometimes professors believe these reasons, but other times they can be angry about the same. It is one of the many reasons why a student seeks assistance in various subjects. Getting chemistry homework help from experts is something that happens frequently. So, let us look at some of the craziest excuses one can make for not completing their homework. 
Funny Excuses for Skipping Homework
So let us begin with the most hilarious excuses a student can make when he is unable to complete their task:
Cliche Excuses for Homework
My Grandmother Died "Again"
It is the oldest excuse in history. Most students forget that he has used this before, but the professor remembers. Therefore, some pupils seem to have 5-6 grandmothers as they have often used these excuses.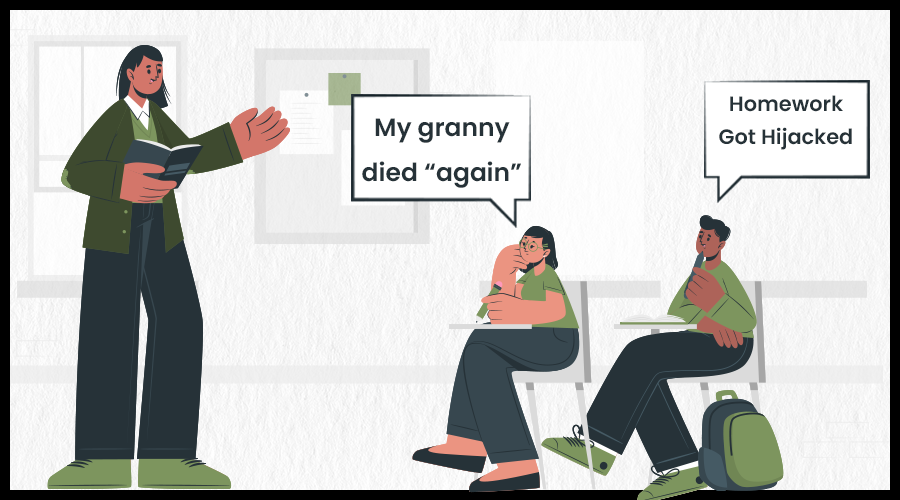 The Internet Broke
It is another most commonly believable homework excuse, but sometimes it is over-used by students. It creates trouble when something like it happens in reality. 
Mom Forget It
Sometimes students do not do their tasks and blame their mothers for not keeping them while arranging their school bags. This reason can turn upside down when the professor blames them for not taking responsibility.
My Sibling Ripped It
It is one of the good excuses for not doing homework. Students blame their siblings for tearing up their work after some stupid fight. 
No Motivation to Do It
It is the master of all the excuses that a student can make. The reason starts as "I do not find enough motivation to start doing the homework, so leave it on seen. 
My Dog Ate It
Other excuses for homework include blaming the dog for eating the document. Sometimes students do not even have a dog but make an excuse for skipping the work.
Let us move ahead and look at some hilarious excuses given by students:
Funny Homework Excuses
Here are some of the excuses a pupil makes when skipping a homework:
Police Seized It as an Evidence
Many times, students take the homework excuses game to the next level. For this reason, they make the professor wonder if the document is so bad that the police have to confiscate it. 
Aliens Abducted It
The pupil gives a reason that when they were working, a shadow appeared out of nowhere and was an alien. It looked for a moment and took their homework as proof of human writing. 
Sent It Through the Post
Some students have the best funny homework excuses that include, they have sent it through the post. They ask the professor to wait for a while to receive the courier. 
Ran Out of Toilet Paper
It is one of the good excuses for not doing homework for students. They tell a story of using their work as toilet paper as they ran out of it. 
Forgot That It Was There
Sometimes a student, makes an excuse that they do not even remember they were assigned homework. How can they do something that they do not even remember? 
It Flew Away
At times students face trouble in doing work and seek physics homework help. Before taking guidance, they always give some reason for skipping it. One such reason is that the homework flew away with the wind and they are unable to catch it. 
Will Do It Tomorrow
Hold your horses it is not an excuse. The funny excuses for not doing homework a scholar give is that tomorrow, "I will be wiser and older to complete it". 
Lessen Teacher's Burden
As a teacher have a lot to do, so I did not want to add any more by completing my work. It is a reason given for not completing the work by a student.
Homework Is in My Head
Hilarious excuses for homework given by a pupil is that they have done the work and all of it is in their mind. But they get stuck when the professor asks them some questions from it. 
Never Asked to Submit It
The most funny homework excuse a student has ever made is that the professor never asked them to hand it in. In addition, they say that they have finished it but, as you never asked to submit it so, they did not carry it to the class. 
Astrologer Asked to Skip It
Another funny excuse for not doing homework is astrologer asked me to skip it. A student made an excuse that his astrologer told him not to do it, otherwise, he will be in big trouble. 
Not Sharing Thoughts
Students have so many fun reasons for incomplete homework. One such funny homework excuse is "I do not want to give away my idea, or I won't give this brilliant idea to anyone just like that".
Alexa Did Not Respond
Another reason for not doing the work is that Alexa did not respond so, they are unable to work. Other than this, Alexa gave the wrong answers to the questions in the task.
Worried About the Originality of the Document?
Use the plagiarism checker tool available for free at Global Assignment Help to ensure the originality of your document.
Check Now!
Excuses for Strict Professors
Some professors are very strict so a student cannot make some funny excuses. So here are some reasons that can work in this situation:
I Was Sick
One effective or good excuses for not doing homework can be to give a sick note to the professor. This reason can be provided to your strict professor for not finishing the work.
Mother/Father Was in The Hospital
It is an authentic reason pupils can give when unable to complete the assigned task. If your parents are hospitalized, there are chances that your professor will give an exception. 
I Was Absent
It is one of the good excuses for not doing homework that can be excepted. The professor will give you an extension for not completing it. What can you do when you were not there when it was assigned? 
It Supposed to Be in the Bag
It is a genuine reason that your professor can believe. Students say that they thought it was in their bag only, but they might have forgotten it at home and did not know.
These were the funny homework excuses students make after skipping the tasks and therefore look for someone to do their work. Read further to know who can help: 
Can Someone Do My Homework?
Many a time, students have a question who will do my homework? So, if you are dedicated enough and want to seek the guidance you will find someone to help. There are various sources or websites that will assist you. But while selecting a particular service provider, you must be very careful. Although numerous websites are present to guide, not everyone can be trusted when it comes to seeking homework help.
This generation is lucky to have this help available online. It was not the case in the past. Those students have to take help from their professors only. Therefore this was the reason they look for such hilarious excuses. When a student neglects the pros and cons of homework or the importance of completing an assigned task, they make excuses.
Sometimes these excuses saved them, but when the professor learns that these are not to be trusted, students got into trouble. But, no worries, you are lucky to have these online service providers available at your doorstep. There are several service providers in the market that can do your homework, but one of the best is mentioned below: 
Why Global Assignment Help Is Best?
Students do not always want to make such funny homework excuses but sometimes they are forced to do so. It happens when they are facing trouble completing homework but do not have the resources, knowledge, and more to do. It encourages them to give a reason for skipping the assigned tasks. Sometimes these reasons can be valid as well that includes,not getting time to do it as they were busy in sports practice. In addition, sometimes they are sick or someone actually passed away or more. 
Hence the experts of Global Assignment Help are there at your rescue. They can save you from a situation that makes you give such excuses. These professionals have given their life to the students unable to complete their tasks. They have a team of qualified experts that are specialized in their respective fields of knowledge. Mentioned below is the list of benefits these experts will serve you:
They will help you avoid making such excuses.
They provide physics homework help at any hour of the day.
They are experienced and provide quality documents.
They will deliver your tasks on time to meet deadlines.
They ensure that you get good grades.
They will make sure you get original and plagiarism-free content always. 
They give you the option of resolving your queries at odd times as well. 
They will make sure you get a well-researched document every time.
They will make you focus on other things by helping you. 
They provide programming homework help at affordable prices.
Still Two-Minded?
There are numerous benefits that experts of Global Assignment Help will serve you. Choosing them will be your best decision.
Hire Now!
Final Thoughts
Hopefully, these excuses will save you from scoldings of your teacher or making a call to your parents. Other than this, if you will not complete your homework, they have a right to detention. To be safe from such a situation, this blog will help you. The reason behind students making such excuses is that they do not know how to stop procrastination. For this they need to consider the benefits homework holds.
Lowest price
USD 7.13
Get A+ Within Your Budget!
24/7 Customer Support
100% Customer Satisfaction
No Privacy Infringement
Quick Services
Subject Experts
Innovative Documents
FREE Tools
To Make Your Work Original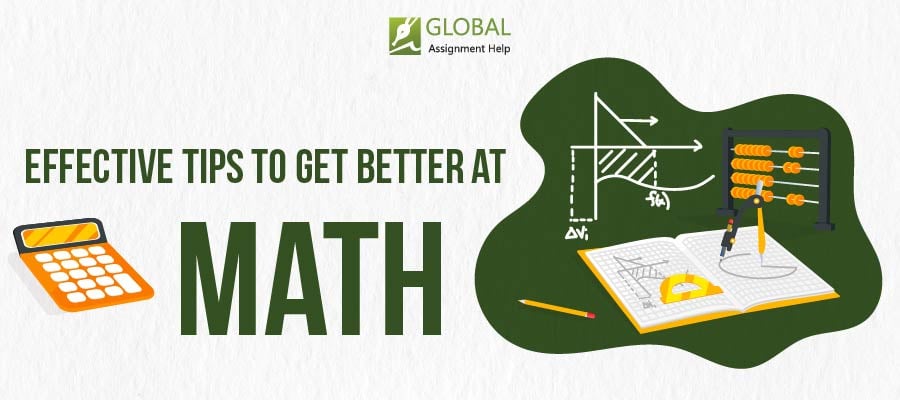 How to Get Better at Math to Improve your Academic Grades?
07-08-2023
220
12 minutes