How Can Parents Help Their Dyslexic Child in Writing
Every third person in the UK deals with dyslexia. This condition becomes extremely challenging for young minds. It is because this neurodevelopmental disorder brings many issues to learning in schools. Dyslexic students cannot write lengthy write-ups, unlike an average scholar. Seeing their children dealing with such problems, parents often look for assignment help and seek support from an expert. But what if we say that you can assist your students at home? Well! If you are wondering how? So, keep reading this blog as we will be unfolding your curiosity.
What Is Dyslexia?
The first step to helping your child is learning about the condition in detail. It's because it could be that the student is facing another learning disorder which is not dyslexia. Therefore, have a thorough knowledge of the situation and only then implement any treatment approach.
So let us unfold the question: What is dyslexia? It is a disability associated with some parts of the brain that hampers the pupil's learning, reading, and writing skills. It is not that these students cannot read at all they can but at a very slow pace. Moreover, there is no direct method to outgrow dyslexia. Yet, many people develop their language skills using various techniques and strategies.
Some people think that dyslexia is a problem that affects intelligence. Well, the truth is that this condition only affects speech, drafting, comprehension, and reading abilities. It is seen that these scholars are creative and have great ideas for an assignment.
After learning what dyslexia is, let us move ahead and take a peek at its symptoms in writing for a clear overview.
Common Signs That Can be Observed in a Dyslexic Child
If you are wondering what the symptoms of dyslexia are, read the pointers given below by experts.
Challenges in Reading
One of the prime symptoms of dyslexia is that students struggle with reading. You will find them constantly fumbling or struggling to pronounce simple words. It is because they face issues while identifying the speech sounds of words and letters. Thus, if you find any student struggling to decode sentences and phrases, there are high chances they are dyslexic students.
Short Working Memory
Another symptom is verbal and non-verbal short-term memory, which is associated with almost every dyslexic student. Due to this condition, it can be difficult for students to remember what is taught in lectures. They can forget anything as simple as a conversation or as vital as an upcoming deadline or task. STM will make Students struggle to remember the serial order of things.
Confusion in Words
As discussed earlier, dyslexic students find it tough to identify and differentiate between words. For instance, such pupils will read "bat" and "tab" or "pot" and "top" as the same. It is because their brain faces challenges in remembering the serial order of things. Apart from this, they also have issues recognising the alphabet. They will often mix up letters that include mirror images or look similar, like b and d or p and q.
Slow Processing Speed
Another sign that can be seen in dyslexic students is their slow processing speed. In simple terms, it means that it takes them a longer time to comprehend things than an average student. Moreover, if you say several things or instructions at once, these young minds will not understand anything. It also affects their decision-making power on simple things such as what to eat for dinner.
Poor Instruction Complying:
These students struggle a lot with interpreting rules and regulations. Most of them cannot understand what is said to them. It is because they cannot identify the speech sound of the words. Along with word comprehension, their short-term memory span makes it impossible to follow instructions. You will find them very nervous whenever they need to comply with a simple order such as "Go left".
Understand the above symptoms in detail, and if you observe them in your student, then there is a possibility they have a learning disorder. So, now you must be wondering how to help them. The next section of the blog will answer this query in detail.
What Can Parents Do If Their Child Has a Learning Disorder?
Every parent wants their children to be perfect. Thus, when they find that their child is dyslexic, they panic and end up demotivating the student. Read the below pointers and learn how to tackle the situation if your child has a learning disorder.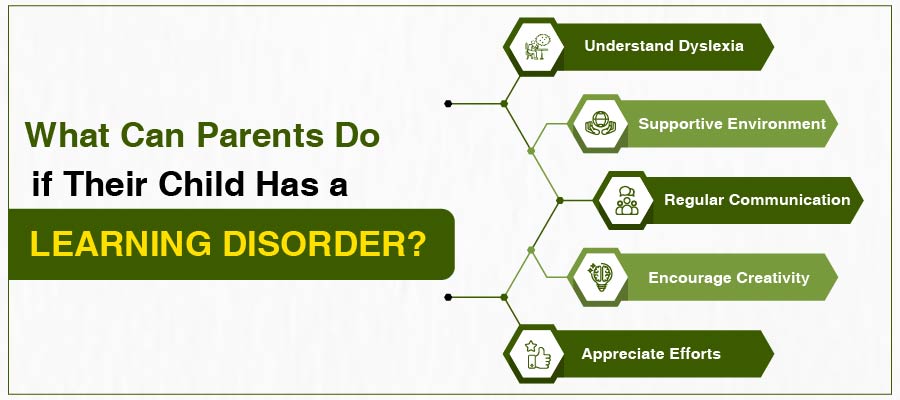 Understand Dyslexia
The first step you need to take is to understand the condition the student is dealing with. So, learn about dyslexia, its types, causes, and symptoms. After this, make sure to explain it to the student. So, do not make them think it is a serious and incurable condition. Always use positive reinforcement and explain things in simple terms that are easy for them to comprehend.
Supportive Environment
One of the biggest mistakes parents make is burdening their students. When these guardians find out that their child is dyslexic, they build a hectic schedule to fix it. Instead, always Create a supportive environment for the kids and never demotivate them. You should make them feel truly loved and offer homework help, even with easy tasks. So, support them and let them invest ample time in doing things.
Regular Communication
Dyslexic students have poor language skills. So, one of the easiest ways to improve these abilities is through communication. Talk to the student, but make sure to do things their way. It means speaking slowly, using simple words, and keeping the sentences short. Communicate one statement or instruction at a time, and do not hesitate to repeat things over and over again. Be patient and create a positive environment.
Encourage Creativity
Many studies have shown that dyslexic students are remarkably creative and have great ideas. So, as a parent, never hamper their innovation; instead, encourage it. For instance, if the student loves drawing, do not stop this habit just to invest more time in reading. Promote their hobbies and talents, and listen to their creative ideas. All this will help boost their confidence and learning skills.
Appreciate Efforts
Every student seeks appreciation from their mentors, whether they are parents, elder siblings, or teachers. Thus, when you see the child putting effort into learning, appreciate them. It can be anything as small as learning a new word or as complex as following a set of instructions. You should praise their slightest steps now and then so that they feel motivated to take another challenge.
So, if a student is suffering from a learning disorder such as dyslexia, encourage them and create a positive environment. Moving further, we have some techniques listed below, it will help students develop their assignment writing skills at home.
How To Help a Child With Dyslexia at Home
Below are 5 techniques you can adopt to help a dyslexic student at home. So read carefully and keep taking notes!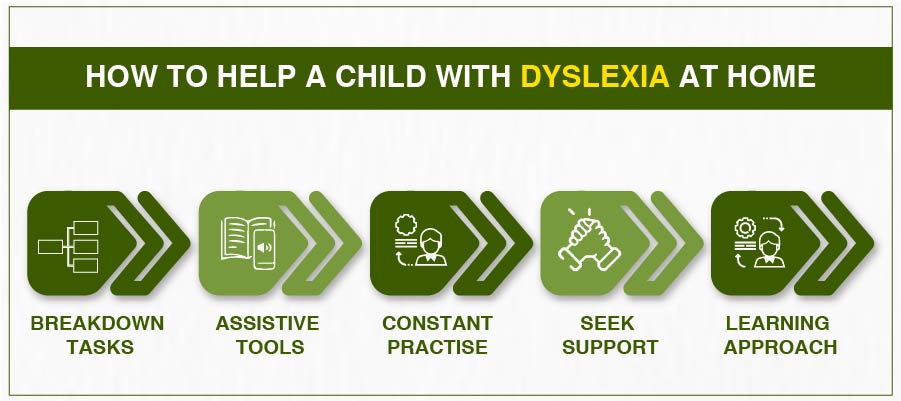 Breakdown Tasks
As discussed above, a dyslexic student faces challenges in remembering long instructions and performing lengthy work. Thus, the first step is to break down tasks into smaller steps. For instance, if they have an assignment to write, divide the work into drafting the introduction, body, and conclusion. Let them plan the task, offer essay help and complete one section at a time. After this, take a break before moving further.
Assistive Tools
Technology has been a great help for many dyslexics. Thus, introduce the students to gadgets, provide assistive tools, and make the assignment writing hassle-free. Using instruments like audio recorders will improve their speech and sound recognition skills.
Apart from this, start implementing the text-to-audio tools, as these will boost their writing and speaking skills.
Constant Practise 
Due to the effects of short-term memory span, dyslexic students tend to forget things that are taught. Thus, they require regular practice and patience. So, always prepare them for revision. You can also design simple tests to evaluate their progress but do not panic if there are low results. It can take a lot of time for dyslexic students to learn things, so teach them repeatedly.
Seek Support
Parents should never hesitate to seek help from other experts, especially teachers. It is because students invest a lot of time in colleges. Building a supportive and positive environment in these educational institutes can lead to rapid development. Thus, collaborate with teachers and ask for their help. By discussing the situation, you can ask them to introduce simple homework and dyslexia-friendly assignment.
Learning Approach
Another thing you can do is adopt a multisensory learning approach to help dyslexic students. This technique states that scholars with disabilities should use more than one sense to learn new things. Thus, make students participate in activities that appeal to their visual, auditory, hearing, and other senses. One example of this is using clay to learn shapes.
Apart from the above techniques, various reading programmes can be helpful for dyslexic students. You can read more about them.
Seek Expert Help!
Are There Reading Programmes for Children with Dyslexia?
Lastly, let us look at the five most effective reading programmes that are indeed helpful for dyslexic children.
Orton Gillingham approach
We all know that there is no cure for dyslexia, but using methods like Orton Gillingham's approach has been extremely helpful. This technique has improved the reading and writing scores of students. The process comprises listening to sounds and repeating them and the names of the letters while drafting. The technique can slow down the assignment but will aid in minimising errors.
Barton Reading and Spelling System
The Barton reading and spelling system is also based on the foundation of Orton Gillingham's approach. It is a multisensory and direct approach to teaching students. The programme has 10 levels, and each of them comprises multiple lessons that help develop skills such as reading, spelling, writing, and sequencing. This approach has been useful for students of all ages.
Lindamood-Bell
The Lindamood-Bell technique is also one of the easiest techniques for students with learning differences. It helps in building dyslexia-friendly assessments for examining the progress of dyslexics. The instructions for this programme solely rely on individual assistance. Thus, this technique will assess the abilities of students, their strengths and weaknesses, and then design an effective method.
Wilson Reading System
This method is highly effective for students in grades 2–12. But it is also helpful for college and university-going scholars. It also comprises a multi-sensory reading and spelling programme that reduces word deficits. The method teaches students syllables, and with consistent practice, you will learn to identify and differentiate between words and letters.
The Alexia-Herman Method
Our last approach is the Alexia-Herman Method, which focuses on sequentially and systematically teaching techniques. It helps improve reading, spelling, handwriting, composition, and organisation skills. Moreover, like others, it comprises a multisensory learning approach and kinaesthetic modalities. Lastly, the method is highly useful for students struggling with academic writing.
So, understand these above reading programmes in detail and accordingly select the one which matches the student's needs and requirements. Moreover, take expert help to implement these techniques systematically.

Conclusion:
Many students in the UK have to deal with dyslexia. We all know that there is no cure for this neurodevelopmental learning disorder. Thus, pupils have to deal with its impacts for a lifetime, and it even affects their skills in assignment writing. Well! Parents and experts can help the dyslexic child at home by implementing the various techniques given in this blog. Set a routine, be consistent, and improve the student's reading, writing, and learning abilities. Lastly, if you think the child is yet struggling to write academic papers then you can seek assignment help from us. Our experts will draft quality projects for you.
Lowest price
INR 594.27
Get A+ Within Your Budget!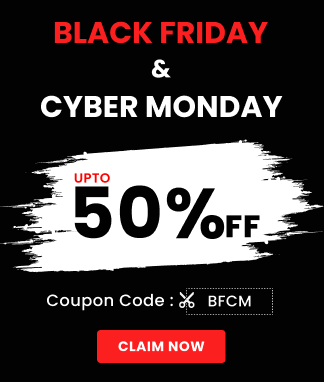 24/7 Customer Support
100% Customer Satisfaction
No Privacy Infringement
Quick Services
Subject Experts
Innovative Documents
FREE Tools
To Make Your Work Original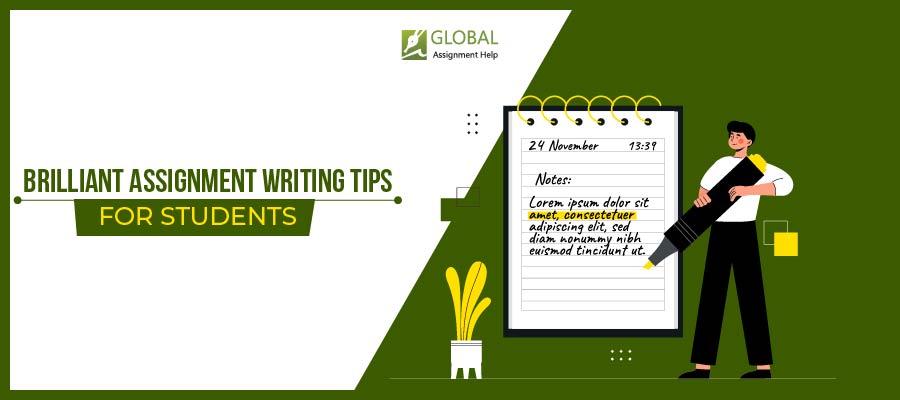 8 Assignment Writing Tips to Aim Great Scores
09-11-2023
255
18 minutes