Scan the Options and Pick the One that Best Suits You
Counterargument
Main Idea
Evidence
Evidence2
Even though

.

Copy to clipboard

While

.

Copy to clipboard

Whereas

.

Copy to clipboard
Want to Leave the Tedious Writing Behind?
Take the expert assistance now for assured results.
Hire Experts
Thesis Statement Generator v/s Experts
Attributes

Tool

Experts

Plagiarism Detection

100% Free

100% Free

Grammar Rectification

Not Done by Experts

Done by Experts

Amendments

No Revisions

Unlimited Revisions

Assured Praise

No Guarantee

100% Guarantee

University Guideline

May or May Not Follow

Will Follow
Expert's assistance is now available for you starting at only $16.05 $13/page
Get Assistance
Spoilt for Choices Here? Make Your Decision Clear!
(Tool or Experts)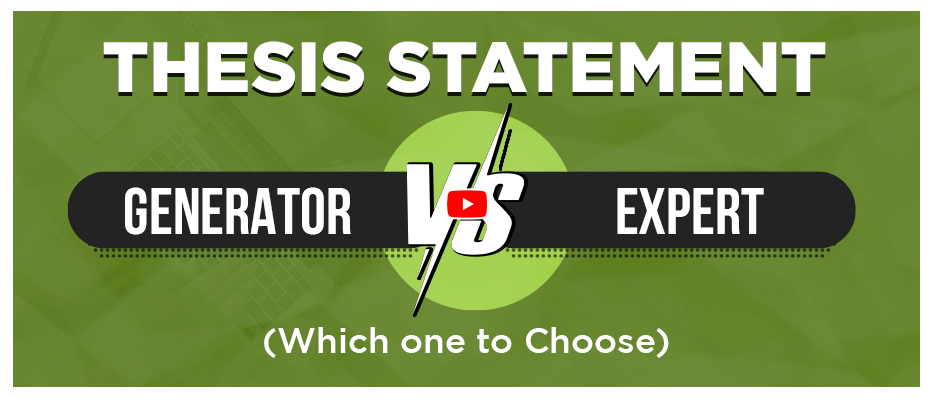 Get a Free Plagiarism Score Before Submitting Your Academic Papers!
Submitting a document without running it through a plagiarism check is the biggest mistake that you can make. Even though you are sure that there was no plagiarism involved in your writing process, there is no harm in being 100% sure. Sometimes a missing reference in your document can lead to allegations of plagiarism. That, in turn, could mean a loss of grades. To avoid it at all costs, hire the experts!
The experts are well versed in university guidelines and writing skills. They frame an exceptional document after reading authentic information from various sources. This ensures that every document is written from scratch and has no traces of plagiarism.
Get Plagiarism Report
Data Copied to Clipboard