Trusted Assignment Help
Buy Assignment Writing Help Online
An Insight into Summary Writing:
Know Everything from the Best Experts
All You Need to Know About Effective Summary Writing
Summary writing is a typical assignment that is assigned to students to teach them how to extract crucial information of the given text and highlight it to explain the main ideas. Professors ask them to write a custom summary for a book, article, short story, movie, and many other pieces of literature. According to our summary assignment writing help experts, the purpose of writing a summary is to report the information from someone else's work in brief without changing its meaning. An impressive summary should be concise, accurate, contain the main points of the author, and not go into specific details like dates, statistics, etc. However, it requires excellent analytical and writing skills to summarize the information given in a novel or a research article, and that's why students need help with it.
Our custom summary writing helpers suggest that a summary should always answer 4Ws. It should highlight WHO is being addressed in the text, WHAT is being discussed, WHERE the text is set, and WHY the author is discussing it. Moreover, it should be written in a way that reflects the main ideas to those who haven't read the original text. While writing a summary, a student should keep in mind to not include his own ideas but paraphrase what the author has said. It is advised not to copy the information and provide direct quotes. Save yourself from the stress of writing a summary by hiring our professional summary writing service providers today!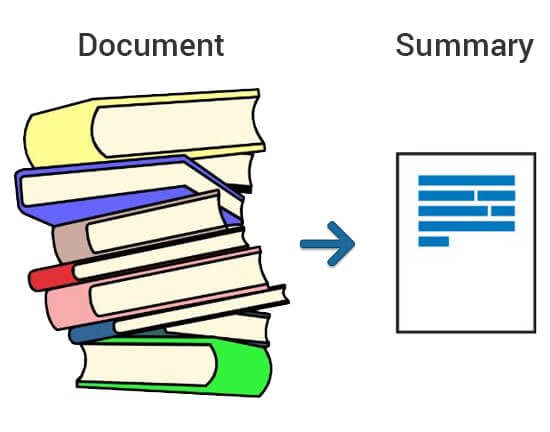 Need Help with Writing a Summary That Meets Professor's Expectations?
The best summary writing helpers are here at your service. They write summaries that clearly restate the author's perspective.
How to Write an Effective Summary? Learn from Our Experienced Summary Writers
Step-by-Step Guide to Writing a Summary That Reflects Original Ideas
As stated by our summary writing help providers, a summary is the condensed version of a piece of information in which you highlight the main ideas. Right from analyzing the text to ensuring everything is up to the mark, a student needs to take care of a lot of things while writing a summary. We provide the best help with summary writing so that students can get the grades of their dreams. The reason our writers are able to achieve perfection in our work is that they follow an organized approach. Take a look at how to write a summary assignment that could score the highest.
1. Read the Original Text

The first step to writing a summary is reading the original text. Analyze the given data to understand the author's opinion. At this stage, don't highlight or mark anything; just focus on what the author is trying to say throughout the text. Our summary writing helpers advise reading the paragraph more than once to get the whole idea.

2. Note the Main Points

Once you have an idea of everything that the author is trying to convey, take note of it. Put down the main points or arguments in your own words while focusing on the supporting details, such as description of characters, twist in plot or surprises in arguments. Don't focus on the points that the author uses to support his opinion.

3. Write the First Draft

After taking note of main points & supporting material, write the first draft of the summary. Our summary writing service providers suggest writing each main point in your own words and not repeating author's ideas. If you do so, then quote it properly. Also, since you are summarizing someone else's work, don't include your own views.

4. Revise the Work

It's now time to revise the first draft and make it final. Go through it meticulously and ensure you have not missed anything. Check whether you have mentioned the summary in the sequence as it happened in the original text and there is a smooth flow of information throughout. Also, make sure that the main idea is not repeated.

5. Eliminate Errors

By this step, you have the final draft, but it may require a few more checks. Look for the grammatical errors, spelling slip-ups, improper punctuation, poor sentence structure, etc. As per our summary writers, its length should be 1/4th of the original text. So, if the given data is 4-page long, then your summary should not exceed one page.

6. Take Feedback

As we said, a summary should be written in a way that it makes everything clear to the person who has no idea of the original text. So, before submitting it, ask your friends or family members to help with summary writing by reading it and giving their feedback. They should be able to understand what happened in the original text.
Order a Summary
Hire Custom Summary Writing Professionals to Get Help with Any Type of Summary
We Cover All Major Types of Summaries
Summarizing complex and big ideas is not that easy, and we understand this well. That's why we have come up with the best summary assignment writing help services so that students can get satisfactory grades. Our writers have been writing summaries, abstracts, annotated bibliographies, and other such documents for the last many years, so they know how to bring perfection to them.
They are proficient in writing all types of summaries that professors ask you to work on. No matter you need book or research summary writing, they will put their all-out efforts to make it A+ grade worthy. Hire them today to get the best summary writing help!
Main Point Summary
A main point summary is like an article abstract that presents the crucial facts of the given text. It is often used when writing academic papers to introduce readers to a source.
Key Point Summary
A key point summary has same features as a main point summary but it also includes evidence & reasons (key points) that the author uses to support the main ideas in his text.
Executive Summary
An executive summary is a one-page summary of a business report. It is generally longer than the normal summary or an academic abstract and provides more detail about the text.
Outline Summary
An outline summary follows the structure of original text that is to be summarized. The main points and arguments are presented in the same order as in the given data.
Our Efforts, Your Success: See What Our Customers Say
25000+ Customers Trust Our Summary Writing Service
Jose Anthony Nottingham, UK

Writing the summary of a large text seems difficult to me. So, I decided to take summary writing help from the experts of this website. The way they summarized the information was just commendable. I am really glad to have taken their services. Would surely recommend it to my classmates!

Thank you so much guys for making it on time. I am sure no other website would have been able to provide me the summary before the deadline as I asked for the last minute help. But you guys kept your promise that too without compromising on the quality.

Ryan Owake Canberra, Australia

I am highly impressed with the great writing style and brilliant knowledge that summary writers of Global Assignment Help have. Plus, they charge reasonable amount for such amazing services. Worth recommending!

I searched for many summary assignment writing service providers, but they all were charging a lot of money. Then I came across Global Assignment Help that was offering such pocket-friendly prices. I instantly placed my order and good-quality summary assignment. Great services!

Ron Smith Kuching, Malaysia

I was surprised to see the summary assignment prepared by your team of professionals. You guys provide the best writing assistance to me, and I'll surely recommend it to my friends. Thank you very much!

Rebecca Johnson Quebec City, Canada

I am feeling very happy that I chose Global Assignment Help to take writing assistance with summary writing. My summary assignment was so good that my professor appreciated me in front of the entire class. Thank you so much!
View All Reviews
Frequently Asked Questions
Get Answers to Your Queries!
Are Your Summary Writers Certified?

Most of the summary writers in our team are PhD certified. They have in-depth knowledge of their respective subject areas and possess years of experience in writing different types of summaries. Every writer works on one order at a time so that he can give complete attention to it. So, don't worry, you will get the best quality work on hiring our writers.

What Are the Different Types of Summaries You Cover?

We cover all types of summaries that professors assign to students. A main point summary, key point summary, outline summary, and an executive summary are the four major types of summaries that we have highlighted in the previous section of this page. No matter you need help with what type of summary writing, just let us know, and we will provide it to you in no time.

Can You Write a Summary of a Book or a Research Article?

Yes, we can write a summary of any piece of information. From novels to films and from research articles to short stories, we have written hundreds of summaries for students. So, if you need a research summary writing or a book summary writing, we will write it for you.

Will the Writer Follow My University Guidelines?

The summary writing helpers in our team always abide by the university guidelines. At the time of placing the order, we ask our customers to share the guidelines and other specifications. The writer assigned to your summary writing task will do the referencing and formatting in specified style and take care of other things as well.

Can I Contact the Writer Working on My Summary?

Yes, you can get in touch with the writer working on your summary via mail. To ensure that the productivity of our writers is not compromised, we don't allow our customers to contact them through call or message. However, if you need to make any urgent request, then you can contact our customer support executives who will convey it to the writer.
How Much Do You Charge for Writing a Summary?

The price of our professional summary writing services vary as per the requirements of students, such as subject, topic, word count, urgency, etc. However, our pricing structure is quite reasonable, so no matter what your requirements are, you will have to pay a pocket-friendly price. To place an order now, click here.

How Soon Can I Expect to Get My Summary?

We always deliver the work on the date specified by you. We have not missed a single deadline so far because our writers always work in an organized way. So, be assured of getting the summary on the date you asked for.

What If I Need to Get Changes Done in the Summary?

After receiving the summary, if you feel the need to get something changed, then let us know. We have unlimited revisions facility, so we will make changes in the summary as many times as you want. The best thing is that you don't have to pay anything for getting your document revised until you are satisfied.

What If I Am Not Satisfied with the Summary After Revisions?

In case you are not satisfied with the summary even after getting changes done, then you can claim for the refund. We have a money-back policy according to which we return the money if the customer is not satisfied with it. We also provide the refund in case the order reaches after the deadline due to some technical error.

Do I Have to Pay Extra If I Need My Summary Fast?

As we mentioned, the pricing structure of our summary writing services depends upon the requirements of students. If you need help with summary writing on a very short notice, then we will charge a little extra from you. This is because it requires our writers to work with more focus and pay extra attention when working under strict deadlines.

You're currently in a different region!
To access content tailored to your location, choose/select service from the below list
Get Help