The worst Typographical Mistakes Spotted in the Assignments
University students have conveyed that most of the times their assignments are rejected because of the errors present in the document. The errors may not be serious, but the ones concerning the students are the typographical errors. So if you want to make your academic documents error-free to gain the topmost grades in your assignment, then you need to be a little bit more conscious.
The professionals of the Global Assignment Help have come up with some tips after reviewing thousands of documents. They convey that most of the students ask for assignment writing help just to avoid the errors and get their assignments accepted. But, these errors can be resolved by following some of the tips mentioned below:
Tracking or Crowding Your Words
If you want your academic document to be short, then make it precise instead of crowding the words which look shabby. Yes, the words and presentation are important but do not forget that your professor will have to read your document for evaluating it. Don't make this a difficult task for him.
Leading or Crowding Your Lines
The space between the lines is known as leading, and it makes your document readable. If you commit the mistake of not giving proper spacing between your lines, then the overall content will look messy. Even if you have included all the points, you might lose grades.
Mismatching Fonts
Your academic document needs to be presentable, and it should not look like an invitation. Use the formal fonts either you are writing the title or the description. Use of too many mismatched fonts makes it look like an informal document.
Overdoing the Emphasis
There will be times when you will realise that you need to emphasise a word. You can do it for sure, but be sure you are not over emphasising rest of the words in the academic document else the document will look messy and no one will ever feel like reading it.
Using All Capitals
Use of capitals in titles is alright, but in case you are doing it in your descriptive part, then you can lose marks. The terms written in all capitals seem like yelling. And, your professor will not at all entertain this.
Alignment
Since the academic document will fetch you marks; you need to take care of the alignments and formatting. The best way to be out of trouble is to check the guidelines specified by your university.
You can read this blog: 8 types of toxic people from whom you need to stay away
Check the Final Document
No matter how hard you try, it is almost impossible to draft a document perfect in one go. After completing your work, review it and you'll find plenty of mistakes or the typographical errors. You can rectify them before submitting your document for final evaluation.
Hope this blog guided you enough about the mistakes that you should avoid to fetch the topmost grades in your assignments.In case you feel that you need help, then connect with our team and share your worries with them. They'll surely come out with the remedies and you will be at peace again.
The academic experts of the Global Assignment Help are qualified exceptionally and are capable of composing a top scoring assignment for you. Place your order now and get some of the exciting discounts and services.
Lowest price
USD 7.13
Get A+ Within Your Budget!
24/7 Customer Support
100% Customer Satisfaction
No Privacy Infringement
Quick Services
Subject Experts
Innovative Documents
FREE Tools
To Make Your Work Original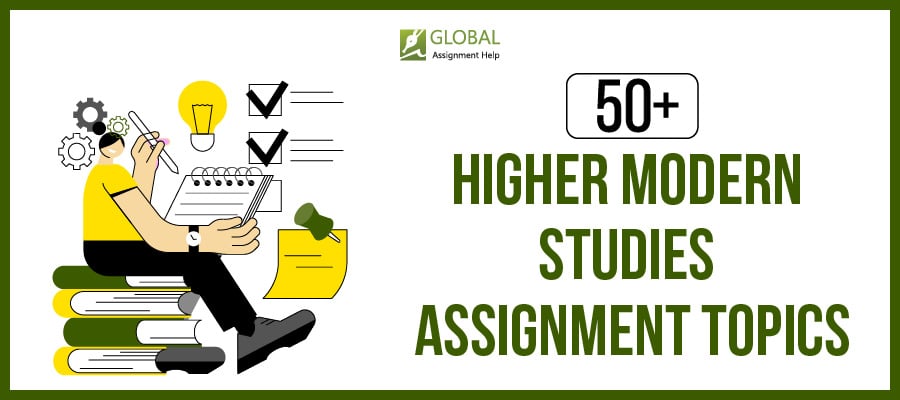 50+ Higher Modern Studies Assignment Topics to Ace Your Paper!
26-09-2023
150
13 minutes