6 Tricks to Study Faster and Better for Final Exams
Exam time is a tough time for students. You have to learn all the facts and memorise the basics. Every teenager has a different style of learning and preferences. The key factor of studying is not only studying for a longer period but also to understand it in a smart way. The assignment writing help providers have come up with six effective tips to help you with studying for the final exams.
Solve previous exam paper
One of the most useful tips for examination is to solve previous question papers. With this, the students can easily understand the pattern of paper. Solving old paper is a perfect way to prepare for final exams.
Group study with classmates
This is the best way to learn faster and efficiently as a group study has some perks. Friends share their knowledge and information with each other. Group discussion can help you to solve many queries and questions related to the subject. It is a quick technique to study for assessment.
Use figures and flow-chart
Visuals are one of the best ways to remember things instantly. Write everything on paper and highlight all the relevant facts. During the examination, writing your thoughts, in brief, can help you to revise everything quickly.
Study different subject every day
Studying more than one subject is quite useful instead of focusing on just one. Teenagers get confused if they study the same topic for hours. Therefore, it's a good habit to assign time for every content on a daily basis.
Avoid multitasking
Students should focus on one thing at a time during the exam period. Multitasking makes people impotent and also divert them from their studies. Therefore, teenagers should not try multitasking like studying, surfing the internet, watching television, etc.
Take proper sleep
Students should sleep properly before the examination. You should take a nap to let your brain absorb more aspects. Sleeping for 7-8 hours every night will help your mind to memorise, so you can recall what you studied in the assessment.
These are the tricks you can use to learn quickly and effectively. It will definitely help teenagers to perform well and score top grades in the examination. Students should do online research for on stream tutorials. As final papers are on their way, you might need some assignment help.
Global Assignment Help is one of the leading online assignment writing service providers in the UK, US, UAE, Canada, Australia, Malaysia, and New Zealand.
The benefits we offer to our clients are:
Plagiarism-free documents
Endless free revisions
Excellent proofreading services
Affordable price
Free quality assurance study
Trouble-free refund policy
Delivery on time
24*7 customer help service and much more.
We help the students in their dissertation, assignment, homework, essay, research paper, thesis, etc. So no matter which type of academic paper you're struggling with, we are here to assist you.
Lowest price
USD 7.13
Get A+ Within Your Budget!
24/7 Customer Support
100% Customer Satisfaction
No Privacy Infringement
Quick Services
Subject Experts
Innovative Documents
FREE Tools
To Make Your Work Original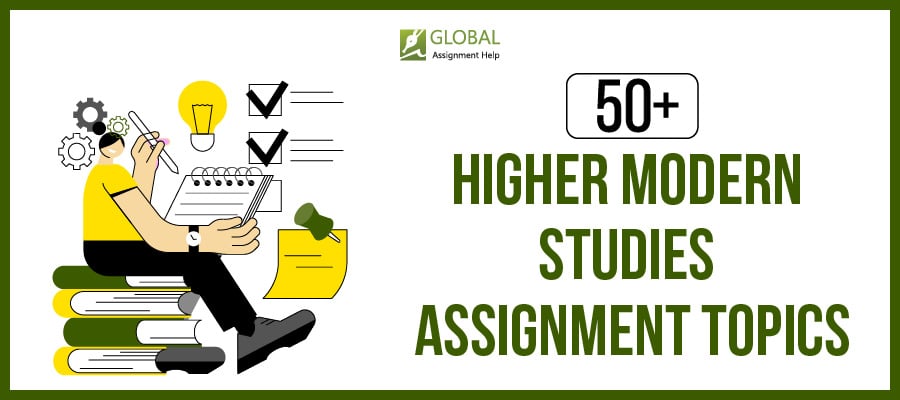 50+ Higher Modern Studies Assignment Topics to Ace Your Paper!
26-09-2023
119
13 minutes