9 Untold Tactics for Engineering Students
Engineering is one of the most challenging courses in the world, but in the spree of getting good grades and finding a job to secure their future life, students often fail to utilise the four years at an engineering college. If you are pursuing engineering, then keep these things in mind so that on the graduation day, you do not feel like you have wasted your four significant years of college.
The experts providing online assignment help have come up with some tips for the engineering students that may help them to make the most of these four years, here they are:
Get a Good Laptop
As most of your work will include the usage of laptop, buy a good one keeping in mind the RAM, processor, graphics card, etc. Having a laptop will increase your productivity, and you can even get access to the relevant data you need for assignments and research papers.
Don't Just Focus on Marks
From the very beginning, we are taught to focus on scoring marks and to become topper. If you start following this, then you might waste your all four years. In reality, the marks will not help you to grab a job; your skills will. So recognise your passion as soon as possible and start improving the same.
Build Stuf
As engineers, your sole motive should be to build new things that create an impact on society. With a decent laptop and stable internet connection, you might be able to develop projects and keep upgrading them.
Do Not Focus on Attendance
Yes, the attendance is necessary, but if that hinders you from creating something extra-ordinary, then do not pay attention to low attendance. Try to convince your professors that you are trying to develop something new, and they will support you surely.
Make Friends
Make new friends and ensure that you have a bunch of them. They will keep on encouraging you whenever you feel depressed. Moreover, if your friends are from diversified fields, then you can learn a lot from them. For example, your major is electronics, then your friend from computer science might help you code a robot.
Manage Money
Students living in hostels usually spend money extensively at the beginning of a month and look out for pennies at the month end. Although you are an engineering student, you need to learn skills of finance management. At first, it will pose a problem, but once you start keeping track of your expenses, it will become easier.
Try to Solve Real World Problems Instead of Being a Bookworm
Yes, books have all the relevant topics that can make you score the highest marks, but it never makes you aware of the real life problems. Being an engineer, you need to focus on the real world so that the society can be benefited from your inventions and discoveries.
Get Involved in Some Clubs As Well
Apart from the academia and other relevant stuff, you can enrol yourself in some of the clubs that will help you to relax. To unwind is equally important, and thus, you need to find some clubs that organise activities that interest you.
Take Suggestions From Your Seniors
Do not hesitate to take some ideas from your seniors when you feel lost. Implementing the suggestions is your choice, but you could get some of the most fantastic ideas when you discuss stuff with them.
Read these Tactics to Score the Best in an Economics Assignment
Hope that you'll implement these tips and notice the remarkable changes in your career.
In case you are not able to concentrate on the additional activities because of your assignments, then connect with the experts of Global Assignment Help. We have experienced subject-oriented academic writers who are adept at drafting a perfect assignment for you which will surely score the best grades.
Place your order now and avail the best services at affordable rates.
Lowest price
USD 7.13
Get A+ Within Your Budget!
24/7 Customer Support
100% Customer Satisfaction
No Privacy Infringement
Quick Services
Subject Experts
Innovative Documents
FREE Tools
To Make Your Work Original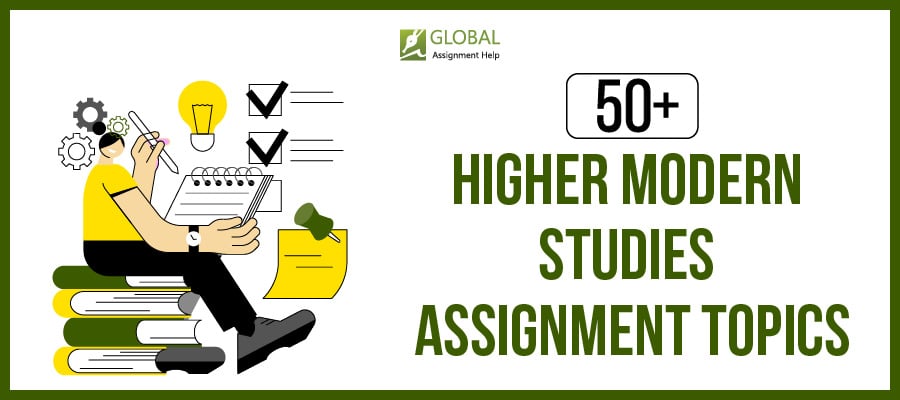 50+ Higher Modern Studies Assignment Topics to Ace Your Paper!
26-09-2023
127
13 minutes