7 Ways to Make Your Life More Fun and Exciting
Scholars have to deal with lots of things during their college life, from balancing their academic, personal and social life to searching for internship and jobs. If you want to have a little fun, then you have to get into the right frame of mind and embrace every chance for a good time. If you are relaxed and not afraid of doing silly things, then you can have fun almost anywhere, either you are having a party with friends or attending college. Here are a few things that you can try to make your life more interesting.
Try new food
Trying different cuisines of different countries can bring a whole other flavor to your palette. If you do not want to spend the cash eating outside, then search for new recipes on the Internet and try cooking them at your home. Some of the most preferred delicacies include Chinese, Mexican, Italian, Thai, Indian, Continental, etc.
Get a new hobby
Learning something innovative and becoming a professional in that will make you feel more satisfied and alive. Whether it's dancing, singing, playing a musical instrument, swimming, or anything else. It's time for you to pursue a new skill. The point is to learn something which can make you feel more enthusiastic, energetic and excited.
Don't forget to do exercise
You can't live a fit and happy life if you are in bad shape. Regular workout helps you to cope with the stress and anxiety. Even going for a simple walk in the morning can make you feel happier. Exercise assists you to increase strength and flexibility, develop self-confidence, improve fitness, sleep quality and immunity of the body.
Join a campus club
Participating in a group can be relaxing as you can explore some new interests. Try to focus on things that suit your mood, and join any team available at your college which includes music, sports, arts, religion or culture. This can be an incredible opportunity to learn something creative.
Spend some time with pets
Pets can be an endless source of amusement for many individuals. An animal can bring fun and happiness to your life and assists you to release all your tensions. It is always fun to have a little buddy around you in your home.
Go for a student exchange program
Studying abroad is one of the most extraordinary experiences of millennials' life as it gives them the exposure to know about different cultures and academic environment of that country. As the anticipation of education develops, scholars want to get additional certification in foreign nations. Earning degree overseas offers several personal and professional benefits.
Make new friends
One of the best things about college life is being surrounded by a huge number of like-minded individuals of your age. You can make friends that will last forever and also make you feel more cheerful and lively. Never miss an opportunity to have new buddies in your life as they will make your college days even more fascinating.
To be truly happy in life, it is important for you to enjoy whatever you do. But in case if you don't enjoy writing your assignments, then you can always ask for help from the online experts. Use that time to achieve something more important than drafting subject assignments.
We, at Global Assignment Help, have tremendously contributed to the success of college-goers in their academic documents. If you too are looking out for assignment help, then you must reach our experts who will ensure to offer you with the necessary assignment writing help at the most reasonable cost. Hope you had a good time reading this blog!
Lowest price
USD 7.13
Get A+ Within Your Budget!
24/7 Customer Support
100% Customer Satisfaction
No Privacy Infringement
Quick Services
Subject Experts
Innovative Documents
FREE Tools
To Make Your Work Original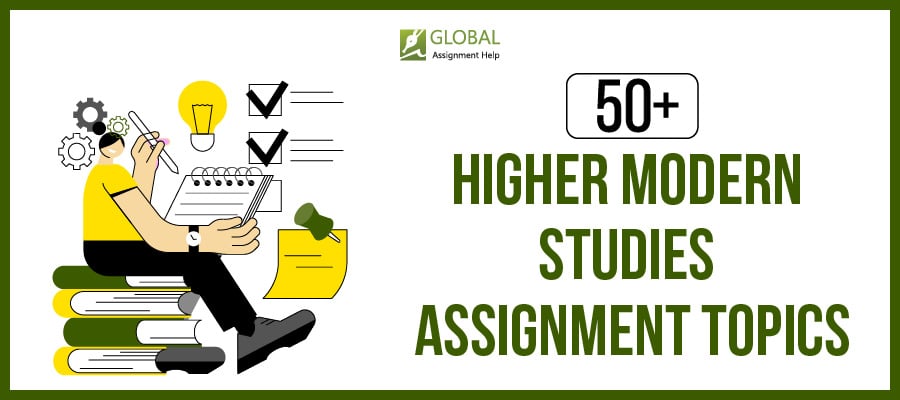 50+ Higher Modern Studies Assignment Topics to Ace Your Paper!
26-09-2023
139
13 minutes