Learn How to Write Poetry & Express Yourself Through Words!
How to Write Good Poetry? | 15 Types of Poetry Discussed!
Poetry is a form of expressing one's heart and mind. It is an emotional experience that connects readers with the writer's thoughts. You can compose poems on any theme and topic in different forms that will leave the readers awestruck. If you are wondering how to write poetry, then read this blog to know more.
The professional writers of Global Assignment Help have curated this blog using the best of their knowledge to help students like you who are wondering, "how to write poetry for beginners?" So, what are you still waiting for? Let's get started!
An Introduction to Poetry | 15 Types of Poetry You Should Know!
If you have been wondering, "what is poetry?" then this is a form of literature that uses rhythm and style. This is a genre that deals with feelings and the intensity of emotions. And the best part of this writing style is, you have around 15 types of the same to explore. Yes, if you are into poetry, you can write it in 15 different styles. But, if you do not know all of them, don't worry; we listed them below:
Ballad -This type of poetry narrates a complete story with traditional music set to it.
Blank Verse - It is a combination of non-rhyming iambic parameters- a line of writing consisting of ten syllables in a specific pattern.
Elegy Poetry -This type of poetry mainly focuses on the reflection of death, grief, or loss.
Epics - This is a type of poem which is lengthy, narrative, and includes heroic deeds.
Free Verse - As the name suggests, this type of poetry has no boundaries, be it as per length, rhythm, or so on; it follows a free flow.
Haiku - This is a type of poetry that has 17 syllables in total divided into three lines as 5,7,5 syllables.
Limerick - This type of poetry includes a single stanza consisting of five lines following AABBA rhyme.
Lyric Poetry -This is a type of poetry that is used to express personal emotions in the first person.
Narrative Poetry -As the name suggests, this type of poetry narrates a story through its verses and consists of a story, plot, characters, and setting.
Ode - This is a poem that includes lyrical stanzas to elaborate, praise, or glorify any event or individual.
Pastoral Poetry - This is a type of poetry that focuses on exploring the rural areas irrespective of the structure and form of the poem.
Rhymed Poetry -This type of poetry has stanzas with all or some of the lines in the ending with a rhyme.
Soliloquy - It is a type of monologue poetry where a character expresses his thoughts or feelings being alone on stage.
Sonnet - This is poetry that includes 14-lines and a variable rhyming scheme. The best part here is, it includes a single sentiment or a sudden turn of thought.
Villanelle -This is a form of poetry that includes five three-line stanzas and a quatrain at the end. It includes the first and third lines of the first stanza repeating alternatively in the following stanzas.
These are the top fifteen types of poetry you should try if you want to know how to write good poetry and come up with impressive results. However, if you are new to this and don't know how to begin, refer to the section below.
How to Write Poetry? 5 Steps for Writing an Impressive Poem
Writing poetry may sound complex, but it isn't; all you need to do is follow some simple steps in the right order, and ta-da! A perfect poem is ready. Wondering how to write a simple poem or what simple steps you need to follow? Here they are:
Pick a Poetry Type:
As discussed in the previous section, there are fifteen different types of poetry. So, go through them and pick one of your choices to proceed with. Once you have a clear picture of the type, you can pick them accordingly.
Choose a Theme:
The second step of this process is to choose a theme for your poem. A clear theme helps you direct your thoughts in a particular direction so that you can explore that particular area in a much better way.
Brainstorm Ideas:
The third step of this process is to brainstorm. Sit back relaxing and brainstorm either alone or with your friends' group to come up with an interesting topic for your poem. The pre-chosen poetry type and theme can help in this process.
Read Examples:
Poetry needs examples and samples for perfection. So though this is a way to pour your heart out, if you want to reach out to the audience, you need to read and understand how other poets deliver their thoughts and ideas to readers. And there is no better way for this other than reading examples.
Use Imagery:
The imagery makes your poetry strong, clear, and impressive; so, try to use different literary devices like metaphors, simile, etc., and avoid repetitive phrases for better impact.
After reading this section, you might've got an answer to your query, "how to write a poem step-by-step?', right? So, let's take a look at some rules and helpful tips that you should follow to compose an impressive poem.
Poetry Writing Rules & Helpful Tips That Come Handy
Many students who are willing to write poems come to experts asking queries like, "How to write spoken word poetry?" "How to write interesting poetry?" and so on. If you too can relate to this, then here are a few rules and tips that you should follow for effective results:
Read and Listen to Poetry
The more you read and listen to poetry, the more you can get ideas on how to write different types in them. This helps you develop your thinking and come up with unique ideas. You can also find inspiration from experts by following this step, pushing you to give your best.
Kick-Start with Baby Steps
If you are a beginner, you should be thinking about how to write free verse poetry and not epics. This way, you can take small steps to success without struggling much with it at the start itself, which may otherwise lead you to lose interest in it.
Make Best Use of Tools
There are numerous tools available online in today's date. So, why stand behind? Make use of such amazing tools like Grammarly, Hemmingway, and so on to develop interesting ideas, better grammar, and creative thoughts that add up to perfect poetry.
Use English Literary Devices
Simile, metaphor, idioms are some of the literary devices in English grammar. You can make use of such devices in your poetry to add depth, meaning, and better understanding to them. But that isn't it; literary devices also make your poems appealing and attention-grabbing to the reader.
Avoid Cliche Ideas
Who wants to read about something the same every day? None, right? When we can't eat the same breakfast every day, how can one read the same or similar poetry? That's why it's vital to stay away from cliche lines, themes, and ideas to hold your readers for long.
These are some essential rules or tips shared by our assignment help experts that you should follow to develop interesting poetry. And if you need any assistance with it, then you can always turn to our experts, who are available 24*7 to help you. Want to know more? Keep reading…
Do Not Let the Poet in You Struggle with Juggling Tasks; Seek Our Help!
If you are into poetry but cannot take out enough time from other academic tasks to focus on this, then we have got your back. Here are some amazing ideas you can make the best of:
Writing Service: If you want to focus on poetry and have an essay to complete, you can seek our essay writing service to give your undivided attention to poetry and ace it while our experts ensure you score the best in the essay well.
Free Tools: You can get access to numerous academic tools like free essay typer tool, which helps you draft an essay in just minutes, a grammar checker to get your document free from grammatical errors, and free paraphrasing tool to paraphrase your document without a second thought on quality.
These are the two ways in which we can provide you the best assistance and a solution to your query, "how to write poetry?" However, if you still have any queries, feel free to reach out to us without hesitation at any hour of the day. We will be ready to help you!
Lowest price
USD 7.13
Get A+ Within Your Budget!
24/7 Customer Support
100% Customer Satisfaction
No Privacy Infringement
Quick Services
Subject Experts
Innovative Documents
FREE Tools
To Make Your Work Original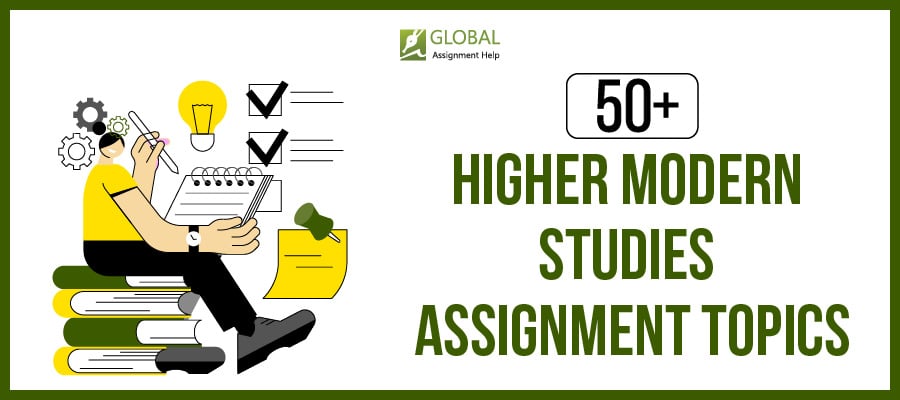 50+ Higher Modern Studies Assignment Topics to Ace Your Paper!
26-09-2023
119
13 minutes