Discover All the 4 Types of Homework and How They Affect Students' Lives
Table Of Contents
Are you wondering why homework is necessary? What is the role of homework in students' lives? How does homework help students? Well, homework has an essential purpose in students' lives, only if they realize it. In this blog, we will discuss about homework to understand its value. From the purpose to types of homework, you will learn everything. However, students do not get the necessity of completing homework as all they want to do after coming home is relax and have fun. 
The Purpose of Homework
Before going further, let's understand what homework is. So, homework is typically an assignment or activity that students complete outside class as an extension or revision of class work. For decades, students have received daily homework that takes roughly an hour to complete. The one thing that has changed is that many teachers now assign homework electronically. When the term "homework" is introduced, not a single pupil feels happy; they do their homework with learning. In light of this, "What Is the Purpose of Homework?" or "how does homework help students learn?." becomes pertinent. 
Homework has played a significant role in helping scholars acquire various skills. However, the purpose of assigning homework is to improve learning and reinforce what was covered in class. Therefore, both parties involved must be aware of the need to improve homework effectiveness at all learning levels. Though, students don't really like doing homework and there are various pros and cons of homework. But, according to teachers and schools, homework aims to help children learn and develop new things. Therefore, even academic researchers agree that homework is important for students.
Now you know the purpose of homework, let's understand how does homework help students.
How Does Homework Help Students?
There are various ways in which homework help students, some of the reasons are as follows:
Boosts Concentration:- If you work on your homework for longer, you tend to concentrate better. As a result, your ability to focus will improve, which will benefit you in tests. Improved concentration not only helps in studies but in daily life as well.
Minimizes Screen Time:- When students are not in school, their screen time rises to 7-8 hours per day. When they have homework to complete, students have a valid reason to put aside their phones and computers. But sometimes, they get indulged in their phones and forget to complete their homework. Though there are ways to stop procrastinating homework, reducing screen time can help as well. 
Better Exam Preparation:- This is one of the ways in which homework helps you in the future. However, students think of it as a challenging process. However, it is simpler for them to learn the subject better if they review the teachings of school at home. It will consequently boost their confidence and prepare them for exams. 
Earns You Higher Grades:- If you dedicate some time to your homework on a daily basis, there is a chance that you can earn well in your exams. As a result, the likelihood of receiving better grades if you review your homework before an exam is considerable. 
Boosts Your Memory Power:- A wonderful way to practise anything is with your homework. It helps you revise what you have learned in class. As a result, you would be able to retain the material better, and your memory will be strengthened.
Strengthens Problem-Solving:- Homework is given to encourage independent problem-solving rather than the practice of asking others for assistance. Students learn to solve any challenges by themselves while working on their homework.
Builds Time Management Skills:- Students who put time into their homework have a good understanding of time management. They can complete their homework with the other activities and chores they have to do. Therefore, it is crucial to help students learn how to manage their time.
Better Understanding of the Subject:- Students learn a subject more fully when they repeatedly revise what has been taught in class. It clears their doubts and helps make the particular subject interesting as they now understand it.
Types of Homework & Their Effects
There are different types of homework, including integration, extension, preliminary, and practice. For any of these forms to be completed, you must work with a solid approach. To successfully tackle each of them, you will need to comprehend it and its underlying goals.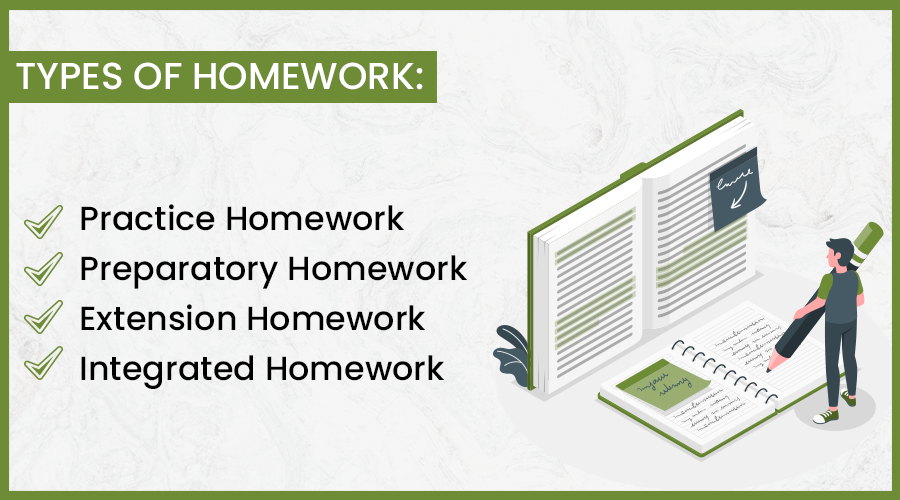 Practice homework: 
It is one of the most common types of homework that is assigned to students. The purpose of this homework is to learn and understand what has been taught in the class that particular day. In addition, this homework focuses on helping students master particular skills through regular practice.
Tips: Certain tips can help you learn about a subject with this method:
Always complete this type of homework on the same day it was assigned.
Note down your doubts and problems and ask your professor in the next class.
Make mistakes, but more importantly, learn from them. It will help you master complex subjects like maths and reduce the need for math homework help.
Benefits: You can benefit a lot from working on this type of homework. Such as:
Your subject matter knowledge will be increased a lot. 
You will get better grades in the class assessments. 
You will eventually master the skill of solving difficult questions.
You will focus more in class as practice homework is interconnected.
Preparation Homework: 
This homework helps you get ready for the upcoming class. Pre-learning is naturally tied to this kind of homework. The aim of this homework is to get students to learn about a topic that will be discussed in the upcoming class.
Tips: Certain tips that help you benefit from this method are:
Jot down the main points of the chapter while reading.
Highlight the lines that you think are important or require a better understanding.
Read at least a chapter or two pages before leaving for class to remember better. 
Benefits: Preparatory homework impacts students' achievement in a positive manner. This is how:
It increases the curiosity and interest in the subject as a student already knows something about it.
Students learn to jot down notes and key points properly.
They get the opportunity to review the information from the textbook beforehand.
Extension Homework: 
It encourages the application of prior knowledge to new activities. This is one of the types of homework used by teachers to promote peer collaboration and creative thinking. Tasks for extension homework need the use of practical, hands-on abilities. Students benefit from a richer learning environment as a result. It was observed that homework with a clear extension goal (developing problem-solving skills) is beneficial for raising students' achievement. 
Tips: Expert tips for this homework method are:
This method calls for good research to help you learn more about a subject.
Share your opinion; no matter if it is right or wrong, that's how you will learn to think creatively.
Learn new problem-solving approaches for identifying answers; for instance, try to resolve chemical equations; if you cannot solve them, you can always seek chemistry homework help.
Benefits: It has diverse benefits like:
It helps you improve your communication skills and abstract thinking.
It enhances your problem-solving approaches and research skills.
It helps you open up and speak your opinions.
Integrated Homework: 
This homework helps pupils make connections between the material they have learned in various educational classes. It also entails much complexity, which could confound or overwhelm students. Students must "integrate" knowledge from numerous topics and areas into one assignment as part of their integration homework.
Tips: Tips to ace any subject with this method are:
You should know how to plan your homework
Break your large project into small tasks to make it easier to work on.
Benefits: This method teaches you various things, such as:
It generally benefits you while working on lengthy subject homework like science.
It helps you keep track of all the research and information related to your subject. However, do not hesitate to get physics homework help when facing challenges.
There are numerous types and sizes of homework. While many teachers continue to use the traditional repetition-based homework approach some experiment with a variety of other types of homework. It can keep students interested, promote more class discussion and collaboration, and ensure on-time doubt clarifications and confusion. Students will benefit so much from this. It will help them advance in their academic journey.
How Can You Seek Homework Help?
Are you still unsure? Are you still wondering about "who can do my homework?" Then, don't worry about it. You have the opportunity to get assistance from Global Assignment Help's subject matter specialists. The chosen experts are highly competent PhD holders with broad, in-depth expertise and advanced English language proficiency. Here are some of our best features to give you a better understanding:
No Plagiarism: We are committed to creating original content that is delivered to you to help you get top grades.
Fast Delivery: We understand the significance of sticking to the deadline schedule and promise to always adhere to it.
Best Value: The majority of our customers are students. Thus we provide them with affordable options for homework help.
No Cost Revision: We make the necessary updates quickly and without charging for any changes you request in the document.
Top-notch: Our team includes skilled academic writers with years of expertise in writing homework, dissertations, and theses, among other types of writing.
Quick Assistance: Our customer support executives take the initiative to give you the homework help you need.
Lowest price
USD 7.13
Get A+ Within Your Budget!
24/7 Customer Support
100% Customer Satisfaction
No Privacy Infringement
Quick Services
Subject Experts
Innovative Documents
FREE Tools
To Make Your Work Original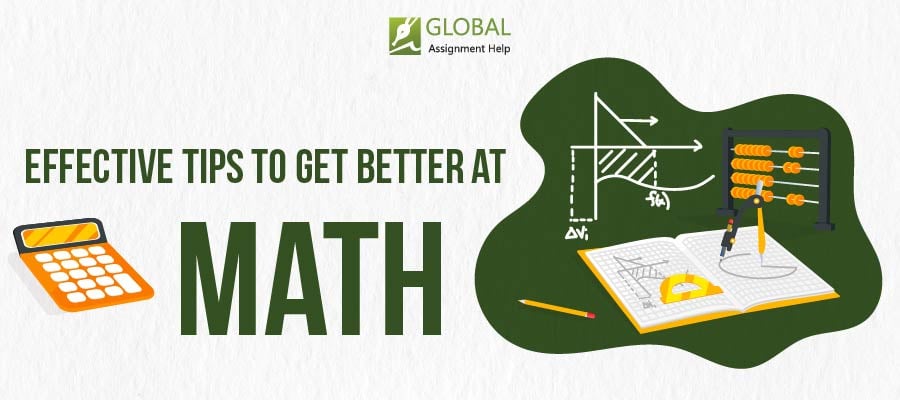 How to Get Better at Math to Improve your Academic Grades?
07-08-2023
212
12 minutes