Get Acquainted with the MUET Essay Writing
English is a language that binds nations, unions, and people all together. A common ground for breaking class and language barriers. But could it be analysed? Of course, why not? If your plan is Malaysia to graduate with an international degree, then you are at the right place and apt source to get the required details from the blog.
MUET - Malaysian University English Test, an evaluation to measure your proficiency and competence in the English language in Malaysia or Singapore. The Malaysian Examination Council(MEC) conducts and supervises the exam. So, if you are considering enrolling at the pre-university level but are completely lost with the procedural aspect, relax your mind, put it at ease and prepare yourself to qualify for MUET.
The Evaluation Part to Sum Up MUET
Wait! Didn't it occur to you that it is that simple? When it just has to evaluate listening, speaking, writing, and reading skills. So, it is a challenging exam to pass to clear your thoughts and requires an essay of 350+ words on a specific topic. But, hey! It is not over yet. So, further you read, you will know the division of evaluation.
| | | |
| --- | --- | --- |
| Report Writing MUET | 40% | 40-minute time allocation to understand, analyse and define the information in a report of 150-200 words. |
| Extended Writing MUET | 60% | 50-minute time allocation to write an essay of 350 words. You can decide from analytical, descriptive, persuasive and argumentative. |
Now that you know that two essays sum up your MUET evaluation criteria but are subdivided into four major aspects that determine your hold over the English language to study in local universities of Malaysia. The table below settles your 3h50m, which you would spend in the examination hall and will decide your future path in Malaysia. So come, let's understand.
| | | |
| --- | --- | --- |
| Area | % of evaluation | Description |
| Listening | 25% | It is a 50-minute MCQ-based and multiple-matching paper divided into five parts with 30 questions. |
| Reading | 25% | It is 75 minutes MCQ-based with multiple matching, and fill the gap MCQ paper divided into seven parts with 40 questions. |
| Writing | 25% | It is a 75 minutes paper comprised of two tasks - A letter/email of 100-135 words & an essay writing of a minimum of 250 words. |
| Speaking | 25% | It is a 30 minutes evaluation of two tasks - An individual presentation, where you prepare for 2 minutes and present for the next 2 minutes & a group discussion for 8-12 minutes among four candidates. |
Now that you understand how it is evaluated and what factors need to be considered while you sit for the paper. And the focus areas that require specific attention. So, the time is to proceed with the framework that makes your essay more accurate and impressive for the final submission. Continue to know the format.
An Essay To Malaysia University Ticket?
Wonder how to write that essay to move ahead in the admission process? Worry no more and lay hands on Global Assignment Help experts. They are the rescue to all your academic hurdles.
Order Now
A Format That Specifies the Terminology
The word may intrigue you and boggle your mind, but when you read in-between, you will know it is nothing but a basic document that comprises the structure of your academics of report or extended writing MUET. The three vital elements that make a guiding path to your MUET essay are-
An Introduction That Binds
The starting phase introduces your work to the reader. It must be catchy, impressive, factual, or informative and grabs and binds the attention. Your introduction shall talk about the chosen topic and must have a thesis statement to describe the gist of the whole paper. A presentable beginning can open your doorway to Malaysian universities.
A Main Body of Detail
The main informative area followed by the introduction is the description of all the conducted research. It must consist of every detail you have extracted about the topic with supportive examples, samples and ideas.
A Tip: Do not forget to add a transition line when you move towards the part where you conclude the final verdict or thought.
A Conclusion That Mark
The final phase of your essay to qualify for MUET writing is when you blend your thoughts and try to fill the gaps left unattended. Finally, mark your stand and wrap your ideas around a logical point and aspect.
Hopefully, you have learned the structure that uplifts will uplift your essay for MUET writing. But wouldn't you wish to know what must comprise your document? Or, what should you inscribe in it? Or, what kind of topics will make your work stand out from the rest? So, many thoughts in a small brain! To put your mind at ease, the list of ideas is provided that you can opt from to curate an informative and trendy essay for MUET.
Topics to Enhance Your MUET Essay Writing
MUET is a qualifying area that opens your door to Malaysia's universities. But one element is focused on more than anything in the evaluation process. That is nothing typical but your essay writing. An amplifying write-up to upgrade your score band to 6 and make you stand out in the application process. The real question is, what should the essay be about? To answer this query, we have listed a few topics you can implement as your MUET essay example.
"Malaysian tourism - A boom or a bane" Express your thoughts
Career path should be personalised or not
Experience or academic excellence - What is your thought on hiring?
The world of digital platforms - A growing trend
Fuel Pricing is touching the skylights. What do you think about that?
Education shifted from offline to online. Describe your narrative
The essay is an informative part of your academic writing that requires a blend of personalised opinions and viewpoints. So, we have provided you with an index of questions that can summarise your project to qualify for MUET writing.
A Tip: The topics suggestions are overall ideas for all your academic writing like articles, assignments, thesis, dissertation, etc. You only need to mould it your way for all the projects and the requirements. The catch is to know the current news and ongoing activities worldwide. But, if you still get stuck, our professional masters are readily available to assist you with a profound assignment helper Malaysia or thesis help.
That is all about the format and topics, but is that all to wipe away that worry? Don't stress! We have covered you with prompt tips to divide your examination paper. The four parts comprise your exam, and each has its value aspect that you should take care of. So, what are you waiting for? Continue to get acquainted with the tricks to qualify for the MUET assessment.
A Buzz Feed of MUET Writing Tips
Four areas qualify your total score of MUET. However, when one is not enough, and you would need to excel in all, you will need to know and implement the tips to flush your worry out of to drain. So, as you know the four criteria to clear, do you know how to be quick and pass them easily?
Tip to MUET Listening
The most difficult of all is this test. Here you need to be quick, attentive and clear with every detail you listen to. But is it a cakewalk? Not really! Learn the tricks that help you pass the listening test.
Know the Guideline- The first and foremost point is to understand the instructions given to you. Know the format, mark the words required and track allocated time. The catch is that the hyphenated word is not counted separately and is considered one.
Refine the Questions- You are allocated a mandatory time of two minutes before the audio clip plays in your headphones. So, utilise that span and give a glance at all the questionnaires. Then, pen down the key pointers and you will have clarity over the answers.
Pick the Audio-clip- The tape on your hearing device could be a story, narration or information. You should be prepared to make a selection from the whole audio tape. Then, pen down the relevant details and fill out the gaps again.
Tip to MUET Reading
Comparatively less difficult but do require the skill of understanding and thorough knowledge. This section carries the highest weightage of all and calls for detailed observation. So, get yourself educated with the tip-offs.
Filter the Term- The start is to understand the questions asked and filter out the point of focus. While you read the essay or article provided in the test paper, mark the key areas, know what will work for you, and save time.
Read the Quality- The vital part is not breaking the reading skill and keeping it on track. You can practise it with magazines, newspapers, articles, and journals. Keep yourself updated with the ongoing scenarios, and you are good to go to ace the MUET test of reading.
Depth of Past- The level of examination does not count when it comes to - how to prepare more and to the point. The top-notch solution is to lay your hands on past year's questions to learn the format and type of grill you are about to face.
Tip to MUET Writing
Another salient element to qualify for MUET is to clear the writing test. Be it thesis writing, assignment or essay. How would your skill of English be examined? The way you deliver the write-up and the vocab you use. Hence, the tricks will ease your way out.
Formal is Key- Your MUET essay is the write-up you submit to qualify for the Malaysian university, so stick to being formal in the approach. Mark your style, pay attention to every detail and follow the approach.
Format Does Matter- Guidelines and framework are the elements that make your writing apt for academic evaluation. An essay has a set format; you must adhere to it while you draft one. Once you are through the write-up, ensure the structure is correct.
Brush the Writing- As it's said - Practice makes a man perfect! So, do not give a break to your writing. Reading and writing go in sync with each other. Hence, do not pause any of it and continue to work on the same for better results and a wider horizon.
Tip to MUET Speaking
The fourth criterion is where you start to talk in real. You have to get into the conversation and narrate your language skills with the actual words uttered by your mouth. But are you confident in public speaking? If not! Then focus on the tips below.
The WH Vocab- Before the speaking test, clear your ideas and thoughts with why, what, where, who, when and how. Have a clear picture of what you plan to discuss in the verbal discussion. Your thoughts and point must have strong evidence.
Art of Phrases- How to stand out and be unique in the approach? The trick is to try your hands at something that others avoid. For instance, grasp the phrases that amp up your speech and use impressive words. But try not to go over the board and stick to the intent.
Avoid the Slang- A big no to Malaysian slang and terminologies to create an impression, as that might backfire on you. The MUET is the evaluation of your proficiency in the English language. So, stick to your native British dialects and leave a mark on your speaking test.
MUET is the test to examine your basic skills and understanding of a globally recognised language. It is your choice on how you plan to calendar it and practise each to the core. The MUET writing tips are the rescue and a survival kit to your Malaysia university enrollment.
How about we proceed to know the final phase and that would require all your attention and focus. The MUET band score, to analyse and examine your enrollment process and how the level differs.
Score Bands to Decide the Grading System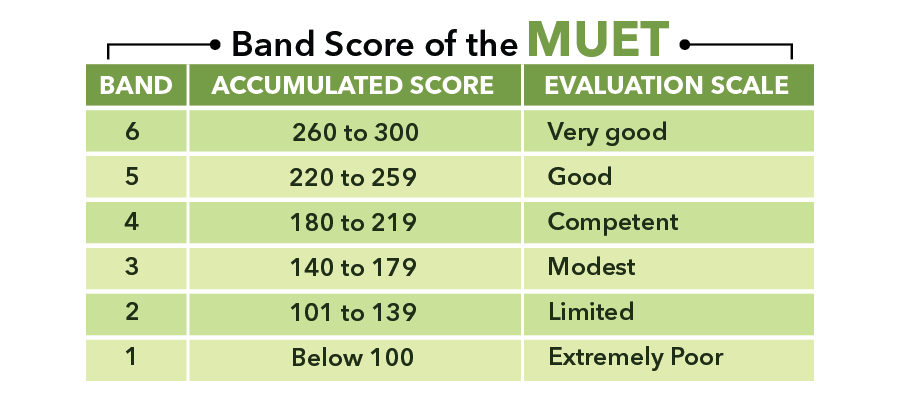 Does the grading list block your power of thinking? Does the date of the result snatch away all your peace? If that is a yes! They why? Didn't you prepare well in advance for the exam? Or did you not check what MUET band score you must qualify with to grab that seat in your choice of university in Malaysia?
After the exam, you wait for the result slip to see your obtained marks. The point of focus is that this is derived from band scores from 1 to 6. A sudden thought must have occurred to you that - What is this new concept? But, you need not worry and continue reading the classification of scorecards and how that will decide your future learning.
A summary that marks your pathway to Malaysian university with MUET band score 2022.
Band 6: Very good [Accumulated score- 260 to 300]- Band 6 derives a strong command over the language. This showcases the accuracy, fluency and appropriateness without any casualties over the dialects. All four criteria should be marked high and fulfilled. If you fall in this MUET band score, then you are exempted from sitting for any extra course.
Band 5: Good [Accumulated score- 220 to 259]- Band 5 again demonstrates the substantial hand of the language in terms of reading, writing, speaking and listening. It also evaluates fluency, understanding and accuracy but adds a slight inaccuracy. So, if you come under this band you also get exempted from applying for extra courses.
Band 4: Competent [Accumulated score- 180 to 219]- Band 4 brings out your potential and describes the satisfactory hand of the language. If you fall in this score area, you would require to take up an extra course to prove your understanding and command and eliminate the incidental errors. However, the skills do showcase fluency and appropriateness.
Band 3: Modest [Accumulated score- 140 to 179]- MUET band score 3 imprints the average performance and control over the language. It does not satisfy the accuracy area and maintains moderation in fluency and appropriateness. The mistakes are quite noticeable, hampering the score band. Your fall in band 3 calls for you to take an extra course.
Band 2: Limited [Accumulated score- 101 to 139]- Band 2 demonstrates your limit of understanding and narrating the language. It showcases your inability to take a command resulting in the breakdown of fluency, accuracy and appropriateness. It represents that you are not up to the required level yet and must sit for two extra courses in English as per the MUET band score.
Band 1: Extremely Poor [Accumulated score- below 100]- Band 1 is the lowest, enlightening you almost fail the language test. However, it shows how much you lack understanding, speaking, or writing the dialects in English. And you would again be required to enrol in two extra English courses to improve your learning and knowledge.
Knowledge is the part and parcel of every area of academic, career, growth and opportunities. So, how about we wrap up with the final verdict of MUET writing and the help that you may get?
Assignment With Errors?
Don't have time to fix the errors? Stressed already! Put all at ease when it comes to academic writing. Avail the top-notch proofreading services from our Global Assignment Help proofreaders.
Get Now!
A Malaysian Expert Overview of the MUET Essay Writing
Language could prove to be a boom or bane to your international path. Your skill will demonstrate where you stand in the queue. So, are you set to enrol yourself in a Malaysian university? If yes, then are you up-to-date with every detail? If no! Then read our blog and prepare yourself with the enlisted information. The paper describes the concept of MUET and MUET essay writing that qualifies you for the local educational institutions in Malaysia. From explaining the terminology to how to frame the writing and the evaluation criteria. Wait! How can we forget the profound tips that help you qualify for the exam? The write-up discusses every productive point that will help you write essays.
WHAT???? Still doubtful? Don't be stressed when you have a potential option to avail help from the experts of Global Assignment Help to curate a remarkable essay to achieve MUET essay band 6. The hired professionals are well-qualified PhD holders with extensive, diverse knowledge and progressive command over the English language.
Bonus Help: As a global platform, our writers are proficient as thesis writer, dissertation writers and any other of your academic write-ups.
Lowest price
USD 7.13
Get A+ Within Your Budget!
24/7 Customer Support
100% Customer Satisfaction
No Privacy Infringement
Quick Services
Subject Experts
Innovative Documents
FREE Tools
To Make Your Work Original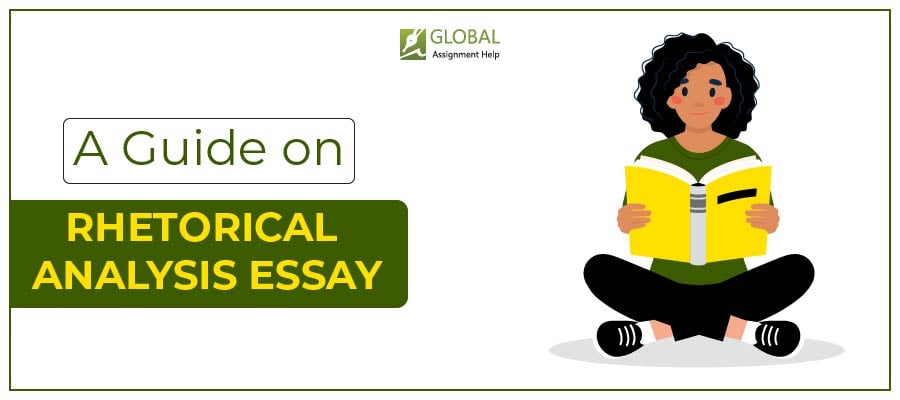 Your 2023 Guide on How to Write a Rhetorical Analysis Essay
14-09-2023
358
20 minutes