5 Reasons Which Could be the Cause of Your Failure
Did failure knock you down again? Have you ever tried to find out what could be the causes of your failure? The distress caused because of this can be with you for long. The assignment help experts associated with us have helped several scholars achieve academic success. They have listed out some of the common reasons that can hold you back. Read this blog to get enlightened of them.
Let's get started.
You lack a vision
If you are working on something that the others around you are doing without having any idea of its usefulness, then trust us success is far away from you. To be successful in life, you should be able to define your version of success; what it means to you and how you'll be working for it. Once you have set a goal, you should have a clear idea about its value for you and why it is worth pursuing. This will act as a driving force for you.
You carry a negative outlook
Harold Wilkins has rightly quoted, "The world of achievement has always belonged to the optimist!" Why not make this world yours? You just need to be full of positivity towards life. If the negative thoughts of not being successful due to your past failures often trouble you, then you won't be able to give your best in whatever you are doing. Do not let negativity overpower your thought process, and you'll come out with flying colours.
You fear to be successful
Many people constantly keep thinking about what would happen when they achieve success. This acts as a hindrance to work efficiently towards your goal. Never let the fear of what could happen, make nothing happen. Keep calm and don't be afraid of the unknown. This way you'll have more chances of being successful in life.
You don't have the right company of friends
It is truly said, "Surround yourself with people who have dreams, desires and ambitions; they'll help you push for, and realise your own."
Be with people who are passionate about achieving their goals. Try to keep away from those who try to downgrade your ambitions. Choose your friends wisely; who never let you feel discouraged and lift up your spirits. It'll help you stay motivated throughout.
Your mistakes make you feel unworthy
Are you aware of the fact that in every mistake that you make, there is a huge potential for growth? Yes, it is perfectly okay to commit errors as long as you are learning from them. Every mistake is a new lesson for you. Rather than wasting your time thinking about it, we would suggest you to analyze them and move on. When you do this, you'll notice a lot of improvement in yourself. And it'll be a stepping stone to success.
After reading the above-mentioned reasons, find out the one that's holding you back. And once you do that, try not to repeat it in future. Remember one thing; success never happens to you, it's what you make out of your efforts.
So stop procrastinating and start working!
If it is the complex online assignment writing tasks that are the cause of your academic failure, then you can keep all your worries aside. Just approach us for assistance with your assignments, and we'll ensure that you score the best grades. We, at Global Assignment Help, offer the most reliable assignment writing service to the university scholars residing in the US, UK, New Zealand, Malaysia, Canada and Australia.
Contact our 24*7 active customer support staff now, if you want to give a boost to your academic career.
Lowest price
USD 7.13
Get A+ Within Your Budget!
24/7 Customer Support
100% Customer Satisfaction
No Privacy Infringement
Quick Services
Subject Experts
Innovative Documents
FREE Tools
To Make Your Work Original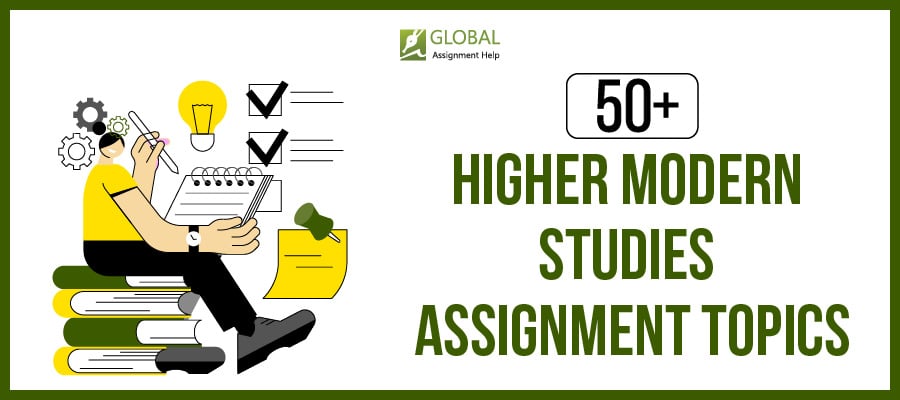 50+ Higher Modern Studies Assignment Topics to Ace Your Paper!
26-09-2023
119
13 minutes