Reflective Models | Core Concepts for Reflective Practice
Table Of Contents
What Is a Reflective Model?
There are various models introduced for the reflective model. Many educationists have proposed different cycles, all according to their learning experiences. These cycles help to improve the learning and action skills of the students and even of the working peoples.
You can also try them in-person, or can also use this as an academic project. These points will be helpful in your assignment research paper and others.
David Kolb - Experiential Learning.
An American educationalist - David Kolb, created the experimental learning theory that you can find in his 1984 book - 'Experiential Learning: Experience as the Source of Learning and Development.' The idea of the experiential learning concept is shown as Kolb's Learning Process Diagram.
The diagram introduces the 4 stages of the learning process in a cyclic manner:
Experience
Reflection
Conclusion
Experimentation
David's reflective model diagram represents the learning style that we experience in our everyday life at work, school, college, and other places.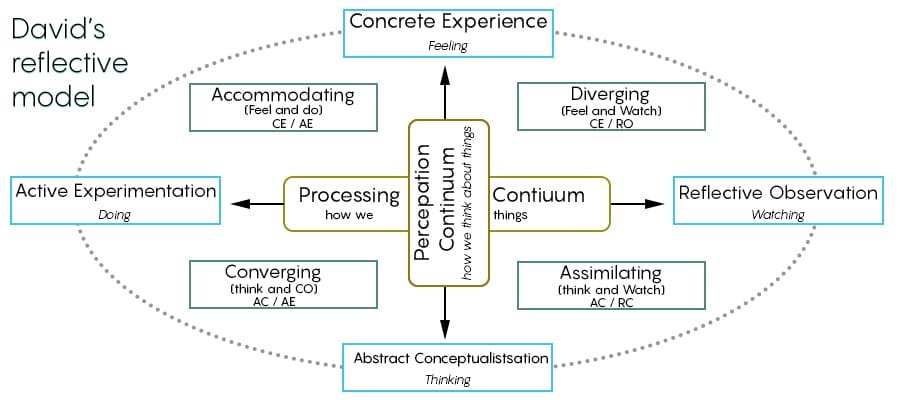 The diagram shows how we earn the best practical knowledge between the active to reflective stages of mode. He proposed that we are learning throughout life using all the stages of the cycle. We become better every time with better outcomes leading towards a successful life.
The base of the cycle is trial and error as many times one stuck with errors and try harder to get out of it. This should be a very useful cycle for learning tasks.
Inspired partly by Kolb's experiential learning cycle, Graham Gibbs also came up with a cycle based on reflection. Let's know a little more about it.
Graham Gibbs - Reflective Cycle.
The Gibbs reflective cycle is based on the concepts of our own and others' feelings, views, and perceptions. It can be like trying to know the feelings of the others in the situation and judge their reflection with your feeling in the same situation.
The Gibbs reflective cycle is essentially a loop containing the following elements in it :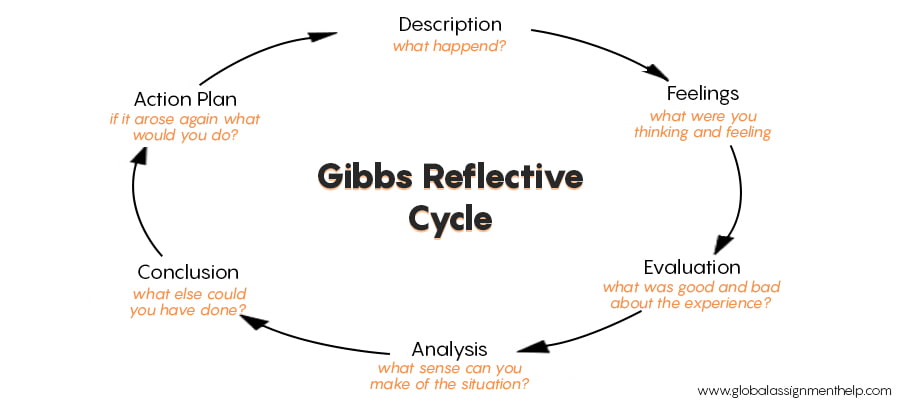 Description - Describe the scenario that you want to analyze.
Feelings - Explain your thinking and feeling throughout the scenario.
Evaluation - Calculate all the good and bad things about the experience.
Analysis - Does that situation makes any sense to you or others?
Conclusion - Conclude some other actions that you should have taken instead of the one you took at that time.
Action Plan - Your future plan to deal with such situations in life.
This empathy helps us to know more than our own actions and reactions. You can imagine how another person is feeling, what is their motive, their opinions, and how their reactions can change the situations.
This encourages the critical reflections and changes with the events and experiences of learning.
Lawrence-Wilkes 'REFLECT' Model of Reflective Practice
Lawrence uses the word "˜REFLECT' as backronym & proposed the model of reflective practice. The representing stages of reflective practice are as follows:
Remember - Review the time you think was intense and perfect for finding the reflection.
Experience - Calculate the overall experience that you had, and that was important.
Focus - Focus on the roles and responsibilities that were the priority.
Learn - Try to feel other's perspectives and reasons for the actions.
Evaluate - Conclude the causes, outcomes, strengths, or weaknesses that you observed in the situation.
Consider - Try to figure out the various possible changes, developments, or complete scenarios without reflecting the action.
Trial - Add on new ideas or experiment. Take action on them, and make changes in order to repeat the cycle.
This can be reflected as a table form too so that you can use it as a template for actions, a tool for notes, or any other use.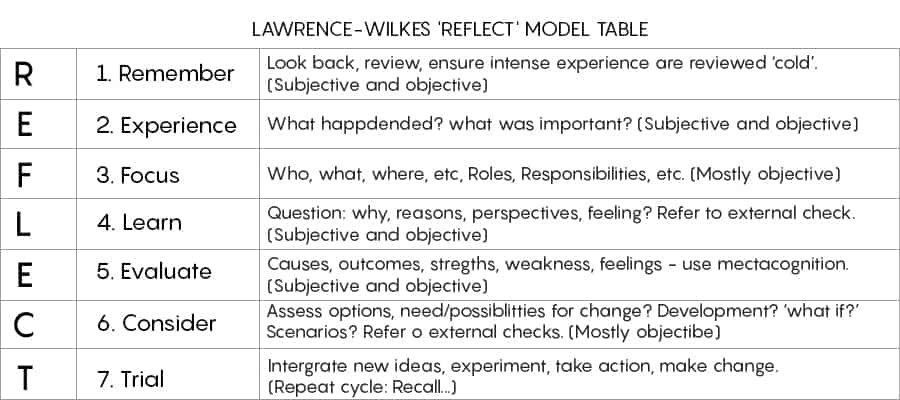 Medium & Techniques For Reflective Practice
Students trying reflective practice will be required to write the scenario for the records. It will help in the observation of the reflections, actions, or other feelings. If you try this in a group, you can get some suggestions for future actions, changes, and improvements from the discussion.
You can manage the reflective practice with various mediums. Some of them are:
By writing notes, journals, or a diary for the record.
By imagining the scenario, like - doing mind-mapping, creating sketches in mind, pictures, or diagrams.
By creating a dramatization of the scenario with friends or mentors to observe some reflective dialogues.
By using some social media platforms to get views from a large number of people.
You can also check some published work of the experts, like - books, articles, or more.
Choose the medium that can deliberately progress through the stages of reflection, understanding, and action. Here are some more techniques from the expert for reflective practice that are helpful in better observation and conclusion in the scenario.
These are the various techniques of reflective practices that can help you to find the various result of any tense situation or scenario. The reflective practice is very helpful as it helps us to calculate the various results of the past or future situations.
Here is a brief about how reflective practice is helpful for the students, working person, or for the person who wants to clear the tense situation with better results.
Techniques:
Reflect at the Right Time-Try the reflective practice on the scenarios after the situation is cooled down. Don't reflect on the stressful or intense moments; instead, choose an appropriate time.
Balance Subjective & Objective Reflection-Differentiate between the reflections according to the subjective and objective section. Both of them are useful and relevant for reflective practice. But, you should know the difference between both for balancing them with the overall understandings.
Understand How & Why You Think in the Way You Do-Try to figure out the reasons behind your reflection in that situation. You should know your own thoughts and feelings about it.
Consider Your Personal Role & Responsibilities- Figure out your skills, strength, and needs for development. You should understand your abilities to work in different situations and scenarios. If you can't calculate, then find a new one instead.
Seek External Clarifications- Ask for some external suggestions, advice, clarification, or views to know all the sides of the situation. Maybe there is a part where you were not factual or may have skipped information from the scenario.
You should not have made any assumptions, blind faith in your own facts, etc.
How Is Reflection Practice Helpful?
Reflection Practice helps in the following ways:
Better understand your strengths and weaknesses, and become a better learner.
Identify and question your underlying values and belief.
Acknowledge and challenge possible assumptions on which you base your ideas, feelings, and actions.
Recognize the areas of potential bias and discrimination.
Acknowledge your fears.
Identify possible inadequacies or areas for improvement.
It can improve your teaching practices.
It enhances problem-solving skills.
It improves organizational skills.
It helps in becoming a critical thinker and decision-maker.
These are the various use of reflective practice in your daily life. This is how these cycles can affect your life better. These reflective practices improve your learning skills and also helps to manage the various situations, locations, and the mind-body condition in which you reflect. You can analyze your past moments and prepare yourself for the future with this reflective practice.
You can use the reflective model , major cycle, or reflective practice as part of your academic task. If you are confused, then reach the experts of Global Assignment Help.
You may also like this blog- 
Everything You Need to Know About Gibbs Reflective Cycle [The Best Guide]
Avail the Best Reflective Essay Writing Service Here!
Can I Pay Someone to Write My Assignment on Reflective Model?
Students who want to take the reflective model, major cycle, or their practices as the topic for paper writing can reach Global Assignment Help for assistance. Our assignment help experts have great skills to complete various lengthy writings or research papers for the students.
Some students write their academic tasks by themself, but can't identify the mistake or don't have enough time to reread and remove the errors. If you have already completed your writing and need someone to check and remove various useless facts or unnecessary arguments, then you can also take our essay proofreading services.
We have professional proofreaders who edit the various level of writings from high school to Ph.D. degree level, like - research papers, thesis, dissertation, etc., for the students so that they can achieve higher grades.
If you also need a solution for your academic task, reach us now!
Lowest price
USD 7.13
Get A+ Within Your Budget!
24/7 Customer Support
100% Customer Satisfaction
No Privacy Infringement
Quick Services
Subject Experts
Innovative Documents
FREE Tools
To Make Your Work Original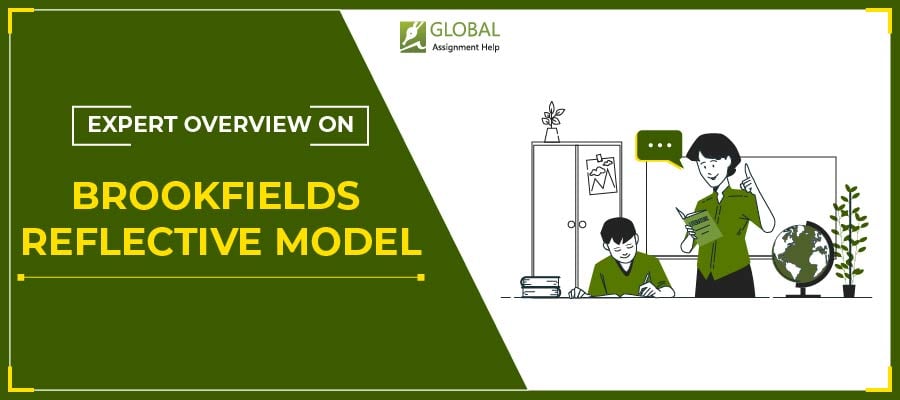 A Expert Guide to Brookfield Reflective Model and Its Four Lenses
27-09-2023
175
13 minutes