Personal Letter Format: Types & Structure Explained!
Table Of Contents
Hey guys!
It is understandable that writing a letter can be hard, following various format and tone as every person has their own writing style. There are various kinds of letters, and every letter has its own writing format.
Even though a personal letter is written to your friend, family, business, college, but it still requires you to follow a personal letter format; while writing.
The Global Assignment Help is a well-known website for providing letter writing help to the students and resume writing services for those who are searching to get their dream job. We have services for everyone to provide convenience and ease.
If you want to write a letter in your homework or assignment and need complete guidance about the type and the format, this blog is perfect for you.
Let's start learning more about personal letters with the various types that usually on the recipient.
A+ Grades @Affordable Prices!
We deliver all academic papers from dissertations & assignments to thesis, & case studies. 5000+ satisfied students, you could be next! Place Your Order Now!
Order Now
Different Types of Personal Letters
There are 8 major types of personal letters, as follows:
Letter to pen pals
Letters to famous people (fan mail)
Love letters
Goodbye letters
Get well soon letters
Condolence letters
Thank you letters
Celebration letters
These are different types of letters we write to different people. Every letter we write requires some important elements in it, which maintain the format of a personal letter.
9 Elements of a Personal Letter Format
These are the 9 elements required by a personal letter to maintain the structure.
Full name of the sender with complete address
Full name of the recipient with complete address
Greetings to the receiver
An optional subject line
Paragraph with a complete Introduction
Paragraphs with complete details of reasons for writing
Concluding the entire matter in last
Closing note in the end
First or full name of the sender
These are the elements that you need to add to your personal letter in terms to make it perfect. Now, using these elements, it will be easy for you to write a letter in a perfect format.
How to Format a Personal Letter?
Let's know more about the format of a personal letter. You can structurize it as follows:
Sender's full name with complete address
Write the sender's name on the right side at the top of the page & the date of writing the letter on the left. Write the complete address under the senders name.
Recipient's full name with complete address
Designate the full name of the receiver with the address on the left side of the page next to the date.
Salutation
You can use the words, like- Dear, beloved, etc. to warmly greet the person. 'Dear' word is used vastly to show attachment with the receiver.
The optional subject line
It is an optional line as you can tell the receiver here what your letter is regrading.
Content in the introductory paragraph
This section is to get the attention of the reader to your purpose of writing a letter. Mention the main reason here with brief content.
Content in body paragraphs
There is no word limitation in the personal letter. So, in the body section, you can write all the matter taking care of the interest of the reader.
Concluding paragraph
In the concluding section, you can write the points you want the recipient to remember like a summary. This section is kind of a call to action, which awakes the reader's urge to reply back.
Signing-off note
This is the section where you thank the recipient for giving their precious time in reading the letter.
Sender' first name (or full name)
In the end, you can write either your first name or full name to finish the letter.
This is the structure you are required to maintain while writing a personal letter. This will make it more impressive and understandable for the reader.
If you are a recipient and want to reply to the sender's letter, then here is how can you write a reply.
Read Blog: How to Write a Cover Letter? Template, Tips, & Examples
How to Answer a Personal Letter?
Whatever you do in life, just make your mind to master the art. When you receive a letter, the next thing that comes to your mind is, "˜I will send a reply'.
There is not much difference between writing or replying to a letter. To maintain the lines of communication between you two, here is the best way of answering a personal letter.
Depending on how much you know the sender, you can use a greeting along with the recipient's first name, or you can stay more informal by only writing the person's name without the salutation.
Considering do you want to show off your personality or not, you can start the response letter. You can try the most common or safest first liners.
Reply to the sender in the body paragraph. Introduce them to both the problems and good things happening in your life. Use the tone of optimism while writing.
To get a reply from the recipient, ask a few questions about their life events, and keep the ball rolling.
Sign-off with some good wishes for the recipient and their family.
These are the simple tricks that can help you to reply to a personal letter.
If you need more help with letter writing, assignment writing, homework, or resume writing, you can reach our renowned website Global Assignment Help.
Require Help from Experts for Letters & More?
Trust the best website, which is Global assignment help, as students have trusted us in the last many years. We have tempting benefits for various students so that they can get some ease in their writings.
We provide various benefits to the students, even if they need to write a letter on homework, or someone need resume writing services for job application. We fulfill everyone's requirements for writing.
Take Our Services & Get Various Benefits
The various benefits of taking writing services from Global Assignment Help are as follows:
With our 2500+ professional writers, you can get great benefits.
100% plagiarism-free solutions
Impressive quality that wows all
Super-fast deliveries - every time
Pocket-friendly pricing range
Cashback deals and discounts
Free rework and revisions
Email updates and alerts
Round-the-clock customer support
These are the various benefits of taking writing help from us, and for some extra savings, you can check the website and apps for seasonal offers and exciting discounts.
Lowest price
USD 7.13
Get A+ Within Your Budget!
24/7 Customer Support
100% Customer Satisfaction
No Privacy Infringement
Quick Services
Subject Experts
Innovative Documents
FREE Tools
To Make Your Work Original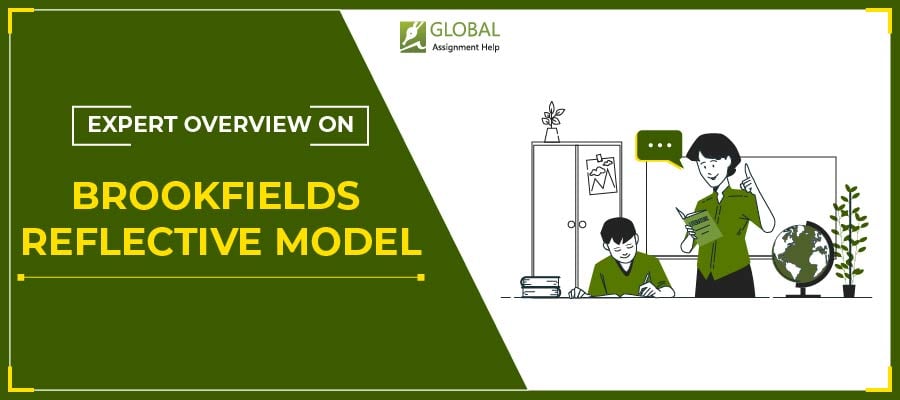 A Expert Guide to Brookfield Reflective Model and Its Four Lenses