Assignment Writing Anxiety Taking a Toll? Seek Help from Professionals
Are you feeling stressed lately? Is your smartwatch showing an increasing heartbeat each time you are holding the pencil for finishing your pending assignment? Have you been experiencing nausea? You could be suffering from academic anxiety.
What Is Academic Anxiety? Its Impact on Regular Student Life
It is a term used to describe the feelings of worry, tension, fear, and other emotions caused by academic pressure and tasks. The source of this type of anxiety can be any event, a situation, a person, or a combination of all three. According to a recent study conducted by a research scientist at New York University College of Nursing, about half of the student population residing in the USA reported feeling stressed and burned out on daily basis. Also, females were found to be more stressed than males (60% vs. 41%) due to the pressure of homework and good grades. According to the survey results, 26% of respondents were declared clinically depressed. The regular tasks were found to be the major cause of worry. The study also indicated how students require help with writing assignment. In brief, academic anxiety is real, and it has become a serious issue even in developed countries. Before we get to the conclusion and methods for dealing with it, let us first understand the kinds of academic anxiety.
Several Types of Academic Anxiety You Need to Be Aware
Academic stress at a moderate level is healthy. It leads to the development of motivation among individuals to finish the task within the given time. But when it keeps increasing at a higher rate, it can turn into anxiety. Even usual academic work like writing assignments on any particular topic may raise the stress level among pupils suffering from these anxieties. Many kinds of it are constantly felt by students due to a variety of tasks. Get a brief idea about all of them with the information mentioned below:
Physical Academic Anxiety 
When your body responds through physical and muscle reactions, it can be covered under physical anxiety. The symptoms may differ from person to person. The reasons may also vary. Some may feel shortness of breath while giving exams or writing assignments. Few people may experience excessive sweating as a result of constant nervousness.
Behavioral Anxiety
Many students may face changes in behavior instead of experiencing physical issues. In such cases, they deliberately exert minimal effort on a given task to avoid anxiety. They would remain in flight and fight mode in such circumstances. Additionally, they will not participate discuss, or engage in any academic conversations.
Social Academic Anxiety 
A subset of students experiences social academic anxiety when they believe they are not able to meet their academic responsibilities of earning good grades and meeting the general academic expectations of teachers and parents. It is now a common occurrence among all university students. It is the reason why scholars worldwide have been searching for help with my assignment quite often on search engines. 
Mental Academic Anxiety 
It includes the hampering of cognitive abilities regularly due to extreme stress. When students experience anxiety, their thinking process leads to the generation of negative thoughts in a series. It also includes poor concentration, lowering of attention span, and stress due to cognitive overload caused by multiple activities. When faced with mental anxiety, even a simple task like writing assignments becomes a cause for worry.
Now that you are aware of the various types of academic anxiety, get to know the essential tips to handle it recommended by experts.
Looking for Professional Assignment Help?
Are you not sure about availing of professional help for your assignment writing? Do you fear getting conned by online services? Worry not. Global Assignment Help is here for you to provide you with the most reliable and authentic academic help.
Get Here!
Effective Tips to Handle Academic Anxiety in An Efficient Way
The cause of regular academic stress has been experienced by students while writing assignments. Some suggestions can be adopted by them to immediately handle anxiety.
Identification of Trigger Areas 
Any activity or situation or work may lead to stress among students who are suffering from academic anxiety. It can vary from person to person. The trigger areas cannot be the same for all pupils. Some people may begin sweating while taking a sociology exam, while others may experience muscular contortion while doing homework. To avoid such a situation, scholars should understand the pattern of their behavior. They should notice what kind of events and tasks are triggering them.
Investing in Aromatherapy Sessions
It includes changing the physical surroundings, and elements and creating positive energies around yourself. It includes ways to calm your senses, make you feel strong from within, and lower academic anxiety issues. The use of scented candles, incense sticks, essential oils, massages, and so on are some of the practices carried in it. Along with this step, you can also take help in assignment writing from experts for handling pressure. 
Avail Guidance and Mentorship
During your course of study, at times, your professors spends more time with you than your parents. They know the personality traits and are aware of personal study habits. So remove communication barriers and approach them for academic troubles. Your mentor and professors can provide you best advice in a friendly manner. Whether it is about a personal problem or you want help writing assignment, sometimes sharing with others can prove to be the correct solution. 
Make Your Surroundings Neat 
A small change in your environment can sometimes help you write your assignment better. You may not realize it, but dirty surroundings may affect your mood and working capacity. If any unnecessary things are lying on your desk, remove them instantly. Organize your materials of study and clean the working space. It will declutter your mind and give you mental peace.
Begin Writing Early 
There are many tasks assigned to students daily while pursuing a specific course. From writing assignments to academic papers to essay write-ups, the list is endless. For the successful completion of all the work, time management is the key. Pupils need to plan. The biggest tip that experts recommend is starting early. Being to work at the end moment can lead to waste of a large amount of the period. In case you need help with assignment, reach out to peers as early as possible. Avoid last-minute working at any cost.
Listing Down of Main Topics 
For every academic task, whether it is writing an assignment or an essay, you need to read and analyze some kind of information. In any domain, you should list the main topics to study as well as sub-areas that are related to the assignment's assigned question. If you face difficulty in this, take help in writing assignment under professionals.
Creation of Rough Structure
Perfection is good but it is harmful when it starts hampering your regular tasks. So, before you start the main up, prepare an outline. Making a rough structure can help with direction and writing assignments. This process will lower your anxiety as you will not have to start from scratch. After this step, you will not even put off finishing tasks.
These were some of the recommended tips by the experts. In case you need help with writing assignments at any stage then, take assistance from top academicians. It can prove to be one of the best options for you, especially while facing some personal health issues or chronic illnesses. Not just for assignments, you can also avail yourself of homework help from experts. 
For every academic work, there is a different approach that needs to be followed. It depends on the type of content you need to submit and deliver at the end of the day. Find a proper way to complete an academic task, and if you require assistance, you can approach academicians. They can provide help with writing assignment. Read the pointers highlighted below to know more about it.
Best Ways Professionals Can Help with Writing Assignments
Professionals can help you with writing assignments in multiple ways. By reading the points mentioned below you can get a broad idea about it:
Providing Error Free Document 
Errors whether minor or major can always lead to the formation of a bad impression. Top academicians can help in writing assignments by drafting an error-free document for you. The write-up delivered to you will be grammatically correct and free of mistakes. It will be well structured with the correct use of diction according to the field. You can buy assignment online directly under them with just a click.
Delivery of Well-Edited Document 
Editing is an important and long process. You may have noticed that you have finished writing a document. But, you may lack knowledge of editing it on your own, or you may not have time for this process by yourself. In such a situation, you can get direct help from professionals. They are in the habit of editing many types of academic documents. In addition, they know the proper usage of writing tools that are available online. In this way, they can provide assignment help to you. 
Timely Delivery of Well-Proofread Document 
Proofreading is the last-second stage in academic document writing. You may have excellent writing skills. But, it is not necessary that you also have the required proofreading skills. For meeting the educational standards in one go, approach experts and get help in assignment writing. It can save you time and energy. With it, you can get an actual studying period for the subjects.
Well-Researched Content 
Research is of paramount importance while writing assignments. Many students either lack the skills or time to conduct this process. But, for writing a quality document, it is necessary. Academic experts are proficient and know the correct sources of information extraction channels. 
Academic anxiety and stress have become common issues. It is not restricted only to a particular set of the population every day its occurrence is growing among several pupils. Whenever you feel any symptom of it physiologically or mentally, you should take rest and try to heal it in natural ways. Meanwhile, academic experts can help with writing assignments in such circumstances.
Lowest price
USD 7.13
Get A+ Within Your Budget!
24/7 Customer Support
100% Customer Satisfaction
No Privacy Infringement
Quick Services
Subject Experts
Innovative Documents
FREE Tools
To Make Your Work Original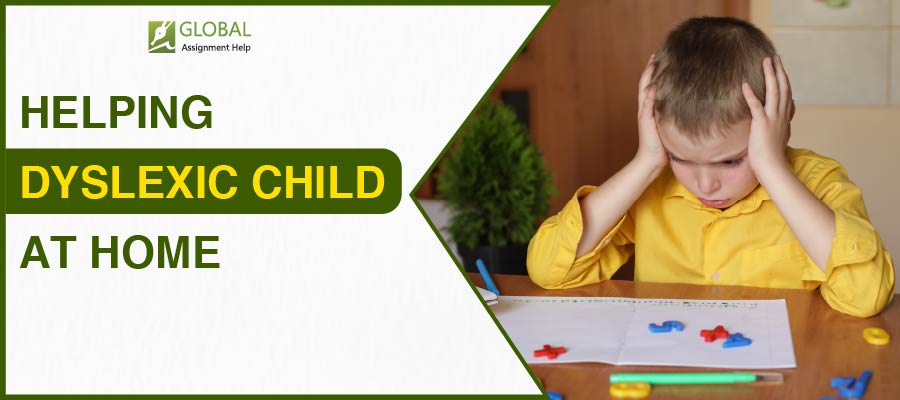 How to Help a Dyslexic Child in Writing at Home?
21-08-2023
477
16 minutes