Learn What Is Brookfield Reflective Model and Four Lenses
The Brookfield model of reflection is beneficial to perform critical analysis on multiple sets of situations. It is highly helpful for people who want to analyse their performance and growth. But are you a scholar whose concepts are unclear on the Brookfield model? Do not worry, as in this blog, our experts will explain every aspect of the reflective model. So, let us get started!
What Is Brookfield Reflective Model?
The Brookfield reflective model was created for professors to conduct a critical analysis of their teachings. Through self-reflection, these instructors could determine their effectiveness and develop areas for improvement.
Through the Brookfield model of reflection, teachers can evaluate their teaching methods and accordingly plan their lectures, assessments, and learning plans. In this model, the situation is considered from four different perspectives. After experiencing a event, you need to take a step back and take into account all aspects of the event. Moreover, consider the ethical, practical, and theoretical factors and evaluate the situation using the Brookfields and reflective model.
Every top education institute expects teachers and students to conduct self-evaluations. Using the Brookfield model of reflection, the professors can perform a thorough analysis of their performance. The four lenses of this model and are interconnected and assist in the deep evaluation of an experience. Due to its remarkable benefits, it is considered one of the best models of reflection, especially in nursing. But do you know who and when it was developed? No! Do not worry, as our experts will explain its origin in the next section.
When and Who Developed the Brookfield Reflective Model?
The Brookfield model of reflection and was developed in 1997 by the then-famous teacher Stephen Brookfield. According to him, every scholar critically evaluates their assumptions, and this analysis can be perfectly achieved using four Brookfield lenses.
Stephen Brookfield was a renowned teacher and taught in many countries, like Canada, England, and the United States. Apart from this, he published over 19 books in his entire career, which covered topics like discussion techniques, critical theory, and thinking. The objective of the author was to always analyse every experience and enhance skills using evaluation and improvements.
In this Brookfield model of reflection, Stephen explained the four lenses for critical analysis. These lenses act as a strong pillar for the entire model. For better clarity, our academic experts have explained them in the next section of the blog.
What Are the Four Lenses of the Brookfield Reflective Model?
Every reflective model has its unique aspects and strategies. For instance, the Gibbs reflective cycle focuses on examining a situation using six modules. On the other hand, the Driscoll reflective model emphasises the practicalities of an event. However, Stephen Brookfield's model of reflection focuses on the links between an event and broader theory. The author has proposed to examine each experience from four angles. It is because teachers can be aware of their performance only if they evaluate their work from as many perspectives as possible. The Brookfield's four lenses are explained one by one in the subsequent sections.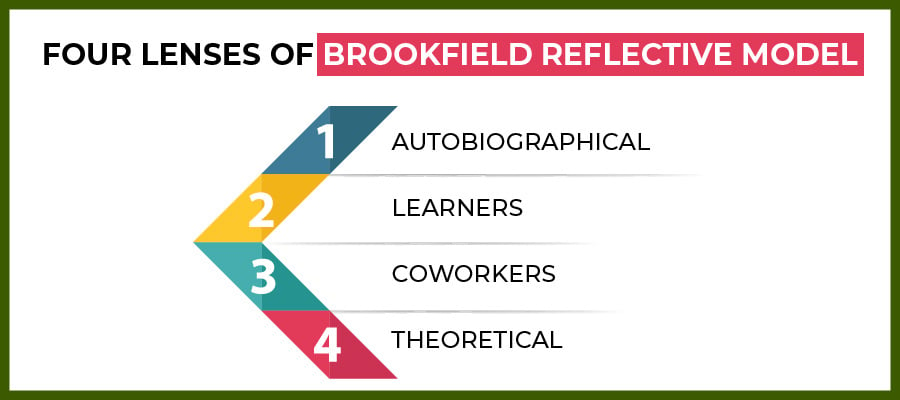 Autobiographical
The first Brookfield lens is also known as the ourselves perspective. It suggests that teachers examine how their current events were influenced by past experiences. Take into account any situation concerning students' learning and accordingly analyse the event. Evaluate how the professor's personal feelings and reactions affected the situation. If it is possible that this happening could have a different set of outcomes, then why did it not? So, explain what personal reactions, feelings, and past experiences provoked this event.
Consider the Following in the Our Autobiographical Lens
The philosophies of teaching and learning
Personal recordings
Teaching logs
Audits and advice
Past experiences
Evaluate the event using ourselves Brookfields lenses. Also, make notes of any important happenings, reactions, and feelings that influenced the situation and its outcomes. After this, move to the next perspective of evaluation.
Our Learners
The next lens of the Brookfield reflective model is to consider the students views. A successful teacher's self-reflection is impossible without examining the situation from their learners' perspective. Professors should first analyse the situation by putting themselves in the students' shoes. They can also compare the grades and performance of their pupils. For a more honest and direct answer, talk to the learners and ask for their opinions on multiple situations. The teacher should always accept any type of feedback with a positive attitude.
Consider the Following in the Our Learners Lens
Formal and Informal Evaluations
Anonymous feedback forms
Focus groups
Interviews and Questionnaire
Letters or Conversations
If professors want an honest opinion through the student's lens, they should always practice anonymous methods for data collection. It will allow the learners to share their views more freely and will generate the best results for self-reflection. After this, we move on to the third lens of the Brookfield model of reflection, which is described below.
Our Coworkers
Many of the professors just focus on the first two lenses and complete their evaluation using the above two perspectives. But successful self-reflection depends on the third lens too, which is the colleague's view on the situation. Teachers should contact their coworkers and seek mentoring, advice, and feedback. The observations of the other staff members on your way of teaching and working will offer you interesting insights. Some of these opinions will remain undiscovered until now, and taking their suggestions can in turn result in drastic improvement.
Consider the Following in the Our Coworkers Lens
Organise learning circles
Collaborate to solve problems
Hold critical discussions for evaluations
Note down their observations
Seek feedback and suggestions
In this stage, the teachers should keep away their competitiveness and jealousy and seek feedback. Suggestions can help them improve their methods of teaching and learning rapidly. Moving further, we will discuss the last lens of the Brookfield model of reflection, which is the theoretical literature.
Theoretical Perspective
The last of the Brookfields four lenses is the theoretical perspective. The learning of a professor is not complete by pursuing a degree or a course. Instead, a teacher should always gain knowledge in every aspect. The last lens suggests looking into the theoretical literature and learning new concepts of reflection. The teacher should compare their teaching methods, plans, reactions, and ways against the preexisting theories. Derive new insights by evaluating practical situations and determining strong conclusions using existing facts and findings.
Consider the Following in the Theoretical Lens
Conferences
Professional Journals
Theoretical Research
Literature Review
Guidebooks and Courses
Many renowned authors suggest teachers return to critical reading and learn strategies of analysis and evaluation. The last perspective of the Brookfield four lenses also helps them gain new insights into the above three stages. However, teachers should always prefer credible and legal sources of theoretical literature.
Every professor or nursing student needs to perform a critical analysis of their performance. The best method to do this is through the Brookfield model of reflection. The four lenses defined by Stephen can assist in successful self-reflection. But if you still have any queries regarding its concepts, reach out to our experts. These professionals will clarify all your doubts within seconds!

How Can Our Experts Clarify the Concepts of the Brookfield Reflective Model?
Are you still confused about what the Brookfield reflective model is? Do not worry! Global Assignment Help can assist you with all your queries. All you need to do is reach out to us, explain your concerns, and within seconds you will receive descriptive answers.
We have a team of professionals who have several years of experience and Ph.D. degrees in their respective fields. Moreover, these experts have extensive subject knowledge and great language proficiency. So yes! They can resolve all your queries regarding the Brookfield model of reflection. These professionals will explain the four lenses in detail and how you can use them for self-evaluation.
Apart from resolving doubts and queries, our experts offer assignment help to students 24 hours a day. Until now, the team has assisted over thousands of students in resolving their academic challenges. The experts guide them in topic selection, researching, drafting, referencing, and proofreading. So, if you are a student who seeks assistance from the first step until the end, then this is it! Reach out to us and enjoy top-quality guidance at affordable rates.
Many students reach out to us when they are assigned lengthy assignments on complicated topics like Brookfield or Rolfe reflective model. Our experts curate their documents as per their requirements and follow each instruction set out by the professor. So, yes, if you seek nursing assignment help on reflective models or any other topic, we can guarantee you an A+ in every document we deliver. So, what are you waiting for? Seek assistance now!
Final Reflection
Every nursing professor and student has to perform critical analysis to evaluate their performance. One of the methods for this examination is the Brookfield model of reflection. It originated in 1995 by the then-famous teacher and author Stephen Brookfield. He emphasises studying information from every perspective. Thus, this model comprises four lenses, the first of which is autobiographical, in which you conduct self-evaluation. The second is the learner's lens, where you seek opinions from your students. The third one is the coworker's lens, wherein you take feedback from colleagues. Lastly, through the theoretical lens, you compare the information against existing theories. So, understand these four lenses of the Brookfields model of reflection in the above post and seek help if you have any doubts.
Lowest price
INR 594.27
Get A+ Within Your Budget!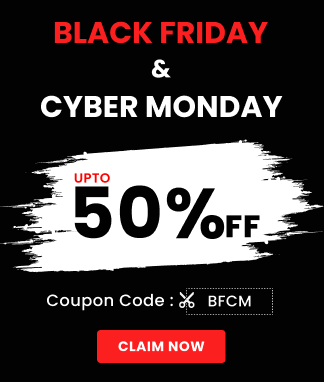 24/7 Customer Support
100% Customer Satisfaction
No Privacy Infringement
Quick Services
Subject Experts
Innovative Documents
FREE Tools
To Make Your Work Original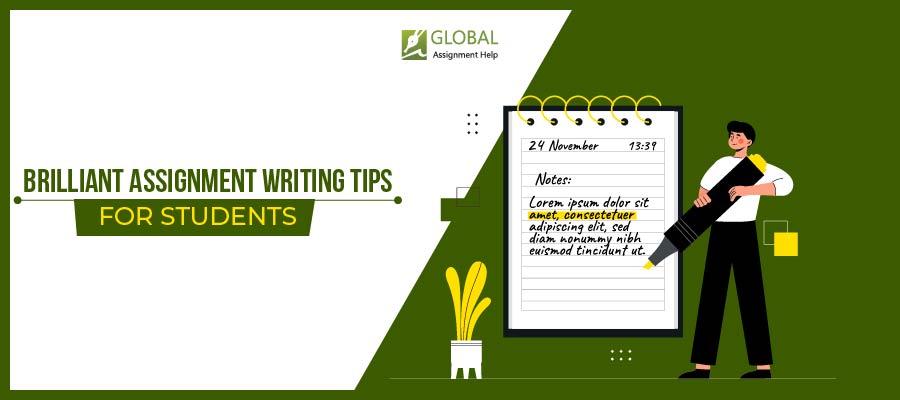 8 Assignment Writing Tips to Aim Great Scores
09-11-2023
255
18 minutes