6 Simple Ways to Make Your Assignment Look More Professional
Writing a top-notch assignment is very important to get A+ grades. Similarly, formatting is also one of the essential parts of an assignment. Without proper formatting, your assignment may look dull and you could lose the chances of getting good grades. It is true that 50% of impression is based on visuals, and an attractive assignment is very important, especially, if you want to impress your professor.
Do you also feel like your assignment is looking boring and unimpressive in style? If so, then do not worry anymore. Here are the 6 ways to make your assignment look more professional and get A+ grades:
Let's start to explore it...
Make Your Assignment Look Professional in Just 6 Simple Steps:
1. Use Two Contrasting Fonts Other Than the Default
Although Times New Roman is the default font in any assignment, it is not necessary to use it. You can also try different fonts like Calibri, Arial, Abyssinicia SIL, Manjari, etc and should use it in the whole assignment. Professors generally get bored by reading the assignments in the same font. So, you should try out different fonts for writing your assignments in order to make it more interesting. Apart from the font, you should also take care of the size of the font that should be:
Heading Size: 14
Sub-Heading Size: 13
Paragraphs Sentences Size: 12
For Example: Go through the sample given below by our expert writers:

NOTE: Always use the attractive yet simple font so that the professor can easily read the words in the assignment.
2. Be Careful with Color
According to the experts of Global Assignment Help, if you want to make your assignment look more professional, then you should use the proper color format. No doubt black and white color is mandatory, but you can also use some contrasting colors in diagrams tables and logo of your assignment.
Doing so will make your assignment look more impressive, and engage the reader throughout your document.
For Example: Check the sample given below: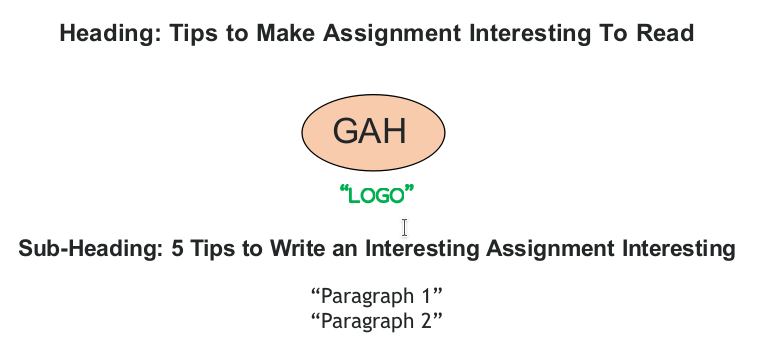 3. Right Spacing Is Must Required
The next most important thing you need to know is the type of spacing rule mentioned in the university guidelines for your assignment. Generally, students should use the default spacing that is 1.5 and should use double spacing if asked by a professor. A blank line must be there between every paragraph and each and every important question should be underlined.
According to our experts, one of the most important thing that ties the whole assignment together is how the words are displayed. So, always try to break long paragraphs so that the document looks clear and in a proper format as well.
For Example: Go through the following sample...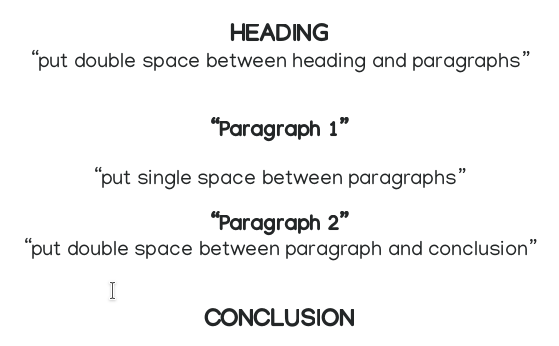 4. Make Sure to Frame Proper Headings and Sub-Headings
Headings are the most important part of assignment writing as it plays a very crucial role in giving a hint to the reader about the particular paragraph. So, if you want to impress your professor at the very first glance, then you should use attractive headings in between your assignment. In addition, you should also write sub-headings if needed.
NOTE: Always keep the font size of heading bigger than the usual paragraphs. Make the headings bold so that it gets highlighted in your assignment.
For Example: Go through the following example to get an idea of spacing.
5. Maintain Consistency
As we all know the fact that if you want to make your document amazing, then you should maintain a consistency in your assignment. Using the attractive fonts and color is not the only key to make interesting assignments, but also the consistency matters. According to the experts' research, there are a number of students who are well-versed in formatting the assignments but unable to keep the whole assignment consistent throughout and thus get poor grades. To overcome such a situation, they take online assignment help from the experts, so that they can get A+ grades in their semesters.
6. Do Not Avoid Usage of Headers and Footers
Adding headers and footers in an assignment is also very important. Our experts have discussed to mention the following details in the headers and footers. They are:
Mention your full name
Mention your university roll number
Write your course name
Assignment number
Mention page no at the last
In addition, do not forget to assign number to each and every page of assignment, except the title page.
So, simply by following these steps, you can definitely mark an impression on your professor and get top-notch grades.
NOTE: In case, you want some more formatting tips or need help with assignment writing, then you can opt for online assignment help from the experts of Global Assignment Help.
Read these blogs
5 Things to Learn from the Legendary Michael helps
5 Rules to Break the Paragraphs in Assignment Writing Task
5 Key Suggestions to Consider While Writing a Computer Engineering Assignment
5 C's of Marketing That You Should Know About
Lowest price
USD 7.13
Get A+ Within Your Budget!
24/7 Customer Support
100% Customer Satisfaction
No Privacy Infringement
Quick Services
Subject Experts
Innovative Documents
FREE Tools
To Make Your Work Original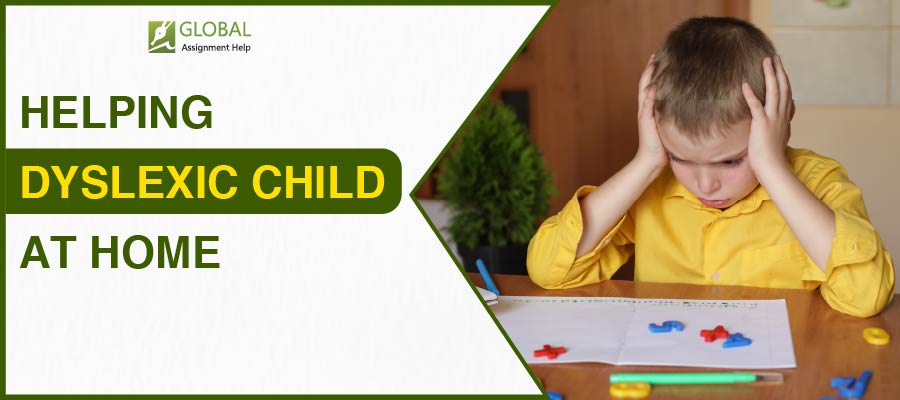 How to Help a Dyslexic Child in Writing at Home?
21-08-2023
491
16 minutes