Question :
The assessment will cover following questions:
Examine the relevant research methodologies and approaches as part of the research process.
Conduct a research suitable for a business research project.
Communicate the result of a research project to identified various stakeholders.
Reflect on the implementation of research methodologies and concepts in Fintech Company.
Answer :
Organization Selected :
Curve Company
INTRODUCTION
Technological advancement is enabling companies of world to open up to more opportunities that are prevailing within external environment and increasing their ability to compete (Manganello, Falisi and Strogatz, 2017). There are many more abilities and opportunities which digital technology is giving and helping firms to identify various ways to elaborate their production capacity. This particular research which aims at showing up impact technology is having on SME business of London and conducting research on to it. For this purpose Curve is taken which is FinTech Company of UK which with help of its app link all the existing debit and credit card to standalone contactless (Curve, 2018).
A+ Grades @Affordable Prices!
We deliver all academic papers from dissertations & assignments to thesis, & case studies. 5000+ satisfied students, you could be next! Place Your Order Now!
Order Now
Related Service - MBA assignment help
RESEARCH TOPIC
Statement
TOPIC IS: The implications of digital technology on business.
Aim
"To explore the significance of digital payment on profits of company: A study on Curve FinTech Company"
Objective
To identify technological factor affecting business environment
To analyse the implication of digital technology on business of Curve
To explore impact of digital payment on buying experience of customers
Significance
Today in this current scenario where all customers are having their debit and credit cards through which they are making day to day payment of things and product which is empowering them. but they will be having problem with keeping so many new and old debit and credit cards while travelling to any places or while doing shopping. So Curve has analysed this problem of customers who are travel from one place to another with having 2 or more credit and debit cards at one time (Nambisan, 2017). They introduced a digital payment system that enables them to mark more revolution within payment system helping customers in more simpler and easier manner. This research which is focusing on impact of digital payment on the buying experience of customers is very much significant in this current stage of technology and its experience. With the help of this buying behaviour of customer will also be explored that what they think about payment system.
LITERATURE REVIEW
Technological factor affecting business environment
According to Kane and et.al., (2015) technology has an important effect on business operation. Digital technology is very important for the success of the business. It has changes the way of life of people. Transformation of digital business leads to improve the profitability, boost speed to market for good as well as leverage customer satisfaction into loyalty. There are many factors of technology that affect the entire business environment. These technological factors are affecting all type of businesses either small or big all over the world demands a changing behaviour with regards to traditional marketing. This is true that technology is shaping the future of entire businesses of world. Technological factors include both product and processes as well as present opportunities and threats but t is very essential for competitive advantage.
As per the Barrett and et.al., (2015) technological factors are the existence of 3D technology, computer calculation speed, efficiency of engine, internet connectivity, automation and many others. In addition to this, there are some other factors that are affecting business environment are organisation change, business processes, Sustainable competitive advantage, cost involved, efficiency and information security. These are the major factors that affect the business environment. These factors affect the business on many levels. When business is remained touch with its present as well as potential customers, there are more chances to build a strong base of customer loyalty. Technological advancement makes it possible. For the development as well as updates within the technological environment strategic leaders are constantly focusing. These factors have change the way in which business functions. Each and every department of company are affecting the business environment. For example, Siemens and Boeing are largely investing in the adaption of techniques in 3D printing for the designing of product in order to reduce the cost of production as well as improve the effectiveness of designing.
Impact of digital technology on business of Curve
Collins and Halverson, (2018) stated that, technology affects the business entirely. Technology can catapult a business to success or destroy. It is very important for businesses either small or large to adapt digital technology in the business. These developments have greatly impacting the world of business. This digital transformation has improved experience of customers, productivity of employee's as well as streamlined many processes. There are various ways that technology affected the business like it diminishes the risk of security. Risk is the most common factors that each and every business is affecting largely. There are many businesses that have online presence and they have high risk of cyber-attack, thus in order to prevent the impact of cyber-attack digital technology is very helpful. Addition to this, technology also helps in growth of business at a much faster rate than when technology was not available.
Technology plays a big role in assisting business growth from automated communication and chat-bots to automated marketing. According to the Sultan, (2015) digital technology also helps businesses in boosting productivity. Innovation is one of the best way to achieve the goals of company in efficient manner. Advancement of technology help employee to communicate, collaborate as well as work better. Moreover, digital technology also affects the businesses as it improves the customer experience. Customer satisfaction is the best way to sustain in this competitive world.
People may also like to read about - Research Project on Digital Technologies
Impact of digital payment on buying experience of customers
According to Karjaluoto, Mustonen and Ulkuniemi, (2015) digital payment is a way of payment which is made through digital models. In digital payments, payee and payer both use digital modes to send and receive money. It is also known as electronic payments. Digital payments completed the transaction on online platform. There is no hard cash are involved in digital payments. Digital payment is much more secure than cash payments. Customers have begun now showing faith in digital payments. The leaders of business have forecasted that in 2020, the volume of mobile payments will raise to $503 billion in United Kingdom and it will be used by 55% of people living in the country. Company is transforming there payment or transaction options to digital payment because customers are highly attracted to make transaction with digital payments. Iansiti and Lakhani, (2017) stated that, digital payment saves the time of consumers and it reduces the cost of transactions. Addition to this, customers are highly attracted because it is most trusted money as it removes the black economy. Transactions can be easily monitored if they are made digitally. All the payments made are recorded electronically which stops the illegal transactions to occur. Thus, customers are attracted towards the digital payments because it is most trustworthy.
RESEARCH METHODOLOGY
Research methodology is the systematic, theoretical analysis of the methods that are applied to the field of study. It is the systematic plan in order to conduct the research. There are many types of researcher methodology that are used by researcher to make the investigation reliable and valid.
Research Philosophy- This is very important section of research methodology. It is a brief description about the way in which information or data must be collected, analysed and interpreted. There are different types of research philosophy which are ontology, epistemology, positivism, interpretivism and realism (Rinehart, 2018). In this present researcher, researcher has used positivism philosophy that demonstrates the positive or optimistic knowledge which is based on natural phenomenon. With the help of positivism philosophy, scholar has effectively identified the significance of digital payment on profits of Curve FinTech Company.
Research Design- This is the set of methods, techniques or processes which are used in collecting as well as analysing measures of the variables that are specified in the research problems. It is a detailed outline of how the research will take place such as collection of data, measuring of data and interpretation of data. There are different types of research design which are descriptive, correlational, semi-experimental and experimental. In this present research, researcher has used descriptive design (Mangrum, 2016). This is the best way to observe and describe the actual behaviour of subject without influencing in any way. With the help of descriptive design, scholar has effectively identified the significance of digital payment on profits of Curve FinTech Company.
Research Approach- This is overall design that is used for the examination of research problem. In order to collect, analyses and interpret the data in a meaningful manner, research manner, approaches plays significant role. There are two methods of research approach which are inductive and deductive (Capous-Desyllas and Morgaine, 2017). These are used to study the narrow problems of research. In this preset research, researcher has used deductive research approach because it helps scholar to analyse the data in a meaningful manner as it work from more general to more specific which become easy for users to understand the meaning clearly before going to the main issue. With the help of d deductive approach, scholar has effectively identified the significance of digital payment on profits of Curve FinTech Company.
Data Collection- This is the fundamental part of research because research is incomplete without collection of data. It is the process of collecting data from respondents. There are two methods of collecting data which are primary and secondary method. Primary method are those where data is collected by the researcher own-self such as survey, interview whereas secondary are those where data is collected by other sources such as books, articles (Powell, 2015). In the present research study, researcher has used both primary and secondary methods for collecting data.
Data Analysis- Data Analysis is the critical part for conducting the examination of research. It is the process of studying, cleaning, transforming and moulding of data with the objective of discovering useful information. In this present researcher, researcher has used thematic analyse to identify the significance of digital payment on profits of Curve FinTech Company.
Sampling- It is the process of selecting a small part from the large population. Population is very big and it is not possible for a scholar to study the entire population due to limited resources like time, cost and energy (Ilie, Nickerson and Planken, 2019). In this present researcher, non-probability sampling is used by researcher as the selected respondents have no identified chances for being selected. Therefore, Researcher has selected a small part in the company. 20 employees of Curve FinTech Company are selected by researcher randomly and purely by chance.
DATA COLLECTION
Theme 1: Digital wallets could help in online purchase
| | |
| --- | --- |
| Particular | Respondents |
| Highly agree | 5 |
| Agree | 6 |
| Neutral | 3 |
| Disagree | 4 |
| Highly disagree | 2 |
| Total | 20 |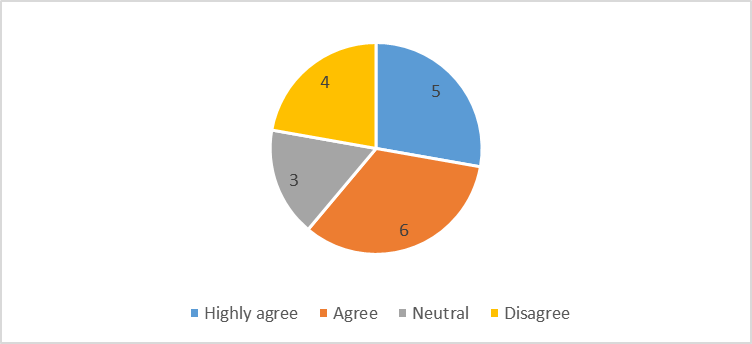 Interpretation:
There are many positive impact of digital technology especially if companies are using digital mode of payment which will be impacting them are their customers the most. There are too many use of digital payment that is enabling company to grow their profits and revenue as well. Digital wallets are the most important and will be helping into making more and more online purchase. Digital wallets or simply the e-wallet system is cloud based application which enable into digital transaction to user or buyer. There are many example of this online payment system like that of online purchase, contactless payment and mobile phone transfer. So most of the respondents included that digital wallet would be helping into online purchase of many products and services that is useful for both company and customers.
Theme 2: Digital wallets could help in contactless payment
| | |
| --- | --- |
| Particular | Respondents |
| Highly agree | 6 |
| Agree | 5 |
| Neutral | 4 |
| Disagree | 3 |
| Highly disagree | 2 |
| Total | 20 |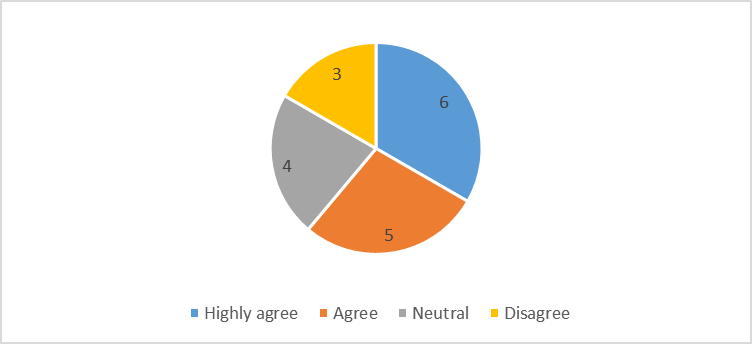 Interpretation:
Digital wallets are working based on contactless payment within which the person making payment will be able to give and receive money from any contact or any person. It is not required to have the person receiving payment to be added into our list of contact. This is the cloud based wallets which is very much helpful for creating purchase easier for customers and profit generating for companies. In this context most of the respondents who participated into survey added that digital wallet is helping contactless payment. This is significant that digital technology is making easy and convenient the mode of payment for customers which are useful for company in increasing their profits.
Theme 3: Digital wallets could help in mobile pay transfer to friend
| | |
| --- | --- |
| Particular | Respondents |
| Highly agree | 3 |
| Agree | 4 |
| Neutral | 5 |
| Disagree | 8 |
| Highly disagree | 0 |
| Total | 20 |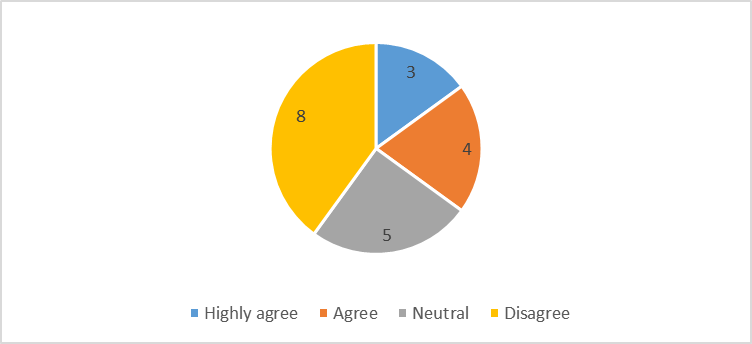 Interpretation:
Digital wallet are very much useful and helpful in making out payment at anytime and anywhere so by sitting at home customers would be able to purchase product of company using their debit and credit card. This is the most important and useful point for company as their number of customers is increasing from all around world. With the help of latest technology SME of UK are giving tougher competition to their competitors and increasing profits as well. From the viewpoint of respondents who were interviewed for survey indicated that their customers are using e-wallet for making payment or transferring money to their friends on easier manner.
Theme 4: Digital wallets are used by customers
| | |
| --- | --- |
| Particular | Respondents |
| Highly agree | 3 |
| Agree | 4 |
| Neutral | 5 |
| Disagree | 8 |
| Highly disagree | 0 |
| Total | 20 |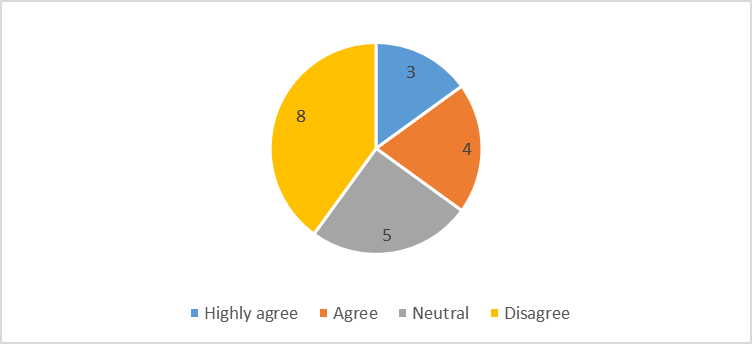 Interpretation:
Customers in today's environment want that all sort of payment which they are doing should be easy, convenient and without any head ach for which they are using digital mode of payments. This shows that customers of all companies and using digital wallets and credit or debit card for their payment which is very much important are required by them. This allows company to grab youth customers who are generally attracted towards cashless payments and different type of electronic wallet payment systems. There are many multinational companies which are providing their own e-wallet system like that of Espresso House of coffee or Apple Pay of Apple. So this shows that customers are using more of digital wallets while purchasing or making payment as well.
Theme 5: Customers should know about e-wallet
| | |
| --- | --- |
| Particular | Respondents |
| Highly agree | 9 |
| Agree | 6 |
| Neutral | 1 |
| Disagree | 2 |
| Highly disagree | 2 |
| Total | 20 |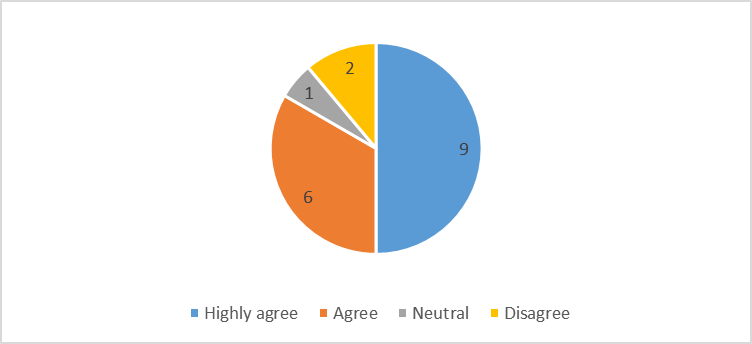 Interpretation:
Apart from the above interpretation it is also necessary that all customers are having knowledge about online payment, cashless, e-wallet and payment through various applications as well. If the customers are not having knowledge about convenience of paying through digital mode then this would be difficult for company to gain higher number of profits and revenue as well. So most of the respondent which is about 9 of them said customers should be having more knowledge about e-wallet system so that they are using it and allowing others also to know about this. It is essential to promote the digital system of payment so that customers are allow to use the payment systems and could feel the ease of using it.
Theme 6: E-wallet is important part of payment service for customers
| | |
| --- | --- |
| Particular | Respondents |
| Highly agree | 6 |
| Agree | 4 |
| Neutral | 3 |
| Disagree | 3 |
| Highly disagree | 4 |
| Total | 20 |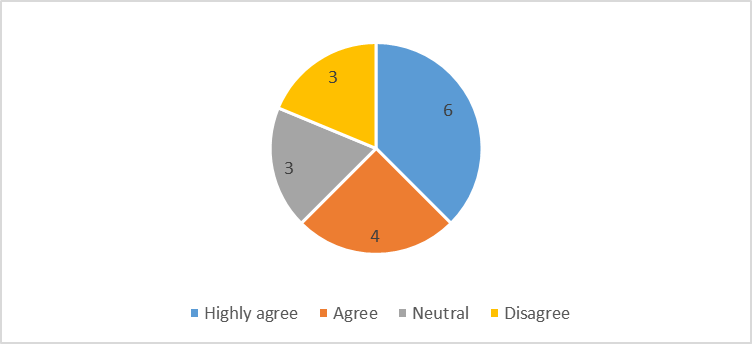 Interpretation:
From the viewpoint of respondent it is included that e-wallet is very much important part of payment service for the customers. As this would allow them to make payment from credit and debit card without carrying cash at any place and from anywhere. Thus customers will be very much happy and satisfied with use of cash less mode of payment. E-wallet is very much important part of payment for customers which will allow them not to carry cash which will decrease the chance of theft and decreasing fraud as well. If customers are using these then it will help them to do more purchase so that they are satisfied with convenient and ease of purchase. This is only possible with the effect and help of digital technology that companies are using and giving information about this to their customers
Theme 7: E-wallet will help increase customer attraction
| | |
| --- | --- |
| Particular | Respondents |
| Highly agree | 6 |
| Agree | 5 |
| Neutral | 3 |
| Disagree | 3 |
| Highly disagree | 3 |
| Total | 20 |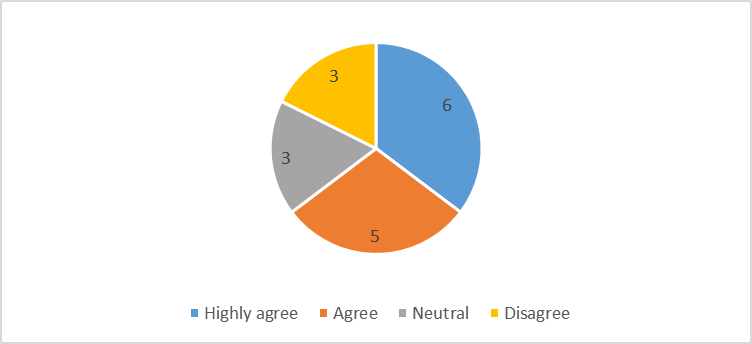 Interpretation:
This is mode of customer attraction for companies especially that of SME operating into country. There are increases in number of customers who use digital mode of payment as company could be getting benefits for this. The company will be having more customers if they are giving the opportunity to make payment with help of online payment systems. Customer will not be carrying cash instead they would be using the plastic money during the time when they are travelling. This will also allow them to save time for doing other work at time instead of going of shop and mall for spending time there. It is very helpful for company to give their customers facilities of making payment through e-wallet which will increase their customer's attraction. Customers will be more and more attracted to different type of cashback and discount offers which is offered by company. All this will ultimately improve the profits and revenue for company which will be helpful for them in overcoming expense. There is more lower risk as if any of the card is stolen of customer then it becomes very much easy for them to block the debit or credit card at any time and also the wallet. But if the cash is stolen person will not be easily getting it again.
Theme 8: E-wallet will help increase profits for company
| | |
| --- | --- |
| Particular | Respondents |
| Highly agree | 8 |
| Agree | 5 |
| Neutral | 3 |
| Disagree | 2 |
| Highly disagree | 2 |
| Total | 20 |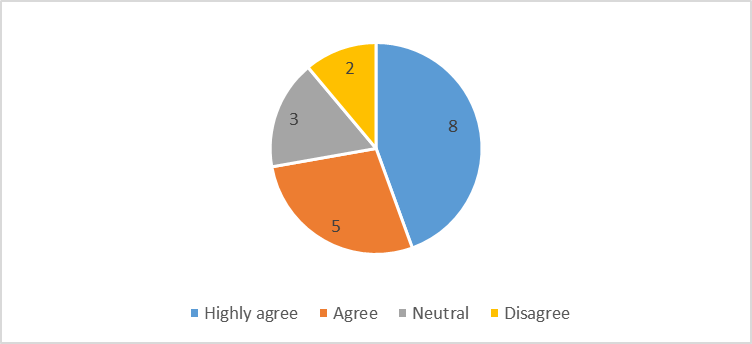 Interpretation:
Giving customers more facilities like discount, cash back and other offers will help company to improve their profits. The company will be getting more number of customers if they are having this mode of payment with them. The main aim of company is to increase the profits and digital technology is very much impacting the current and future trend of company and its profit making criteria as well.
CONCLUSION
It could be conclude that company is using digital technology not just to earn more profits but to also satisfy customers, provide them convenience of payment and attracting number of new customers. Digital payment is that one part of digital technology which is having increasing attention of people from all around the world. Company is able to improve their quality of service, increasing number of customers and collaborating with partners worldwide. Thus it is concluded that SME are also being benefitted by this which is helping them to increase their customer's base, improve quality and profits.
Recommendation
While there are some recommendations which must be looked by company:
Education customer- All the company must be making their efforts in promoting cashless payment more and more thus if their customers are knowing about e-wallet then only they could use it. For this online module could be used which will educate customers on use and effect of e-wallet.
Promoting plastic money- It is required that plastic money or credit and debit cards are used by customers for their digital payment system this will help them to lower down risk of misuse or frauds.
Increasing security- Company's payment system should be secured and safe so that more and more customers could use it without fearing of getting their money been theft.
Experts Are Listening!
Have doubts about academic writing? Clear all of them in a minute! Call the experts and get your answers immediately! Dial Now!Contact Us
Reflection
From the above research project on impact of digital technology on SME business there are many thing which I have learnt. As I could conduct my research and data collection I was able to learn about how to apply my knowledge and understanding for taking out specified results. I have learnt that I could be able to use these research skills in my future career goal as well as now I know how to conduct survey by using questionnaire. I also used various tools and technique of data collection and analysing them into simple and easy format which I was not knowing before.
Further I have studied the impact of digital payment increasing profits for SME. Under which I have knowledge that digital technology is very much important and essential for companies. Digital technology is very much impacting and helping small and medium business enterprise as their growth and development is based on this.
You may also like to read about - Management and operations
REFERENCES
Barrett, M., Davidson, E., Prabhu, J. and Vargo, S.L., 2015. Service innovation in the digital age: key contributions and future directions. MIS quarterly, 39(1), pp.135-154.

Capous-Desyllas, M. and Morgaine, K. eds., 2017. Creating Social Change Through Creativity: Anti-Oppressive Arts-Based Research Methodologies. Springer.

Collins, A. and Halverson, R., 2018. Rethinking education in the age of technology: The digital revolution and schooling in America. Teachers College Press.

Fichman, R.G., Dos Santos, B.L. and Zheng, Z.E., 2014. Digital innovation as a fundamental and powerful concept in the information systems curriculum. MIS quarterly, 38(2).

Iansiti, M. and Lakhani, K.R., 2017. The truth about blockchain. Harvard Business Review, 95(1), pp.118-127.