Question :
A marketing strategy is defined as a strategic plan which is formulated to achieve pre-determined marketing objectives. It defines the roles and responsibilities of marketing members. Tesco Plc is a UK based organization operated at a global level that deals in offering grocery and other products. It becomes the 3rd largest retailer as per gross revenue. You are approaching an organization to join due to which they have expected from you to see your marketing portfolio. To impress them, the following should be properly addressed:
Write an overview of Tesco Plc in the current market.
Evaluate the current marketing strategy of Tesco Plc along with the marketing strategy of its one rival.
Provide a brief overview of the marketing plan and its implementation along with possible outcomes.
Answer :
Organization Selected :
Tesco
INTRODUCTION
Marketing Strategy refers to a comprehensive plan, specifically designed to achieve organization's marketing objectives. Basically, it provides a blueprint for accomplishing these marketing goals and objectives (Christopher and Peck, 2012). It assists in discovering the areas that are affected by company's growth and thereby helps in formulating an organizational plan to cater diverse needs and wants of customer. With this, firm can attain high competitive edge in the market place over its competitors. The chosen organization for given report is TESCO which is a leading retail brand of UK. The main purpose of this report is to brief about various marketing models and theory that selected company is using so as to attract target customers and to increase sales.
TASK 1
TESCO Plc is well-famed UK based multinational groceries and general merchandise retailer. When measured in term of gross revenues, it is world's 3rd largest retailer. It was founded in the year 1919 by Jack Cohen. Presently, it operates in more than 12 countries including UK as well. In total, company is having 6,553 stores all across the globe.
One of the strongest competitor of TESCO is ALDI which is a Germany based leading discount supermarket chain (Who Are Tesco's Main Competitors, 2018). It operates in more than 20 countries with over 10,000 stores. It was founded in the year 1913 by two German brothers Theo and Karl Albrecht.
Today's trends of retail sector are driven by expecting that customer will spend confidently throughout 2018. In-fact, consumers are adoring an ever-increasing growth of choices available to them via both in store and online operation. In context of global retail ranking, UK holds a remarkable position. The country has low economic risk, high market potential & moderate political risk. In 2018 and beyond, key retail trend will be personalization. Here, it not only mean letting customer put their initials on products but it means to enable shoppers to build goods and customize them to the very last detail (Cui and O'Connor, 2014). Both TESCO and ALDI formulates effective marketing strategies by considering these trends. Marketing strategy designed by every company varies from one another. Some prefer to seize the attention of target customers through traditional form marketing while other prefer to do it via online channels.
Experts Are Listening!
Have doubts about academic writing? Clear all of them in a minute! Call the experts and get your answers immediately! Dial Now!Contact Us
Marketing Strategies of TESCO
A marketing strategy includes assessing the prevailing condition of market, determining which product to be offer and identifying exact range of customers to be suited. Presently, marketing strategy of TESCO aims to retrieve stakeholder trust to the brand. The company emphasize on "Every Little Helps" slogan to build up its key traditional competitive advantage over other available competitors in the market place (Marketing Mix of TESCO, 2018). Certain components of marketing communication mix like media and print advertising, online promotion, events and public relation are used by TESCO to communicate its brand message among end-uses in an effective and efficient manner. Now the question is what is its main attraction or strategy towards grabbing the attention of end-users.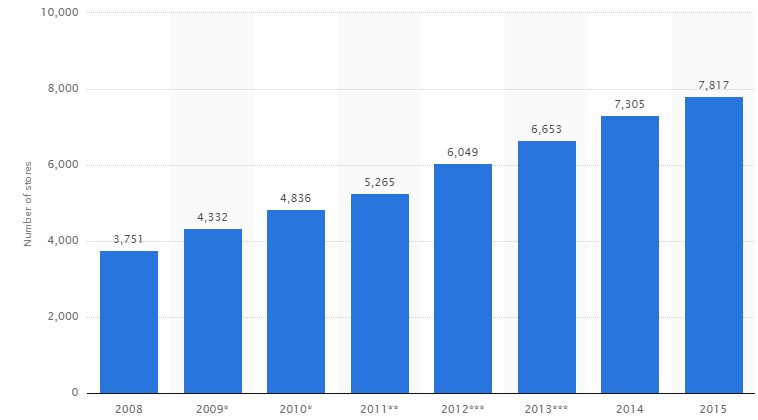 (Illustration 1: Change in the number of Tesco stores worldwide)
As per the above mentioned graph it has been concluded that online sales channel of the Tesco is based on the official website of the organisation – www.tesco.com. It is essential to record that the population of online sales channel contrasted to traditional channel of offline sales that has been systematically maximising for the last some years (Change in the number of Tesco stores worldwide, 2018). In 2014/15 online grocery business of Tesco's grew up of the marketplace at 20 per cent, despite the information that the business entity create the pre-tax loss or failure of GBP 6.37 billion in the same period of time.
In order to compete in the retail market Tesco is using the 4P'S marketing strategy which is discussed below:
Product: The company offers wide range of products including clothing, electronics, food, financial services etc. This proliferation of product line caters to fulfil every possible need and desire of target customer. By establishing isolated "venture brand" like NutriCat cat food, ChokaBlok ice-cream and Yoo Yoghurt; company aims to reach very specific niche markets. The main motive for launching its own private label brand is to create goods that are dissociated with TESCO's own brand name and can be sold distinguishably as non-competing retailer (Evers, Andersson and Hannibal, 2012). As these products are exclusively owned by TESCO and are only available at its stores which results in developing an aura of exclusivity & maximising brand loyalty.
Promotion: One of the biggest advantage of TESCO is its low priced products. This is the only reason what set apart it from another leading supermarket chain. It always emphasizes on enhancing its brand image by minimising cost, being genuine to its words, while increasing its overall profit. Advertising, club cards, free gifts, radio, cinema, press and social networking websites are some of the promotional tool used by firm in order to attract vast number of customer. In-fact it keeps an open communication channel with its consumers i.e. allowing them to submit feedback or suggestion on its services through an online survey (Gourieroux and Jasiak, 2011). In addition to this, it's club-card system renders a reward system that keep consumers coming back. Points are given to customer on every single purchase and when enough of these points are accumulated, it can be exchanged for cash-vouchers which further can be use in its outlets.
Place: Currently, it operates in more than 12 countries with over 6,553 stores all across the globe. It employs 2 main distribution channel for its goods & services i.e. offline and online. Its offline forum constitutes of 6 different kinds of store namely Tesco Extra, Tesco Express, Tesco Compact, Tesco Superstore and Tesco Home-plus (Kester, Griffin and Lauche, 2011). The reason why firm bifurcate its store is one the basis of studies which interprets that consumers are not comfortable with big store and nor it is possible for company to construct so many stores. Thus, the key idea is make effective use of small stores for easier customer accessibility. Talking about its online, one can simply visit its official website i.e. "www.tesco.com".
Marketing Strategies of ALDI
The main marketing objective of ALDI is to maximise its market share within the grocery market of UK. Thus, its marketing strategies strongly emphasizing on generating customer loyalty.
Product: It is well-famed brand that strongly focus on offering qualitative products to its end-customers. Special care is taken just to ensure product quality. Goods sold at ALDI are specifically sourced from selected suppliers and are then branded under its own private label which gives them high competitive edge over other competitors. It mainly deals in offering food products, electronic products, stationary, clothes, vegetables, health and beauty products (Roberts, Kayande and Stremersch, 2014). All these are sold at an affordable price. In-fact, in order to seize the attention of customers it keeps on experimenting with non-food products. Like in winters, ALDI offers warm camping and snow gear. It means as per the demand of season it keeps on modifying its existing product line.
Price: Talking about its price, ALDI has strong customer base because of its low priced and quality products. As the firm is facing rigid competition from several other big famed brands like TESCO, Sainsbury it has eventually kept the price of its products marginally lower than its rivals. Knowing that fact when it comes to saving, every single customer wishes to save even it saves a single penny only. This is the reason why firm has opted Psychological Pricing strategy for its products (Shaw, 2012).
Promotion: As it's a globally deployed firm several communication methods were used in order to seize the attention of customers. Firm has adopted both below and above-the-line marketing strategies such as Swap & Save, Like Brands that help in retaining customer for longer period. In order to attain high competitive advantage, ALDI publish its own newsletter called "ALDI INFORMS" and that too on weekly basis. These are either directly handed over to customers in stores or reaches them through direct newspaper or e-mail.
Place: According to statistic report, ALDI roughly opens new store every weak in Britian. Along with this, it also laid stress on keeping simple store layout so as to cut down the cost (Tarasi, Hutt and Walker, 2011). It's primary focus is on specific location or area that have good visibility with a minimum count of at least 30,000 people. Other than physical store, ALDI too have online presence (www.aldi.co.uk) which enable customers to check every single detail related with product and locate the nearest store.
Reasons for choosing this strategy: -
Both TESCO & ALDI are performing well in the market. However, the marketing strategies formulated by them are somehow identical with one another. In order to gain high competitive advantage both firms have created its own private label under which goods are offered to shoppers under the name of company. But still there are some strategies that are distinct from one another (Theobald, 2012). Tesco use low pricing strategies and Aldi use Psychological Pricing strategy which is differ from each other. In order to promote their products and services to the customers and in marketplace Tesco Advertising, free gifts, club cards etc. On the other hand Aldi follow above-the-line marketing strategies i.e. Swap & Save.
For instance: In order to seize the attention of vast number of customer, ALDI has decided to publish its own newsletter that will be given to end-customers either directly or via mail. When any such mail is received by customer it instantly draws its attention. Another unique strategy that ALDI is using over TESCO at the end of every weekend, company offer great discount to its target customers. On the other hand, TESCO uses these strategies with an aim to strong its market as well as customer base. However, the another common part is low priced product. The tendency of attracting towards low priced products is a fundamental part of human nature. Thus, both companies aim to offer its product at minimal cost so as to attract large number of shoppers and attain competitive advantage for the same.
TASK 2
On the basis of above mentioned strategies, TESCO needs to focus more on its promotional strategy. Although the company is investing huge amount on promoting its products or services but still it somehow lacks to draw the attention of youth population. The reason can be less use of social media platform.
Therefore, TESCO needs to revamp its advertisement strategy. For example: It can create its Instagram account ( it's very popular among youth) and tag respective person who have purchased any product from the stores. Further TESCO can tag them whenever they launch any product or scheme. Apart from this, firm can ask customers to tag them once they are done with buying products (Westwood, 2013). With every tag, points were given customer which they can redeem once it reaches up-to 250. With the help of this unique or innovative strategy, company can not only retain existing shoppers but also attract new customers as well. It has been anticipated that by implementing this strategy, sales of TESCO will increase by 10% on annual basis.
SMART Objectives:
Specific: In order to capture high market share, company has decided to innovate its promotional strategies. The goal of company is to increase 10% of its overall sales.
Measure: It can be measured by anticipating future sales
Attainable: It can be achievable by implementing it in a proper manner.
Relevant: The innovative strategy help in knowing the actual likes and dislikes of customer.
Time: It must be attained within specified time frame i.e. 6 months.
The most challenging part where negative feedback is given by customers regarding the implementation of new strategy. For example: One of its customer reviewed it as "Time-consuming Activity"
Potentials challenges: In announcing the unique strategy, Tesco company claimed that the turn came from direct feedback of customer which would value match Vs branded product sold by challengers like Morrison's, Asda and Aldi. The difference will be devoted automatically in window-shop at the online and tills as well. Another challenges which is faced by the company is promotion strategies which is good for its competitors. Thus in order to overcome such issue company use best promotion strategy which benefited to them to maximise customer base in the organisation.
Students also like to read- Hiring and Induction Process
RECOMMENDATION
With the application of this strategy, it has been projected that sales of TESCO are going to increase by 10%. Taking the example of Target which is a small scale retailer of UK whose brand ambassador is Shakira. The company is constantly generating higher sales lead and profitability ratio because it knows the right trick of associating company with famous celebrities & taste markers. It is considered to be most powerful and effective engagement strategy. With this, not only customer gets the chance to seize the attention of influencer's audience but also gets an opportunity to associate themselves with the brand. From this example, it's crystal clear that an innovative strategy chosen by firm is highly impelling.
CONCLUSION
According to above mentioned report, it can be concluded that formulating effective marketing strategy is the key point to attain high competitive edge in the market. With right strategy, company can easily seize the attention of vast customers and capture large market share as well. There are different tools and techniques are used in order to provide accurate information to the customers. Beside this company use marketing mix which is more essential and effective for the company to easily attract large number of customers. Therefore to overcome potential issue business entity applied better techniques in promotion such as advertisement, club cards, free cards and many other.
Also Check: Online homework help
REFERENCES
Books and Journal
Christopher, M. and Peck, H., 2012.Marketing logistics. Routledge.
Cui, A. S. and O'Connor, G., 2012. Alliance portfolio resource diversity and firm innovation.Journal of Marketing. 76(4). pp.24-43.
Evers, N., Andersson, S. and Hannibal, M., 2012. Stakeholders and marketing capabilities in international new ventures: evidence from Ireland, Sweden and Denmark.Journal of International Marketing. 20(4). pp.46-71.
García-Crespo, Á., and et. al., 2012. SINVLIO: Using semantics and fuzzy logic to provide individual investment portfolio recommendations.Knowledge-Based Systems. 27. pp.103-118.
Gourieroux, C. and Jasiak, J., 2011.The econometrics of individual risk: credit, insurance, and marketing. Princeton unhttps://www.marketing91.com/marketing-mix-tesco/iversity press.
Kester, L., Griffin, A., Hultink, E. J. and Lauche, K., 2011. Exploring portfolio decision‐making processes.Journal of Product Innovation Management. 28(5). pp.641-661.
Roberts, J. H., Kayande, U. and Stremersch, S., 2014. From academic research to marketing practice: Exploring the marketing science value chain.International Journal of Research in Marketing. 31(2). pp.127-140.
Shaw, E. H., 2012. Marketing strategy: From the origin of the concept to the development of a conceptual framework.Journal of Historical Research in Marketing. 4(1). pp.30-55.
Tarasi, C. O., Hutt, M. D. and Walker, B. A., 2011. Balancing risk and return in a customer portfolio.Journal of Marketing. 75(3), pp.1-17.
Theobald, W.F. ed., 2012.Global tourism. Routledge.
Westwood, J., 2013.How to write a marketing plan. Kogan Page Publishers.