INTRODUCTION TO MARKETING, DESIGN & INNOVATION
In today's competitive time it becomes very important for the business organization to fulfill the consumer needs and desire by offering innovative products. An innovative strategy in respect to product design and brand development helps the firm to achieve sound position in the market (Pride, Hughes and Kapoor, 2013). At present technological era, every business firm is attempting to deliver best technological product to the customer to enhance the market share and sales revenue.
The focus of business firm on high technological products surged due to registering of significant growth in customer demand about innovative technological products. In the view of this perspective this report is undertaken (Aaker, 2008). The report will explain how effectively business organizations are meeting customer demand by adopting strategies related to product innovation, design and marketing (Walker, 2006). To carry out the report in best manner, the brand product "Gear S" Smartwatch of Samsung has been selected.
A+ Grades @Affordable Prices!
We deliver all academic papers from dissertations & assignments to thesis, & case studies. 5000+ satisfied students, you could be next! Place Your Order Now!
Order Now
TASK- 1
Overview
In the era of digitization, fast change in respect to technological product and services has been seen. This fast change has been seeing because of quick change in customer needs and desire (Mohr, Sengupta and Slater, 2010). The quick change in demand of customers is not the only factor of technological change but there are also other factors such as innovative products competition in the market, research and development activities in the industry. In addition to that, speedy entry of new firm's entry is stimulating growth in the technological product segment (Fagerberg, Mowery and Nelson, 2006). So in order to cope up with these factors, companies are striving hard to establish core competence in the market by producing continuous innovative products which are attractive in respect to design, usability, reliability, shape, color and etc. Similarly, the company Samsung Telecommunications is also working on the same parameters.
Samsung Telecommunications is the business unit of Samsung Electronic which is a part of Samsung Group (Samsung Gear S, 2014). The Samsung Group has established its mobile communication division in the year 1983 by estimating significant growth in the future period. The Samsung group is basically native from the country South Korea and for this reason it has its headquarters in the city Suwon (Chernatony and Segal‐Horn, 2003). The company already had strong market presence in electronic product segment all over the world but it was not that much famous in respect to mobile telecommunication products (Relaxnews, 2014). Nevertheless, in present time the telecommunication business unit alone reports more than 40% revenue in the electronic segment of the Group. In the year 2013, the company was able to capture 31% which was the highest market share in the global Smartphone segment (Miller, 2014).
In the year 2008, Samsung Electronics' Telecommunication division set the business strategy related to adoption of innovative products and marketing style to attain competitive advantage over its competitors. The company is having competition with the firms like Apple, Nokia Mobiles (now known as Microsoft mobile), Motorola, HTC, Blackberry and Sony Mobile Communications and others. Samsung Telecommunications has been producing innovative Smartphone's' and now it is having large product portfolio in the particular product segment (Holden, 2014). Now, the company is focusing on Smartwatch product portfolio as the market trend and also competitor's strategy is moving towards this product segment (Füller,Bartl and Ernst, 2006). Because of this reason the brand product "Gear S" is selected for the study.
At present time, the technology giant firms like Apple, Microsoft, Google, Lenovo, LG and Sony also are focusing on developing and delivering best Smart watch products to the consumer and establish core competence in the market (Etherrington, 2014). Similarly Samsung is also working on the same concept to deliver best Smartwatch which is rich in design, inbuilt features, color, shape, usability and in durability to the customer (Knight and Cavusgil, 2004). On 28th August 2014, the company has unveiled the brand Gear S Smartwatch. Samsung has launched Gear S as its third product in Smartwatch segment after Samsung Galaxy Gear (1st product launched on September 4, 2013) and Samsung Galaxy Gear 2 (2nd Smart watch launched in February 22, 2014).
In today's technological era, millions of people eagerly wait for the launch of new technological gadget like Smartwatch. The proof of this demand can be seen by analyzing the sales of the firm (Ante and Conners, 2013). According to the press release, Smartwatch models of Samsung holds highest position in sales figure in comparison to other firms sales. Last year, Samsung had shipped more than 800000 Galaxy Gear Smartwatches in just 2 months after the launch which was highest in comparison to other firms (Boxall, A., 2014). The increase in this sales figure was also the result of innovative marketing style adopted by the firm.
Research Problem
The present study is been conducted to examine how Samsung is able to achieve significant competitive position in the market even at the time of cut throat competition in respect to product development, marketing and acquiring of greater customer market share. Further the report will also analyze the how company able to bring fast innovative change its technological brand product Smartwatches. In addition to that it will also be investigated that Samsung creates brand appeal of its Smartwatches by adopting innovative marketing style.
Objective of the study
To identify the way Samsung able to establish sound position in the market. To ascertain the manner through which the company able to bring fast innovation in its brand products- Smartwatches.To identify the way brand appeal of Smartwatches is been creating by the company.
Experts Are Listening!
Have doubts about academic writing? Clear all of them in a minute! Call the experts and get your answers immediately! Dial Now!Contact Us
LITERATURE REVIEW
Design and innovation to meet the demand of customers
In order to lead in the market in contemporary time, business organization must required to produce and deliver innovative products which fulfils the customer needs and desire. Presently technocrat organizations are competing in the market in respect to product design and innovation (Zott and Amit, 2008). Design and innovation in products is become the most significant aspect for the business because the needs and desire of people regarding the technological product is changing and improving at very fast speed. So to meet this customer demand companies are continuously working on improvement in design and innovation in the product (Roach, 2009). The author Swan and Zou stated in their study that innovation in product design highly stimulate consumer buying behavior (Swan and Zou, 2012). In technological product company needs to make continuous innovation in respect to product feature, shape, relevance, usefulness and. In present time it also has been seen that companies are making considerable revenues on the innovative product because customers are ready to buy differentiated technological products at any price etc (Mohr, Sengupta and Slater 2010).
Research and development activities
According to the study conducted by the author Ritter and Gemunden (2004) business firms require developing high technological competence in the business to achieve success in its business strategy related to innovative products development (Ward, Runcie and Morris, 2009). They found in the study that the companies who adopted technological competence and network competence in their business operation able to get positive response in regard to innovation success (Ritter and Gemunden, 2004). In the same year, another study was conducted related to significance of research and development in electronic segment in the globalization period by the author Becker and Dietz. The author concluded in his study that the large firms are reaping substantial profits in the market because they able to deliver best innovative products to the customer through their effective in-house R&D department (Becker and Dietz, 2004). However, this activities are not encouraging small firms to set their grounds in the market as establishing of R&D department requires huge cost. The giant firms like Samsung, Apple, Sony and Microsoft reserves major portion of their profit for the R&D department of the business to make innovative products on continuous basis.
Brand development through innovative marketing style
As stated earlier, innovation is now become the key to establish strong positioning in the market. A firm not only requires to bring innovation in its product design but it also need to embed innovation in its marketing style (Teece, 2010). In many of the past studies it was found that innovative and creative marketing style always leaves a positive impact in the minds of the consumer about the company and its products (Gurau and Ranchhod, 2009). Nowadays, business firms are adopting different marketing style like word of mouth publicity, social media marketing, online reviews system and product comparison content marketing to develop brand image of their product in the mind of customers. In addition to that, often business entities adopts certain marketing strategy like "exchange offer" to bring attraction of customers towards the new brand products.
Creating brand appeal among customers
The word brand refers to setting certain identity or positioning of the products in the customers minds. Usually the brand of the product is established in the context of certain specification or uniqueness or feature which distinguish the product from other similar products available in the market (Roach, 2009). As mentioned earlier, now every telecommunication is making attempt to bring Smartwatches in the market with distinctive features (Rittera and Gemunden, 2004). The companies like Apple, Sony, HTC, LG and many other have already unveiled their branded Smartwatch product which can be distinguished on the basis of their features, color, size, shape, storage capacity, functionality, attractiveness and etc. The author Jeremy Desrochers (2013) conducted the study to check the impact of Smartwatches on the company Swatch Group (largest Swiss watch company). The study concluded that Smartwatch is emerging as a threat for many Swiss watch companies because the consumer buying behavior of younger people are moving towards Smartwatches (Desrochers, 2013). The Smartwaches companies able to make strong brand appeal of their products with the product specifications and attractive marketing style.
ANALYSIS
Design and innovation in the Samsung Galaxy Gear S to meet customer demands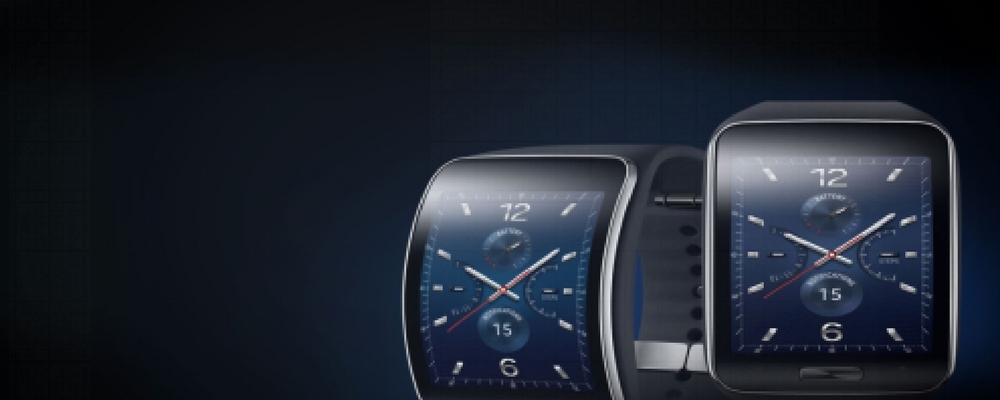 Samsung Galaxy Gear S is the third Smartwatch which the company launched recently. This Smartwatch has various unique feature which can be better understood from the underneath points-
The Smartwatch runs on Samsung's own Tizen operating system rather than Google android.
On this Smartwatch offers celleular support on both 2G as well as on 3G network.
Opera mini can also be operated on this Smartwatch to access Internet.
The Smartwatch has 2-inch Super- AMOLED display which has display of 360 x 480 resolutions (Holden, 2014).
Samsung Galaxy Gear S is made for best wearable as it is having slight curved shape to perfectly fir on the wrist.
It is having 1.0GHZ processor with 512 MB RAM and 4GB of internal Storage.
The battery of the Smartwatch is of 300mah battery which enables the user to use the Smartwatch for nearly 2 days after charge (Relaxnews, 2014).
The Smartwatch is dust and water resistant.
A user can receive calls, listen music, track steps, makes navigation, send message, receives notification and even surf on internet by using opera mini.
Thus this design and product feature makes the Samsung Galaxy Gear S Smartwatch innovative in design and product features. Further it also makes the product distinguishable from other firm Smartwatches. Nevertheless this Smartwatch doesn't include camera feature in it so this could be considered as negative side of the product.
Research and development activities
Samsung has been investing huge amount of money in research and development activities to offer range of products to different type of consumers. As stated above the company has made its business strategy focus on fulfilling consumer needs and desire and making sound marketing activities to enhance the business of the firm (Fred, 2003). Company has employed 50000 employees in only Research and development department who continuously works on new product development. Samsung invest at least 9% of its total sales revenue on its R&D department to achieve more competitive position in the market. The company believes its R&D department as the heart of the business (Research and development. 2014).
Brand development through innovative marketing style
Samsung telecommunication is considered to be as the largest company which spends huge amount of funds on marketing and brand building of products. In the year 2013, Samsung telecommunication has spent around $401 million alone in United States for the advertisements on the other its rivalry firm Apple Inc which has strong market share in US spent $333 million. So the level of competition can be anticipated from this figure. The company makes the branding of its products by using marketing channels like TV commercial ads, Print ads, billboard and Internet (Etherrington, 2014).
Creating brand appeal among customers
Samsung Telecommunications is making brand appealing of its products by adding distinctive feature in its every new product. The company brings continues change in its products in relation to shape, color, size, features, capacity, affordability, usability, durability, design, relevance and usefulness. With the help of this appealing feature, it makes brand image in the market which influence customer to buy the company's products (Fagerberg, Mowery and Nelson, 2006). Presently, Samsung Telecommunications becomes world's largest smart phone maker company as it increased its manufacturing capacity. Due to strong brand appeal of the products company is now having presence in more than 150 countries.
TASK-2
Reflective Essay
After completing the entire module I come up with mix of feelings. The most exciting thing which I am presently experiencing is that I able to acquire substantial amount of learning and knowledge from the marketing and innovation module. With the help of this module I become capable to enhance and enrich my skills related marketing and innovation activities. The topic which I selected for the study filled me with lots of information and knowledge about prevalent market condition of telecommunication segment. I knew the company Samsung earlier but I was not aware of this much of information before. I had an idea that there are rivalry firms of Samsung Telecommunication like Apple, Sony, Mircrosoft, LG but I did have enough idea about the way competition takes place in the market.
I just had the belief that competition only take place in regard to price and quality of the product but now I get to know about that these are just one or two factors of the competition nevertheless there are also other factors that creates competitive environment. From the study, the factors like consumer needs and wants, research and development activities of the firm, marketing strategies, innovative products, design and style of the products were identified which creates cut throat competition in the market. By undertaking this report, I able to know more about Samsung Smartwatches like Galaxy Gear, Galaxy Gear 2, and Galaxy Gear S. Apart from this Smartwatches I also learnt about the products of other firms who are also dealing in same product profile. I would more like to throw light about my learning in three faces i.e. Learning achieved through module, Learning outcomes and challenges faced.
The complete process of module emerged out to be as a great learning for me which I never forget. I feel blessed that I able to get such much of information about Marketing, Deign and Innovation. The knowledge and learning which I acquired from this module has enhanced my skills and understanding about the particular subject. With this skill, I can comprehend the things in the best manner. Now I could communicate or discuss with other person who would not have clear knowledge and understanding about Marketing, design and Innovation. I can speak confidently for hours in the context of contemporary marketing tactics and innovative products of the technological firms like Samsung, Apple, Sony, LG, and others. This module help me a lot in examining and understanding the customer demand related to Smartwatch especially of Samsung Smartwatch
Further, I also able to know how much important for business firms to bring innovation in their overall business strategy to survive and lead in the industry. Moreover, I also learnt about the link between market demand, innovation, and customer satisfaction. The module helps me to understand how uniqueness in the design and features of the products are placed by keeping consumer needs and desire in mind.
The outcomes which I achieved from this report is that it is very essential for the business firm to make continuous improvement in their products design and features, marketing strategies, branding and others aspects of the business like research and development. With this learning outcome I got to know about that innovation in product design and marketing strategies is become significant for the firms to remain competitive in the intense market situation where consumer needs and wants are changing at very fast pace. From the report, I discovered that the Smartwatch product market would also register high growth in coming years like it happened with Smartphone's products market when people were using simple cell phones.
Another outcome which I learnt from the study is that Samsung is investing huge amount of funds in its 2 main departments i.e. Research and Development and Marketing. The company believes that this is the heart of its business as it able to make significant revenue and market presence only because of these departments. These departments enable the firm to bring quick innovation in the products as well as in marketing strategies. Furthermore I also comprehend that how brand appeal is been created by the Samsung in high competitive market. While conducting the research about the market, I also came across about the information which stated Samsung eroded the market share of Nokia telecommunication completely by undertaking continuous innovation in the product and marketing strategies.
The challenges with which I encountered during the studies are very less as compared to the amount of knowledge I gained. The first challenge I felt at the time of starting of the study. I couldn't to reach on a particular topic to begin the study. However against the all odds, I finally decided the topic Samsung Smartwatch Galaxy Gear S which recently launched in the month of August. I made a thought that this topic perfectly suits the module and will also fetch my interest in conducting research. The second challenge which faced during the study is that there were lots of reviews about the particular product on the Internet and because of this reason I couldn't able to decide which source should I consider for the study. Firstly I couldn't able to make a thought on it but after adopting rationale thinking I select only those sources which were found to be trustworthy like press release of the firm, new reports, gadget guru reports and etc.
CONCLUSION
From the above report on the topic Marketing, Design and Innovation with reference to Samsung Galaxy Gear S Smartwatch, it can be concluded that the company have been following continuous innovation in its business practices. This practices helps the firm to make significant brand positioning of the product in the highly competitive market (Kotler, 2014). Samsung has clear understanding that if it wants to maintain sound position in the market then it has to bring continuous innovation in its product and marketing strategies.
REFERENCES
Aaker, D. A., 2008. Strategic market management. John Wiley & Sons.
Fagerberg, J. Mowery, C. D. and Nelson, R. R., 2006. The Oxford Handbook of InnovationJournals. Oxford Handbooks Online.
Fred, R. D., 2003. Strategic Management: Concepts and Cases. Upper Saddle River. Prentice Hall.
Kotler, P., 2014. Kotler on Marketing: How to Create, Win, and Dominate Markets. Free Press.
Mohr, J. J., Sengupta, S. and Slater, F. S., 2010. Marketing of High-technology Products and Innovations. Pearson Prentice Hall.