Question :
This assessment will cover the following questions:
Provide the evaluation of how to analyze the current and future internal and external environment.
H&M is a clothing brand from the UK country.  Develop the strategic marketing plan as per the organizational objectives.
Generate the impact of the management of the resources to deliver the strategic marketing plan.
Answer :
Organization Selected :
Hennes & Mauritz
INTRODUCTION
Strategic Marketing utilizes by companies to create plan to better reach and satisfy customers while raising profits and productiveness. It applies to determine consumer wants and to make marketing plan to accomplish customer satisfaction, modify execution of organization as well as raising profitability(Hitt and Duane Ireland, 2017). It also assists business become more advanced and raise market ascendancy. Strategic marketing plan meet different goals such as improving execution, creating business plan of actions, modification of operations of companies. This study is based on H&M(Hennes&Mauritz) that is multinational clothing retail company, now firm wants to enter India with the new product(handbag and men's purse). This report will explain micro-environment analysis and state possible opportunities as well as threats within market. It will assess three modes of market-entry and apply concepts of market segmentation and targeting to evaluate potential target market. Furthermore, report will apply Porter's generic strategy, explain gain competitive advantages by adopting one of generic strategies in chosen market.
MAIN BODY
Micro-environment analysis
H&M is multinational fast fashion clothing retail company in the UK. Company opens their stores in many countries such as Brazil, China and other nations, now they want enter into India within new products and services(handbag and men's purse). For entering into new country within new product, company needs to analysis macro environment factors of chosen nation. In this analysis, political, legal, economic, technology, social, environmental elements are involved. Such as following:
Political Factors: The political system is power and various political parties take concern in active political relation. Policies of authorities, interest of political leaders, governmental theory of various political parties are included in political environment. Income tax, services tax, property taxation as well as sales tax paid by people, because taxation method of authority is well developed in India(Hill, 2017). For improving efficiency and productiveness of government, authority has followed their privatization policy. Therefore, it is easy to introduce new products(handbag and men's purse) by paying taxation. For effective taxation system, government has hold deregulating policy, authority stability and international stability that has made economic development in the nation. So that, authority pays attentions on various issues in the nation.
Economic Factors: The nation's economic condition is the powerful. It involves changes in taxation, interest rate, inflation, economic development as well as exchange rates. The authority of India presented industrial reforms in 1991 and there is decreased in industrial licensing, constitution of FIBP and liberalization of international capital that has made betterment in the economic growth of India. The nation has promoted foreign investment in chosen country(Ginter, Duncan and Swayne, 2018). So that, it is easy to introduce new product and services by H&M in the India. Nation pays attention on education, health care, banking and financial sector. Therefore, H&M easily acquires bank loans for setting up the business in terms of introducing new products in India.
Free Plagiarism Report For Assurance
The experts at Global Assignment Help ensure that you get 100% original content for submission. With every order, get a Plagiarism report for free!
Order Now
Social Factors: The social factors of India consists of different societal trends and modification such as values, cultures, lifestyle, traditions, demographics features etc. There are various standards in the society that are flexibility of population, income system, working hours, behaviour to perform and standard of qualification and ability(PESTLE Analysis, 2018). Nation needs addressed labour market and societal growth index that are distressing situations. Government appears fail to control their atrociousness that promote them to grow in various other regions. These actions have suffered reputation of India. By this way, people are not invested their money in nation. These types of activities are harmful for H&M to introduce new product(handbag and men's purse) in the chosen country.
Technological Factors: Chosen nation has created significant encouragement in technology and it has fixed new smart phone with the latest description. It is centralizing on product development and now presented new cost cutting procedure. It given 3 G and 4 G technology to its user and also serves. The advance technology has decreased cost, improve quality of good and lead to invention in their technology(Byron and Post, 2016). Therefore, it is easy to H&M for introducing new products and services in the India by adopting new advance technology. The new operators are introducing their services involving IT evolution, government technology supporting, fresh material and its procedure, software upgrades and velocity of practical application movement.
Environmental Factors: There are various environmental factors such as changes in climate or weather that affects businesses like tourism, farming etc. the global warming is leading external factors and it is important issue to develop desire to assist atmosphere. It has large impact on different industry. The business and urbanization has damaged environment and most of the untimely deaths are happened in the chosen nation. The air pollution has affected by water disposal, noise control, environment pressure groups etc. Authority of India is aware of these pollution difficulties and taking needed steps to power these problems(Gathorne-Hardy, and et.al., 2016). Therefore, there are many difficulties faced by H&M for introduced their new products and services in the India.
Legal Factors: There are many legal changes and presented disability discrimination made by authority of India. It has enhanced minimum wages. These legal modifications affect costs and demand of company. Government of chosen nation regulate various legislation such as employment law, well-being and security, trade and product restriction etc. These elements are impacted on H&M for introduce their new products(Casabayó, Agell and Sánchez-Hernández, 2015).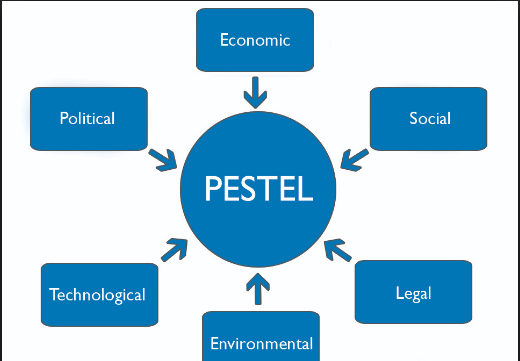 Illustration 1: PESTLE Analysis
Source:( PESTLE Analysis, 2018)
With the help of macro environment analysis, company identify their opportunities and threats for business. Opportunities includes technology, taxation system and banking sources for enter into India. In order to that, they are faced many threats like legal regulation, environmental factors. For overcoming threats, company needs to identify factors and getting solution in the business. Through this analysis, firm easily introduce their products in the chosen nation and increasing profits. Company needs to follow all legislation regarding consumers, labour etc. for customer satisfaction.
You May Also Like to Read About : Different Marketing Strategies Used by British Airways
Modes of market entry
The mode of market entry is that between risk and control. In order to that, low intensity modes of entry decrease risk. There are many modes of market entry such as merger and acquisition, franchising, licensing etc. With the help of it, H&M introduce new product(handbag and men's purse) in the India.
Merger and acquisition: It is one of the mode to entry into market. Organization is able to purchase out local firm in the international market. By this way, they increase fast entry to market. It changes firms to take over existing business and movement practical application, functional procedures as well as controls in place within short time period. With the help of it, firm select to purchase existing structure, network and resource(Bruwer and Li, 2017). It has already implanted and change over it into new brand as desired with least time. It is beneficial that direct owner ship and power over the acquired firm's assets and chances of earning more revenues.
Franchising: It is important mode of market entry with majority of global fashion brands. In the way, global retailers absorbs local business partner in the foreign market under franchise agreement. Franchisee is given with the international brand and marketing formatting and thoughts for good, brand promotion and sales are guided as per H&M. The success of this mode is dependent upon success in attractive the right partner who is involved in developing business and is able to project the brand as coveted and relationship management among two firms. There is low risk and investment by franchisor interpret market culture, traditions and environment of host nation(Ang, Benischke and Doh, 2015). With the low cost, franchisee gets research and development as well as brand name. So that, they have no risk of product failure. The laws and communication in India that is ongoing relationship among franchisors and franchisee becomes easy to manage.
Joint venture: When two or more companies join together to make new business organization called as join venture. The singularity in joint venture is its shared ownership. Political, legal, social, technological, economic and political environment promote joint ventures. This partnership among home and international companies usually results in the creation of third severally carry off company preventing for sale of the home company's products and services in the foreign location.
With the help of mode of entry, company easily coming in market with their product(handbag and men's purse) in the Indian marketplace. Through this, firm research all information relating competitors, pricing, demand and supply in the marketplace. These modes of entry help in expanding business, increasing sales, brand name as compared to their competitors. By franchising, H&M increase their product quality and standards for entering into the market and expanding their business. This also helps in increasing sales.
A+ Grades @Affordable Prices!
We deliver all academic papers from dissertations & assignments to thesis, & case studies. 5000+ satisfied students, you could be next! Place Your Order Now!
Order Now
Recommendation:
Therefore, H&M should adopt franchising mode for entering into market. There are many benefits to follow this type of mode of market entry. There is huge market and increasing demand in all sectors of the economy. It is beneficial in terms of lower capital requirement for H&M for introduce their product and service(handbag and men's purse). There are many possibilities' franchisee in chosen nation that have capability to finance firm or to grow the current business. In order to that, this mode is beneficial of finding it an attractive proposition to pass on the business to future generation. This assists to build feeling of partnership through simple language. The present law of contracts and Trade Marks Act gives adequate protection for foreign franchisors in the events of emergence of any legal problems.
Therefore, franchising mode of market entry is beneficial for H&M in terms of introducing new product and services in India. Because of, helps in build partnership. This mode is also advantageous as marketing strategy that are required in order to run the business. This strategy is also given to business for running and growing quickly. In case of support is needed in resourcing a good location, franchisors are going to contribute help in that context as well.
Concept of market segmentation and targeting
Marketing segmentation:
Marketing segmentation is the procedure of separating total assorted market for goods and services into sub-market or segments each of them being solid in all major aspects is called as market segmentation. It is based on the fact that market is collected of various purchaser to same marketing programs. Therefore, all the possibility customers are assembly into sub-groups, so that every such sub assembly is various from other but all consumers in specific sub collection have by and large similar features(Bruwer and Li, 2017). Market segmentation is customer oriented beliefs. It is method of identifying impressively the differences between consumers. It is well tested system for directing marketing strategy. It allows offering dedicated services and requiring based system for optimum deployment of funds.
The essential purpose of market segmentation is to determine the various and particular wants of different kinds of customers so that suitable mix of goods and services may be designed and offered to satisfy various kinds of consumers. There are different basis such as gender, age group, income occupation etc. In order to that, there are various types of market segmentation like psychographic, behavioural, geographic, demographic segmentation.
Demographics: It includes family size, income, race, religion, age, gender as well as nationally. It is the simple and most broad kind of market segmentation utilized. Therefore, H&M introduce new product and services (handbag and men's purse) in the India. For enter new market, company determine different segmentation for their new products.
Behavioural: This kind of segmentation divides population on the basis of their behaviour, utilization as well as decision making outlines. Women's always prefer hand bag, so that it is very easy to H&M for introduce new products and services in the India(Casabayó, Agell and Sánchez-Hernández, 2015).
You Must Avail : Help with MBA Assignment
Psychographic: It is one which utilize lifestyle of people their activities, interest and opinion to determine market segment. Psychographic segmentation is quite same to behavioural segmentation. It also gets these aspects of consumer purchasing behaviour into accounts.
Geographic: This kind of market segmentation divides people on the basis of characteristics like location, languages utilized and other such basic components that separate one geography from other.
Through choose particular segmentation, firm easily target customer and providing their products and services to customers. With the help of it, they are incresaing customers and profiots of business. After chosing segmentation, company preparing plan for targeting audience in the market.
Market Target:
Market targeting is procedure of choosing target market form the whole market. It consists of group of purchaser to whom organization wants to satisfy or for whom good is affected, price is set, efforts on promotion are created and prepared distribution network. It is segmented utilizing certain bases such as income, place, education, age and life cycle. There are two steps of procedure of targeting market such as evaluating market segment and selecting in it. Company make sure that selecting particular segment for deciding target market. Then it is to determine want and preferences of target market. It is important to identify type of target market expects from the good. After that, once target market is determined, H&M can certain on various approaches assists to promote their new product and services (handbag and men's purse) in the India. It is the key to attract new firms, enhancing sales and making business success(Casabayó, Agell and Sánchez-Hernández, 2015).
A target market is unit of consumer for which H&M designs, implements and maintains marketing mix suitable for wants and preferences of that group. It includes determining and choosing particular segment for special attention. It is centralized on evaluating obtainable segment's attractiveness and choose one or more segment to serve. Organization purpose to make higher image of their products in the minds of customers. They utilize this strategy to demand broad audience based on common consumers wants and requirements other than differentiated and concentrated strategies. Therefore, H&M make sure that selecting appropriate segmentation for introducing product and services in the India. It helps in targeting audience for selling of their product. This assists in increasing profits, sales and customer satisfaction. H&M choose in demographic segment for targeting audience of their new product and services in the Indian market.
Students Also Reads About : Marketing Essentials For Consumer Behaviour - Cadbury
Porter's generic strategies to gain competitive advantages
This strategy is utilized by companies for determining the profitability that is above or below the industry average. The primary basis of above average profits in long run is sustainable competitive advantages. There are two primary kinds of competitive advantages company can possess low cost and differentiation. These types combined with the range of activities for which company seeks to accomplish them. There are three generic strategies such as cost leadership, differentiation and focus.
Cost Leadership: In this type, company sets out to become low costs producers in its industry. The sources of cost advantage are diverging and depend on the construction of the business(Ginter, Duncan and Swayne, 2018). They involves search of economies scale, proprietary technology, preferential access to raw material and other elements. Low cost creators identify and develop all sources of cost advantage. If H&M accomplish and sustain overall cost leadership then it will be an average performer in its business. It given command prices at near average of organization.
Differentiation: Company seeks to be unique in its business along some dimensions that are broadly valued by purchaser in the differentiation strategy. It chooses one or more attributes that various purchaser in an industry perceive as essential and uniquely positions itself to meet those wants(Porter's Generic Competitive Strategies, 2016). This is accurately the opposite from the cost leadership option. With the help of it, company take over market from quality and operational stand point instead of simple trying to sell the least expensive on the shelf.
Focus: The generic strategy of focus rests on the selection of narrow competitive range within the business. The focuser selects a segment or unit of it in the business and tailors its strategy to provide them to performance of others. There are two deviation includes in this type such as costs and differentiation focus. First of variant involve company seeks cost advantage in its target segment. Second of variants includes organization seeks differentiation in its business. Both are deviations of focus strategy respite on difference between focuser's target segment and other section in the business.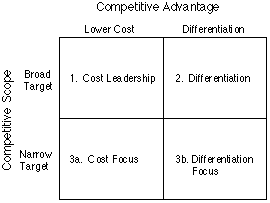 Illustration 2: Porter's Generic Strategies
Source: (Porter's Generic Competitive Strategies, 2016)
Recommendation:
Therefore, H&M should follow cost leadership generic strategy for introducing their new product and services (handbag and men's purse) in the India. The aim of this strategy is to become lowest costs producers in the business. It is elder method to accomplish this aim is to create on large scale that allow the business to expand economies of scale. Company utilize this strategy because it is beneficial to various ways such as in creasing level of productiveness, capabilities of usage, utilize of bargaining power, lean production techniques, impressive utilization of technology in production procedure etc. This cost leadership generic strategy helps to H&M in terms of introducing their new products and services in chosen nation. It is easy to sale products for lowest price that assists in achieving needs of H&M in the long run. If there is the largest performer in the marketplace, so that they choose to undercut for time period in order to run their business. Therefore, H&M should adopt this strategy for gain competitive advantage in the marketplace. With the help of it, they should gain competitive advantages in retail industry and also increasing profitability of their business.
CONCLUSION
This report has summarised that different macro environment analysis such as political, legal, economic, environmental, technology and social factors of India that are helping to H&M for introducing new products and services(handbag and men's purse). It can be concluded that three mode of entry such as merger and acquisition, franchising and joint venture. H&M adopt franchising mode of entry of market for establishing their product in chosen country. It can be discussed that concept of market segmentation and targeting for possible customer. Furthermore, report has completed that porter's generic strategy such as focus, costs leadership, differentiation for gain competitive advantages in the market. H&M follow cost leadership generic strategy for increasing competition in the chosen marketplace.
REFERENCES
Ang, S.H., Benischke, M.H. and Doh, J.P., 2015. The interactions of institutions on foreign market entry mode. Strategic Management Journal, 36(10), pp.1536-1553.
Bruwer, J. and Li, E., 2017. Domain-specific market segmentation using a latent class mixture modelling approach and wine-related lifestyle (WRL) algorithm. European Journal of Marketin. 51(9/10). pp.1552-1576.
Byron, K. and Post, C., 2016. Women on boards of directors and corporate social performance: A meta‐analysis. Corporate Governance: An International Review, 24(4), pp.428-442.
Casabayó, M., Agell, N. and Sánchez-Hernández, G., 2015. Improved market segmentation by fuzzifying crisp clusters: A case study of the energy market in Spain. Expert Systems with Applications, 42(3), pp.1637-1643.
Gathorne-Hardy, and et.al., 2016. System of Rice Intensification provides environmental and economic gains but at the expense of social sustainability—A multidisciplinary analysis in India. Agricultural System. 143. pp.159-168.
Ginter, P.M., Duncan, W.J. and Swayne, L.E., 2018. The strategic management of health care organizations. John Wiley & Sons.
Hill, T., 2017. Manufacturing strategy: the strategic management of the manufacturing function. Macmillan International Higher Education.
Hitt, M. and Duane Ireland, R., 2017. The intersection of entrepreneurship and strategic management research. The Blackwell handbook of entrepreneurship, pp.45-63.