INTRODUCTION
Marketing is an essential activity of every company which conducts its operations in domestic or across international territory. This function of management deals with conducting an in-depth research of preferences and needs of customers and thorough study of overall business environment. Market practitioner then decides the strategy and makes a market plan aimed at promotion and sale of products and services of organisation. The business-marketing planning process is a systematic approach that is aimed at engaging the members of an organisation in developing marketing goals and then executing the in enterprise. This process is adaptive according to the situation, target customer base and position of company in market. Business marketing planning process can be executed with the aid of specified marketing concepts, theories and philosophies. These are aimed at aligning the efforts of individuals within an organisation towards the desirable outcome. Market practitioner of any entity identifies and fulfils the need and wants of customers for the long term benefit of company.
The current report is based upon marketing audit. It deals with the key considerations by market practitioner while designing a business-marketing plan. It also includes the 9 key objectives of any business enterprise in relation to the process of marketing. A marketing questionnaire is prepared containing quantitative and qualitative questions in relation to the function of marketing. The questions included in questionnaire will reflect the relevance of those aspects for the company.
Statement of purpose:
Marketing audit can be carried by analysing the current market requirements and the efficiency of business efficiencies in coping with the situations that arise during the operations of business. There can be various hindrances in the application of this process. While conducting the process of marketing in new location, there may be barriers like economic, political, social and environmental factors.
MAIN BODY
Marketing audit is a process of studying the marketing process in business environment. It involves the stages of collecting, analysing, designing, developing, implementing and evaluating (CADDIE) the marketing planning environment. A qualified and professional person possessing high knowledge of field of marketing, concerned about regular networking events related to it can be referred to as a marketing practitioner. The basic job of marketing practitioner is to analyse the environment by conducting research and then implementing marketing concepts, theories and philosophies in the operations of business.
Marketing Definition
Q1. Do you think there is a difference between definition of marketing in traditional and contemporary context?
What:
According to traditional definition, marketing is concerned with the satisfaction of needs and wants of customers along with exchange process. Exchange process, here, means the activities conducted in relation to buying and selling of products and services. On the contrary, contemporary definition states that marketing involves listening, learning and adapting to changes in market. All the strategies which are implemented in an organisation aim at providing a wide variety of products and services dependent upon the needs and wants of target market. While the traditional definition states that marketing is customer oriented, the contemporary definition concludes marketing to be a market oriented process. Marketing is that function of an organisation that deals with exchange of relationship between customers and management of an entity. This function is mainly aimed at satisfying the customers and their wants.
Why:
It is essential for marketing practitioner to understand the difference between traditional and contemporary definition of marketing as this will equip them with the knowledge as to what is to be included in the process of marketing. Marketing practitioners in an organisation are responsible for laying down the foundation of marketing. Also, they plan and execute business marketing planning process for which understanding of the concept of marketing is necessary. By gaining an insight into the various aspects included under the process of marketing, marketing practitioners can aim at achievement of desired results.
How:
Understanding of both classical and contemporary definitions of marketing aids the organisations while taking decisions about adopting various concepts, theories and philosophies of marketing. Also, by gaining an insight into both the aspects of marketing, marketing practitioners present in an enterprise can decide their way of implementing business marketing planning process. By ensuring that the marketing department is well equipped with knowledge in relation to various theories of marketing, organisation aims at accomplishment of organisational goals as the department will successfully execute marketing plan. This will result in increased revenue for company.
Marketing Objectives
Q2. Do you think increasing sales volume is the only way to generate high revenues?
What:
Increasing sales revenue is the primal-facie objective of any organisation that aims to gain a competitive stake in market. For this, business entities understand the need of improving unique value proposition of products. By this, they aim at making the product more desirable and preferable among customers. Customers may then be willing to pay a premium price in response to the quality products and services delivered to them. High prices for same products would imply larger generation of revenues for the entity. This reflects that high revenue generation is not just associated with increasing the sales volume of products.
Why:
It is imperative for any organisation to understand that increasing sales volume is not the only way of revenue generation for company. Along with that, business entity needs to adopt such methods which are helpful in meeting the needs and requirements of customers. Gaining an insight into other methodologies and techniques to increase sales may assist the business in gaining a competitive edge in market. Also, research conducted by market practitioner to gain knowledge of customer behaviour is important to develop marketing strategies for an organisation.
How:
Understanding that there are other ways of increasing revenue for company than just by increasing sales volume, company can grow into market by analysing the needs and wants of customers. By equipping other tools like enhancing quality of products without compromising with any other aspect of business operations, company can gain a competitive advantage in market ahead of its competitors. Increased revenue would ensure ways of growth and expansion of entity and its operations across various geographical locations.
Q3. Do you think increasing sales revenue is the only financial objective of an enterprise?
What:
Financial objectives of an enterprise are the goals in relation to revenue generation for company. These include a number of aspects like increasing sales revenue, reducing cost as a percentage of sales and developing values of entity. All these objectives together constitute the foundation of financial objectives. Increasing sales revenue may lead to increased revenue generation. But along with increase in sales revenue, cost associated with production or manufacturing also rises. To deal with this, the marketing objective is reduction of cost in proportion to sales. Reduction in cost as a percentage of sales will result in enhancing the level of satisfaction in customers and will lead to enhanced customer loyalty towards the brand and company. As a result of this, the stake of business entity in market will flourish.
Why:
It is imperative for an organisation to understand that increasing sales revenue is not the only way to raise revenue generated by company through sales. Along with raising sales revenue, it is necessary for marketing practitioners to understand that reducing cost of production as a percentage of sales and building company values that aim at customer satisfaction are important financial objectives. When all these 3 objectives are met by the company in long run, it ensures that company maintain its name and brand position in market. Also, developing an understanding of the 3 financial objectives is necessary so that business entity can maintain its stake in market.
How:
Developing an understanding of financial objectives of organisation helps the marketing practitioner to realise that increasing sales revenue is not the sole financial goal of any company. Along with that, keeping the other two aspects of financial objectives in consideration tends to make sure that business retains its identity in market for long run. This will lead to widespread acceptance of products and services offered by company among the people. By ensuring low cost of production without sacrificing with the quality of products, organisations aim at larger customer satisfaction and building an ethical image in market. This develops a sense of loyalty and belongingness in customers towards the brand and company. Increased customer loyalty gives the organisation a competitive edge in market ahead of its competitors and raises the stake of company in business industry and market. This opens up the routes of growth and expansion for company. Growth can be in terms of increasing the reach of business by opening up new stores or outlets across different parts of globe. Furthermore, expansion may include routes like increase in product lines, launch of new product or service and introduction of variants of existing products.
Q4. Do you think product leadership is an essential strategic objective for an organisation?
What:
Product leadership as a strategic marketing objective aims to build a culture in organisation that continuously brings superior products to market. Products developed by an enterprise are distinct, distinguishable and discernible from other products available in market in same product line. Such products which are differentiable from alternate products of competitive business organisations provide meaningful benefits to customers at a cost they are comfortable to afford. Product leaders recognise that excellence in creativity, innovation and teamwork is critical to the success of product in business industry and also the success of organisation in market.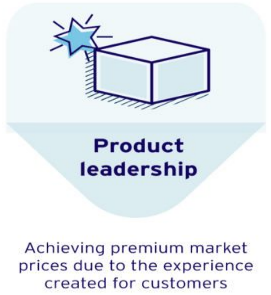 Figure 1: Product Leadership
(Source: Product Leadership, 2018)
Why:
Product leadership strategy is imperative for every organisation as it is concerned with bringing unique value to the marketplace and customers. Companies that focus on product leadership encourage the process of product development as per the needs and preferences of customers and the upcoming trends in technology and business environment. They create products that change the way customer lives bringing superior comfort to customers in terms of satisfaction. Entities create a culture of innovation, out of the box thinking and develop products beyond the thinking of rivals and buyers. This provides a strategic edge to business for conducting its operations in the long run in market.
How:
Developing an understanding of product leadership strategy is necessary for every organisation. Marketing practitioners realise the need to pursue product innovation at regular intervals both in order to retain their leadership in the market with the existing products as well as to introduce new revolutionary products in marketplace. Some organisations pursue the path of improving the current products by innovating them using new technology. There are other business entities who strive to understand the preferences and needs and demands of customers and work in accordance to develop those products that address the needs. By offering such products to customers that are leaders in related industry, organisation charge premium prices from customers. Also, customers are ready to pay high prices for such products as they best suit the needs of buyers and derive maximum customer satisfaction.
Marketing Concept
Q5. Do you think it is necessary to apply marketing concept in any organisation?
What:
Marketing concept is a premise stating that organisations that satisfy the needs and wants of customers in market are best placed to satisfy their own organisational needs. Customers have the tendency to search for and then select those products that they think to have best satisfied their preferences and needs. Thus, organisations keep in consideration this aspect and deliver the best perceived value. Such organisations are the first priority of customers and are most likely to stay in market for a long run. Also, every organisation exist to solve a problem that customers experience while living and thus every organisation that takes decisions and investment in favour of customer have chances of long term sustenance in market. Along with that, conducting business operations with a customer centred approach tends to gains widespread acceptance from people.
Why:
The organisations that run with a customer centred approach aim at maintaining their brand position and stake in market. These organisations can think of growth and expansion due to its wide spread acceptability within the market and customers. Also, following a market concept in the organisation can assist market practitioner to gather knowledge about the needs and demands of people and develop products or render services according to changes in preferences of customers or new trends in society or market. A product that best satisfies the needs of selected target market of customers, fulfils all the promises made by seller in relation and gains acceptance from buyers seems to stay in market for sale for a long period of time in future.
How:
Every organisation runs for the motive of profit making and maintaining its brand image and position within the business industry and market. Organisations that follow the marketing concept gain acceptance and selection from a wide base of customers present within an economy. Such organisation develop a feeling of satisfaction among customers are able to build customer loyalty to brand and company for a long period of time. Also, such organisations can easily look for expansion in terms of increasing the product lines or introducing variants of existing products or launching a new product in market due to its widespread acceptability. Along with that, organisations that apply marketing concept to their working can look for growth in terms of opening up stores or outlets in new locations within domestic country or reaching various geographical locations across the world.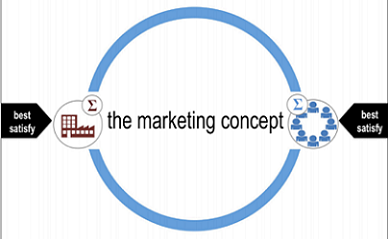 Figure 2: Circular nature of Marketing Concept
Consumer/Customer
Q6. Do you think as per marketing perspective, consumers and customers are same?
What:
Consumers and customers are two words that are often interchangeably used in everyday conversations without much consideration. But it is important to distinguish between the two aspects. Customers are those persons that get involved in the exchange process with a particular organisation. As per marketing perspective, generally, marketers refer to 'consumers' as this comprises of a broader group including both consumer and customers. Customers are a narrower group of people who enter into an exchange process. In simple words, consumers are those people who consume the goods which are not originally purchased by them and they have not entered an exchange process with an organisation for buying the commodity.
Why:
An understanding of difference between customer and consumer is important for any organisation as this helps the entity in decide who their target base for an exchange process would be. Also, this helps them decide who will be the final group of people who will be offered the goods produced by company for selling purpose and will ultimately enter the exchange process with the company.
How:
Developing an understanding of difference between a consumer and customer tends to provide information to organisation as to who are the real buyers of the goods produced by them. It is imperative for any business organisation to ascertain the behaviour of buyers in relation to the exchange process. Gaining an insight into the fact that the good purchased by any buyer is for his own use or for any other person's consumption helps the marketing practitioner to analyse the nature and tendency of customer in relation to a specified product offered by company in market.
Q7. Do you think that consumers only include the actual buyers of the product offered by an entity?
What:
According to marketing perspective, consumer is a wide term which not includes the actual buyers of the product but also the suspects and prospects for entering the exchange process with the organisation. Suspects are those individuals who suspect that a particular product of an organisation can meet their needs, desires and preferences. Prospects are those people who have collected and analysed the information about a specific product of an entity. Although they haven't given commitment to the process of exchange with enterprise, they are considering the alternatives to the product and taking decision as to which product best satisfies their demands. Actual buyers are the persons who actually enter into an exchange process with the organisation. These may include first time customers, casual customers, repeat customers, one-off customers etc. Together these 3 components constitute the broad term 'consumer'.
Why:
It is imperative for business organisation to gain knowledge about the term 'consumer'. It is essential that marketing practitioners realise the constituents of consumer group. All the three elements of consumer group are necessary for a business to execute the process of exchange. Thus, gaining an understanding of the suspects and prospects of the products offered by company is as important as gathering information about the actual buyers of the specified commodity offered by company.
How:
An understanding of the three aspects of consumer group is necessary for any organisation to ascertain who are the potential buyers of a specified product offered by the enterprise in market. Also, prospects and suspects need to be kept in consideration by entity so that they can be targeted in future for pursuing to buy the product offered by company in market.
3 Times Zones of Buyer Decision
Q8. Do you think that all the 3 constituents of times zones of buyer decision are equally important?
What:
The 3 time zones of buyer decision are purchase behaviour, product delivery and post purchase behaviour. Purchase behaviour is all about recognition by customer of an unmet need and then the drive and direction that they derive to satisfy the need. For this, they carry out a research by collecting information about the various aspects of product. After analysis, decision is taken by buyer in relation to whether the exchange process will be entered by him or not. Along with that, product delivery is all about establishing the value of product and the process of transformation of potential customers into actual buyers of the product of company. This can also be considered as response of customers in relation to the specified product offered by company in market. Post purchase behaviour is all about the experience of customers after consuming the product offered by enterprise. It is the reflection and evaluation of satisfaction derived by customers after consuming the product.
Why:
All the three constituents of time zones of buyer decision are necessary to be considered by any company to stay in market for long run. It is of significance that companies evaluate the needs and requirements of customers and then offer a product that best satisfies their demands. Companies that concentrate on customer segment and their demands and keep evaluating the response of customers in relation to the products delivered by enterprise maintains its stake in market for long run.
How:
Realising the importance of 3 time zones of buyer decision is important for any organisation as it increases the chances of widespread acceptability of products offered by company and also raising the stake of company in market. Building an understanding of the 3 time zones of buyer decision assist the entities in viewing the buyer decision process from the point of view of customers. This enables them to design and develop a better customer experience aimed at maximum satisfaction to customers in future when they enter an exchange process with company.
Blue Ocean
Q9. As per your thought is Blue Ocean a part of marketing planning process?
What:
Blue Ocean is that thinking of firm which enable them to get great amount of positive attention from the side of marketing practitioner. This is related to the practice of working together and discussing that why changes are necessary and how can they be implemented in an organisation. This is one of the most widely used marketing practice which creates growth and expansion opportunities for business organisations in context of market.
Why:
Blue Ocean is an essential element of market planning process in today's context as there are ample number of opportunities available to a company which must be considered and taken advantage of by the business entities. By gaining these opportunities and employing them in the daily operations of business, entity aims at gaining high stake in market and gaining high customer loyalty. It is imperative that marketing practitioners are identifying the gaps between market so that opportunity could be ascertained and incorporated with a vision to introduce new product or enter new markets.
How:
Blue ocean thinking will assist the company in introducing their new product in existing market, existing product in new market, new product in new market, and existing product in existing market. All of these will result in growth and expansion opportunities for company so that it can remain in market for long run with widespread acceptability from target customers.
Circle of satisfaction
Q10. Do you think that with the help of blueprinting, quality of products and services of a company can be improved?
What:
Blueprinting is an exceptional tool which helps in determining how and in what specified manner do customers interact with a business entity. Especially in case of service industries, this tool is strongly recommended by marketing scholars. This tool can be extensively used with the help of flowcharts and Gantt charts. If all the activities are coded and deviations in quality are measured against each code, it will assist in identifying and rectifying the points of failure in respect to products. By identifying product deviations from pre-decided standards, managers are able to rectify the issues as many a times the product failure is related to recurring problems.
Why:
Adopting bluepriniting as a technique to improve quality of products assist the management in recognising the deviations in product from specified standards and helps in rectifying the same so that in future, same issues in product development and product delivery does not occur.
How:
Blueprinting is helpful to company as it enables the firm to increase interaction with customers. This assists the enterprise in gaining an undersatnding of their needs and wants. Also by alloting codes and setting performance standrads for products, company can measure the actual deviation from the standards and take corrective action to rectify the same.
SWOT Analysis
Q11. Do you think that SWOT is the best tool to present information at strategic planning?
What:
SWOT is an acronym for Strenth, Weakness, Opportunity and Threat. It is a tool that will help organisation to collect and analyse information about the internbal environement of company. These are also known as sitiuational factors as these factors depend upon the situations prevailing within the premises of company. Every situation that arises has a positive and negative impact on the operation of company.
Why:
The basic objective behind using SWOT analysis is to gain an understanding of the various aspects of company. Also, the use of this tool is aimed at increasing the strengths of company, lowering weaknesses, identifying threats and grabbing all the opportunities that are available in market. By being able to achieve this, organisations aim at achieveing a strategic edge in industry.
How:
With the help of SWOT analysis, market practitioner gain an insight into the overall operations of company. They get to understand who are the facilitators and who are the hurdles to strategic decisions of company. They will apply their efforts in maximising strengths and opportunities and minimising weakness and threats.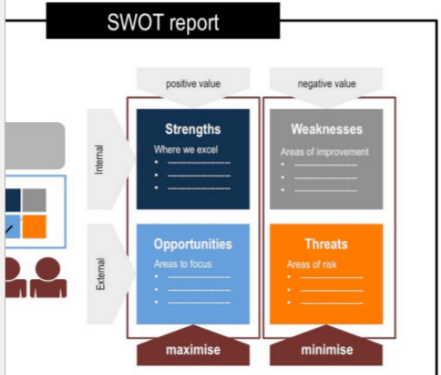 (Source: SWOT Analysis, 2018)
PESTELE Analysis
Q12. Do you think that external market forces impact organisation more than internal?
What:
Often a market analysis includes micro and macro factors that impact the organistaion and overall market. In various organisations, marketing practitioners work with other disciplines to explore the external factors of environment that affect the operations of an entity. This is also referref to as envioronmental scanning. PESTELE analysis is often used by organisations to analyse the impact of external environment on business. PESTELE is an acronym that stands for Political, Economic, Sociocultural, Technological, Environmental, Legal and ethical factors.
Why:
A business conducts its operations in dynamic environment which reflects the need to analyse the constant changes that may atke place in economy. These changes often have significant impact on an entity. Any business that operates in an economy is required to comply with all sort of changes that are available and applicable to the enterprise. Factors like political conditions of economy, emerging technology, monetary policies, customer decision making, sustainable development, ethics and moral need to be considered by company in order to survive in industry in long run.
How:
PESTELE Model is useful to business entities as it ascertains the probable threats and opportunities available by way of various factors of economy for the business to conduct its operations. An analysis of these aspects helps the business in understanding and adapting to any desirable change in marketplace.
REFERENCES
Books and Journals
Alzeban, A. and Gwilliam, D., 2014. Factors affecting the internal audit effectiveness: A survey of the Saudi public sector. Journal of International Accounting, Auditing and Taxation. 23(2). pp.74-86.
Beasley, M.S., 2015. Auditing cases: An interactive learning approach. Prentice Hall.
Daghfous, A., Ahmad, N. and Angell, L. C., 2013. The KCRM knowledge audit: model and case illustration. Vine. 43(2). pp.185-209.
Deumes, R. and et. al., 2012. Audit firm governance: Do transparency reports reveal audit quality?. Auditing: A Journal of Practice & Theory. 31(4). pp.193-214.
Eggers, F., Hansen, D. J. and Davis, A. E., 2012. Examining the relationship between customer and entrepreneurial orientation on nascent firms' marketing strategy. International Entrepreneurship and Management Journal. 8(2). pp.203-222.
Fernando, Y., Saad, N. M. and Haron, M. S., 2012. An extension of internal service quality concept: lesson from the best low-cost carrier in the six regions of the world. International Journal of Services and Operations Management. 11(1). pp.13-34.
Kim, K. H. and et. al., 2012. Effective employment brand equity through sustainable competitive advantage, marketing strategy, and corporate image. Journal of Business Research. 65(11). pp.1612-1617.
Morgan, N. A., Katsikeas, C. S. and Vorhies, D. W., 2012. Export marketing strategy implementation, export marketing capabilities, and export venture performance. Journal of the Academy of Marketing Science. 40(2). pp.271-289.
Van Wijngaarden, J. D., Scholten, G. R. and van Wijk, K. P., 2012. Strategic analysis for health care organizations: the suitability of the SWOT‐analysis. The International journal of health planning and management. 27(1). pp.34-49.
Zeriti, A. and et. al., 2014. Sustainable export marketing strategy fit and performance. Journal of International Marketing. 22(4). pp.44-66.