Question :
This assessment will provide certain questions which are like:
What are the effective organisational culture, power and politics in relation to 1spatial Plc?
Give the motivational theories and the organisational goals in relation to 1spatial Plc
Analyse the group development theories and working.
Answer :
Organization Selected :
1Spatial Plc
INTRODUCTION
Organisation behaviour is related with the examination of attitude and working behaviour of employees as an individual and as a team member at workplace. Employees are considered as a valuable asset of company whose maximum contribution assist organisations to achieve its desired goals and objectives within pre-determined time period. Therefore, the management is held liable to maximise the working behaviour of employees through identifying and fulfilling their needs and requirements at workplace which can be done either through giving them rewards, promotion, incentives etc. or through conducting training and development programs. The present assignment report is based in 1Spatial Plc which is operated its business functions through three segments such as Geospatial, cloud services and Central costs. It is established in the year 2005 and has attained 170 employees. The project includes the impact of power, politics and culture on performance of teams and individuals that can affect the performance of an organisation. The project also mentions various motivational theories, concepts and philosophies of OB, importance of team to an organisation along with the differentiation between effective and ineffective team.
A+ Grades @Affordable Prices!
We deliver all academic papers from dissertations & assignments to thesis, & case studies. 5000+ satisfied students, you could be next! Place Your Order Now!
Order Now
TASK 1
P1: Influence of organisation's politics, culture and power on team and individual performance
At present, organisation's politics issues, culture and power are such viable and vital elements which can influence the execution level of an organisation either in negative or positive way. Power alludes to an authority allocated to a person to exercise and impact working conduct of employees and accordingly get complete work from them in a viable and proficient way (Chiboiwa, Chipunza and Samuel, 2011).
Impacts of Power on individual and groups:
Positive power exercised by managers in favour of staff members in form of giving them appropriate direction and inspiration to perform well with a hope of getting maximum gainful outcome which support their professional growth as well as overall performance level of an organisation. Such power assigned to managers performs crucial roles such as allocation of roles and duties, giving prizes and valuation for work, acknowledgement of efforts and so forth to their staff members. These roles and responsibilities are performed for the improvement and development of workers which in results diminishing staff turnover, absenteeism, high staff retention etc.
Negative power practised by manager impacts unfavourably to the working conduct of workforce as practising such power in order to pressurize staff members to create new ideas and work hard and accomplish allocated activities within allotted time period and if failed then punishment will be given in form of deduction of salary etc. In the present situation, it is apparent that 1spatial Plc have experienced and educated management who knows how to achieve maximum output from staff members by using their power so that their working behaviour will not be affected in adverse manner. There are different theories which may required to implement by 1spatial Plc in order to influence employee's behaviour some of which are portrayed as under:
Legitimate power: It includes such power which is given to a person based on their allotted position in an organisation. For an example, power practised by Andrew Roberts, CEO of 1spatial Plc has legitimate power that has power to monitor and control over its workers.
Reward power: It characterized as a power which is given to a person to acknowledge the efforts of employees through giving them rewards, advancements, training and learning programs and so on. In 1spatial Plc such power is practised by Board of Directors who is giving the list of staff members qualified for getting rewards (Christina and et. al., 2014).
Coercive power: It characterized as the power which is allocated to a person to wipe out clashes among workforce through giving discipline, debilitating, firing clashed staff members in an organisation. In 1spatial Plc such power is practised by CEO and managers.
Expert power: It characterized as the power which is given to a person who is more proficient and had practical experience in their work. In 1spatial Plc, such power is practised by managers who are knowledgeable and specialists to manage complexities and make appropriate judgements to provide maximum outcome to an organisation.
Referent power: It characterized as the power which is given to a person to make impact working behaviour of others. In 1spatial Plc, such power is practised by leaders who have leadership skills and abilities to achieve good work from their members in more compelling and productive way (Farndale, Hope-Hailey and Kelliher, 2011).
Informational power: It characterized as the power which is given to a person who have satisfactory skills about keeping up financial related reports which will be valuable for management in setting an effective future plans and decisions. In 1spatial Plc, such power is practised by finance manager who is responsible to maintain all kinds of financial reports, for example, Profit and Loss a/c, Balance sheet, Cash Flow statement on specified time period.
Chanlat's characteristic related to political behaviour:
Chanlat explained the political behaviour through categorising them into three parts such as decisional, personal and structural. It is applicable during recruitment process of staff in which managers consider all qualities and passion that an individual possess so that their future capabilities that could attained power and political behaviour. Michiavellian is an individual characteristics possess by employees which allows them to engage in political behaviour and power. The other characteristics is structures which states that managers of 1spatial Plc should take actions and implement plans in more appropriate and systematic way.
You may also like to read: Organisational Behaviour of 4Com Plc
Influence of politics on group and person:
Helpful in developing social astuteness, interpersonal influence, network ability and sincerity: Office politics direct employees to acquire knowledge about the happenings in an organisation and influencing factors that can restrict or motivate them to work hard and give their best efforts. For this, the management of 1spatial Plc is required to implement theories and prepare tactics so as to guide the employees to towards achievement of organisational goals and objectives. It requires communication transparency through which the employees are able to communicate directly to the top authorities and inform them about the current situations at market place (Francis, O'Connor and Curran, 2012).
Reduce the productivity of employees: It is the fact that employees who are involved in organisational politics took more interest in pointing out flaws and criticize other which results in decreasing the performance and productivity level.
Organisational culture is the third crucial factor which states the concept of beliefs, norms, values that are more useful to implement by company at workplace so that healthy environment can be created. In 1spatial Plc culture is formed with the consent of employees and firms. To maintain work culture, the management is required to create framework with beliefs and behaviour that will be agreed by workforce and taking recommendation for any further changes.
Influence of Culture in 1spatial Plc:
It can be described through Handy's cultural typology model:
Handy's cultural typology model: It is such a theory which explains the specified culture, different beliefs, values and norms etc. that should be adopted by the management of 1spatial Plc according to the market changes. It is classified into four parts which are mentioned as under:
Power Culture: It includes the power which is assigned to the top authority of an organisation with the purpose of controlling over their employees. In the context of 1spatial Plc, the top authorities includes CEO, Board of Directors etc.
Role culture:It is related with the duties and authorities given to the employees on the basis of their experience and capabilities. In 1spatial Plc., managers are held liable to analyse the performance level and capabilities of employees and on the basis of which assign roles and responsibilities so that maximum outcome can be received by them to support organisational goals (Gold and et. al., 2013).
Task culture: It includes the activities allocate to the employees with suitable time frame in order to achieve competitive benefits that will help in bringing company ahead in the competitions with their rivals. For this, it is required for management of 1spatial Plc to bring motivation and confidence among their employees so that allotted work can be completed within allotted time period. Motivation can also be given through appreciating their work, recognition of their efforts, rewards etc. It encourages employees to work in a team and bring out maximum efforts to achieve organisational goals.
Person culture: It emphasis on providing opportunities to employees to show their talent and capabilities through allotting them challenging task. It makes simple for management of 1spatial Plc to identify the actual capabilities of employees. Apart from this, motivating employees to share their ideas, and thoughts that will be useful in making an effective decision help company in achieving desired goals and objectives within pre-determined time period.
TASK 2
P2: Motivational theories for achieving organisational goals
Motivation is a key factor for any organisation to dissect and using abilities, learning and aptitudes of its staff by influencing its workforce to apply their maximum efforts for accomplishing firms goals and objectives. Like different others organisations, 1spatial Plc have likewise experienced momentum in its voyage of accomplishment. So far firm has experienced different issues identified related with migration, technical changes and so on yet was prepared to do effectively overseeing and adopting required changes through its capable managers. The HR department of 1spatial Plc has detailed various strategies for empowering its most important assets to form an effective team. Described below are the tow most effective and prominent approaches and theories that should be opted by 1spatial Plc to spark zeal, enthusiasm and trust in its employees to over come any inadequacies or changes (The Hierarchy of Human Needs: Maslow's Model of Motivation, 2018).
Content Theory: It is known theory of need which clarifies different purposes behind change in demands, needs and wants of human in reference with the time. It empowers 1spatial Plc managers to recognize specific aspects that helps in assisting behaviour of workforce. It focuses on various smaller scale factors that influences human behaviour and encourages an individual to achieve its personal as well as professional goals. It includes following motivational theories:
Maslow Theory of Motivation: According to such theory, the needs and requirements of human are characterized into five classifications which are given as beneath: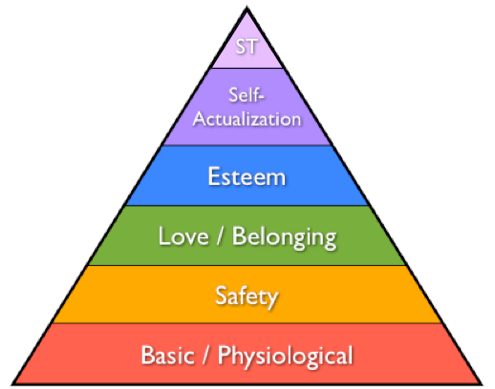 Source:The Hierarchy of Human Needs: Maslow's Model of Motivation. 2018
Physiological needs: It is connected with fundamental necessities of human without which they can't survive. Such need comprises of foods, shelter, water, clothing needs. It influences the execution and working behaviour of an individual in this manner basic require to be satisfied by organization with an objective to get gainful results from them.
Safety and security needs: In this, needs related with job stability, health and security and so forth which each employees as an individual anticipate from their organization. Each worker need to work in risk free working environment because of which the chances of indulging in any mishaps are minimum. The managers of 1spatial Plc are required to embrace a few security measures, for example, life and medical insurance facilities to the people. It requires implementation of law implemented by government in relation to workers lay off or termination.
Social needs: It incorporates needs which are related with adoration and affection which each individual need to anticipate from others. It tends to be better communication, taking an interest in worker engagement programs, recreational exercises and so on which gives an opportunity to employees to communicate and interact with one another (Laforet, 2011).
Esteem needs: Such needs are connected with recognition, appreciation and regard from others. An organisation should required to energize its workers through giving them appreciation through rewarding them compensation, incentives etc. in order to get sufficient help from them in achieving desired goals and objectives.
Self-actualisation: It is the need which is on the highest point of Maslow pyramid and acknowledged by a person when every above need are satisfied. It incorporates the person's craving to identify its own abilities and strength and on the basis of which achieve its own desired aims and objectives. The management help them in fulfilling their desired aim through demonstrating them inspiration with the purpose to confront challenges and greater obligations so that allotted task can be possible to achieve within allotted time period.
Process Theory: This theory is adopted to examine psychological and behaviour processes. It also help in evaluating person's needs which impacts or motivates employees to accomplish a specific objective desired to achieve. In order to encourage and maximising the working behaviour of employees and to help them to work in new work environment and new difficulties at time of relocating, the management of 1spatial Plc need to adopt. Under this organization should conduct workshops in order to build up their capabilities and building a capable group. It incorporates following theory:
Vroom's expectancy theory: This theory expresses that, work behaviour support the interest and willingness of employees to perform due to which the managers of 1spatial Plc should put their efforts in maximising their working behaviour through taking various initiatives (Owoyemi and Ekwoaba, 2014). Vroom understood that performance level of worker is completely depend on individual aspects like personality, experience, abilities, skills etc. Both Motivation and effort are linked with person's motivation. For this, managers of 1spatial Plc utilizes certain factors like expectancy, instrumentality and valence. By adopting such theory, individual targets and necessities of employees can be recognized and urges them to work and help together so as to accomplish their professional and individual goals.
If you need any other homework assistance, you can ask our Homework Help Experts.
TASK 3
P3: State what makes a team more effective as opposed to an ineffective team
An organisation should easily achieve its desired goals and objectives through getting maximum contribution from the human resource having an effective skills and knowledge. For this, the management of 1spatial Plc should required to encourage employees to work in unity to provide maximum efforts in achievement of organisational goals. Therefore, it is essential to form an effective team by grouping employees having common skills and knowledge. In case grouping people together having different views and thoughts will be formed as an ineffective team (Seck and Helton, 2014). Here are the some differences between effective and non-effective team:
| | |
| --- | --- |
| Effective team | Non-effective team |
| An effective team consists of individuals attaining common views and thoughts towards particular subject which enables them to provide maximum in achieving organisational goals and objectives. | It fails to provide maximum efforts due to poor direction and lack of motivation by leaders. |
| Effective team assist its team mates to share their views and ideas that can be assist in making an effective decisions. | Ineffective team restricts its team mates to share their feedbacks and views as they considered their vote lonely towards decisions and plans taken by the leaders. It brings demotivation among them. |
| Effective team also focuses on individual needs of team mates and encourages the to achieve its personal goals as well along with team goals. | Ineffective team only focuses on achieving team goals ignoring the needs of their team mates. |
Therefore, It is more important for the management of 1spatial Plc to identify the actual skills and capabilities of their employees and allocate them into a team so as to form an effective team that will bring maximum profitable result to an organisation. Identification of skills and qualities in team mates will be done on the basis of following:
Mutual cooperation: Communication gap among team mates causes misunderstanding and conflicts which in results brings negative outcomes to company. Therefore, it must required to have an effective communication channel and develop mutual cooperation so that combined efforts can help organisation in achieving desired outcomes within limited period of time (Suma and Lesha, 2013).
Balance roles: Roles should allotted to the members after analysing their skills and capabilities so that it brings interest among employees to perform well with full dedication and hard work. For this, management of 1spatial Plc should identify their skills and performance level through analysing their past performance report.
Effective leadership: It is an ability of influencing the behaviour of others and get work done from them in more effective and efficient manner. Therefore, it is important for the management of 1spatial Plc to recruit an individual having all leaderships traits and qualities so that their employees can work in right direction and achieve better possible result in near future.
Tuckman and Jensen's model of team:
The Tuckman and Jensen's model of team provide in-depth knowledge of a team and its members. Here we are taking Dr. Martens into consideration which is using this model to understand the entire procedure of team building from initial phase till the project completion keeping in mind to increase the mutual trust between employees and the coordination between them.
Following is the four stages of Model:
Forming-It is the basic step, which involves building of the team, allotment of work, and keeping interaction between team leaders and team members. Dr Martens is assigning the work load to employees in this phase for facing the challenges and opportunities that they are likely to encounter during the assignment (Wood and et. al., 2016).
Storming- in this step, the managers of Dr Martens are motivating their employees for performing better score and pushing them over their limits which usually lead them to roles related confusion in them.
Norming- In this phase, the team started to understand each other's work and start acknowledging each other's ideas. From this stage, Dr Martens Entered in the friendly and peaceful working environment.
Performing-In the last stage of this model, The members within a team started trusting each other and the employees are performing much better at professional as well as personal level and even started supporting each other.
TASK 4
P4: Philosophies and concepts of organisational behaviour
Path Goal Theory:- The model was proposed by Robert House in 1974 and it is fairly related with Victor's Vroom Theory. This depends on the rule that behaviour of leader significantly gets influenced with perception of staff members between their performance level and efforts. The role of 1Spatial Plc. leaders is to help its members in accomplishing rewards by eliminating all hurdles and make easy for them to achieve recognition so that maximum contribution can be gained from them towards organisational goals. For this leader should support their employees through giving them adequate guidance, resources etc. that will help in completion of allotted work in more profitable way. The model is categorised into three parts which are examined beneath:-
Identification of characteristics of employee and environment
Select a leadership style
Stress on motivational factors that assist employees to maximise its performance level.
Employee's Characteristics: Leader's behaviour can be analysed on the basis of needs and requirements of employees such as perceived level of affiliation, level of structure and so forth. The key responsibility of leaders is to allocate roles and responsibilities to workers based on their skills and experiences so that maximum output can be received and achieve desired objectives in organized and profitable manner. Leaders must required to identify and understand the need of employees so they can know how they can inspire their worker and extract best out of them (Models of Organisational Culture - Handy, 2015).
Task and Environmental Characteristics:-
With the use of this theory, 1Spatial Plc can able to focus on eliminating hindrances. If in case any obstacles is too strong to handle than leaders needs to put their efforts through choosing a reasonable way to eliminate complex hurdles.. Some of the common difficult task challenges are listed beneath:
Design of Task: It includes allocation of roles and responsibilities to employees on the basis of their skills and knowledge. In this, proper guidance and direction will be given in order to achieve maximum possible outcomes.
Formal Authority System: Leaders are more responsible to set target and allot them to employees on the basis of their task authority which assist organisation to compete under contingent situations in better manner.
Work Group: Leaders or managers should take an effective steps in order to brings employees of same skills and knowledge together and motivate them to form an effective team to achieve allotted target within given time frame. Working in a team maximises the performance level of employees as well as create better relations with one another. This brings more advantages to company for longer duration.
Leadership Styles: Leader adjust their style as per their behaviour of employees and attributes so they can extract best out of them. House and Mitchell recognize four primary initiative style which are explained about underneath:
Directive: This leadership style implies that manager or leader have right and power to take decisions solely without considering the views and opinions of their subordinates which will further bring dissatisfaction among workforce.
Participative: Here, leaders focuses on collecting suggestions and views of employees before taking any decisions for the betterment of an organisation. This will help in maximising the working behaviour as well as retention of staff for longer duration (Kaur, 2013).
Experts Are Listening!
Have doubts about academic writing? Clear all of them in a minute! Call the experts and get your answers immediately! Dial Now!Contact Us
CONCLUSION
It has been concluded from the above project report that Organisational behaviour play a significant role which mainly directs the workforce to perform for the betterment of their own as well as organisation. For this, managers are held liable to make an effective decisions and policies such as adoption of motivational theories in order to influence the interest and working behaviour of their employees in favour of company. Such motivational theories includes Maslow theory, Content theory, Vroom expectancy theory etc. which brings motivation among employees to achieve their personal as well as professional goals within limited period of time.
REFERENCES
Chiboiwa, M. W., Chipunza, C. and Samuel, M. O., 2011. Evaluation of job satisfaction and organisational citizenship behaviour: Case study of selected organisations in Zimbabwe. African Journal of Business Management. 5(7). p.2910.
Christina, S. and et. al., 2014. How organisational behaviour and attitudes can impact building energy use in the UK retail environment: a theoretical framework. Architectural Engineering and Design Management. 10(1-2). pp.164-179.
Farndale, E., Hope-Hailey, V. and Kelliher, C., 2011. High commitment performance management: The roles of justice and trust. Personnel Review. 40(1). pp.5-23.
Francis, J. J., O'Connor, D. and Curran, J., 2012. Theories of behaviour change synthesised into a set of theoretical groupings: introducing a thematic series on the theoretical domains framework. Implementation Science. 7(1). p.35.
Gold, J. and et. al., 2013. Human resource development: Theory and practice. Palgrave Macmillan.
Kaur, A., 2013. Maslow's need hierarchy theory: Applications and criticisms. Global Journal of Management and Business Studies. 3(10). pp.1061-1064.
Laforet, S., 2011. A framework of organisational innovation and outcomes in SMEs. International Journal of Entrepreneurial Behavior & Research. 17(4). pp.380-408.
Owoyemi, O. and Ekwoaba, J. O., 2014. Organisational Culture: A Tool for Management to Control, Motivate and Enhance Employees' Performance.
Seck, M. M. and Helton, L., 2014. Faculty development of a joint MSW program utilizing Tuckman's model of stages of group development. Social Work with Groups. 37(2). pp.158-168.
Suma, S. and Lesha, J., 2013. Job satisfaction and organizational commitment: The case of Shkodra municipality. European Scientific Journal, ESJ. 9(17).
Wood, J. M. and et. al., 2016. Organisational behaviour: Core concepts and applications. John Wiley & Sons Australia, Ltd.