Introduction
The Imperial Hotel situated in London, is a well known international chain of hotels. Charles Fitzroy Doll build the original building between 1905 to 1911. Later in the year 1966, it was demolished and was replaced by a building of same name. Lodge of Imperial Hotel is shared with the President Hotel. It is a 4 star hotel (Abe, 2010). Mainly, it creates international business. Guests who have high expectations in terms of standards of service are usually entertained by it. It has a total of 500 bedrooms with all the en-suite facilities. It also has conference facilities, leisure centre , bars and many more with a total of 450 staff members. The management of the hotel has been recently undertaken by new manger. From the past few years, various problems are being faced by the management staff.
The major problems are customers dissatisfaction, high staff turnover, negative work culture, ineffective leadership, inefficient use of IT systems and higher operating costs. The report basically configures the major problem that is customers dissatisfaction. This is so because customers are the one who serve as brand recognition medium. If customers are fully satisfied then they will have a positive image about the hotel and they will further give suggestions to their friends and family which will indirectly be beneficial for the hotel (Albert and Beatty, 2014). Therefore, analysation of each of the issues faced by customers should be done, so that management could taker effective measures to satisfy those customers and maintain the reputation of hotel.
A+ Grades @Affordable Prices! We deliver all academic papers from dissertations & assignments to thesis, & case studies. 5000+ satisfied students, you could be next! Place Your Order Now!
Order Now
1. Review of management theory towards customers dissatisfaction
The activity of getting things done with help of people and other resources is referred as management. With poorer management, every organization fails to satisfy the customers thereby creating a negative impact over their minds. For this, the Systems Theory of management could be preferred. Customers are usually not satisfied in Imperial Hotel because of the ineffective behaviour and working style of workers. This management theory recognizes how a system affects the workers. It also determines the way in which the worker affects the surrounding system. Worker's ineffective response might be due to many factors in the surrounding system (Alexander, 2013). A system is made up of many elements that work as a whole to achieve particular task. Managers can examine patterns and events in the workplace with the help of broad perspective provided by Systems theory.
Coordination of programs to work as a collective whole for overall goal of organization is done by managers with help of this theory. The ineffectiveness of workers at Imperial hotel is a result of lack of coordination among different sub-systems within the organization. The strength of each of the sub-system is derived from interaction with other systems. This theory also involves taking of feedback to evaluate and improve functioning of the system. So Imperial Hotel manager could introduce certain ways in which feedback could be taken from customers. This will help to effectively manage the overall functioning of the organization and also satisfy customers to improve the image of hotel towards them. However, this management theory cannot be directly applied to the practical problems that organizations have to undergo through. If, the manger is successfully able to apply this theory in the hotel then, the working efficiency of workers could be improved.
2. Analyzing the problem
Since, Imperial Hotel is a very well recognized brand , therefore customer dissatisfaction is a stain over their brand. It has been graded lowest in the whole star chain terms (Alvesson and Willmott, 2012). A former online survey was conducted according to which:
24% had problems with check-in and check-out facility
27% were not satisfied with cut speed efficiency
11% complained about the courtesy shown by staff
18% felt that customers were not helped with proper delivery of information
38% doubted the accuracy of bill itemization
The major reason which made customers dissatisfied was poor check-in and check-out facility (Anderson and et.al., 2015). When customers used to check in the hotel, they had to face various problems with respect to the staff. They were not provided with necessary information regarding the hotel. And the staff makes various sorts of unnecessary claims which takes most of the time of guests. Guests were demanded with advanced payment for bookings without even examining the rooms and other services.
Their queries are not properly cleared due to which they have given a negative response with respect to this parameter. Also at the time of checking out, the guests were demanded with unnecessary costs in relation with additional minor services provided to them despite the poor quality (Chaffey and White, 2010). When overall billing was done very poor accuracy was observed. So guests made complaints also, but no attention was paid and they had to pay unnecessary costs as well. Also, Customers have to wait for very long time in queues at the time of checking in and checking-out.
Furthermore, the rooms in which the guests were staying were of very poor quality which was a major point to be noticed. Despite of 500 rooms available, every room had some or other problem. Some were having problem with water supply in bathing rooms while others had poor quality of overall room (Chance and Brooks, 2015). When customers used to complaint about the staff then very null and void response was shown towards them. So the quality of the working staff was very poor which led to customer dissatisfaction.
Some staff members were even very rude towards the guests. This was also one of the major reasons that made guests unhappy about the services that were offered to them at Imperial Hotel, London. On complaining the guests were asked to manage accordingly and their issues were ignored since payment had already been taken from them (Flint and Bosch, 2012).
There were other minor problems also which as a whole became a major one. The bath rooms were not cleaned properly and showers were also not working properly. Requests for room change also were not paid any attention. The air conditioners produced very unpleasant noise which caused problem for guests during their time of sleep. The technology in the rooms was also ineffective due to which guests had to face several problems (Frederickson and Ghere, 2013).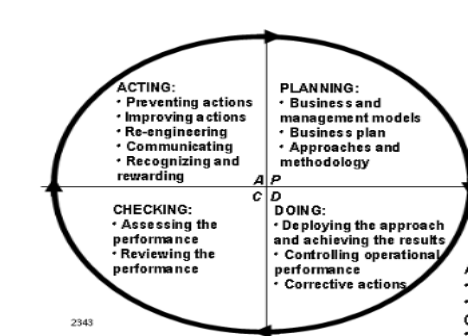 Illustration 1: PDCA Plan
Source : Process Management, 2017
Henceforth, to effectively manage this issue, professional process management approach would provide a great opportunity for enhancing the overall performance of workers and making the guests satisfied with services offered by Imperial Hotel (Giacalone and Rosenfeld, 2013).
This effective management will ensure quality services to the guests and also help in regaining the number 1 position in star Hotels. Processes are referred to all the daily activities undergoing in organization. Management of various processes is a very comprehensive issue (Process Management, 2017). It basically consists planning, controlling, improving operations and quality assurance. The PDCA (Plan + Do + Check + Act) model can be used which has been explained in the diagram above. It will help the Imperial Hotel to:
1. To effectively manage the existing processes of Imperial that are followed by all members of organization. It will also help in building up of effective communication between various sub-departments.
2. To improve plans and structures that are currently in action within organization so that workers could work efficiently and offer quality services to guests.
This model has to be followed by the staff of Imperial Hotel in order to make the workers give their contributions effectively (Haddow, Bullock and Coppola, 2013).
A critical analysis of the issues faced by customers should be done so that effective management of those could be done (Hillier, 2012). The issue that are faced by customers have to be considered by management. Effective measures need to be taken to address each of the specific issues. Customers complaints must be properly addressed. For addressing the complaints the staff should be trained by the management so that they could act accordingly and deliver services up to customers satisfaction (Hislop, 2013). If the customers are satisfied as per their expectations then, this will help the organization to create a positive image for them. This will further increase the brand value of the hotel. Coming towards rooms, renovations can be carried out as per the complaints received from customers. Feedback can be taken from customers so that organization can get a idea about various issues that they had to undergo through (Kamphuis, 2010).
Experts Are Listening! Have doubts about academic writing? Clear all of them in a minute! Call the experts and get your answers immediately! Dial Now!
Contact Us
3. Summary and justification of key proposals
The PDCA plan will help the organization in planning out different strategies as per the complaints received from customers. Overall performance of the employees would be evaluated and enhanced (Kern, 2014).
Effective training given to staff of Imperial Hotel will ensure that the complaints made by guests are effectively addressed and managed accordingly. Training can be visual as well. Examples can be taken from other efficient hotels and they could be enacted. Live examples could be given by taking them to other effectively managed branches (Nahavandi, 2016).
Furthermore, carrying out renovations will help the Imperial to improve their quality of rooms.This also has some consequences along with it. Whenever it is carried, then for the next two years 60 rooms will be out of action. Now this a major issue for the organization to worry about. Imperial Hotel will come under budgetary pressure. Moreover, the ongoing costs of building will add up to the budget (Nekvapil and Sherman, 2015). When 60 rooms will be out of action then the income that would have come from them will become null and void. This will result in loss of income because 60 rooms will be out of action at one time. So, the renovation has to be taken care of.
The customers have to wait for very long time standing in queues. Waiting in queues makes the guests feel very annoyed (Ricci, Rokach and Shapira, 2011). So, digital methods of checking and checking out should be used by management. Billing for the services used by customers is also a issue that should be focussed by the organization. It should be done on the basis of package chosen by customers and payment should be made easy by internet banking or credit cards. For this, new technologies have to be adopted by the organization. This will although increase the budget of Imperial but at same time will provide efficient way of handling the billing issue and also accuracy will be achieved through this method (Talk, 2016).
Conclusion
Imperial Hotel is a very well known brand in the whole world. It offers all types of luxurious facilities. Because of its brand value it has gained a large amount of popularity and customers in UK mostly prefer it over other brands. The retirement of previous manager had led to appointment of new manager whose duty is to effectively manage the issues faced by earlier managing staff. The recent problems faced by organization have led the grade of hotel to be very low. Customers are unsatisfied because the working staff of Imperial is not at all effective to address the complaints of customers. Various issues are faced by customers in terms of rude behaviour by staff, very poor quality of rooms, waiting for long time in queues at the time of checking in and checking out & many more. So, in the report a detailed analysis of this problem of customer dissatisfaction has been done and suggestions had also been discussed.
The process management approach can prove to be quite beneficial for Imperial. It will help the organization to analyse each of the element of organization and the overall system as well. If this process is carried out effectively then, workers will be able to deliver quality services to the guests coming at Imperial Hotel. Effective management is thus necessary for it to regain its position and brand value. If customers are successfully satisfied then they will positively recommend the hotel to their friends and family as well. This will increase the demand of hotel and also affect its market value for effective functioning.
Related Service: Case Study Assignment Help
References
Abe, M., 2010. Introduction: Japanese management in the 21st century. In Innovation and change in Japanese management (pp. 1-11). Palgrave Macmillan UK.
Albert, M. and Beatty, B. J., 2014. Flipping the classroom applications to curriculum redesign for an introduction to management course: Impact on grades. Journal of Education for Business.
Alexander, K., 2013. Facilities management: theory and practice. Rout ledge.
Alvesson, M. and Willmott, H., 2012. Making sense of management: A critical introduction. Sage.
Anderson, D. R. and et.al., 2015. An introduction to management science: quantitative approaches to decision making. Cengage learning.
Chaffey, D. and White, G., 2010. Business information management: improving performance using information systems. Pearson Education.