INTRODUCTION
Theme of the study: The purpose of the assignment is to understand effective management of change. The chosen assignment topic enable researcher to understand live authentic problem faced by M&S and incorporate opportunities for an integration between theory and practice. The leadership theme was taken to understand leadership styles followed by M&S enterprise. By considering this theme, investigator will able to better understand problem facing by Mark and Spenser regarding to measure the multi-faceted consequences of an HR or corporate strategy. Along with this, it describes theory, principles and practices of high performance working to deliver sustained synergies (Cummings and Worley, 2005).
Reasons behind choosing topic: The rationale behind carry out the research was to understand concept of effective leadership and people engagement to solve the problem of poor profitability at Mark& Spencer. In the present case concerned, the main reason behind Mark and Spenser of London have been taken to understand the ways in which leadership can improve the performance as well as human resources of company in an appropriate manner (Marks and Spencer Group plc, 2014). The research report focused on the impact of leadership change on performance of organization and people who are associated with company.
General information: M&S has very wide range products from food, cosmetics to other accessories. Robert Swannell is the chairman of Marks and Spenser group. Organization has followed transnational leadership style in which leader of firm creates guide that change according through increasing motivation and inspiration to its employees to give their best at the workplace. By adopting change management model and applying HR strategies in an appropriate way, Mark and Spenser were able to maximize employed performance and commitment in present tough competitive market scenarios.
METHOD OF INVESTIGATION
Impact of Leadership traits and change can be understood by using qualitative approach. The whole research is based on the secondary data collection method and data has collected from books, journals, online published articles and annual report of Mark and Spencer etc. By applying leadership theories and models researcher would be able to examine the factors that can affect organization performance such as transformational leadership styles and Heuristic model etc (Cameron and et.al., 2014). Through conducting review of literature and studies conducted by previous researcher, leadership change and its impact on firm performance can be understood in a significant manner. These techniques would be helpful for the company in terms of enhancing employee commitment and engagement within the organization. With help of effective utilization of management and capabilities and workforce who are associated with firm, it can overcome resistance of its employees towards new changes adopted by enterprise (Garner, Kawulich and Wagner, 2012). Exploratory technique was used in the study because study based on the secondary data collection and literature review.
LITERATURE REVIEW
The review of literature was conducted by considering the topic of effective leadership and people engagement: solving the problem of poor profitability at Mark& Spencer.
Role of HR strategies and leadership to enhance the abilities, motivation and performance of employee
According to Packard, Leaders of Mark and Spenser can boost up the morale of its employees through applying trait approach and heuristic model at the workplace. Heuristic model identifies the various factors that influence the performance of employees as well as organization. Packard describes that leadership traits (characteristics and value of leaders), competencies (knowledge and skill level of employees and top managers), management capacity factor(planning, financial management, human resource and information system), organizational contingency factors (environment, structure and decision making nature etc), culture of organization (social support, innovation, team orientation and emphasize on rewards) and job satisfaction of staff-members of Mark and Spenser are the major factors that play critical role in increasing motivation and satisfaction level of employees in an appropriate manner (Packard, n.d.).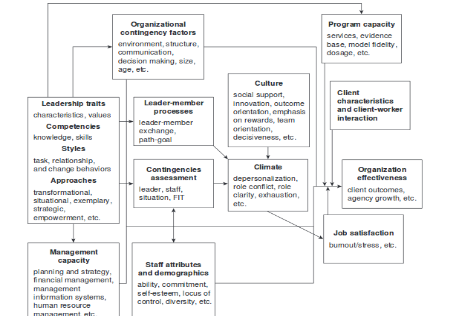 Finally, it should be noted that organizational policies , economic, social and technological forces and internal dynamic of firm such as behavior and effectiveness of leaders are also influenced by the performance of employees of M&S. Yukl (2006) found that M&S emphasized on trait theory and relies that people are born with inherited traits. The leaders and top managers of company have different unique characteristics such as they are adaptable to situation, tolerant of stress, willing to assume responsibility, high energy level and personal integrity that help of organization to retain its existing and attracting new customers by providing unique services at right time (Yukl, 2006). UK based retail giant follows centralized structure in which all decisions are taken by its leaders and top executives of enterprise.
According to Senge (2014) for the firm different types of implicit and explicit HR strategies would be beneficial such as sustainable development, reducing labor cost, emphasized on technology, reform of main HR process, improving work quality and enhancing flexibility of users through increasing technology advancement at the workplace. Luxembourg explored that major HR strategies and their impact on organizational performance and people who are associated with the company can be understood with help of figure.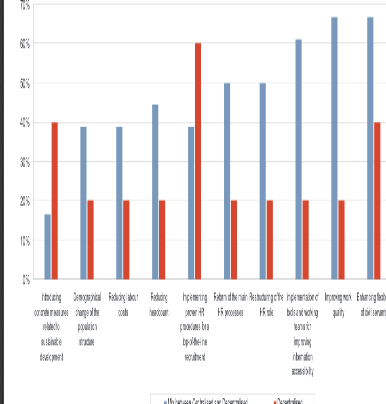 According to Liemplt and Bilger (2009) HRM approaches can improve performance of M&S. By using these strategies, UK based retail giant would be able to increase employee skills and abilities, full use of their skills and knowledge as well as promoting positive attitudes of employees towards goals of organization etc (Liemplt and Bilger, 2009). By doing this, firm can retain its current position in market and better compete against its core competitors like Tesco and Asda etc.
Mark and Spenser are facing various difficulties to measure the multi-faceted consequences of an HR or corporate strategy. Coordination, collaboration and changes arising in market are creating challenges for the company to retain its best employees with firm for long time period. The organization operates successfully in London but at international level, it is facing issues related to culture diversity and it is also failed to create good cultural and user-friendly environment for its employees that create negative image of firm in the mind of customers as well as firm profit margin also affect by it (Liemplt and Bilger, 2009). Apart from this, M&S is also facing different challenges at the workplace such as people management, innovation, government policies, slow growth in key market area, supply chain management and disruptive technology change etc.
Alternatives approaches to HR design of HR strategies
The best practice model of HRM is based on the concept of the universalism that create additive and positive impact on organizational performance. Main strengths of this approach are employment security, selective hiring, extensive training, decentralization and high wages linked to organizational performance etc. While on the other hand, Best fit HR strategy can be further segregate into two sections. External fit strategy is established the linked between competitive advantage, employee behaviours and HR practices. Internal fit relies on the HR policies and practices of organization (Liemplt and Bilger, 2009). As per the concerned of the Mark and Spencer, best fit strategy would be more beneficial because M&S is a multinational company and to achieve growth and increase profit margin in difficult scenarios is very challenging task for the company. But through applying this strategy, it can focus on both organization and people needs. It emphasized on enterprise culture, structure, technology and processes executing within firm that encourage its employees to give their best at the workplace (Developing a practical model, n.d.).
According to Cameron (2014) corporate strategy related to the decisions taken by firm regarding to enter, retain in portfolio and exit from portfolio. It mainly emphasizes on the achievement of competitive advantage through price premium and differentiation. While on the side, HR strategy focuses on the function of employees, potential of employees and strategies used by HR department to retain employees and increase morale of employees to give their best (Cameron and et.al., 2014). For Mark and Spencer, it is essential that it integrates corporate strategy with HR strategies to drive competitive advantages through considering four building blocks such as quality, innovation, efficient and innovation in an appropriate manner. By linking both strategies, UK based retail giant would be able to lead in driving change management and goals of firm will easily meet. Through establishing long-term links between different strategies, it will be able to develop and accomplish performance management goals based on its objectives.
In order to meet the changing needs of the business enterprise, strategic management strategies will be helpful for the company to better deal with feasibility, acceptability and sustainability related variables in an appropriate manner (Cummings and Worley, 2005). Besides that from an international perspective, it is essential for the company to integrate its corporate strategy and HR strategy that will help firm to increase confidence of customers and retain them with firm for long time period. It is laid focus on the establishment more retail stores and franchises to expand its business across wide segment area. Due to lack integration between corporate and HR strategy, firm would not be able to boost up the morale of its employees and retain its existing and attract new customers towards services and products offer by company (Liemplt and Bilger, 2009 ). Organization can overcome issues arise at the workplace through maintaining long term relationship with the company's suppliers and customers and development of high quality product and offer it to their customers at right time by using effective utilization of its human and financial resources in an effective manner.