Introduction
Finance is an aspect of the firm which helps to entrepreneur to exist in the industry or market. Along with this, it is compulsory to take effectual business decisions in order to increase financial health of it. The current study is based on Iceland limited company which operates in retail sector of UK. The present report emphasises on various financing sources which helps to raise capital for business expansion. Further, it focuses on cash budget as well as unit cost along with investment appraisal methods. It looks upon financial performance of Iceland Limited from accounting period 2015 to 2016.
Task 1
1.1 Financing sources which are available for an enterprise
In the present case Iceland is going to undertake a project for which it needs finance. There are various sources of finance among them some are explained as below:
Equity shares: In such type of source Iceland issue shares in the market with help of stock market and these are purchased by shareholders (Zhao and Chu, 2016). The amount of purchasing is to be used in the firm for expansion.
Bank loan: As per this, bank provide sum of money which is known as bank loan. It is easy and short process compare to equity but cost of bank loan is comparatively higher. Further, bank provide fund to Iceland after valuation of it in industry.
Retained profit: It is internal source where the sum of money which is remaining after provide dividend to shareholders is to used for financing the project.
A+ Grades @Affordable Prices!
We deliver all academic papers from dissertations & assignments to thesis, & case studies. 5000+ satisfied students, you could be next! Place Your Order Now!
Order Now
1.2 Assessing implications of financing sources
| | | |
| --- | --- | --- |
| Source of finance | Implication in terms of financial | Implication in terms of legal |
| Equity shares | In this Iceland has to provide dividend to stockholders which lead to impact on profitability. | Iceland must listing the firm in stock market and then it can issue shares and raise fund (Osei-Assibey, 2013). |
| Bank loan | Here management has to pay interest amount to bank from profit by which net profit affects. | While taking bank loan it has to show profit level and various financial statements to determine valuation of it. |
| Retained profit | Being an internal source there are not any financial impacts are there. | Due to internal source there are any legal rules are not imposed. |
1.3 Evaluation of suitable financing source
For raising finance for undertake project equity share is most suitable for Iceland where it has too listing the firm in stock market. It is easy method and cost of finance is low as compare to bank loan. Further, by using this more number of shareholders are attracted which lead to enhance capital in the firm (Engel, Fischer and Galetovic, 2013). However, when go through equity shares then it is necessary to listing entity in stock market otherwise it cannot raise fund.
Related Sample: Managing Financial Resources and Decisions
Task 2
2.1 Cost of identified sources of finance
Equity shares: While raising fund from equity then the Iceland has to pay cost of finance in terms of dividend amount to the shareholders. Hence, here financing cost of respective source is dividend amount which is given from the net profit generated by it.
Bank loan: Further, financing cost of bank loan is in terms of interest amount which is imposes by the commercial bank on Iceland. Cost of finance of bank loan is higher as compare to equity shares (Minsky, 2015).
Retained profit: It is an internal financing source in which any kind of cost or expenses are not there which has to be paid by Iceland.
2.2 Significance of financial planning
Financial plan is highly important for each and every company in order to manage financial resources and make the firm financially sound up to higher extent. Using the plan management able to prepare budget for current and next fiscal year and make appropriate business strategies. Apart from this, Iceland Limited can easily allocate financial resource to different organizational functions in adequate manner. In the Iceland if such resources are not allotted adequately then overall smooth functioning of it affects negatively (Hyman, 2014). Financial plan helps to the management in order to utilize available financial resources in efficient way by which Iceland can become more productive in the retail industry. Hence, it can be assessed from this that planning for financial is highly significant for it.
2.3 Assessing information which are needed to take financing decisions
When any financing source going to provide capital or fund to the company such as Iceland then it needs to take various information and appropriate data by which it can take better decision. The informations which it should take are such as profit level, liquidity position as well as different investor ratios. When it has higher profit and liquid position then Iceland able to meet with obligations effectually. In addition to this, in terms of bank loan the commercial banks require to assess business valuation and analyse financial statements also (Holroyd and et.al., 2014).
2.4 Influence of financing sources on financial statements
Income statement: When the Iceland limited raising fund from equity then dividend amount needs to give to potential stockholders. In context to this, when it takes bank loan then interest amount imposes by bank on Iceland which is given from profit generated. Hence, it can be said that level of profit affects in negative manner in profit and loss account of Iceland due to increasing indirect expenditures.
Balance sheet: Moreover, when it raises fund then level of capital increases in the liabilities side which is positive impact on balance sheet of the Iceland limited. Apart from this, cash and cash at bank both enhance which lead to increase total assets at the end of fiscal year (Carpenter and Petersen, 2012). Hence, it can be said that balance sheet of Iceland influence in favourable situation.
Task 3
3.1 Projected cash budget
With the help of cash budget Iceland able to know that how much net cash balance will be remain in the firm in next month. Estimated budget of cash for entity is as below: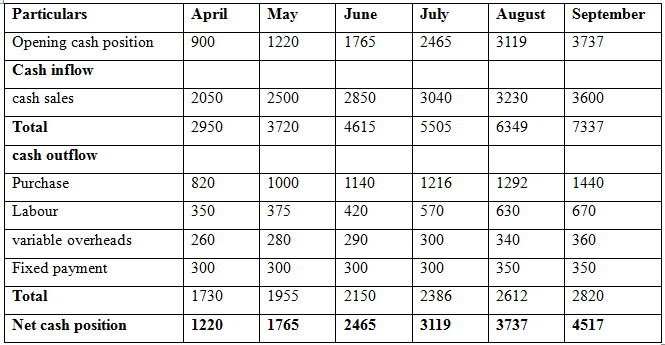 Interpretation
It can be said from the respective projected cash budget that inflows as well as outflows both are increases consistently but with the higher and lower growth rate from April to September. Due to this reason net cash balance at the end of every month enhances which is profitable for Iceland. Net cash position of Iceland limited increase from 1220 GBP to 4517 GBP which is highly profitable for it (Megginson, Ullah and Wei, 2014). It can be said regards to the cash budget that management will generate higher profit at the end of month.
3.2 Computing units cots and price
For calculating cost of per unit there are all the cost are supposed to add which are incurred in production process. Compotation of cost and price of one unit is shown as below: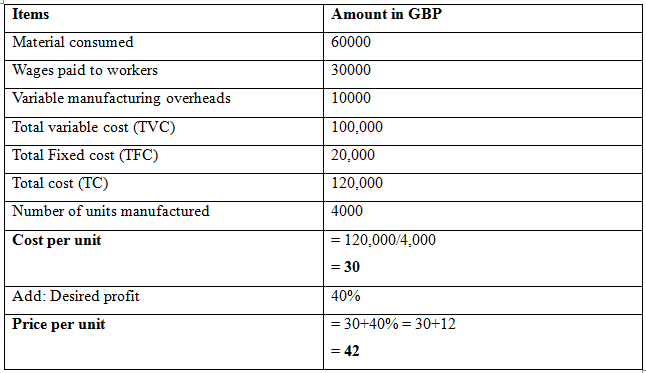 On the basis of above presented table total cost of the production is worth of 1,20,000 GBP where total production level is 4000 units. As per such cost and output cost of each unit is derived worth of 30 GBP (1,20,000/4000). In order to derive price of one unit there is cost plus pricing method is to be used in which desired percentage of profit is added in cost of one item. Further Iceland will sell its retail products and services at the rate worth of 42 GBP (30+40%).
3.3 Assessing investment appraisal techniques
Techniques which helps to the Iceland limited to determine viability of a project is known as capital budgeting or investment appraisal methods (Holden and Lunduka, 2014). Such tools are various among them NPV and IRR are stated along with calculation as below:
NPV
Years

Cash flow of project (Amount in GBP)

PV @12%

Present value

Initial investment

-300000

1

45627

0.893

40738

2

98265

0.797

78336

3

167540

0.712

119252

4

207820

0.636

132073

Total

370400

Less: Initial investment

300000

NPV

70400
IRR
| | |
| --- | --- |
| Years | Cash flow of project (Amount in GBP) |
| Initial investment | -300000 |
| 1 | 45627 |
| 2 | 98265 |
| 3 | 167540 |
| 4 | 207820 |
| IRR | 20% |
Interpretation
On the basis of above calculation it can depicted that the project has positive future value of initial investment which is worth of 70400 GBP. Further, internal rate of return is also effective i.e. 20% which is profitable for the Iceland. On the basis of such analysis it can be recommended to Iceland that it should undertake or adopt the project in business.
Task 4
4.1 Key aspects of different financial statements
Income statement (I/S): Key purpose of such financial statement is to assess profitability position of Iceland in overall retail industry. It includes different elements such as revenue, expenditures as well as profit or loss whatever occurs.
Balance sheet (B/S): Another financial statement is balance sheet which requires for Iceland in order to know liquidity position in the retail sector. Important components of B/S are like as assets, liabilities and total equity capital of shareholder (Cox, 2014).
Cash flow statement: Purpose to prepare such statement is to analyses availability of net cash at the end of year. In this cash flow of mainly three activities are to be include such as investing, financing and operating.
Statement of shareholder's equity: It helps to assess available total capital in terms of equity which is invested by shareholders. Key aspects to such account are like as equity capital and retained profit.
Experts Are Listening!
Have doubts about academic writing? Clear all of them in a minute! Call the experts and get your answers immediately! Dial Now!Contact Us
4.2 Comparison between financial statements
| | | |
| --- | --- | --- |
| Basis of comparison | Iceland Limited | Sole trader |
| Meaning | Those firms which are legally listed in stock market and follow all the laws and regulations of authority body are known as limited entities. | The company which not needs to follow any kind of regulations and having whole ownership with in person is identified as sole trader. |
| Financial statements | For the limited firm it is necessary to prepare all the financial statements. | For such entities not require to prepare all financial statements but to keep record of financial transactions it makes income statement and balance sheet (Engel, Fischer and Galetovic, 2013). |
| Tax amount | Requires to include amount of taxation paid by it. | Not require to include such expense in I/S. |
| Publications of financial statements | Necessary to publish legally. | Not required. |
| Accounting standards and laws | Compulsory to follow all the rules and standards while making accounting treatments. | Not necessary to follow such rules. |
4.3 Assessing business performance of Sainsbury's Plc using financial ratios
| | | |
| --- | --- | --- |
| Profitability ratios | 2015 | 2016 |
| Gross profit (GP) | 1208 | 1456 |
| Net profit (NP) | -166 | '471 |
| Revenue | 23775 | 23506 |
| GP ratio | 5% | 6% |
| NP ratio | -1% | 2% |
| Liquidity ratio | | |
| Current assets (CA) | 4421 | 4444 |
| Current liabilities (CL) | 6923 | 6724 |
| Current ratio | 0.64 | 0.66 |
| Solvency ratio | | |
| Debt | 2337 | 2053 |
| Equity | 5539 | 6365 |
| Debt equity ratio | 0.42 | 0.32 |
Interpretation
From the above financial ratios it can be analysed that all the profitability ratios of Plc increases from FY 2016 to 2016. Increasing gross profit ratio clearly indicates that the finance manager is able to control over the expenses which are comes into consideration in production process. Apart from this, NP ratio enhances from -1% to 2% which shows that indirect expenses and debt reduces from 2015 to 2016 which is better for the firm. In context to this, liquidity position of Plc is also enhancing from 2015 to 2016. Current ratio of the firm is increasing from 0.64 to 0.66 which shows that able to recover its debt position and short term obligations in the year 2016 (Zhao and Chu, 2016). Moreover debt to equity ratio reduces from 0.42:1 to 0.32:1 by which it can be said that 's form takes less debt and enhance equity capital. Hence, overall financial performance of is better in the year 2016 compare to FY 2015.
Conclusion
From the summing up the project it can be assessed that for raising capital in Iceland limited to expand business equity capital is the most suitable source of finance for it. This source imposes cost of finance on the firm in form of dividend amount which is given to stockholders. It can be suggested that it should undertake project which provides positive and better NPV as well as internal rate of return. On the basis of financial ratios it can be concluded that performing well from the fiscal year 201