INTRODUCTION
The under report is taken for understanding of the definition and scope of entrepreneurship and an understanding of the enablers and barriers to business start-up. Readers will learn about the influence of national culture and economy on entrepreneurship and will explore the personal characteristics of entrepreneurs and the impact of personal situational factors, including education and background (Schaper and et.al., 2014). Also there is discussion about the role and importance of small firms to the economy, and about social enterprise and the social economy. Through the report, understand the balance of risk and reward in starting a new venture and they will investigate and reflect on their own entrepreneurial and enterprising characteristics. Examples of entrepreneurs and start-up organisation to draw on local, personal and general knowledge together to be able to identify the characteristics of entrepreneurial ventures.
Task 1
1.1 Carry out a mini research to examine different types of entrepreneurial ventures and explain how they relate to the typology of entrepreneurship.
The person who is ready to take risk, initiative and various attempts to make profits in the business. Entrepreneurship is at the heart of every business. Every large company started out as a small business, led by an entrepreneur. As our economy becomes more volatile, having the skills and knowledge to start a new business may mean the difference between prosperity and poverty. Entrepreneurial skills are also in demand in established companies. Every business, large or small, must be entrepreneurial just to survive. There are various entrepreneur ventures on the basis of various classification (Griffith, 2015). Hence the study is about the entrepreneurial ventures according to identity based perspective. Through identity based perspective there are four types of classification:
Survival Ventures: It includes the small business. Provide basic subsistence for the entrepreneur and their family which makes little profit for the family existence. The business may or may not formally registered, typically has no premises, no business banking relationship and operates on the cash basis. The organization are independently owned and operated for the profit motives which actually doesn't involve the innovation. These are completely handled by the family business and to make the business that is profitable and sustainable. Such business involves business like restaurants; retail stores; construction firms; agriculture. For doing the business they take loan from bank, family and friends. The possible outcomes are small businesses can generate payroll taxes and jobs, but are not large employers. They provide products and services that are necessary parts of a city's infrastructure, as well as leisure goods and retail.
The lifestyle business is done for-profit enterprise where combining a founder's skills, strengths and passions is the primary motivator (Carraher and Paridon, 2015). The main goal is to earn a long-term, residual income through a self-directed business that engages the founder's passion and expertise. In this business self-employed individuals; one-person firms; very small operations. For doing the business the fund is provided by while these companies aren't big job creators or significant revenue generators, they provide income to their founders and services and goods that enhance quality of life. This business also involves the business like micro entrepreneur and freelancer.
A+ Grades @Affordable Prices!
We deliver all academic papers from dissertations & assignments to thesis, & case studies. 5000+ satisfied students, you could be next! Place Your Order Now!
Order Now
Managed Growth Ventures: Has a workable business model and seek stable growth over time, as reflected in occasional new, product launches, periodic entry into new market, steady expansion of facilities, locations, and staff, and development of a strong local and regional brand. Ongoing reinvestment in the business and continuous but moderate regional growth guide ongoing business development.
Aggressive Growth Ventures: gazelles are the technology based ventures with strong innovation capabilities that seek exponential growth and are funded by equity capital. Launch of the venture is the opportunities- driven, with the founders seeking to create new market. Their market focus is typically national or international and they often become candidates for initial public offering or acquisition.
This are various topology of entrepreneur ventures:
The Manager Entrepreneur: This is the type of person who becomes involved with start-ups once they have received a fair bit of funding and are just beyond the first high-risk stage. These people often call themselves entrepreneurs because they are close to entrepreneurs and have worked at start-ups.
The Setup for Failure Entrepreneur: This is the kind of entrepreneur that has failure written all over everything he does (Carland, Carland and Stewart, 2015). All he does is complain, and when he takes on a project it is too ambitious and destined to fail even before he starts. he never gives up, of course, but you wish he would.
The Lifestyle Entrepreneur: Some people just want to live the life and act the part. They promote entrepreneurship, have lots of ideas about entrepreneurship but they don't actually do anything.
The Cash-flow Entrepreneur: This entrepreneur doesn't think about anything except money. In general, that can be a good thing for an entrepreneur but some people overdo it. Entrepreneurship is about the bottom-line but also about innovation, inspiring your team, thinking ahead and building something out of nothing.
The Wannabe Entrepreneur: Deep inside, waiting to burst out, is their entrepreneurial spirit. All they need is a great idea, enough money to stay alive for, oh, one or two years, and the assurance that money will soon start to flow. Unfortunately, that isn't exactly how being an entrepreneur works and precisely the reason these people still work at a big company (Arshed, Carter and Mason, 2014).
The Headlines Entrepreneur: Some entrepreneurs are in it strictly for the fame. They rush from one headline to another and are more focused on making it to the front page of the newspaper than actually doing business
The Better World Entrepreneur: This entrepreneur isn't into entrepreneurship for the money but to make the world a better place. This is an awesome goal of course but often quite contrary to being a good entrepreneur. Don't get me wrong: being a successful entrepreneur doesn't mean you have to screw the world. But your first focus should be in making your company more successful and then using your success to make the world a better place. Not the other way around.
1.2 As part of your research investigation, explore the similarities and differences between entrepreneurial ventures.
Here are the similarities between the entrepreneurial ventures. That all the entrepreneur is made to earn profit with their innovative ideas (McKeown, 2017). They have the potential to reach the market and achieve their goals and objectives. Entrepreneur are those people who take uncalculated and unknown risks without any plans, start business with a revolutionary invention, most entrepreneurs are young, inexperienced individuals, who follow their passion. Entrepreneurs complete extensive research before taking the first step. Entrepreneurs start with sufficient capital and sound business plan. This are the common things that are commonly found in every business entrepreneur. They all stay focus and inspire their employees and manage them to create new and best out of everything possible. Although there is various difference which are mentioned below: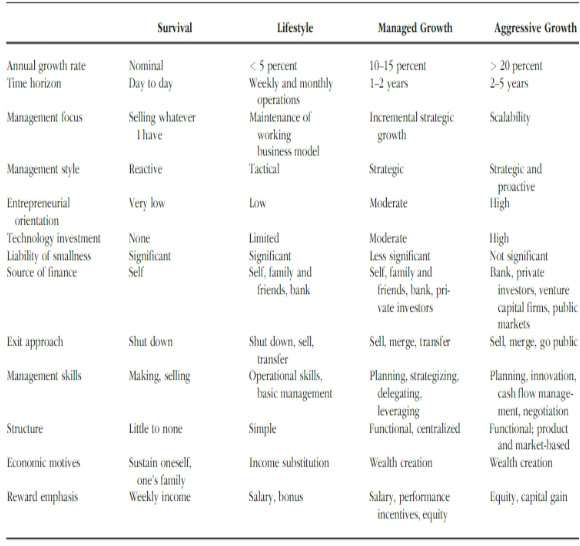 Task 2
2.1 Assess and interpret relevant data and statistics in your mini-research, to illustrate how micro and small businesses impact on the economy.
Micro business is those which have less than 5-6 members in the company. These are generally the family members of the house. They earn the profit and share among them. In UK there are 99% of business which are organized and managed by micro business. They earn profit in millions.
Small Business are those who have less than 100-250 staff members in the organization. They run the organization in order to earn profit. Company earn profit shared by the organization members and have profit in millions. There are various challenges on the path to prosperity for small businesses, including regulation, red tape and access to finance. Small businesses are the backbone of the UK economy, driving growth, opening new markets and creating jobs therefore their contribution is vital. As seedbeds for innovation, they encourage competition and bring fresh ideas that challenge the status quo. This stimulus in turn incentivises others to adapt. Simply put, small businesses are good for UK plc. It goes without saying then, that they should be encouraged to flourish. And many are. Confidence in an improving economy is being felt more strongly across British enterprise, and a positive economic outlook sees burgeoning ambitions for growth, both at home and overseas. The road to recovery and beyond, is paved with opportunity. However, it is important to look at the wider landscape and see that the path ahead has its challenges, such as prohibitive regulation, red-tape and access to finance (Wang, Jessup and Clay, 2015 ). Small business owners have long said that if the UK stifles growth here, impact will be felt far wider. It is here that small businesses need the support. It is not surprising therefore to find that research by BSI (British Standards Institution). has revealed that almost a half of SMEs don't feel that their business is operating efficiently. Beyond survival, businesses also face considerable challenges in achieving growth with two thirds of small business owners admitting that it is difficult to grow their firm and three fifths of owners lacking confidence in their ability to achieve three-year continued growth.
In 2014, there were an estimated 5.2 million businesses in the UK – 99.9 per cent of those being SMEs, therefore this research is a concern if organisations are to continue to grow and thrive in today's market. Standards can help push boundaries and stimulate debate on the most effective way to do things. With every ambitious business vying to 'do things better', standards are always evolving to fit the purpose for which they were intended. They are created collaboratively by experts and draw together best practice and knowledge from across industry, government, testing and certification to academia, consumer groups, trade unions and most importantly, businesses. It's vital that businesses have the necessary knowledge to be more efficient in their business to ensure customer satisfaction, improve employee engagement and to enable access to new markets. Standards or management systems can help businesses to focus on the products and services that they deliver, their business processes and the way that they manage their organisation as a whole. Once a standard is in place, businesses should market their achievement to potential and existing customers – this provides customers with reassurance that a company is working as efficiently and effectively as possible and are committed to quality.'
Experts Are Listening!
Have doubts about academic writing? Clear all of them in a minute! Call the experts and get your answers immediately! Dial Now!Contact Us
2.2 Explain how important small businesses and business start –ups will contribute to the growth of the social economy after 'Brexit'.
Brexit can be defined as the decision to leave the European Union is a bold departure for the UK (Schaper, 2016). It has created a climate of uncertainty, but also the potential for opportunity and growth. The full effect of Brexit has yet to hit the majority of SMEs in the UK. Confidence is mixed, but growth looks set to continue and entrepreneurialism is thriving. The recent GDP data for the UK is, on the face of it, good news because it shows the UK economy is growing at 0.2 per cent higher than expected. This overall figure of 0.5 per cent is however representative of a decline in the UK's current rate of growth (down from 0.7 per cent in Q2) and we are still at very preliminary stages of what is going to be a long drawn out process to leave the EU. Small business should be welcoming the news and taking great comfort from the fact that nothing has changed immediately and be looking to do everything they can now to protect themselves from future shocks. Diversifying out of, or into different markets might make sense to limit the effects on their business if one of their big customers or suppliers gets into trouble. A falling pound will be bad news for business importing, now is the time to open dialogue with suppliers about pricing. The use of 'forward contracts' which allow business to fix exchange rates for up to 18 months can provide certainty in these negotiations. It is clear Brexit is not the big bad wolf some commentators may have had us believe ahead of the vote but it is still very early stages and too early to become complacent. An economy does not just stop doing business overnight and remember, apart from a huge depreciation in sterling and some terse words, nothing has materially changed in the UK's relationship with the EU. The long-term effects of severing ties with the UK's biggest trading partner will undoubtedly cause trouble for small businesses. In 2017 and beyond there are going to be many hurdles for the UK economy to overcome, small businesses should be taking this time to plan and manage for what is still likely to be an uncertain period. It increased the business growth as now UK can easily make the business with any other non EU countries to expend their business. There are further some disadvantages like:
It created some trade barriers as the other European Union has opposed the decision made by UK. This affected the small business whose product and services depends on the EU countries.
There was decrease in the value of Currency. Pound has reached it value down. This lead to hike in export and the import of the goods become high. This gave the great disadvantages to SME as they have to purchase the raw product from the EU countries. Which now were selling the product at higher rates.
On the other hand private companies are providing some effectiveness for improving their living situation of society. Where most of the private companies are contributing towards there corporate social responsibilities to making there economic improvement. They contribute there such income amount to maintaining effectiveness in society.
Private companies are rendly impact on there marketplace jobs where they only hire higher skilled people who has to effectively managed there new technology advancement. On the other hand small private companies are aid to offering job to average skilled people where it a can aid to developing economic situation and creating awareness from the unemployment.
Task 3
3.1 Carry out a mini-research to determine the characteristics, traits and skills of two successful entrepreneurs, which differentiate them from other business managers.
There are various things which makes the successful entrepreneur and other business manager these are:
They have the passion and motivation as their fundamental trait. This helps to make their ideas into venture capitalists (Storey, 2016).
They must take risk in order to observe the future uncertainty. They take risk in terms of money and time but they do take care about the other resources.
They must be confident, dedicated, self-belief, hardworking and disciplined towards their work. They must have focus and faith on their idea.
Adoptability and Flexibility should be strong and feasible. As being inflexible will lead to failure. They must be able to face the dynamic market.
Money management and planning are required as the entrepreneur has to make lots of investment so they should keep planning and records about the investment made. There can be chances that after failure there is need of capital so utilize carefully. Also planning related to many things like time and other factors should be considered. Understanding the market offering as the market is dynamic. Remaining unaware of changing market needs, competitor moves and other external factors can bring even great products to failure (Piperopoulos and Dimov, 2015 ).
Network Abilities and make the exit plan so that whenever help is required following person can be reached. Network abilities should be increased by seeking more people. And whenever situation is getting failed they always have some backup plan. Get started and start investing in new things.
Always inspire yourself as being a successful entrepreneur. This will help you to get new ideas and methods and will encourage you.
3.2 Assess how aspects of the entrepreneurial personality as discussed in P5, reflect entrepreneurial motivation and mind set.
Motivation helps to develop the mind-set of the successful entrepreneurship. They must not focus on these things like focusing only on the money will distract you from achieving your goals (Fayolle and Gailly, 2015). The mind-set should be focused and self-motivation to achieve the target should be there. Always thing positive as this will bring the transform into reality. Tough situation will make you more strong and being positive will increase your sub concise level. Always face the reality as this will make assure you about the market condition and other factors. This doesn't mean that you doubt your abilities or lose hope; acknowledging reality no matter how harsh it is will only help you find the best solution. Always think and make strategies before applying anything in the business. Always put-in adequate efforts to succeed, never underestimate the importance of hard work, and anticipate obstacles that you're likely to face. Grab opportunities will your favour. Grab them with both hands and focus on giving your best shot every time. Being open-minded and calm, and visualizing your goals will help you be aware of opportunities. Changing your mind-set will also help you conceive new ideas and create opportunities where there are none. You should be able to accountable for each and everything and accept wherever you have made mistake in making plan. Stay inspired and keep smiling as this will increase the working ability and positive ness in the surrounding.
Task 4
4.1 : P7 With practical examples obtained through your mini-research, examine how background and experience can hinder or foster entrepreneurship
There are various barriers, hinder and foster in the entrepreneurship like social problems, economic problems, cultural barriers, political barriers and personal barriers (Blackburn, Hart and Wainwright, 2013). All these barriers demotivate the entrepreneur to make decision. This all should be avoided and should not be included in the business world as they may affect seriously the business. Also keep practising as this makes the entrepreneur to make perfect decision during such times. There must be little fear in the mind before taking decision. Always resolve the problems before starting the business. This little fear must not exist as this indicates negative impact or create doubt in business. Entrepreneurs must not worry about the failures as after failing many entrepreneurs quit due to some reason. There should always be backup plan in order to get out of such situation.
CONCLUSION
The above research we have discussed various aspect of entrepreneur and small business management. There were many topologies and various types of business entrepreneur ventures are being described. There similarities and differences are mentioned. After than in next task small business and micro business are being discussed and their impact on the UK economy and how they got impacted by the Brexit rule which changed the Dollar rate. Then discussion about the skills and traits with motivation and mind-set of the successful entrepreneur are discussed. Also, various traits and hindrance occurs in the life of entrepreneur are mentioned above. Through the above report it is clear about the role of entrepreneur and small business in the development and growing economy.
REFERENCES:
Schaper, M.T and et.al., 2014. Entrepreneurship and small business.
Griffith, D., 2015. BUAD 304: Entrepreneurship and Small Business Management.
Carraher, S.M. and Paridon, T.J., 2015. Entrepreneurship journal rankings across the discipline. Journal of Small Business Strategy, 19(2). pp. 89-98.
Carland, J.C., Carland, J.W. and Stewart, W.H., 2015. Seeing what's not there: The enigma of entrepreneurship. Journal of small business strategy, 7(1). pp. 1-20.
McKeown, T., 2017. From entrepreneurship to small-to-medium enterprises: Exploring the challenge and the opportunities. Journal of Management and Organization, 23(2). p. 165.
Wang, X., Jessup, L.M. and Clay, P. F., 2015. Measurement model in entrepreneurship and small business research: a ten year review. International Entrepreneurship and Management Journal, 11(1). pp. 183-212.
Schaper, M. ed., 2016. Making ecopreneurs: developing sustainable entrepreneurship. CRC Press.