Market of Tertiary Education Under Regulation
If there is not any specific price control and intervention from behaviour of the domestic government, then entire market would become able to control the price and components in a balanced way. When it comes to meeting the point among demand curve and equilibrium supply, value of the supplied amount of commodities satisfy and tantamount to demanded product's value. If country's government intends to interfere with processes in economy, tool of the binding price ceiling comes handily to create changes and imbalance in situations. Instance of binding price ceiling take place when government determine a particular price on goods and services below an equilibrium level. Since the price level would be much below the equilibrium level, the organisation in market would be forced to reduce the product's production that leaves demands and needs of customers dissatisfied. Thus, market faces lack of the required products and this shortage lead to abnormal increase in demand. Main motive of binding price ceiling is the entire market volatile by means if the executive policies that make it breaches of the law if products are sold at high price that is above the level of binding price ceiling. Short term impact of this tool is to minimize black- market agent within market and if countered with a long term outcome, product's demand will remain high in marketplace. If black market remains existent within economy, then customers tend to purchase the banned or unlawful product at an inflated or high price. Major feature of this tool is that it brings up the system of first come first serve service. If a product is not available in the market then customer would try to get an access to it through the unlawful methods like bribing, smuggling and many more. There are chances that few marketers or traders in market would provide their services or goods to the consumers who would satisfy certain set of parameter or eligibility like only providing the goods of customer are being referred or introduced by an existing customer of the organisation. In such situation, government take many interventions to ensure even product's distribution by allotting certain amount of the ration.
Thus, it would be clear that binding price ceiling is utilised mostly in order to keep dynamic of the supply and demand so that maximum retails price of supplied commodities and services. This would be noted that when too; of binding price ceiling is implied on market, then overall prices are set below the certain level of the equilibrium & arbitrary elements of the supply hence cease to effect Tertiary education. Prices are being set below the level or point of equilibrium since setting price or cost above that point does not make a sense or a positive impact on nation's economy.
Based on the data provided by this figure, level of the binding price of ceiling is being kept beneath level of the equilibrium from a section of the intersection between curves of supply and demand. Because of an excessive demand of tertiary education within economy, there would be a large disparity between variables of the demand and shortage that is accompanied by low price ceiling forced on suppliers. Thus, the above context suggest that training services provider must lower their cost than the current price of equilibrium.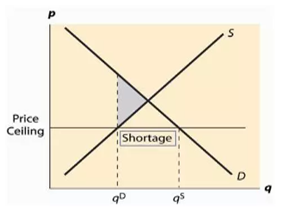 Reforms
If government of a nation remains away from sort of the intervention, then situation would lead to deregulation. This state creates a free market where the decisive component like supply and demand would generate a balanced & equilibrium price with the required quantity of the product supplied.
A+ Grades @Affordable Prices!
We deliver all academic papers from dissertations & assignments to thesis, & case studies. 5000+ satisfied students, you could be next! Place Your Order Now!
Order Now
Consequences of Deregulations & Supply Elasticity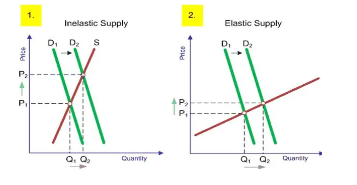 According to circumstances of elastic & inelastic conditions of the supply, price or cost of serves provided under the tertiary education would depict a fluctuation in their values. As shown in the above figure. In this figure first panel signifies an inelastic form of the supply in which elastic supply is displayed by 2nd panel. Component of the deregulation that pertains to character of the inelastic supply coerces a value of the demand variable in order to shift from the D1 to D2 when keeping the supply's variable in inelastic state. It has been discovered that there would be no any shift of the values in supply variables although few dynamics movements in curve of the variables would create positive course of prices from point P1 to that of point P2 whereas quantity variables move from the point Q1 to Q2.
This should also be supposed that in elastic supply, deregulation would lead a rise in the amount and substantial increase in price. It clarifies that changes in value of the demand variables would bring minor or insignificant variation on its price as juxtaposed with a value of the quantity supplied within marketplace. In other words, in price, the variation rate would be much lower in comparison to the changing rate in value of the quantity in elastic supply environment which is portrayed in above figure. In above mentioned scenarios, expected outcome is that more educational training would be provided in the environment of elastic and inelastic supply that would be followed by the deregulations conditions since the academic organisations would coerce the component of demand and supply to control or affect the balanced stage of quantity and price.
You may also like to read about the related service - Case study assignment help
Experts Are Listening!
Have doubts about academic writing? Clear all of them in a minute! Call the experts and get your answers immediately! Dial Now!Contact Us
Mostly Searched FAQ's Questions by the Students
What is an impact of the binding price ceiling?
Price ceiling is binding & causes an equilibrium quantity to changes- the quantity demanded enhance when quantity supplied decline. It causes the quantity shortage of amount Qd- Qs. Additionally, dead weight loss is also created from price ceiling.
What are benefits of the price ceiling?
Major benefit of the price ceiling is that it limits on the cost for customers. This keep the things very affordable & also prevent the price gouging or suppliers/producers from taking any kind of the unfair benefit of them.
What happens of price ceiling is not binding?
Price ceiling which does not have an impact on market prices is referred to non-binding price ceiling. It will be non-binding when level of price ceiling is equal or greater than the equilibrium price which would prevail in unregulated market.