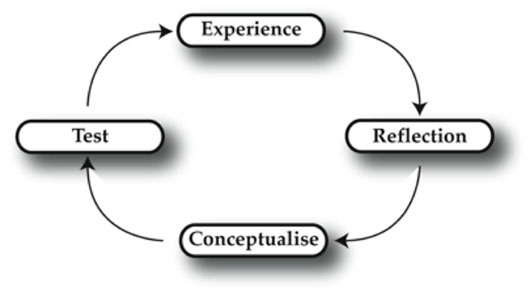 Kolb reflective cycle is most widely used concept in the Experimental Learning Theory. Usefulness and simplicity of four phase of the experiencing, reflecting, thinking and action is the main reason for its popularity. Kolb proposed that learners move through the spiral of an immediate experience that lead to an observation and reflection on experience. Such reflections are then absorbed and linked with the previous knowledge & translated into the abstract theories or concepts, that result in the new ways to adjust to experience which can be effectively explored.
People may also like to read - Managing Internal and External Stakeholder at Amazon
Four stage of the Kolb's reflective cycle
Concrete experience
Kolb learning cycle begin with the concrete experience. It can be either a reimagined experience or new experience that already happened. In this stage, all the learners engage in a task or activity. According to Kolb, involvement is key to the learning. If an individuals want to acquire new knowledge, then they must actively involve or engage the specific task.
Reflective observation
After involving in concrete experience, learners need to step back for reflecting on the task. In this stage, learning cycle allow the individuals to ask queries and discuss their experience with others. At this phase, communication play a vital role as it enables the learners to identify any kind of discrepancies between their experience and understanding. A good vocabulary allows solid reviews of an event that occurred.
Abstract conceptualisation
Next step of Kolb's learning cycle is to make a sense of such events. Here, learner's attempts in order to draw a conclusion of experience by reflecting on their anterior knowledge by using ideas that they are familiar and discussing the possible theories with the peers. Learners moves from the reflective observation to an abstract conceptualisation when begin to categorise the concept and conclusion on events that occurred. It include interpreting the experience and making a comparison to their current knowledge or understanding on relevant concept. These concepts does not need to be new; individual or learners can examine the new information and alter their conclusion on the already existing ideas.
Active experimentation
This is a testing stage. In this learners return to participating in the teaks with a goal of applying their conclusion to the new experience. Here, learners are capable in making prediction, examining task and making plan with the purpose to acquired knowledge in future. By enabling the learners to put their understanding and knowledge into the practices and show that how it is relevant to their lives, they are ensuring that information is retained in future.