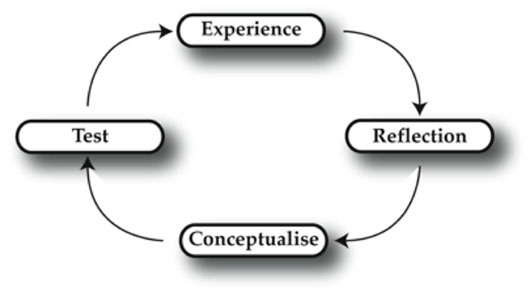 Kolb reflective cycle is most widely used concept in the Experimental Learning Theory. Usefulness and simplicity of four phase of the experiencing, reflecting, thinking and action is the main reason for its popularity. Kolb proposed that learners move through the spiral of an immediate experience that lead to an observation and reflection on experience. Such reflections are then absorbed and linked with the previous knowledge & translated into the abstract theories or concepts, that result in the new ways to adjust to experience which can be effectively explored.
Four stage of the Kolb's reflective cycle
Concrete experience
Kolb learning cycle begin with the concrete experience. It can be either a reimagined experience or new experience that already happened. In this stage, all the learners engage in a task or activity. According to Kolb, involvement is key to the learning. If an individuals want to acquire new knowledge, then they must actively involve or engage the specific task.
Reflective observation
After involving in concrete experience, learners need to step back for reflecting on the task. In this stage, learning cycle allow the individuals to ask queries and discuss their experience with others. At this phase, communication play a vital role as it enables the learners to identify any kind of discrepancies between their experience and understanding. A good vocabulary allows solid reviews of an event that occurred.
Abstract conceptualisation
Next step of Kolb's learning cycle is to make a sense of such events. Here, learner's attempts in order to draw a conclusion of experience by reflecting on their anterior knowledge by using ideas that they are familiar and discussing the possible theories with the peers. Learners moves from the reflective observation to an abstract conceptualisation when begin to categorise the concept and conclusion on events that occurred. It include interpreting the experience and making a comparison to their current knowledge or understanding on relevant concept. These concepts does not need to be new; individual or learners can examine the new information and alter their conclusion on the already existing ideas.
Active experimentation
This is a testing stage. In this learners return to participating in the teaks with a goal of applying their conclusion to the new experience. Here, learners are capable in making prediction, examining task and making plan with the purpose to acquired knowledge in future. By enabling the learners to put their understanding and knowledge into the practices and show that how it is relevant to their lives, they are ensuring that information is retained in future.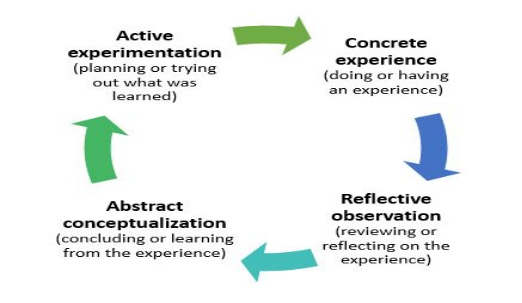 Importance of the experimental learning within workplace
It reduces the risk of having un trained workforce in a critical business situation
It allows the participant to examine their performance and them implement any feedback there.
Experimental learning increase involvement level of the participants.
It offers a safe and healthy work environment for the participant for practising relevant situation that they may encounter in future.
In this, participant become more emotionally invested in training as they are physically engaged.
Evaluation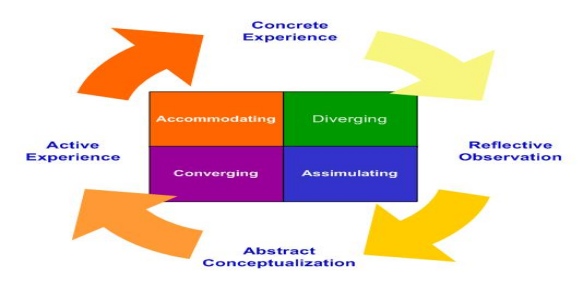 The Kolb's ideas or thoughts have been influential and not least in development of the other approaches that have taken an inspiration from the Kolb. This learning cycle can be utilised in partnership with the Kolb's other schemas, most note bale the definition of four styles of the learning that Kolb developed aboard the cycle. In this there are four kind of the learners:
Divergent thinker
These thinkers are capable to assimilate the ideas from spectrum of the theoretical approaches and sources. Divergent thinkers are imaginative, coming up with various alternatives, sensitive and good at brainstorming to addressing a situation or problems.
Assimilators
Such individuals prefer short, factual and logical approaches. They work with a clarity and making sense of theory. The assimilators reflectors or learners like to take time to think through relative merits of the different positions.
Convergent thinker
These thinkers are efficient to solve the problems and mainly focused on technological or technical subject as a way of exploring this world.
Accommodating thinkers
In this, learner's person well to active an experimentation, to inspiration and intuition instead an ordered and logical approaches. Such kind of the reflectors prefer to work in a group environment and use other's knowledge in order to support own decision making.
Students Also like: Case Study Help
Experts Are Listening!
Have doubts about academic writing? Clear all of them in a minute! Call the experts and get your answers immediately! Dial Now!Contact Us
Mostly Searched FAQ's Questions by the Students
Question 1). What is meant by the Kolb's reflective cycle
It is defined as a model configured with the motive to help individual from their experience. People uses it as a basis for stricture of the reflective essay. It shows that how reflection on experiences lead the learners to form the concept related their experience.
Question 2). What are four stages of the Kolb's reflective cycle?
The Kolb's reflective cycle is based on mainly four stages, requiring an individual to work through these phase before the cycle lead to a new experience. These four stages are:
Concrete experience
Reflective observation
Abstract conceptualism
Active experimentation
Question 3). What is the Kolb's reflective cycle useful?
The Kolb's reflective cycle is very beneficial as every stage of this model is associated with various preferred learning style. It ensures that all the preferred leaning styles are utilised as individual step through the model. This model provides a blend of the traditional teaching and hands- on learning.