Introduction
Leadership is the capability of individual to influence group of people to perform their work in single direction in order to meet their targeted goals and objective. An effective leader is the one who inspires and motivate its team member to make them work harder to meet vision of company. It can be said that leaders often uses various tools and techniques according to the interest of individual to influence them for placing their efforts at highest level (Schyns and Schilling, 2013). This present report is based on Leadership and its different styles which are adopted by leaders in their regular based working pattern. It also includes detailed description about leadership style along with their advantages and disadvantages. At last, this report also includes detailed reflection about the overall experience of individual with which they have through completing this research.
A+ Grades @Affordable Prices!
We deliver all academic papers from dissertations & assignments to thesis, & case studies. 5000+ satisfied students, you could be next! Place Your Order Now!
Order Now
Main Body
Leadership and its style
Leadership refers to art of individual to motivate overall team or group of people in order to achieve common goals. It is a skill of individual which basically influence people to work in the same direction (12 Different Types of Leadership Styles, 2018.). It includes sharing of vision and mission with the manpower in order to make them work for the same thing willingly. It can be said that leadership is an effective skill which helps employees to perform their job responsibility in the effective manner in order to achieve targeted goals and objective of the company effectively. As a result, organisation easily increases their number of opportunity which enhances its profitability too. There have been different leadership styles which are adopted by leaders to execute their business activities effectively. Some of the main leadership styles which are adopted by leaders are described below along with advantages and disadvantages and it application in the business operations as well.
Transactional leadership: This leadership style mainly focuses on the outcome of employees performance, it has been realised that leaders who follows the same this leadership style gives rewards to employees on their performance whereas they punishes employees on low productivity (Renko and et. al., 2015). This leadership practice strictly follows clear cut vision, commands, chain of action, etc. which helps in leading employees to follow same instruction in order to achieve targeted goals and objective. It has been analysed that leaders are quiet strict according to this style as they only believes in increasing productivity of the employees. They simply motivates employees by giving something back to them in exchange. In this, employees of the company always requires someone to motivate and instruct them in order to make them work effectively and attain their targeted goals and objective in appropriate manner.
Advantage: Leadership style contributes in achieving short term goal of organisation in less period of time. Along with this, employees are aware of the certain about reward and penalty system which motivate them to perform business activities in less period of time
Disadvantage: This leadership style is only limited on the outcomes of products and services which directly avoids efforts of employees placed on their personal efforts or initiative towards growth of the company. Along with this, in this leadership leaders are only awarded for future goals and objectives. In addition to this, according to the leader motivation is only given to employees in the exchange of rewards. They does not consider any other kind of motivation such as promotion to the employees (Du and et. al., 2013).
Transformational leadership: This leadership practice reflects as most inspirational techniques which motivate individual to give unexpected result to the company. According to this style employees owns full liberty to take decision at their own level without taking permission of any superior authority. But this thing is only applicable by providing appropriate training to the worker which will make them self prepared to understand actual and make them feel comfortable to take desired objective. This directly leads to achievement of their own targeted goals and objective. As a result, it also contributes in the achievement of organisational goals too.
Advantage: The main advantage of this leadership style is that it gives more preference to the effort of employees which they expresses in new ideas. It is gives liberty to the employees to express their innovative ideas which can generate huge range of profitability of the company too (Ojokuku, Odetay and Sajuyigbe, 2012). Liberalisation also develops mutual understanding among the workers which motivates them to share their ideas with each other. As a result, this mutual relationship helps employees in accomplishing their targeted goals and objective in effective manner by working in a team.
Disadvantage: The main disadvantage of this leadership style is that excessive liberty make employee feel proud and may mislead him that they are the only one who can take effective decision in the company. Some of the decision which were placed by the employees results negatively over the growth of the company. As their lack of knowledge may influence them to take wrong decisions. In addition to this, it requires an existing structure for the employees to get fit in the same structure. It can be said that if an organisation is not following fix structure then it wont be possible for them to achieve achieve targeted goals and objective of the company on the basis of their own decision making practices.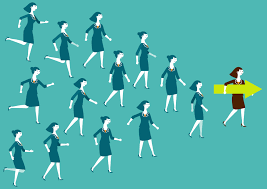 (Source: Transformational Leadership. 2014)
Autocratic leadership: It is considered as the extreme version of transactional leadership style. As in this, leaders owns full control over their staff members. In addition to this, they also do not share power or responsibility with employees which increases burden of work on the leader. It can be said that this leadership style is less expected by the staff member (Amanchukwu, Stanley and Ololube, 2015). This may also result in excessive management but at the same time it works as the boosters as employees works as more effectively due to fear which influences them to give extensive productivity. As a result, outcome of this leadership is both positive and negative. This leadership style directly reduces the chances of creativity or initiatives of employees towards the company as they do not feel attached to the company which resists them to place extra efforts of them towards the organisation.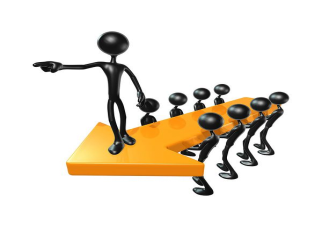 (Source: Autocratic Leadership, 2018)
Advantage: The main advantage of this leadership style is that it is most suitable for those cases when decisions are taken on quick notice that is there is no time to take decision. It is helpful for the organisation in achieving accomplishing targeted goals and objectives of the company prior to the deadline. It is considered as most strong and worthful leadership practice which works in the peak time. As a result, its effectiveness contributes in meeting quick goals and objectives in less period of time. It also prevents organisation from becoming non worthy during the requirement of excessive work.
Disadvantage: It directly discourages team members who do not own strong personality as they are not able to perform their work effectively in front those who demotivate them by forcing to work hardly (Lam and O'Higgins, 2012). Along with this, it also ignores creativity of the team member as they are not able to show up their ideas and thoughts to the superior which might be valuable for them. This feeling generally occurs among employees as they feels that senior management will not value their advices. It has been analysed that autocratic leadership does not works in the modern working pattern of employees as they do give reaction on this leadership practice. Apart from this major disadvantage of this leadership style is that it does not support open communication among leaders and subordinate
Democratic Style: This leadership style is also known as a participative leadership or shared leadership, in this style of leadership members of team participle in process of decision making and can be applied to random organisation whether being private business to schools or to government. It is been analysed that this style of leadership gives increase in productivity, effective contributions from members of team and boost morale of members (Goleman, Boyatzis and McKee, 2013).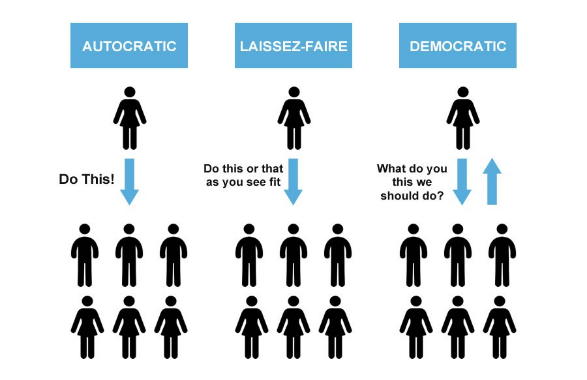 (Source: Democratic, Autocratic and Laissez-Faire. 2018)
Advantages of Democratic Leadership
Since this leadership style motivate members in group to discuss their ideas and opinions though final decision is taken by a leader. They feel encouraged and come up with more innovative ideas and better solutions to problems. If there is participation of members of team in every discussion they feel more involved in tasks and get committed to projects which show their concern about the outcomes and end result of project. When employees get more engaged to projects they will eventually lead to increase in profit and productivity of a company as well as among members of group. Democratic leadership also plays a crucial role in developing satisfaction among employees regarding their job and give solution even to complex issues easily.
Disadvantages of Democratic Leadership
Although democratic leadership is defined as a impressive style of leadership, it do have some disadvantages too. In certain cases when there is a situation where members do not have clarity of their roles or have insufficient time, this leadership style can lead to failures of gap in communication which will eventually lead to uncompleted of projects. There are certain cases where the members of group do not have adequate knowledge or information about a topic which unable them to give expertise or participate effectively to the process of decision making. It may also decrease the morale and motivation of employees within workplace as they will feel that their opinions and ideas are not taken into consideration (Herrmann and Felfe, 2014). They wanted their ideas to get implemented as there are many solutions to one problem for a specific project which lead them to waste their time in doing apologises to leaders for using their ideas in implementation of a project. This style can also be treated as a time consuming process at times because it takes time for individual to gather and discuss their opinions or share their ideas regarding any project. When there is unskilled members in groups it will lead to poor decision making .
Laissez-faire Leadership
This style is also known as delegative leadership, in which leaders are free and all the decision making powers are in hands of members of group and this style leads to decline in profits and productivity of a firm.
Advantages
The main advantage of this leadership style is that it helps in flourishing more creative and motivated environment in the organization as the subordinates are allowed to take decisions on there own. Along with this, it helps in timely completion of goals of the organization with high quality because subordinates has the power of decision making and process setting. In addition to this, in this style decision making power are given to the subordinates there is increase in the responsibility of personnels which act as an motivation tools for them and also increase there performance. As a result, it contributes in attaining maximum no. of satisfied subordinates then any other leadership style (Greenstein, 2012).
Disadvantage of Laissez-faire Leadership
There are many problems that have been revealed with this style of leadership like employees are not working in groups together and as an individual and do not show dedication and hard work as they are not being directed by manager. This style of leadership is not suitable if employees do not have adequate knowledge, experience and skills that are required to complete a task or project which will eventually lead to less innovative ideas and capacity of members for doing a project and will lead to less satisfaction of job among employees. The staff members are not able to create deadlines for completion of a task or manage their project guide lines which lead to unsuccessful completion of a task as there are some members who cannot work without direction or guidance of a leader and also are unable to solve their problems. They do not get feedbacks for work they have done which will lead to uncompleted tasks and members may miss deadlines or managers do no get the task completed according to their desires . This behaviour of employees can create trouble for leaders as well as they are assign to blame to the employees rather than taking some responsibility on themselves (Peus and et. al., 2012).
Reflection
As per the above specified report it has been analysed that leadership is ability of the individual which contributes in leading group of people towards same direction. Gibbs model is highly useful for analysing the success and shortcomings of any specified activity and thus, the application of Gibbs Model for my reflective practice is below:-
Description: In my college, during my last year, I was attending a class wherein I was taught that for any activity to be effectively carried out, there needs to be a leader who supervises it. Also, lesson was given about the various types of leadership that persist in an economy. These are, namely, transactional, transformational, autocratic, democratic and laissez-faire leadership. Also, I was given knowledge about the application of these leadership styles across the various types of activities and organisations. Furthermore, I learnt that by putting these styles into action, any business association can either experience success or failure as all of them possess their own merits and demerits.
Feelings: While attending the session about leadership and its various types and styles, I underwent various feelings. At first, while I was being taught about transactional leadership, I felt that this is a very effective form of leadership wherein employees are given motivation. This is done by linking their efficient performance to rewards. Secondly, while learning about Democratic style, I thought that not all the times an association can apply this style of leadership as many a times, prejudice or individual bias of individuals may prevail which can impact their decision making process. Also, thinking about lasses-faire style, I consider it to be one of the most powerful leadership styles as herein, the employees are delegated the action and decision making power of only those tasks that are not primary to a leader.
Evaluation: I evaluated certain positive and negative things about the whole session. While it equipped me with necessary information about styles of leadership, its application and merits and demerits yet it failed to serve one purpose. The lesson could not explain the practical application of these styles and turning these into action. Also, it failed to reflect examples of real life situations that may arise in entity and require leaders to change their leadership style.
Analysis: By gaining an insight into the knowledge that I inculcated from the lesson, I analysed that Transactional leadership style is the most effective pattern for leaders who wish to attain a short term goal. But in the long run, it is required that leaders put into action Laissez-faire pattern as herein, employees enjoy freedom and liberty about the tasks assigned to them and do not have the power to make decisions about core activities of business that should not essentially be affected by any prejudice or bias.
Conclusion: Looking back at the knowledge and experience that I gained in the class, it can be concluded that I should have carried out more in-depth study about various styles of leadership so as to make my concepts about the lesson clear and strong.
Action Plan: In future, I will aim to develop my assertive skills when gaining knowledge about any aspect in order to ensure that I develop in-depth knowledge of session. In my next session, I will set this as my goal for learning and work out strategies for how I can achieve this.
Get help on leadership assignments at affordable prices at https://www.globalassignmenthelp.com/leadership-assignment-help
CONCLUSION
As per the above mentioned report, it has been concluded that leadership is considered as the capability of person who motivates and leads overall team in single direction for achieving common goals and objective of the company. It has been analysed that autocratic leadership is not accepted by modern days employees or workers as it does not gives them liberty to perform their job responsibility in their own pattern. It has been identified that Laissez-faire Leadership is the best suitable leadership among all of the above explained leadership as it believes in the concept of delegating responsibility and decision making power to employees. This allows workers to take decision at the same time according to requirement of work. Along with this, Gibbs model have been used in order to reflect overall experience and outcome of report in best possible pattern.
Related Sample: Cross Cultural Leadership
REFERENCES
Books and Journals
Schyns, B. and Schilling, J., 2013. How bad are the effects of bad leaders? A meta-analysis of destructive leadership and its outcomes. The Leadership Quarterly. 24(1). pp.138-158.
Renko, M., and et. al., 2015. Understanding and measuring entrepreneurial leadership style. Journal of Small Business Management. 53(1). pp.54-74.
Du, S. and et. al., 2013. The roles of leadership styles in corporate social responsibility. Journal of business ethics. 114(1). pp.155-169.
Ojokuku, R. M., Odetayo, T. A. and Sajuyigbe, A. S., 2012. Impact of leadership style on organizational performance: a case study of Nigerian banks. American Journal of Business and Management. 1(4). pp.202-207.
Amanchukwu, R. N., Stanley, G. J. and Ololube, N. P., 2015. A review of leadership theories, principles and styles and their relevance to educational management. Management. 5(1). pp.6-14.
Lam, C. S. and O'Higgins, E. R., 2012. Enhancing employee outcomes: The interrelated influences of managers' emotional intelligence and leadership style. Leadership and Organization Development Journal. 33(2). pp.149-174.
Goleman, D., Boyatzis, R. E. and McKee, A., 2013. Primal leadership: Unleashing the power of emotional intelligence. Harvard Business Press.
Herrmann, D. and Felfe, J., 2014. Effects of leadership style, creativity technique and personal initiative on employee creativity. British Journal of Management. 25(2). pp.209-227.
Greenstein, F. I., 2012. The presidential difference: Leadership style from FDR to Barack Obama. Princeton University Press.
Peus, C., and et. al., 2012. Authentic leadership: An empirical test of its antecedents, consequences, and mediating mechanisms. Journal of business ethics. 107(3). pp.331-348.
Kara, D., and et. al., 2013. The effects of leadership style on employee well-being in hospitality. International Journal of Hospitality Management. 34. pp.9-18.
Lian, L. K. and Tui, L. G., 2012. Leadership styles and organizational citizenship behavior: The mediating effect of subordinates' competence and downward influence tactics. Journal of Applied Business and Economics. 13(2). pp.59-96.
Abualrub, R. F. and Alghamdi, M. G., 2012. The impact of leadership styles on nurses' satisfaction and intention to stay among Saudi nurses. Journal of nursing management. 20(5). pp.668-678.
Strom, D. L., Sears, K. L. and Kelly, K. M., 2014. Work engagement: The roles of organizational justice and leadership style in predicting engagement among employees. Journal of Leadership & Organizational Studies. 21(1). pp.71-82.
Marsh, C., 2013. Business executives' perceptions of ethical leadership and its development. Journal of Business Ethics. 114(3). pp.565-582.
McDermott, A. M. and et. al., 2013. Promoting effective psychological contracts through leadership: The missing link between HR strategy and performance. Human Resource Management. 52(2). pp.289-310.
Mittal, S. and Dhar, R. L., 2015. Transformational leadership and employee creativity: mediating role of creative self-efficacy and moderating role of knowledge sharing. Management Decision. 53(5). pp.894-910.
Clarke, S., 2013. Safety leadership: A meta‐analytic review of transformational and transactional leadership styles as antecedents of safety behaviours. Journal of Occupational and Organizational Psychology. 86(1). pp.22-49.
Ertureten, A., Cemalcilar, Z. and Aycan, Z., 2013. The relationship of downward mobbing with leadership style and organizational attitudes. Journal of Business Ethics. 116(1). pp.205-216.
Doody, O. and Doody, C. M., 2012. Transformational leadership in nursing practice. British Journal of Nursing. 21(20). pp.1212-1218.
Online
12 Different Types of Leadership Styles. 2018. [Online]. Available Through: <https://wisetoast.com/12-different-types-of-leadership-styles/>