Organization Selected :
Sainsbury's, Aldi and Oxfam
INTRODUCTION
Business environment is internal and external conditions of an organisation, every organisation has uniqueness in its size, scope, structure and objectives according to the nature of ownership such as private, public and volunteer organisation. In this project report, three companies are chosen according to their nature of ownership and size and they are Sainsbury's, Aldi and Oxfam. These companies have different size, scope and legal structures which effects their strengths and weaknesses and managers of these companies conduct various analyses for the evaluation and interpretation. To analyse business environment of these companies its important to evaluate internal and external conditions by PESTLE analyses and SWOT analyses.
Experts Are Listening!
Have doubts about academic writing? Clear all of them in a minute! Call the experts and get your answers immediately! Dial Now!Contact Us
TASK 1
P1 Purpose and legal structure of private, public and voluntary organisation
Every organisation is formed for a purpose usually for profit maximisation and brand building and sometimes for a social cause and these organisations are referred as public, private and voluntary organisation. These organisations are classified according to their distinct size, scope and legal structure which are required to be followed by every organisation, such organisation with real life firm examples are described below:
Public Company
Public company is a company registered under certain governmental companies act, by fulfilling all mandatory requirements such as minimum paid up capital, minimum shares acquired by general public etc (Chow, 2012).
Sainsbury's is one of the leading supermarket chain in United Kingdom dealing in various kinds of products such as groceries, home appliances etc. founded in 1869, Sainsbury's is a public limited company.
Purpose of Sainsbury's
Purpose of Sainsbury's is to be the most trusted retailer where people love to work and shop and they keep customer satisfaction as their first priority.
Legal structure of a public company
Public limited company has a separate legal entity than its shareholder members or directors, this type of company is formed to raise their capital by borrowing funds from general public by listing at stock exchange. Every country has its own rules for formation of a company (Chavis, 2011).
Private company
Private company is an organisation which is owned and controlled by private individuals and which does not offer its shares to general public and limits its liability to the members ownership of shares only.
Aldi is a private company based in United Kingdom formed in 1913, is a supermarket chain deals in groceries and other general utility products and services.
Purpose of Aldi
Main objective of Aldi is to serve excellent quality and value by earning huge profits an d savings. Aldi aims to build a working environment where every worker desires to work.
Legal structure of a private company
Private company has a limited liability which restrict its shares from offering to general public. Private company also has a separate legal entity and perceptual existence.
Voluntary sector
Voluntary sector organisations are non profit organisations, these organisations are formed to serve the society by the help of volunteers who works for the development of community.
Oxfam is a non profit organisation, which is a combination of 20 independent charitable trusts working for the social cause of alleviation of global poverty.
Purpose of Oxfam
Oxfam vision is to make a world without poverty, to make world a better place where people are valued and treated equally, enjoy equal rights and make their own decisions.
Legal structure of voluntary sector
Voluntary sector has to follow legal compulsions according to their adapted voluntary group such unincorporated association, a trust or a organisation limited by guarantee (Craig, 2012).
P2 Size and scope of various organisations
Every organisation has uniqueness in its size, scope and objectives. Organisations are classified according to the ownership like private owned company, public owned company and voluntary organisations which has its own size and scope which can be increased by various promotional steps and strategies. If you want to find sample paper related to technology, then you click on Implementing Digital Technology - Apple Guest House.
Sainsbury's
Size – Sainsbury's is one the leading supermarket chain in United Kingdom deals in number of countries, having 1415 stores across the globe. Having thousands of employees, Sainsbury's managed to earn a revenue amounting 26.224 billion euros and net income of 377 million euros.
Scope – Being a supermarket chain, Sainsbury's has a wide scope of opening number of outlets in countries like China and India which has highest population and can start dealing in general utility services like plumbing, etc. Sainsbury's can use their existing promotional activities to market their new services, so that funds can be saved for quality checks.
Aldi
Size – Aldi is privately help company having employees around 100000 in total who helped in yearly earning of revenue of around 53 billion who has 10000 stores across the globe. Aldi stores serve a million of customers every year by dealing in food products, sanitary articles and general utility and household products.
Scope – Aldi is a privately owned supermarket chain which only deals in products and not services, Aldi can increase its scope by serving general utility services to their customers. Stores of this supermarket chain are spread across 20 countries, but there are numerous of countries which can result in profitability and revenue generating for Aldi like China.
Oxfam
Size – Oxfam is a non profit organisation working for poverty eradication from the world, Oxfam is a combination of 20 independent charitable trust having 12000 shops worldwide. Oxfam raises their funds from various sources like bookshops, music shops etc. and having various campaigns across United Kingdom, Australia, Hong kong, New Zeeland, Japan etc., Oxfam is an organisation which has primary objective of community welfare for which they have appointed hundreds of volunteers who helps to raise funds by various sources.
Scope – Oxfam or Oxford community for famine relief is a non profitable organisation which has primary objective of poverty eradication from the world. Oxfam works for society by raising funds from only few countries, Oxfam can raise their funds from number of countries with the help of promotional events like campaigns and fun fairs. Oxfam has goal of poverty eradication, they can increase their scope by focusing on other social causes also like women welfare and child labour. If you are having difficulty submitting you IT assignment on time, then you can easy opt for our Online IT Assignment Help at a very cheap price.
TASK 2
P3 Relationship between organisational functions and their link to organisational structure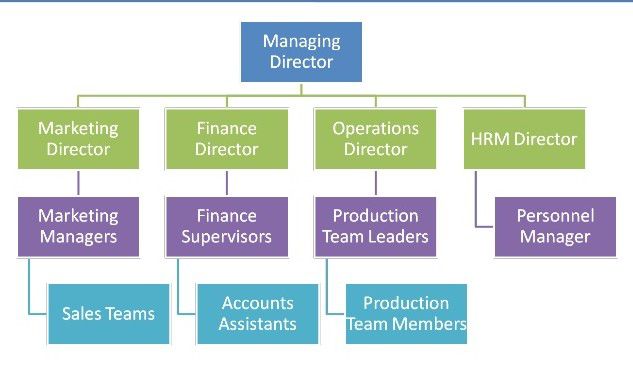 Organisational structure is a framework which defines how allotment of various activities in various departments an be done systematically to direct the organisation towards common organisational objectives. Organisational structure can be of various types such as line and staff organisation structure, functional organisational structures etc. and every organisation chooses its organisational structure according to their size, scope, diversity in activities and number of workers employed (Deasy, 2017).
Sainsbury's has adapted functional organisational structure in which they classify their organisational activities into functions according to the nature of those activities like marketing, manufacturing etc. Relationships between these functions in Sainsbury's are:
Marketing – Marketing is an organisational function which is engaged in activities like promotion and advertisement. Marketing department of Sainsbury's is considered to be the core of sales and supply as it directly related to demand determination of produced goods.
Production – Sainsbury's is an organisation who deals in producing and delivering general utility products and home appliances which are either produced or purchased from other manufacturers. Production department of Sainsbury's is directly related to packaging and finance department and indirectly related to human resource department as units are produced according to the number of workers available in production department.
Packaging – Packaging department involves activities of packaging, labelling and designing of goods which are manufactured or purchased from some other manufacturers. This department is related to production or operational department, s only those goods can be packaged which are produced by the organisation.
Human resource management – Human resource management is the staffing department on an organisation which involves recruitment and selection of appropriate candidates for vacant positions. This function is related to all functions or departments, as all functional activities requires employees to work and those employees are appointed by human resource department.
Finance – Like human resource management, finance department is also connected and related to every department of an organisation, as finance department involves activities of allocating funds for every significant activities that needed to be performed in an business firm (Hamilton, 2015).
Organisational Structure
Organisational structure provides an systematic construction of how activities can be classified into different departments in order to achieve organisational aims. Few of these organisational structures are:
Functional – Functional is the most commonly used organisational structure which classifies an organisation into smaller groups known as department according to the skills required to perform those tasks and activities such as IT, finance, marketing etc.
Divisional – In divisional organisational structure, organisation is divided into smaller departments according to the activities which are performed in that division like manufacturing, packaging etc.
Matrix – According to matrix organisational structure, employees has dual answer-ability. In this structure reporting relationships are set up as a matrix, which means an employee has the responsibility to report two of its superiors.
Line – In line organisational structure authority travels downward, from superiors to subordinates. Each department has its own line structure and manager of each department has responsibility and authority over certain department.
TASK 3
P4 Positive and negative impact of Macro environment
Macro environment of an organisation includes external factors which effects organisational activities either positive and negatively (Harrison, 2011). These macro environment factors are political, economical, social, technological, legal and environmental and effects of these factors are described below:
Political factors: Political factors include change in political parties and political policies
Positive – Sainsbury's deals in various countries like United Kingdom and Australia, due to increased globalisation Sainsbury's has number of opportunities to work in other countries like China.
Negative – Due to excessive government debts and borrowings, political factors are not in favour of Sainsbury's, due to different customer attitudes and preferences managers experiences high pressure in fulfilling needs of every environment.
Economical factors: Economical factors are economic stability, level of employment etc.
Positive – Due to new emerging markets and trend of globalisation, Sainsbury's can decease the influence of economic slowdown and can earn profit in such competitive market.
Negative – Growing unemployment and economic instability are the major factors which negatively influence development of Sainsbury's.
Social factors: Social factors are tastes, preferences and trends of the customers and the markets.
Positive – Sainsbury's always sets a benchmark when it comes to customer satisfaction. Management of Sainsbury's always come up with unique ideas so that it can satisfy the need of their customers and leave an effective positive brand image, these ideas are increasing female workforce, promotes causes like "Cook and Save".
Negative – Sainsbury's delivers their products in numerous countries which has different trends and preferences, which makes it difficult for a supermarket chain to fulfil all those requirements.
Technological factors: Technological factors are obsolete machineries, technological advancements etc.
Positive – Online and web based business activities of Sainsbury's earns fair revenue which leads the organisation towards spreading its business at places, where there are no stores available of Sainsbury's.
Negative – Technological advancements are key factors of organisational success but these advancements can results in heavy expenses, which influence company's revenue and profitability.
Legal factors: Legislations and laws affecting an organisation are included in legal factors.
Positive – Sainsbury's has a team of professional who look after all the legal matters which can influence the working of the organisation.
Negative – Sainsbury's has diversity in its activities due to which a number of laws are imposed on Sainsbury's like minimum wage law, consumer laws, employment laws, competition laws etc.
Environmental factors: Environmental factors are influencers which effect at surroundings and conditions of the nature (Hilton, 2013).
Positive – To build a positive brand image, Sainsbury's has adapted a technique of "reduce, reuse and recycle", which decreases the harmful effects of food products and their containers on environment.
Negative – Even after initiating green and organic products, Sainsbury's still has a lot of environmental influencers such as delivering alcohol and other harmful food products.
Also check this out: Analysis of Business Environment - Burberry Group PLC
TASK 4
P5 SWOT analyses
Strengths – Sainsbury's is the one of the leading supermarket chain in United Kingdom which captures 15.8% market share. Sainsbury's deals in various countries having 1415 stores in total, and thousands of employees which helps them to earn yearly profit of 377 million euros. Sainsbury's also offers non-food products like home appliances and general utility equipments which serves over 19 million customers every week, Sainsbury's has excellent branding and promotional techniques which helps them in capturing more customers. This organisation has diversity in its manufactured goods and usually has 30000 lines most of them are manufactured by Sainsbury's only.
Weaknesses – Due to various environmental and economical factors, prices of food products are rapidly increasing which leads to higher prices at Sainsbury's which makes it undesirable for customers. Supermarket has a emerging market which is inviting a number of competitors who offer low prices in order to building their brand image which effects Sainsbury's and its business. Other weaknesses of Sainsbury's is that they does not have any extension plans and only has strategies to work in United Kingdom but if any changes in governmental policies occur they will not have any back up businesses to earn profit. Sainsbury's has recently started web based shopping portal which was resultant to be inefficient and had many technical issues (Klem, 2013).
Opportunities – According to current market trend, there is a huge demand for green and organic products which are healthier and as a market leader Sainsbury's can capture whole market of organic and fat free food products. Another opportunity for Sainsbury's is diversion of customers towards online market and Sainsbury's has already launched an online portal for online shopping which needs to be improved so that they can earn a fair amount of revenue. Currently Sainsbury's is only serving in countries of America but they can expand their business in growing economies such as Asia and Africa.
Threats – United Kingdom is facing recession and due to which every business of UK is experiencing a hard time while reducing the prices of their products. Globalisation can sometimes result in threat as it invites number of competitors in the market, existing competitors like Asda, Tesco and others are the major threat to Sainsbury's. Global increase in food prices has direct impact on Sainsbury's as they has to increase their prices and has to also deliver quality products to maintain level of customer satisfaction. To maintain a positive brand image, Sainsbury's has to source best quality products and also earn profits ( Nicolaidis, 2011).
A+ Grades @Affordable Prices!
We deliver all academic papers from dissertations & assignments to thesis, & case studies. 5000+ satisfied students, you could be next! Place Your Order Now!
Order Now
P6 Interrelation of SWOT and PESTLE analyses
Every macro environmental factors has its own strengths and weaknesses which effects an organisation, these factors are political, economical, social, technical, legal and environment; few strengths and weaknesses of these macro environmental factors are:
Political: Political factors are changes in governmental policies which directly influence economy and indirectly influence organisation ( Savrul, 2014).
Strengths – Sainsbury's is a leading chain of supermarkets which deals in multiple countries of Europe and if in any country, Sainsbury's fails to do good business due to some political factors they have option to shift the focus on some other country.
Weaknesses – Sainsbury's deals in various countries of Europe which has diverse political laws and it becomes difficult for Sainsbury's to follow all of them and consider all governments.
Economical: Economical micro environmental factors are inflation rate, gross domestic product, interest rate, import export rate, economic growth and economic stability which effects growth and profitability of an organisation.
Strengths – Sainsbury's has diversity in its products and activities which makes it desirable for customers, with the help of economic professionals Sainsbury's manage their economic matters.
Weaknesses – Sainsbury's is a United Kingdom based company and currently United Kingdom is facing issues of economical instability and low economical growth.
Social: Social factors are preferences, tastes and trends of the market which can influence production activities of an organisation.
Strengths – Sainsbury's has appointed a team of professionals who controls all social and cultural affairs and surroundings, and helps the organisation to tackle issues like culture, religion, changing trends and diverse customer preferences.
Weaknesses – Sainsbury's deals in multiple countries comprising different customer preferences and trends, which rises issues of difficulty in understanding the needs of every customer.
Technological: Technological factors includes innovations and technological awareness which influence organisation's brand image ( Sena Ferreira, 2012).
Strengths – Sainsbury's has launched online shopping portal and new techniques of accepting payments which helps them in customer satisfaction.
Weaknesses – Sainsbury's works in a growing industry, which has large number of competitors which offers upgraded technologies.
Legal: Legal factors are laws and legislations about the activities in which company deals in which influence business activities.
Strengths – Sainsbury's has a team of qualified individuals who manages their legal affairs.
Weaknesses – Sainsbury's is engaged in number of organisational activities like staffing, manufacturing etc. which imposes restrictions of various laws relating to those activities.
Environmental: These are the influencers which effects outside environmental surrounding better known as nature (Welford, 2013).
Strengths – Sainsbury's uses promotional campaigns like recycling of food containers and producing organic and green products.
Weaknesses – Sainsbury's also has to deal in various harmful products like alcohol.
CONCLUSION
From the above report it can be concluded that every organisation is unique in its own way by variances in their size, scope and structure. Every company whether public, private or voluntary has few macro environmental factors such as political, economical etc. which influences their business activities. Companies having various strengths also has various weaknesses to be coped out, which reflects actual true and fair situation of the organisation. Companies chosen in above report are Sainsbury's, Aldi and Oxfam which varies from each other according to their nature of ownership and that implies differences in their analyses such as SWOT and PESTLE.
REFERENCES
Chavis, L. W., Klapper, L. F. and Love, I., 2011. The impact of the business environment on young firm financing. The world bank economic review, 25(3). pp.486-507.
Chow, A. T., and et. al., 2012. Computer readable medium with embedded instructions for providing communication services between a broadband network and an enterprise wireless communication platform within a residential or business environment. U.S. Patent 8.155.155.
Craig, T. and Campbell, D., 2012. Organisations and the business environment. Routledge.
Global strategy and global business environment: the direct and indirect influences of the home country on a firm's global strategy.Global Strategy Journal. pp.382-386.
Deasy, S., and et. al., 2017. User interface for controlling use of a business environment on a mobile device. U.S. Patent 9.544.274.
Hamilton, L. and Webster, P., 2015. The international business environment. Oxford University Press, USA.
Harrison, R., 2011. Learning and development. Development and Learning in Organizations: An International Journal, 26(1).