Infographic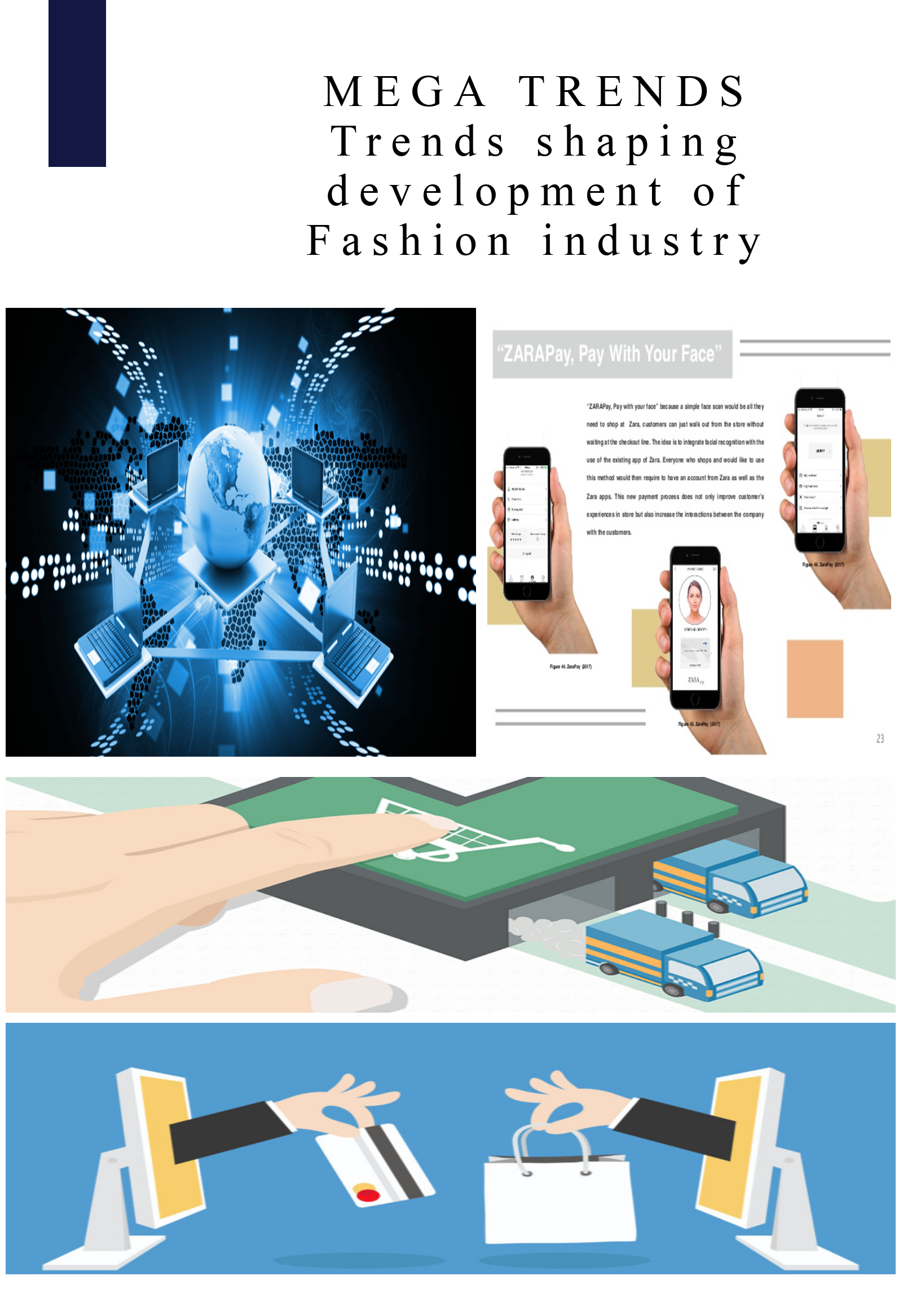 Research Diary
For an organisation to lead in market have to adopt relevant changes and market trends that are very obligatory to remain enough competitive into marketplace. In order to megatrends are macro factors and global factors of development that impacts on widely on business (Grayson and Hodges, 2017), society and people who relate with them. This diary based on Rowlinson Knitwear, which is a UK clothing organisation and its main operations are based on various clothing and other designing functioning.It is based on milestones for fashion industry and how they influence taste and preferences of consumers and related changes in the sector.
(a) Critical Analysis of Business Opportunity and its Centrality to Innovation and Entrepreneurship.
Business opportunity refers to the available options and choices to acquire larger market share and increase profitability ratio by gaining a competitive advantage for future growth. Major goals and objectives of any industry consists of finding out new ways to launch a product by offering different attributes and features within their products in comparison to their competitors (Burns., 2016). There is a close relation in business opportunities, innovation and entrepreneurship because each factor relates to offering innovative and unique products to deliver to its consumers.
In case of Rowlinson Knitwear, which is an established brand name in the UK fashion industry and the company provides clothes and related accessories at affordable prices to their consumers.For consistent success in marketplace, the firm has to focus on giving products to enchant their consumer base. There are large number of competitors in front of Rowlinson Knitwear, which makes it essential for the company to focus on providing effective products and services to lead in marketplace. In that case, the firm must focus on releasing new products into market place or focus on renovating existing ones so that consumers should remain loyal towards organisation. Innovation could be the key to its success.
The emerging trends in context of Rowlinson Knitwear should be in their retail strategy, business environment and major decisions should be taken to given delighted experience to consumer base (Ojala, 2016). Their emerging changes and trends consist of deploying new processes that are based on operations research to determine single shipment of inventory by sending to two central warehouses. To cut down cost organisation focus on limit their spending on advertisement and promotions which is one of important marketing tool to attract larger consumer base.
(b) Identify and Assess Viability of an Opportunity and Justify it for New Products, Services and Ventures by Emerging Trends
To lead in market, organisation have to implement some new and emerging products and services that proved beneficial for organisational growth and enhancement. In order to assess viability of project, Rowlinson Knitwear, which is an effective clothing company, must accept changes that also requirements of today's world. Changes are necessary for organisation to keep update to their consumers about their latest stock and fashion trends that help to grab attention of consumers. Technological advancements happening in the marketplace is one of the most emerging opportunity for this firm to adopt in light of recent trends of the clothing industry. In future, Rowlinson Knitwear by the name of "RK-Pay" would give facility to shoppers through which they can attach their mobile phones to look for selected new and emerging fashion trends in real time when consumers click on sensors of stores or AR enabled windows of shop. It initially aimed to launch in approximately at 100 stores that technology and services are irresistible for Rowlinson Knitwear and drag attention of millennials of stores and buyers to shop their products and services. This would be viable for the company as it must effectively invest in technology to succeed in the future. Moreover, it is within the company's financial and technological capability which makes it effective and quite possible for the company.
Free Plagiarism Report For Assurance
The experts at Global Assignment Help ensure that you get 100% original content for submission. With every order, get a Plagiarism report for free!
Order Now
(c) Develop Creative and Innovative ways to make the most Recognised Opportunities an Evaluate Alternative approaches to Creative Thinking
For every organisation to achieve success, it is very important for them to creatively think in innovative ways so that they can give better products and services to get better opportunities (Gaglio., 2018). In the case of Rowlinson Knitwear, their new and innovative attribute consists of facilities to connecting people with their mobile phones so that they can acknowledge new and emerging trends of the market (Abdelkafi and Täuscher., 2016). To grab the attention of a large number of customers, organisation will have to launch a series of activities that shows steps that have to be followed to reach at desirable outcomes and goals. Another aspect through which the firm could apply creative thinking to effectively make the most of the opportunity is making RK-Pay quite customer friendly despite of being technologically superior. Provision of convenience to customers in an application like this and giving them personalised service would be creative enough for the firm to grab new customers in the market (Vogel, 2017).
References
Books and Journals
Abdelkafi, N. and Täuscher, K., 2016. Business models for sustainability from a system dynamics perspective. Organization & Environment. 29(1). pp.74-96.
Burns, P., 2016. Entrepreneurship and small business. Palgrave Macmillan Limited.
Gaglio, C.M., 2018. Opportunity identification: review, critique, and suggested research directions. In Reflections and Extensions on Key Papers of the First Twenty-Five Years of Advances (pp. 1-47). Emerald Publishing Limited.
Grayson, D. and Hodges, A., 2017. Corporate social opportunity!: Seven steps to make corporate social responsibility work for your business. Routledge.
Ojala, A., 2016. Business models and opportunity creation: How IT entrepreneurs create and develop business models under uncertainty. Information Systems Journal. 26(5). pp.451-476.
Vogel, P., 2017. From venture idea to venture opportunity. Entrepreneurship Theory and Practice. 41(6). pp.943-971.