Organization Selected :
David & Co. Ltd
INTRODUCTION
Organisation behaviour refers to a study of the way people interact and communicate within groups. It is an attempt to analyse the performance level of employees while working in a group or as an individual. Study of working behaviour of employees brings more beneficial result to organisation due to which it is important for management to bring transparency in communication process. A David & Co. Ltd., a UK-based company which deals in providing number of food items such as fresh vegetables, bakery products etc. and supply it to the hotels, restaurants, contract caterers etc. on daily basis is selected for the purpose of preparing this report. The report describes the culture, politics and power which can influence the working behaviour of employees in an organisation. The project also includes motivational theories that an organisation can adopt to encourage team and individuals during work. In addition with this various concepts and philosophies of organisation behaviour that can be applied by organisations are briefly discussed under this report.
TASK 1
P1: Influence of organisation's politics, culture and power on team and individual performance
In the today's scenario, the performance level of an organisation can influences more either in negative or positive manner through various crucial factors such as organisation's politics, culture and power. Power refers to an ability of an individual to influence working attitude and behaviour of employees at workplace so as to make more capable to perform allotted task in an effective and efficient manner. Thus, power play an important in developing efficiency level of both employees as well as an organisation (Christina and et. al., 2014).
Influence of power on group and person
Positive power exerted by managers with a clear motive of giving proper direction and motivation to their employees so as to enhance their performance and productivity level. It brings interest and maximising working behaviour which directly makes positive impact on the outcomes received after completing allotted task. For this, managers play an important role in taking an effective decisions such as assigning roles and responsibilities, giving rewards etc. All such decisions which are taken for the welfare of the employees decreases the staff turnover, absenteeism, high retention etc. Working behaviour of employees gets affected by negative power exerted by manager in form of allotting extra work which creates burden on employees and if not completed then punishment will be given. In this scenario it is evident that David & Co. Ltd. has attained skilled and knowledgeable management who knows how to get work done from employees in more effective way. In the context of organisational power, there are various theories which can be adopted by David & Co. Ltd. to influence workforce behaviour some of which are given as below:
Legitimate power: It includes such power that is given to a personal in step with their position in associate organisation. for instance, power non-heritable and exert by Rosskam, Chief Executive Officer of David & Co. Ltd. is legitimate power that provides them authority to place management over its staff (Dartey-Baah and Amoako, 2011).
Reward Power: It includes such power that is allotted to someone with associate objective of giving rewards, promotions, conducting coaching and development programs etc. In David & Co. Ltd. such power is exercised by Board of administrators with whom permission of chief executive officer will rewards its staff.
Coercive power: It includes such power that is given to a person with associate objective of punishing, threatening, terminating associate employee in an organisation. In David & Co. Ltd. such power is allotted to Chief Executive Officer and managers. However, such power will be often exerted because of valuing staff with a hope of obtaining more output for company.
Expert power: It refers to such power that is given to an individual because of having adequate information and specialised skills in specifically field of work. In David & Co. Ltd. such power is exerted by managers who are specialised in dealing with complex situations and create correct judgement to bring out most output from staff.
Referent power: It includes such power that is given to an individual so as to influence interest and working behaviour of others. In David & Co. Ltd. such power is exercised by its leaders in order to bring confidence among staff while allotted work and achieve loyalty towards an organisation (Dobrow, 2013).
Informational power: It includes such power that is given to an individual who know how to access confidential confidential monetary reports or valuable data of associate organisation. In David & Co. Ltd. such power is exercised by Chief executive officer and high authority who are maintaining the data connected with performance of staff, influx and outflow of company etc.
A+ Grades @Affordable Prices! We deliver all academic papers from dissertations & assignments to thesis, & case studies. 5000+ satisfied students, you could be next! Place Your Order Now!
Order Now
Chanlat's characteristics related to political behaviour:
Chanlat is categorised political behaviour into three sections which incorporates decisional, individual and structural. It is connected with the qualities that a manager expected from their candidates during recruitment process which assist them in estimating the use of power and political behaviour by that employee in future period of time. Machiavellian is an individual qualities have by workers which enables them to take part in political conduct and utilize power. The third characteristic is structures which demonstrates that managers of David and Co. Ltd. should take initiatives in organising and planning.
' Organisational politics might be portrayed as the utilization of informal efforts or persuasive procedures that can influence the business exercises, offering a thought, accomplish control and so on (Francis, O'Connor and Curran, 2012).
Influence of politics on group and person
Helpful in developing social astuteness, interpersonal influence, network ability and sincerity: Office politics facilitates company to acquire knowledge of their employees and its working behaviour which enables them to prepare tactics to motivate people to perform towards organisational goals and objectives.
Reduce the productivity of employees: It has been observed that the employees engaged in organisational politics are concentrating less on work and task assigned to them which causes disadvantages to company.
In David & Co. Limited culture is established collectively by employees and firm. To assign work culture, company creates a framework with beliefs and behaviour that will be appreciated by workforce with an appropriate amalgamation with necessary changes that are requisite for firm's objectives achievement
Handy's culture typology model:
Organisational models are give by Charles handy who is a philosopher of organisational culture. There are four types of organisational culture which are as follows-
Power culture:
In David & Co Ltd. power is held by only some persons whose control on their employees. Power culture refers that give authority to top management for controlling their subordinates. Different different types of power are delegate to the management in which they have power of decision-making, give direction, making strategy and planning, power of command, etc. Sometimes top managers delegate some authority to their subordinates for reducing work load.
Role culture:
Role culture refers to a culture in which roles and responsibilities are delegated according to employees qualification and specialisation. In David & Co Ltd. employees decided that which work they can do best and according to this they accept the works and challenges. David & Co Ltd. do not pressurize their employees to choose work but company give them suitable role and work according to their qualification which is increase their productivity. Authority comes with obligation in role culture (Gabriel and et. al., 2015).
Task culture:
In this culture, task are assigned to the employees. David & Co Ltd. mainly focus on motivating and influencing employees to work hard and give their maximum output to achieve giving task. In an organisation's employees from same qualification or specialisation then they come together to make a group or team for achieving group and organisational goal. When ideas of different different employees are come together then task can complete in most effective and innovative way.
Person culture:
This culture based on employees or persons values. In this employees are give value to own self rather than company. David & Co Ltd. also adopt this culture for employees self-actualization and give them importance. In this company give opportunity to the employees for discover and show their skills and talent. If employees are give their best and create new and innovative ideas then company can easily achieve the goals and objectives.
M1 Critically analysing culture, politics and power of an organisation
Organisation's politics, culture and power can influences individual and team behaviour either in negative or positive manner. These three aspects supports in maximising the working behaviour of employees through getting motivation, proper guidance and direction by the management of an organisation. It can adversely affect the individual and team performance as well in form of having different form of power holding different employees which causes conflicts between them (Kasemsap, 2016).
TASK 2
P2: Motivational theories for achieving organisational goals
Motivation is system oriented and continuous process crucial for achieving goals. It is complex in nature, can be positive or negative depends upon the mentality of individual and overall is an act of mangers and is different from job satisfaction.
Content theory: Such theory defines the aspects which brings motivation among employees and it is concerned with individual needs and goals. The managers of David &Co. Ltd. wants to find out and analyse the factors which affects the working behaviour of employees. Some theories of motivation are;
MASLOWS THEORY OF MOTIVATION:
The most popular and human needs based theory is Maslow's Needs Hierarchy Theory. This theory is based on Physiological and psychological needs of human behaviour. This theory states that once the needs is satisfied then it no longer motivate the employee. The next level of need helps as a force to motivate the employee to work in desired manner. Maslow created five levels of need in his theory (The Hierarchy of Human Needs: Maslow's Model of Motivation, 2018).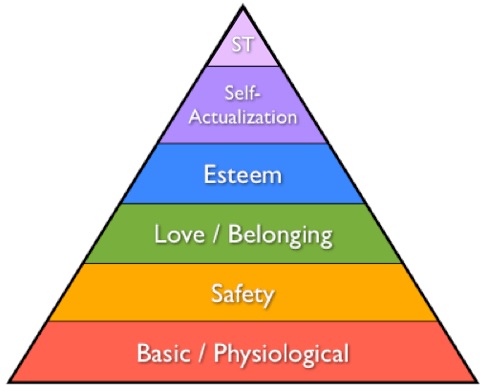 Illustration 1: The Hierarchy of Human Needs: Maslow's Model of Motivation
Source: The Hierarchy of Human Needs: Maslow's Model of Motivation, 2018
Physiological needs: It involves basic needs of human behaviour and are met to be first due to having a tremendous affect on behaviour of human. Basic necessities of life includes food, clothing, shelter air, water and other necessities of human. Overall, these needs are related to survival of human life. Psychological needs pertain basic and most essential to fulfil. These requirements of life are required to be fulfil first as they are essential for life.
Safety needs: After the fulfilment of basic or psychological needs next requirement is to provide safety and security. Safety prefer second priority after the survival needs. Safety regarding health, job security and physical security. In order to fulfil these needs the manager's of David & Co. Ltd. should provide a risk-free working environment as well as safety measures like medical and insurance facilities. Security needs include personal security, financial security, protection from accidents, harm etc.
Social needs: These are the needs regarding with love and belongings. Each employee needs to feel a sense of acceptance and belongings. Each employees a healthy working environment with good relations. The manager can create a better environment to fulfil these needs by creating a better mode of communication chain. Fulfilment of Social needs is important so that the employee do not feel isolated, depressed or alone. Friendship and intimacy is required among managers and employees to fulfil the social needs.
Esteem needs: Esteem needs involves the needs regarding self-respect and appreciation from others. The managers of David & Co. Ltd. Can meets the esteem needs of employee by providing praise and recognition when employee does not well and by offering promotions and additional responsibilities to shows their belief that employees are prestige assets of an organisation (Wong, Ormiston and Tetlock, 2011).
Self-actualisation needs: The self-actualisation needs occurs after the fulfilment of above needs. These needs regarding the capability of employee, means person's need to achieve his full potential. Overall is about to identify the strength by engaging in challenges programs and perform with full potential.
Process theory: This theory which is applied to analyse and understand the Psychological and Physiological needs of employee and also in order to understand that by applying these theories the managers of David&Co. Ltd. Can find out the factors and unsatisfied needs affecting the performance of employees. Moreover, these theories include other theories like Vroom's theory of needs;
VROOM's EXPECTANCY THEORY:
Victor Vroom had explained the most widely accepted theory of motivation in his Expectancy Theory. This theory depicts the relationship between the notions of effort, performance and rewards. Victor construct some keys in the expectancy theory.
Valence: According to Vroom valence means the power or strength that an individual place on a particular task or outcome in order to get reward.
Expectancy: it states that increased effort results in increase the performance. Moreover, it requires that must be having the right skills to do the job, must having resources available and must having necessary support to the job.
Instrumentality: instrumentality depends upon some facts that are, understanding of relationship between performance and reward, trust in person who will take decision on who gets reward and at last, and most important transparency in process that decides who get what reward (Owoyemi and Ekwoaba, 2014.).
M2 Critically evaluate the influence of behaviour of others through applying different theories
Moreover, motivation means a force that inspires an individual to move forward to achieve the desired goals and motivation begins with physiological and psychological needs that forms a force to fill someone with confidence and desire to accomplish the goals. Such theories include content and process theories of motivation.
D1 Critically evaluate the relationship between culture, politics, power and motivation
Culture, politics, power and motivation have direct relationship with each other as they together support in enhancing the skills and capabilities of employees and make them more capable to complete allotted task in more effective manner. For example, power guides the employees where culture motivates and politics develop new ideas which overall brings positive result.
TASK 3
P3: State what makes a team more effective as opposed to an ineffective team
The most valuable assets of organization are the employees whose performances decide the success and growth. It is crucial for an organization to hire and retain those employees which are having in depth knowledge, competencies and skills to perform best at their tasks. David & Co. Limited operations are controlled and monitored by effective team of experts that uses their competent skills to increase the productivity (Laforet, 2011).
Team work allows to perform tasks more efficiently along with this level of employee's performance increases. Effective team work allows to reduces the communication gap between their subordinates. Some of the differences between effective and non-effective teams are as follows:
| | |
| --- | --- |
| Effective team | Non-effective team |
| An effective team has competent skilled and dedicated person that contribute their best efforts to attain growth and success of an organisation. | Non-effective team lacks competent skilled and dedicated person that fails to contribute to attain growth and success of an organisation. |
| Effective team allows each team members to express and share their ideas and views that can be favourable and considerable in decision making process. | Ineffective team does not beliefs in sharing ideas and feedbacks so no consideration is taken in decision making. |
| Effective team works collectively and support their team members to attain personal goals along with team goals. | Ineffective team an mainly concern with the team goal in spite of attaining personal team mate goals. |
Some of the qualities that is crucial and required by David & Co Limited to form an effective team to achieve organization goals:
Mutual cooperation: The most important quality required to build up effective team is to establish mutual cooperation among the subordinates at workplace. There should be no communication gap among employees as it will create hindrance in performance and lacks mutual cooperation among subordinates. There are more chances of success when team work together with mutual understanding. Both the quality of work and productivity increases when employees work in effective team.
Balanced roles: Another important aspects are regarding to directing the roles and responsibility among the employees. Roles and responsibilities should be distributed and communicated well to create a framework to effectively execute activities. It addition, balanced roles enables managers and leaders to examine well about the performance of each employee.
Good communication: The chances of success increases when there is proper communication channel in working environment. There should be transparency in communication channel so that employees feel free to communicated among themselves and can share innovate ideas with each other (Kaur, 2013.).
Effective leadership: Leaders are the influencer that can easily influence working behaviour of employees. Leadership is important as it allows employee to get motivated and upraise their performance to achieve organization goals and objectives.
Tuckman and Jensen's model of team:
Bruce Tuckman develop four stages forming-storming-norming-performing in 1965. Tuckman said that this four stages are very important for any team's growth. David & Co. Limited company apply these models in their business for increasing co-ordination among team members and build strong and skilled team. In this include four phase or stage which are as follows-
Forming:
It is a first stage in which team and group are formed. In this stage David & Co. Limited company allot work, communication channels, roles and responsibilities to the team members for achieving specific goal. In this group members do work and behave independently means in this stage members are only focused on themselves.
Storming:
Storming is the second stage of group development. Leaders of David & Co. Limited company motivates their group members and where team members are shows interest in other members and gain loyalty and trust from each other's. Then team member start work with their teammates and learn about every members working style. After this all conflicts are arises between them because of different thoughts and working style.
Norming:
In this, group members take duties and responsibilities. They starts solve the . personality clashes and resolved disagreements. In norming phase, David & Co. Limited company increase co-ordination among team members and enter into a good working environment where team members are start support and co-operating to each other (Models of Organisational Culture – Handy, 2015).
Performing:
This is the last stage of group development where team members are exactly know about their targets and objectives. In this stage, David & Co. Limited boosting performance of their teams for achieving group goal. In this stage, members are totally knowledgeable, more passionate and well motivated towards their work for achieving the group goal.
M3 Analyse relevant team and group development theories to support the development of dynamic cooperation.
In order to achieve organization goals and objectives it is important to work in team in effective manner. To attain the heights of success, there is need of dynamic, loyal and hard-working team. Effective teams allows to attain the competitive advantage in the market. David & Co. Limited company can apply Tuckman and Jensen's model in their business for increasing co-ordination among team members and build strong and skilled team.
Want to Hire Expert Writers? Writing different academic papers can get puzzling at times. Reach out to the best writers of Global Assignment Help and ask for assistance with all types of essays, assignments, reports & more!
Order Now
TASK 4
P4: Philosophies and concepts of organizational behaviour
Path Goal Theory of Leadership: This theory was introduced by House Mitchell in 1974 with main to help out organization to achieve goals and objectives within a time duration. This theory describes about how a leader can influence and motivate their follows to reach to group or organization goals. The leader should adopt those style that meets the followers motivational needs.
David & Co. Limited uses this leadership theory to focus on characteristic of the employees along with environment characteristics. The main guidelines for path goal theory includes to determine what output employees are trying to gain at workplace. Secondly, it emphasis on employees believes that they can perform at a high level to reach their goals. To induce employees with important skills, capabilities and knowledge company should conduct workshops and conferences to motivate employees to perform their best. David & Co Limited should adopt and apply participative leadership style that will guide the mangers to listen and consider the reviews and feedback of employees and helps them in decision- making to reach organization's goal together.
Classification of this model are explained below:
Employee characteristics: With the implementation of path goal theory of leadership, leaders are able to enhance the skills and capabilities of employees as per as their needs and requirements. The leaders of David & Co Limited needs to scan the employee characteristics to develop and motive them to go best at their workplace. It is crucial for the leaders to have deeper study about their employees characteristics as it helps them to find out appropriate methods to motivate their employees.
Task and environmental characteristics: According to this theory, leaders should focus on execution of task and environmental characteristics to identify working issues faced by the employees at workplace. This scanning of task and environment characteristic will help the leaders to identify those areas where actual training is required by the employees. On this identification basis training and developing plans can be designed and implemented to overcome issues of task and environment of workplace.
Design of task: Leaders plays a key role to describes the roles an d responsibility of each and every employee for specific task. This distribution of roles and responsibilities among different employees by the leaders enables workers to work in right directions. Employees needs proper guidance of leader as it motivate the employees to work in effective way. Employees try to give their best to achieve the best at workplace with the help leaders guidance.
Formal authority system: On the basis of task authority, it is the responsibility of leaders and managers to allot work to the employees. Assigning work load in advance by the managers and leaders to employees helps control and monitor future uncertainty.
Work group: It is responsibility of leaders and mangers to guide employees to work in collective way with teamwork. Each employee has its own importance and abilities to perform task which is identified by leaders.
Leaders Behavior or Styles: Under this hypothesis, style of authority can be delegated:-
Directive: Under this style, leaders are extremely overwhelming and representatives are left with no other alternative aside from concurring with every one of the choices made leader.
Participative: Under this, leaders of David & Co. Ltd. needs to include their workers in basic leadership process. This will make them feel propelled and esteemed. Furthermore, it likewise help in holding them for longer period.
M4 Explore and evaluate how concepts and philosophies of OB inform and influence behaviour in both a positive and negative way.
This theory of leadership emphasis on employee performance and employee satisfactions by motivating them. Moreover, it emphasizes on the relationship between the characteristic of leader and leader's style. On the other hand, it brings negative impact as well for example Having poor leadership causes loss to company which adversely affect eh performance level of employees as well.
D2: Critically analyse and evaluate the relevance of team development theories
Path Goal Theory of Leadership uses this leadership theory to focus on characteristic of the employees along with environment characteristics. The main guidelines for path goal theory includes to determine what output employees are trying to gain at workplace. Leadership approaches are more helpful in influencing working behaviour o employees for example allowing employees to involve in decision making process maximises the interest and working behaviour of employees.
Students also like to read: Role of Cooperation for Effective Teamwork
CONCLUSION
It has been concluded from the above project report that organisational behaviour is playing a significant and crucial role in developing the potentiality of employees as well as an organisation. There are different types of teams which are also more helpful for company to form as it brings an optimum solution in more systematic manner. Also path goal and behaviour theory is of significant use in encouraging team related to their functions and roles.
Related Services: Assignment Help
REFERENCES
Books and Journals
Christina, S. and et. al., 2014. How organisational behaviour and attitudes can impact building energy use in the UK retail environment: a theoretical framework. Architectural Engineering and Design Management. 10(1-2). pp.164-179.
Dartey-Baah, K. and Amoako, G. K., 2011. Application of Frederick Herzberg's Two-Factor theory in assessing and understanding employee motivation at work: a Ghanaian Perspective. European Journal of Business and Management. 3(9). pp.1-8.
Dobrow, S. R., 2013. Dynamics of calling: A longitudinal study of musicians. Journal of organizational behavior. 34(4). pp.431-452.
Francis, J. J., O'Connor, D. and Curran, J., 2012. Theories of behaviour change synthesised into a set of theoretical groupings: introducing a thematic series on the theoretical domains framework. Implementation Science. 7(1). p.35.
Gabriel, A. S. and et. al., 2015. Emotional labor actors: A latent profile analysis of emotional labor strategies. Journal of Applied Psychology. 100(3). p.863.
Kasemsap, K., 2016. The role of knowledge sharing on organisational innovation: An integrated framework. In Business intelligence: Concepts, methodologies, tools, and applications (pp. 406-429). IGI Global.
Kaur, A., 2013. Maslow's need hierarchy theory: Applications and criticisms. Global Journal of Management and Business Studies. 3(10). pp.1061-1064.
Laforet, S., 2011. A framework of organisational innovation and outcomes in SMEs. International Journal of Entrepreneurial Behavior & Research. 17(4). pp.380-408.
Owoyemi, O. and Ekwoaba, J. O., 2014. Organisational Culture: A Tool for Management to Control, Motivate and Enhance Employees' Performance.
Wong, E. M., Ormiston, M. E. and Tetlock, P. E., 2011. The effects of top management team integrative complexity and decentralized decision making on corporate social performance. Academy of Management Journal. 54(6). pp.1207-1228.