Question :
The following issues are required to be carried out:
Frame the project aim, objectives and the time frame on the basis of chosen theme.
Conduct the small-scale research, information, gathering & data collection in order to have the knowledge to support the project.
Present the project and communication recommendation based on the conclusion draw from the findings and analysis.
Give reflection on the value gained from conducting the project and its effectiveness to help the sustainable performance of the company.
Answer :
Organization Selected :
River Island
Introduction
The assignment gives an overview how a company can effectively manage a successful business project. For the purpose of the research assignment, River Island is chosen. The company is a famous fashion brand that operates primarily in United Kingdom and worldwide. The assignment concentrates on how Rive Island will establish and implement its aims, objectives and timeframe with a period of 3 months and the research study analyses the opening of the company in a foreign nation, China. A research has been conducted to gather relevant information and collect data how River Island can enhance its customer base and thereby the overall company profits. Thereafter, a series of recommendation has been stated to the management of River Island depending upon the analysis made from the research. Lastly, the assignment has focused the utility organisation performance and benefits of conducting a small scale research on the topic.
A+ Grades @Affordable Prices!
We deliver all academic papers from dissertations & assignments to thesis, & case studies. 5000+ satisfied students, you could be next! Place Your Order Now!
Order Now
LO1 Establish project aims, objectives and timeframes
P1 Devise project aims and objectives
River Island is a multinational organization with its headquarters in the UK; however, River Island operates in a number of countries. In some countries, River Island operates in various regions and cities that clearly hint towards difference in cultural and social background. However, it should also be taken into consideration that the environmental, economic and social influence of River Island may exhibit a positive or negative impact or both on the host country. Thus, the main aim of the project is to assess the impact of River Island on the business environment of the chosen host country (Bolman and Deal, 2017). The report is based on River Island organisation which operate and regulate world wide market place where they serve serving best products and services to their customers.
Hence, as per the stated point of view presented, following are the aims, objectives, and scope that can be obtained through the help of stated project:
Aim: To evaluate and analyse the impact created by River Island on the business environment of the host country.
Objectives:
To evaluate the extent of the impact created on employees while establishing a business process in China.
To gauge the impact created by the business of River Island on the population of the host country.
To measure resources, outcome, and risks that can be experienced while managing a business in China.
To provide appropriate recommendations that can work on streamlining business process and ensure sustainability is maintained.
To analyse the impact on environment due to the introduction of a new business venture
To analyse the impact of another country on business culture and environment.
To identify the contribution of River island upon economic growth of China.
Scope:
Hence, the project works to pinpoint some problems associated with cultural competencies during the execution of a project. Hence, as influenced by Liu et al. (2016) project managers often face problems in communication due to the language barrier. Alternatively, it can also be stated change in working patterns may act as a barrier among the newly recruited employees from the host countries. Thus, the scope provided by the current project is related to an attempt made to examine cultural issues that can be further treated in order to manage conflict.
However, it should also be considered the scope of the current project can extend beyond the understanding of cultural competence (Brannan, 2017). The company try to expand business operations and its functions in order to reach with desired goals and target in better manner. Hence, with regards to River Island, the current project can provide an idea to enhance business operations.
P2 Produce a project management plan
Task

Cost

Scope

Time

Quality

Communication

Risk

Resources

To ensure cross-cultural training is provided

£ 388

Can work on understanding the cultural difference in regards to working patterns among the employees

45 days

High

Use of visual clues or presentation to overcome communication problems.

Make use of translators that can work on bridging the communication gap.

Exhibition in lack of interest among the employees due to the presence of the language gap.

However, it should also be taken into consideration trainers may have limited time to provide training.

Time

Money

Employees

Visual materials

Trainers

Carry out market research

£ 1200

Provides an idea about the perception of consumers in regards to their purchase intention and behaviour that can further help in creating products as per demands.

45 days

High

Make use of reports graphs and charts to provide a visual representation of current market trends

Change in consumer behaviour as per change in lifestyle.

Market analysts

Finance

Time
Table 1: Project management plan
(Source: Created my researcher)
Cost – It is that method which can be used for managing and controlling additional cost or value which occurs in production procedures. It will assist in saving amount and it increasing profitability that could be used in different units. An organisation develop strategies and policies which can be helpful in acquiring effective cost by serving variety of products and services to their customers (Caro and Martínez-de-Albéniz, 2015).
Scope – The area covers all the elements which mainly included in whole project. Respective company requires to manage and maintain all business operations which help them in reaching with desired goals and targets in proper manner. All the essential aspects are described in this assignment which are helpful for modernisation of business and it improves the performance and effectively of business operations.
Risk – This is one of the most important concepts in this report as it will assist in identifying different risk factors which directly impact on business operations and its functions. It is required for management is to manage risk and reduces its impact on business operations effectively (Dabija and Grant, 2016). The firm use technologies which help them in recognise such elements and take corrective actions in better manner.
Time – It is another important activity which is considered at the time of conducting survey and examination. There are various activities which help in setting goals and objectives of specific project, manage planning, conuct primary and secondary research in order to collect accurate data. This is required for company is to manage time for completing all such activities and functions effectively.
Resources – It is another factor in which there are several resources and it is necessary for respective company (Rizwan, Hassan and Kalsoom, 2017). For firm, various resources required such as employees, funds, technologies in order to used in this procedures. This is essential to fully use all such resources while completing the activities in order to gather and collect accurate data in better manner.
P3 Produce a work breakdown structure and a timeline
Work breakdown structure:
Event

Activities

Time

Concept Phase Project Management

l Appointing the project manager

l Produce preliminary project
Plan.

l Analyze the cost and resources needed

20 days

Project proposal

l Define the problem, scope, and objectives

l Outline benefits that can be obtained.

l Work on understanding the expectations of consumer and employees of the host country

20 days

Define the scope and functional requirements

l Present a comprehensive description in regards to the relation of the project.

l Accept and initiate the project

l Conduct analysis of stakeholders

l Justifying the reasons that can work on supporting the project plan

20 days

Develop analysis and recommendations

l A clear understanding of employee perception

l Provide training to employees for overcoming the gap in communication

15 days

Obtain feedback and monitor the process

l Once training is provided it is important to evaluate the impact of training.

l Obtain feedback from employees based on training

l Monitor employee performance

l Obtain feedback from customers about products and services.

15 months
Table 2: Work Breakdown Structure
(Source: Created my researcher)

Figure 1: Timeline
(Source: Created by researcher)
LO2 Conduct small-scale research, information gathering and data collection
P4 Carry out small-scale research for meeting project aims and objectives
Introduction
The current section aims to carry out a small research based on the cultural gap observed in the host country (China). The research tries to find out the ways that may affect cultural difference at the workplace.
Research method
The research uses both qualitative and quantitative method has been implemented to collect primary data. The primary research participants are 4 managers that have dealt with the cultural gap whose opinions are to be dealt qualitatively (Dion and Borraz, 2017). Whereas, 150 research participants who selected respondents in order to analyse their views and reviews regarding company products and services. The respondents are those population who are give their views and opinions regarding company products and services. This includes adults, youngsters and experts who are giving their reviews about their preferences and choice as per this company develop such type of goods. An organisation also surveyed whose opinions are quantitatively analysed and represented through the use of charts and graphs. Finally the research proceeds with a deductive approach that aims to form a new idea linked to the work environment and cultural competencies.
Justification
Both quantitative and qualitative research method have been chosen for the research is mainly due to quantitative methodology is the best possible solution available to solve a research problem. The quantitative method helps the researcher to build up a connection between two variables namely dependent and independent. The data so collected can be used suitably for cause and effect relationship and thereby to make reasonable prediction (Giorgi, Bartunek and King, 2017).
The justification for selection of the managers is that they will be heading the business establishment in China and thus will have to assess and conduct proper market research of thebusiness environment and feasibility in China. The selection of consumers as respondents reflects the aim of the research study to understand their perspective of working in different cultural background and the impact of collaboration within work front and its impact on business is studied.
Purposive sampling method is selected due to the fact that employees who are working in different culture need to be surveyed to understand the impact and real-life experience.
On the other hand, qualitative research method is used to get a transparency regarding the finding and analysis. Qualitative research methodology is used to interpret previous theories and conceptual theories that are built around similar topic. It is essential to have transparency in research to interpret qualitative research method used for research in business environment.
The justification for using Deductive approach is to described the conclusion from the assumptions taken. Often deductive approach is tested against the observations. The reason for choosing 150 respondents and 4 mangers is to get an adequate observation regarding the research conducted.
You may also like to read about - Developing Individual, Teams & Organisations - Marks & Spencer
Finding and analysis
Quantitative:
| | | | | | |
| --- | --- | --- | --- | --- | --- |
| Question | Strongly agree | Agreed | Neutral | Disagree | Strongly disagree |
| Are you reluctant to work with an organization that does not respect your professional culture? | 90 | 30 | 15 | 5 | 10 |
| Did you fit in with the working culture with the previous organization? | 80 | 20 | 30 | 15 | 5 |
| Do you feel a collaborative working environment has positive outcomes on business? | 70 | 50 | 15 | 5 | 10 |
| In the current working conditions do you find enough learning scope? | 30 | 30 | 20 | 60 | 10 |
| Is learning important to you by keeping aside your culture? | 40 | 20 | 10 | 50 | 30 |
| Do you think organisation fails to conduct different culture as per employees requirements ? | 50 | 40 | 20 | 25 | 15 |
| According to you will introduction of new business venture create new job opportunities and contribute in employment creation? | 70 | 60 | 5 | 10 | 5 |
| Will new business opportunities have a social impact? | 45 | 55 | 25 | 10 | 15 |
| According to you what will be environmental impact of China due to new latest business venture? | 30 | 85 | 10 | 11 | 14 |
Table 3: Data collected through survey
(Source: Created by the researcher)
Qualitative:
Questions

Response

What learning opportunities did you provide your employees?

Manager 1: The prime objective is to ensure collaboration in work. I make sure employees are always in touch with one another and make sure they obtain the required assistance and work through proper collaboration and teamwork.

Manager 2: I make sure employees get to know each other more often and that also in a good way. Hence, I ensure events that bring together all the employees through events such as party or lunch.

Manager 3: I provide training to employees that make them much tolerant to different work culture. I know it becomes increasingly difficult to abide by different cultural background. Hence, training is important and must be carried out under proper guidance.

What would you describe as the perfect and joyful work culture?

Manager 1: A joyful working environment as per my understanding is a harmonious working environment. However, there needs to be implications of strenuous behaviours that can work on providing a sustainable working culture.

Manager 2: I feel a joyful work culture can be created by ensuring sustainability at workplace. For creating a sustainable work culture a harmonious collaboration is important to make sure joyful workplace culture is embedded.

Manager 3: For me, the concept of joyful work culture is bit different from what others may perceive. I feel a joyful work culture is related to the importance of being busy supported by increased productivity. Alternatively, I feel joy in an organization is dependent on hard-working employees. More the productivity more is the profit margin and that leads to increase in joy of work.

Which is that one quality that you see in your colleague that you would like to cultivate in your own self?

Manager 1: I feel my colleague is punctual. However, I am punctual too but often fail to complete tasks within set deadlines due to other liabilities or even time constraints.

Manager 2: My colleague is totally focused on the work they are doing. On the other hand, I tend to lose concentration due to other tasks. On most cases, I often tend to procrastinate due to my other priorities.

Manager 3: I tend to overstress myself and carry out all the work all by myself. I have often seen one of my colleagues giving importance to teamwork rather than individual efforts. While it may seem different at first as per our perceptions; teamwork distributes labour and makes sure equal distribution of labour and fruits of labour thereby reducing liabilities on a single person with stress.

How can you work on creating an impact on employees around you?

Manager 1: I plan to adopt a different working culture. Yes, it may act as a cultural shock to employees due to difference in culture. However, other employees may benefit from the change in culture as it may suit their own working culture.

Manager 2: I think I should make use of the traditional method of leadership. I plan to collect feedback from my employees about their own perceptions.

Manager 3: I think designing of brainstorming sessions may come out as a surprise for employees as they are not accustomed to it.

Apart from your own company which other company could your organization should follow to ensure cultural diversity?

Manager 1: I think Google is doing great in terms of engraving the concept of engraving cultural difference with smoothness.

Manager 2: Coca-Cola I thinks has maintained a great role in ensuring employee retention at all levels by respecting cultural norms of employees.

Manager 3: Accenture is doing good as it employs employees on the basis of talent and not cultural difference. In addition to that Accenture has a great hold over international market and has opened successful branches all over the globe.

Do you feel opening a new branch in a different country is a good strategic move by your business organization?

Manager 1: Yes, I feel that opening a new branch is a good strategy it can have beneficial effects for the company and also the employees

Manager 2: Absolutely yes, business is all about expansion and expansion can be created by enhancing the limits of business to different country

Manager 3: The answer to this question depends on the management of our organization. The streamlining of business operations can work as a major issue in a new country due to change in laws of taxation and even political background.

What will be impact of creating new business ventures on employment creation and impact on social and environmental dimension of the foreign nation (China)?

Manager 1: The opening of new business venture will create employment opportunities and increase the annual income of the nation. It will also lead to the increment of GDP of the nation in which the business will be investing. Social impact is mainly effected on business operations and functions while smoothly running of organisation activities and functions. This is mainly impacted on society and community people who are living in the environment.

Manager 2: The social impact of opening up business venture is tremendous as the societal culture gets developed by mixing with foreign culture and the availability of resources increases. Assets can be shared and it leads to the overall development of the living standards of the host community. It is required for company is to analyse various environmental factors before starting business in new location that includes water pollution and land pollution. This will create bad impact on run business operations and functions effectively in the large market place.

Manager 3: The impact on environment will be adverse if the business policy does not adapt a sustainable way of development and economic growth. In order to business objectives such as building of infrastructure and availing logistics must not lead to deforestation and air pollution. I has to be done in a sustainable way.
Table 4: Primary Qualitative findings from interview
(Source: Created my researcher)
LO3 Present the project and communicate appropriate recommendations
P5 Analyse research and data using appropriate tools
Quantitative analysis
Hence, based on the above findings it can be easily stated employees tend to resign from organizations that provide limited or no respect for their culture. Hence, as influenced by Bolman and Deal (2017), managers often exhibit a lack of knowledge while it comes to the handling of employees from different cultural backgrounds thereby leading to cultural conflicts and impairment of profit margins. Secondly, 80 research individuals expressed distress about lack of cultural competency in business organizations that made them switch their jobs. Thus, as per Brannan (2017), it can be clearly stated cultural competence is gaining immense importance in the workplaces. Moreover, employees tend to feel empowered in the environment of business that operates with a strong culture and diversity.

Figure 2: Fit in organizational culture
(Source: Created by researcher)
The collaborative working culture that stresses the importance of teamwork has emerged in this current research work. However, as per the cultural differences, it can be analysed that in the UK the culture of individualism prevails. As stated by de Leeuw et al. (2016), English people are often encouraged to develop self-confidence at work or to even express their opinions in the workplace. However, the opposite is seen among Chinese culture, preferring collectivism. Chinese employees often seem to be modest and keep silent. Hence, the difference in culture leads to a difference in personalities among the Chinese and English employees. Questions in regards to chances of learning have been asked that produced with shocking results stating that there exists limited scope of learning (Huang and Rundle-Thiele, 2014). The disparity in learning can be observed due to language barrier. Hence, employees were also asked whether they are willing to learn at the compromise of their pre-disposed culture. The answer revealed that employees are not willing to compromise their culture and may switch jobs if culture is not abided by.
There are around 90 of the respondents agreed to the fact that introduction of business ventures will lead in job creation and mitigate employment issues. It will upgrade the living standards of people of the host community. The social condition will improve as the assets can be shared and the availability of resources will improve. 70 of the respondents agreed strongly to employment creation fact and 45 of them agreed that social life will be affected.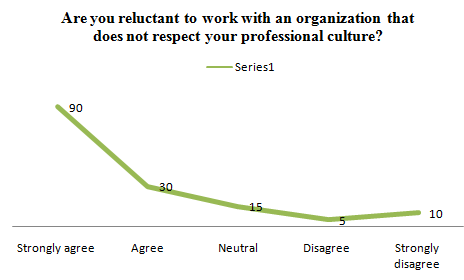 Figure 3: Respect towards own culture
(Source: Created by researcher)
Qualitative analysis
Similarly, on the basis of qualitative analysis it can be easily observed that managers were aware of the need of embracing cultural diversity. However, most managers exhibited limited idea about the ways cultural diversity can create social and financial impact on their organization. For managers a sustainable working environment with enhanced profit margin for company is what makes employees happy and feel empowered. However, as influenced by the perspective of Jayawickrama et al. (2016), happiness among employee is not just limited to high-profit margins; employees tend to exhibit enhanced confidence over their work when provided with empowerment. Hence, ensuring diversity is main objective in an organization; diversity pertaining to culture can be created through awareness that can work on helping people to understand the benefits of working in an organization that embraces diversity.
The managers agree that creation of business and development of corporate sector will improve the employment opportunities of host nation (Jani, Osteen and Shipe 2016). In addition to this, the managers also said that business must embark on the path of sustainable development to develop the business so that it does not impact the environment of the host community in a negative manner.
Alternatively, it can also be stated managers are working hard to ensure collaborative working environment. However, as stated by Jani et al. (2016), collaborative working in an organization may fail to lead to suitable outcomes if managers are not aware of the ways to implement proper interventions to answer problems arising due to cultural differences. Additionally, it can also be stated managers have noticed some good points in different cultures which they want to adopt. However, easier said than done, accepting cultural difference is increasingly difficult provided the management is not flexible. Additionally, the managers were asked about the strategic advantage of opening a new branch in a different company. The managers were all concerned about the advantage that the company would obtain if a new branch was opened in a different company (Jayawickrama, Liu and Smith, 2016). However, the managers failed to put a thought regarding the issues that might arise due to cultural in competencies. The company face various environmental issues and problems which occurs in the large market place. Environmental issues must be overcome by firm manager which assist in dealing with operating and regulating business operations and regulations. The main barrier which are face by an organisation is diversity that are create major conflicts and disputes among employees who work together for reaching with desired goals and targets.
P6 Provide meaningful recommendations and draw an appropriate conclusion
Recommendations
Cultural shock may act as a major setback for River Island. Hence, following recommendations can work in favour of River Island to get over cultural shock due to establishment of business in foreign country:
It can be recommended that River Island is the multinational organization with its headquarters in the UK; however, River Island operates in a number of countries. It is required for firm is to extend their impact which are developed and created employee at the time of establishing business operations and functions in effective manner. They can reach with china market where they are promoting their effective products and services among customers in better manner. It is directly affected by business operations which are host by country. This is measure and evaluate the required risks, that are experienced at the time of managing and operating business operations and functions in better manner.
It can be recommanded that the company must do evaluation and analysis of impact of other country on their business culture, process and environment so that they can make plans and strategies according to that and in better way. Through it they can analysis their competitors and their strategies which help them in developing and designing new and unique strategies for their business culture, process and environment. They can also identify the contribution of River island on the growth of China Economic, it can be done by enhancing business in different countries and attracting new customers according to that which help respective company to enhance their business in international market and increase in productivity and economic.
Conclusion
The exploration of cultural domains in workplace is gathering more attention these days. It is for the same reason big multinational companies have emerged out as the organization that makes use of cultural diversity and readily accepting cultural shock. Hence, it can be concluded River Island can work on training and understanding employee perceptions. Alternatively, it can be concluded that is is absolutely natural and normal reaction to behave awkward to strange surroundings in host country. However, with a bit of guidance and training from managers can get better over the period of time. Companies are spending their time and resources that they can work on absorbing cultural shock and ensuring cultural diversity.
LO4 Reflect on the value gained and its usefulness to support sustainable performance.
P7 Reflect on the value of undertaking the research to meet own learning objectives
The current research project aims on providing enhanced scope of skills that can help me in near future. As per my own perspective I feel that ability to evaluate ideas along with their advantages and shortcomings provided me with skill of critical thinking. However, it should also be taken into consideration ability to solve issues using evidence has also be gained through proper analysis. Hence, I think, following are the skills that I have gained while conducting research studies:
Skills gained

How the skills are gained

Use

Writing and Reading Skills

Effective interpretation of research studies by other authors

Construction of ideas that are well supported.

Understanding the subtext after critical reading.

The research has bestowed me with skill of conveying complex ideas with simple words so that I can explain people in a better way.

Analytic and Critical Thinking Skills

Ability to gain clear idea from complex skills

Ability to understand the influence of perspective based on the facts.

Hence, skills pertaining to critical thinking and analysis would help me to dig deeper into concepts and ideas. Hence, I would be able to recognize my own bias and thus proceed to make sound conclusions based on evidences gathered with care.

Data Analysis Skills

Ability to derive meaning from quantitative and qualitative data

Literacy about numbers

Ability to interpret digits into explanations

The analytical skill can work on providing proper understanding about interpreting the meaning of numbers

Research Skills

Provided me with an ability to gain knowledge pertaining to research management

Made me well-acquainted with extracting important information from longer sources

Provided me with an ability to integrate information gained through resources

In future I can gain knowledge about documentation of research results or carry out market survey to understand the trends.

Presentation Skills

The research helped me in presenting data and information in a lucrative way.

The research also improved my comprehensive and listening skills

By making use of my comprehensive skills I can easily draft the business plans and proposals in my professional career.

Creative Skills

Helped me to formulate original ideas

Helped me to convey my own ideas.

The use of creativity can work on implementing various recommendations in resolving issues in business process.

Cultural and Civic Skill

I gained skills to cultivate my knowledge based on global perspective.

Cultivation of empathy coupled with cross-cultural understanding that can be used to cope up with cultural shock.

In recent future this can work on ensuring better business management. By making use of cultural and civic skill I can understand and respect cultural differences among employees
Table 5: Reflection of skills gained
(Source: Created my researcher)
Experts Are Listening!
Have doubts about academic writing? Clear all of them in a minute! Call the experts and get your answers immediately! Dial Now!Contact Us
CONCLUSION
The work not only provided with the importance of cultural competence within an organization, it worked on reflecting personal views. Hence, it can be concluded that cultural diversity is a two-way endeavour that can act as a benefit for both the employees and River Island. Thus, it can also be concluded multinational companies are making strenuous efforts to ensure establishment of sustainable harmony through cultural competence.
Reference
Ahern, K.R., Daminelli, D. and Fracassi, C., 2015. Lost in translation? The effect of cultural values on mergers around the world. Journal of Financial Economics, 117(1), pp.165-189.
Alhejji, H., Garavan, T., Carbery, R., O'Brien, F. and McGuire, D., 2016. Diversity training programme outcomes: A systematic review. Human Resource Development Quarterly, 27(1), pp.95-149.
Bolman, L.G. and Deal, T.E., 2017. Reframing organizations: Artistry, choice, and leadership. John Wiley & Sons.
Brannan, M.J., 2017. Power, corruption and lies: Mis-selling and the production of culture in financial services. Human Relations, 70(6), pp.641-667.
Caro, F. and Martínez-de-Albéniz, V., 2015. Fast fashion: business model overview and research opportunities. In Retail supply chain management(pp. 237-264). Springer, Boston, MA.
You may also like to read: Ethics and Corporate Responsibility