Question :
Every company has to follow some rules and regulations to function. These rules are set by the government of the country, the company operates in. Preparing an annual report is one of the rules set by the government. Annual reports are prepared on the basis of the annual accounting. The following report covers the financial condition of JB Hi-Fi Ltd and the reasons to make an annual report. Also, it covers some important definitions related to accounting.
Define Accounting.
What do you mean by Advanced Accounting?
Other than the Government policy, why is it necessary to prepare an annual report?
How many final accounts are prepared by a company? Explain them.
Answer :
Organization Selected :
JB Hi-Fi Ltd
Accounting is a procedure of recording financial transactions of a business. Accounting is a field of study and profession which is completely based to carry out those tasks. Today, Accounting is done by every company that exists in the market (Beams and et. al., 2016). For a person, the calendar starts from January to December whereas for a company the financial year starts from 1st April to 31st March. All the accounts of the company are supposed to be closed by 31st March. JB Hi-Fi Limited is an Australian retailer that specialises and sell consumer goods. The retailer is situated in Australia and New Zealand.
Advanced Accounting is based on mainframe technology and features interval accounting, data aggregation and dynamic classification of accounting data. Companies can customize Advanced Accounting for different computing environments and can configure Advanced Accounting to produce specific types of records needed for billing applications.
Annual Report:
A comprehensive report which tells the activities and the profit generated by the company throughout the year. All the companies are bound to prepare and disclose annual report every year that are to be filed at the company's registry. Companies prepare the annual reports to see the progress on how the company is functioning towards the goals (Hoyle, Schaefer and Doupnik, 2018). A great annual report is simple to be read by general public, mixture of all the elements, emotion evoked and full of infographics.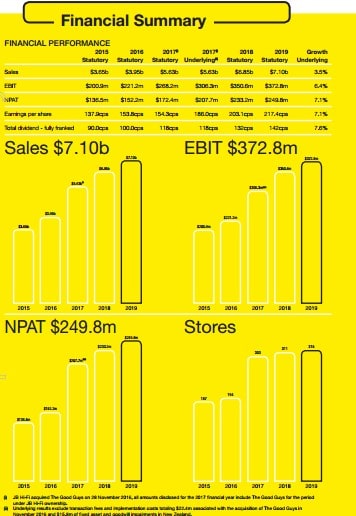 (Illustration 1: Financial Summary of JB Hi-Fi Ltd 2019)

Above is the financial summary of JB Hi-Fi Ltd., here you can see the Sales, Earnings before Interest and Tax, Net Profit After Tax(NPAT) and number of stores for last 5 years in the graphical format which tells how different is the position of the company in all the 5 years. But the annual report needs more than just the financial summary. There are three final accounts which tells us the real position of the company:
Trading and P&L A/c: Trading and P&L account are two accounts merged into one. Trading account is prepared to compute gross profit or loss of the business. And that gross profit or loss is then transferred to the P&L Account so that net profit before Tax can be calculated. Often referred as statement of profit and loss.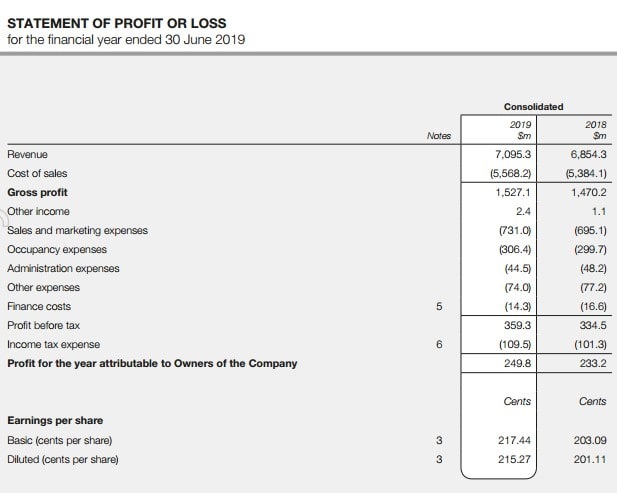 (Illustration 2: Income Statement of JB Hi-Fi Ltd 2019)
Above there is a Statement of profit and loss of JB Hi-Fi Ltd.2019, which tells the amount of gross profit, profit for the year and the expenditure incurred by the company.
Cash Flow Statement: Cash Flow statement is a financial statement that shows the flow of cash and cash equivalents. This statement shows how good or bad a company manages it's cash position. This shows how well a company manages it's cash position and pay for the debts and operations. The cash flow statement actually complements the income statement and balance sheet because of which it became compulsory after 1987. The cash flow statement includes three activities operating, investing and financing activities.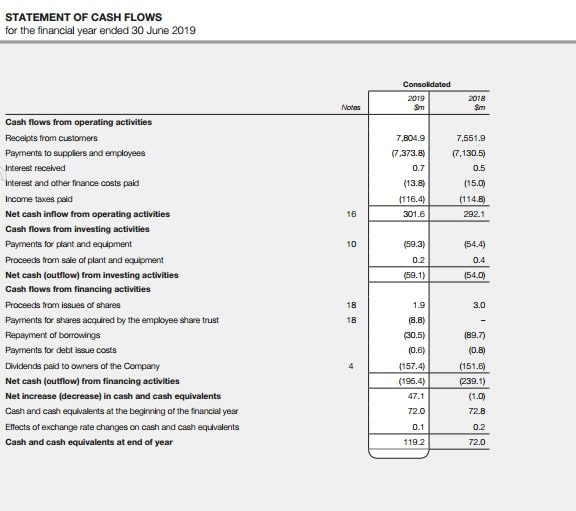 (Illustration 3: Cash Flow Statement of JB Hi-Fi Ltd)
Above there is a Cash Flow statement of JB Hi-Fi Ltd. 2019, which shows the flow of cash and cash equivalents
Balance Sheet: It is a financial statement that shows the company's assets, liabilities and shareholder's equity (Jeter and Chaney, 2019) . It is a statement made compulsory by the government of almost every country that shows the financial position of a company's assets and liabilities. An asset is something owned or controlled by a business or a company (Weygandt., 2019). It can be tangible and intangible. And a liability is something a business owes like a sum of money.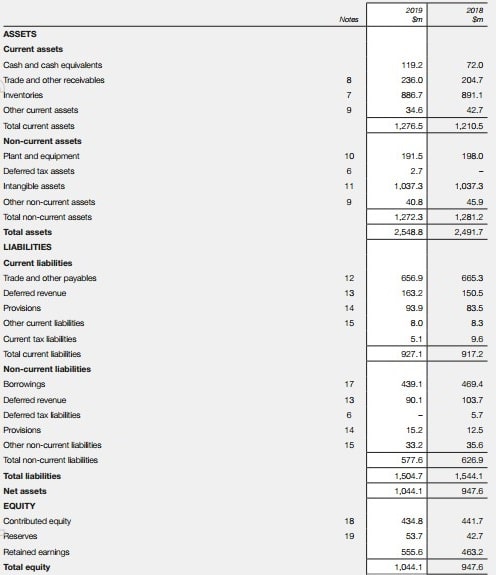 (Illustration 4: Balance Sheet Of JB Hi-Fi Ltd 2019)

Above there is a balance sheet of JB Hi-Fi Ltd. 2019, which tells us the number of assets owned and the liabilities owed by the company.
Also Check: Assignment Writers Australia
In simple terms, Accounting is a process of recording financial transactions of a business. Every company is bind to record every transactions of business in accounts, prepare an annual report and disclose it to the general public so that public can make decisions of investing on their own. Advanced accounting is a part of accounting which ensures that all the accounts related legalities enforced by law on the company can be met. Annual report is one of those legal formalities that a company should prepare and present it to the general public on the basis of which decision of investment is taken.