Introduction
Management accounting plays an important role in every business organization to devise growth plans, policies, and decisions for deriving high success. The purpose of this report is to introduce fundamental concepts of management accounting, KPIs and the MA system for the success of Yewtree Ltd.
A+ Grades @Affordable Prices!
We deliver all academic papers from dissertations & assignments to thesis, & case studies. 5000+ satisfied students, you could be next! Place Your Order Now!
Order Now
Part A
Management accounting is the process of devising plans, designing strategies and making decisions for performance improvement. To attain this, Yewtree Ltd's managing directors have to utilize both the internal and external business information and analyze it properly for making stronger decisions (Otley, 2016). It incorporates two principles, analogy (application of cause-effect relationship in management) and causality (cause and effect relationship). It plays an important role in gathering sufficient funds, its proper management through optimum resource utilization, making effective capital structure decisions and enhancing the competitive strength of a business. However, Management Accounting System is computerized software that collects, store and analyze financial business information like sales data, inventory records, material cost, and others and help managers to make stronger decisions for the success.
Recommendations to Yewtree ltd for installing MA system
1. It will provide great assistance to the managing director of the firm to examine their business performance through getting summarized financial reports and enable them to get smarter business plans and decisions to achieve success (Wagenhofer, 2016).
2. The automotive system of MA helps to eliminate the cost associated with the paperwork as transactions are recorded in computer software. Thus, there is no need to prepare a financial reports as it is automatically prepared by just putting the transactions into the system.
3. It helps in adhering with lean principles and enable managers to plan better for the profitable growth and expansion (Guinea, 2016).
Requirement
In order to implement the MAS, it will require the following stated below:
1. Purchase computer software
2. Funds
3. Training session to train people
4. Suitable IT infrastructure
5. Networking
6. Others
Alison can respond to Mark Pope's query by stating that the MA system is really beneficial for the Yewtree Ltd in comparison to its cost, because of the following reasons:
1. Store large quantum of financial data in computerized software at a high security
2. Helps to integrate and collate the information for the decision-making purpose
3. Automatic system of transactions reporting and summarization (Bromwich and Scapens, 2016)
4. Provide summarized reports quickly and promptly for devising growth plans & policies
Management accounting report is a report that provides information about the business performance and financial status that is essential for planning and decision-making. It is fruitful to monitor the functionality of Yewtree Ltd over the period, so that, right plans, policies, and decisions can be devised for the growth.
Types of MA Reports
Budget report: It provides information about the standard revenue and expenditures that are used to analyze actual performance.
Accounts receivable report: It helps to manage cash flow by making the right credit policy for the customers.
Job cost report: It shows income and expenditures incurred on a specific project and used to determine net profit (Drake, Roulston and Thornock, 2016).
Inventory reports: It provides details about closing inventory available helps in proper inventory management for meeting customer demand at the right time
Accurate financial statement:
1. Income statement: It is necessary for the evaluation of operating revenue and expenses and accurate determination of net profit/loss(excess of revenues over expense).
2. Balance sheet: It is helpful to determine assets and liability balance for the financial position analysis through solvency, liquidity, efficiency measurement.
Yewtree Ltd's managers need to prepare budget setting targets and nowadays, advance budgeting techniques like activity-based budgeting (ABB), beyond budgeting and so on are of great significance for the budgetary control (Kaplan and Atkinson, 2015). ABB allocates revenues of each item to its related activities and provides more transparency.
Advantage
1.Promote teamwork
2.Easier strategic planning
3.Reduce unnecessary expenditures
4.Greater transparency
5.Forecast budget
6.Solving financial problems
Disadvantage
1.Software requirement
2.Need to conduct training
3.Require in-depth understanding & analytical skills
Part B
Assessing the essential requirements of different types of management accounting system
Cost control and attainment of high-profit margin is one of the main objectives of a business organization. In this regard, the system of management accounting such as variance analysis provides deeper insight into Yewtree Ltd about the area which requires high control (Nuhu, Baird and Bala Appuhamilage, 2017). In this way, by taking strategic action within a suitable time frame business unit can attain success.
Explaining different methods used for management accounting reporting
There are several reports such as budget, cost, inventory and manufacturing reports that can be used by Yewtree Ltd for decision making. The budget report is the one that provides deeper insight to higher management about the extent to which a specific department has met its target. Further, cost report helps the company in assessing the expenses which are associated with the particular project (Bui and de Villiers, 2017). By preparing this, Yewtree Ltd can take suitable pricing decisions that aid in the profit margin of the firm. On the other side, inventory and manufacturing report helps in getting information about stock waste, per unit overhead cost.
Evaluating the benefits of different management accounting systems
Management accounting systems offer a high level of benefit to the business organization. Moreover, budgeting provides deeper insight into the personnel about the manner in which they need to spend money and thereby exert control over unnecessary spending. However, when the company fails to allocate suitable funds to the respective department then it may result in de-motivation among the personnel (Leotta, Rizza and Ruggeri, 2017). Further, variance analysis technique is another effectual tool which makes a contribution in the attainment of organizational goals through the means of
Identifying the extent to which management accounting system and reporting is integrated with the organizational goals
Management accounting and the system is integrated with the organizational aims as well as objectives to a significant level (Kaplan and Atkinson, 2015). Moreover, making control of cost and ensures optimum use of finance is one of the main objectives of Yewtree Ltd. In this, cost and budget report help in getting information about the extent to which control on different areas are required to achieve aims.
Calculating cost and preparation of income statement by using absorption and marginal costing methods
The cost can be calculated by Yewtree Ltd through the means of marginal and absorption costing method. Marginal costing method avoids the fixed cost, whereas the absorption costing method considers such amount which preparing income statement in the following way:
Income statement (Absorption costing)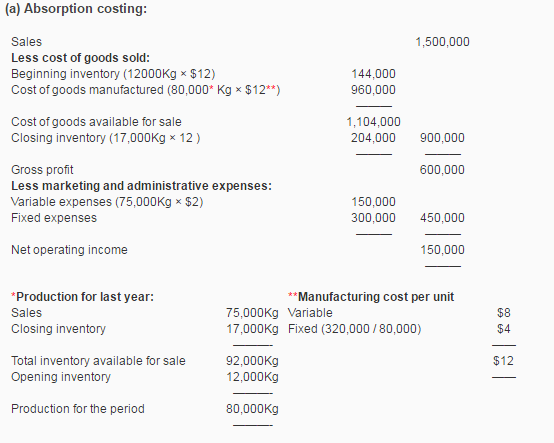 Income statement (Marginal costing)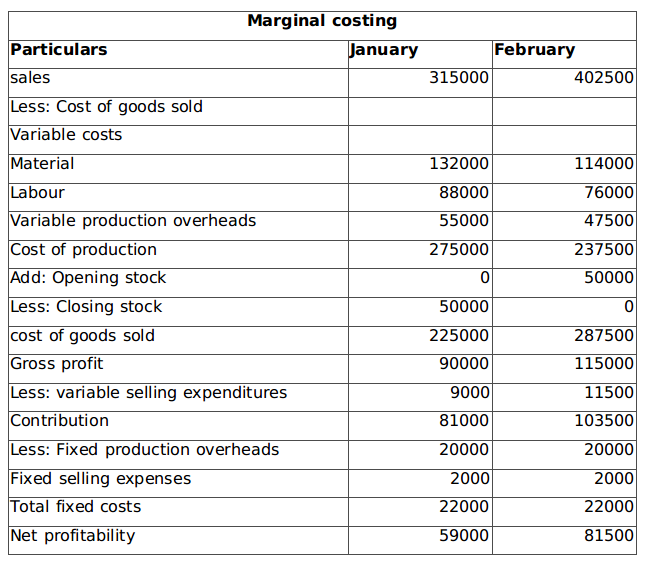 Range of management accounting techniques help in producing appropriate financial reporting documents
A tool of variance analysis provides a high level of assistance to manager Yewtree Ltd in framing suitable budget reports. Moreover, managers can prepare suitable reports only when they have an idea about the cause of deviation. Along with this, the company is also required to prepare cost sheets with the motive to develop a suitable report (Fullerton, Kennedy and Widener, 2014). By considering this, it can be stated that management accounting techniques help in drafting suitable reports.
Financial reports that assist in interpreting data
Income and cash flow statements are the main financial reports that provide assistance to Yewtree Ltd in conducting ratio analysis. It enables a firm to interpret data in an effectual way and present fair view of financial health and performance.
Stating ways in which system of management accounting helps in responding to monetary problems
By conducting variance analysis, the managing director of Yewtree Ltd can assess the areas or departments that account for high control. In this, by assessing the causes and thereby taking effective measures Yewtree Ltd can respond to monetary problems more effectually.
Assessing the extent on which system of management accounting leads to sustainable success
Management accounting contains several tools such as marginal costing, budgeting, variance analysis, etc that facilitates effective decision making and there leads better results or outcome (Fullerton, Kennedy and Widener, 2013).
Conclusion
From the above report, it has been concluded that the management accounting system provides the business unit with a highly effectual framework for decision making. Besides this, it can be inferred that Yewtree Ltd should use the absorption costing technique which in turn facilitates effective decision making.
References
Bromwich, M. and Scapens, R.W., 2016. Management Accounting Research: 25 years on. Management Accounting Research.
Bui, B. and de Villiers, C., 2017. Business strategies and management accounting in response to climate change risk exposure and regulatory uncertainty. The British Accounting Review.
Drake, M.S., Roulstone, D.T. and Thornock, J.R., 2016. The usefulness of historical accounting reports. Journal of Accounting and Economics.
Fullerton, R. R., Kennedy, F. A. and Widener, S. K., 2013. Management accounting and control practices in a lean manufacturing environment. Accounting, Organizations and Society.
Fullerton, R. R., Kennedy, F. A. and Widener, S. K., 2014. Lean manufacturing and firm performance: The incremental contribution of lean management accounting practices. Journal of Operations Management.