Why assignments scare you (and ways to knock down the fear)
Assignments Can Scare You
Assignment writing can bring sweat to anybody's palms; most plain and simple reason for this is lack of knowledge. As a freshmen, you witness a variety of changes in your lifestyle and you are mostly on your own in the first year of graduation course. Long classroom sessions and loads of books and journals to rea leave you perplexed on the point of how to deal with all of it.
New ways of learning
Adaptation to newer ways of learning is a big challenge. Lot of self-study and less dependence on the inputs from the professors sometimes make it difficult for the student to cope with the changing work routine. Thus, there is a slight hesitation in the mind of the student on how to go about writing an assignment with minimal inputs. Homework in college life is not restricted only to copying what teacher dictates; it goes deeper in regards to exploring the topic.
Hint: Make it a point to read more and more after classroom session or whenever time permits. Familiarity with the topic can reduce your fear to a considerable extent.
Uncertainty about what will work
Assignments hold lot of weight for a college student. So, there is a constant knock-knock in his mind about what will work. It takes away the confidence while writing assignment and student is bowled over by the idea of how he is going to impress his reviewer using his writing skills. Since, the guidelines are not so clear, they find it difficult to ascertain the properties of an impressive assignment in one go.
Hint: Make the habit of going though past work before starting to write the assignment. You get a clear view of what has been accepted in the past and so you get confidence by giving proper shape to your assignment.
Increasing complexity of the subject
Topics become more and more complex with increasing level of difficulty and this enhanced complexity contributes to the fear associated with assignment writing. Students may find it difficult to comprehend the topics in one go and how they are going to write on something that they are not able to grasp fully creates an air of low confidence, and ultimately fear.
Hint: Reading and revising is important to ensure smooth completion of the writing project. You may win over the complexity of the topic once you have mastered it and this is possible only by hard work and perseverance. So, practice more and more till the topic becomes easier as well as interesting.
Making an assignment writing an easier activity is the sole aim of various online assignment help services. If you find that assignment writing is a daunting task, you can seek help from assignment experts at Global Assignment Help where they can write all kinds of assignments on all possible topics with great ease.
Students also like to read the following blogs:
Lowest price
USD 7.13
Get A+ Within Your Budget!
24/7 Customer Support
100% Customer Satisfaction
No Privacy Infringement
Quick Services
Subject Experts
Innovative Documents
FREE Tools
To Make Your Work Original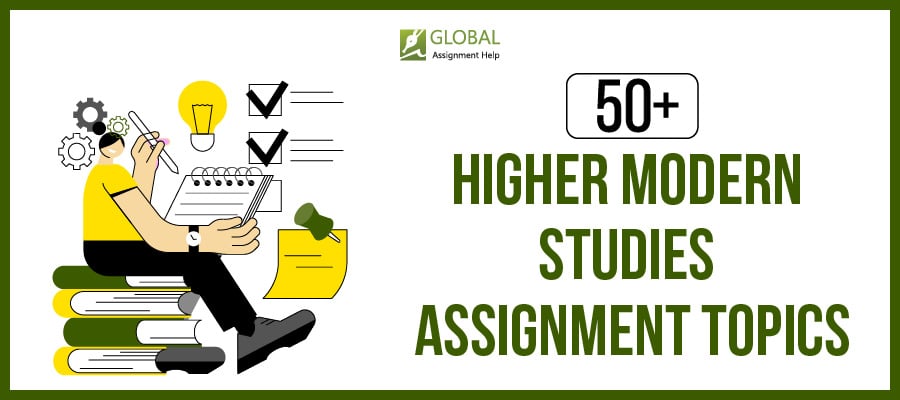 50+ Higher Modern Studies Assignment Topics to Ace Your Paper!
26-09-2023
161
13 minutes