Learn a Few Tips To Face The Hurdles of Your Life
Life is a game; you have to face obstacles to achieve your goals and follow the right way to attain what you desire. There are times when things can go wrong in life, but it doesn't mean that you should stop trying. Don't escape from the challenges as denying the reality of life will not change the situation. When a problem occurs, don't blame it on your destiny, maybe you are the reason behind it. Every single person has a different type of difficulties in their lives. So stop blaming others and start focusing on your issues. Let's discuss a few tips that you can utilise to face the challenges of your life:
Work On Your Mistakes: Mistakes are the best things to learn from. Try to concentrate what mistakes you have committed and what you experienced from them. If you are a person who takes lesson from mistakes, then don't worry as these hurdles will not affect you. Just accept your mistakes honestly, don't hesitate, work hard, and you will be able to confront the obstacles of life quickly. Making mistakes does not mean that you are a failure, it implies that you are in the learning phase.
Focus On The Future: Don't think too much about the things you can't change, use that time in building your future. If you are stressed about your past mistakes, you should know that there is nothing you can do to modify them. It is better to concentrate on your present and create your future. You need to move forward and do what you want in order to achieve your desired goals. There are only two ways either you can stick with your past, or you can build your future. It depends on you which path you want to follow.
Work Hard and Don't Blame Your Destiny: It is rightly said that "Your choices and actions determine your destiny and fate." We will get what we paid for. If you are facing issues in your life, then you must have done something wrong from your side. You are the only person who is responsible for your destiny. So now it's time to stop blaming others for your deeds and start working hard to make things right.
Do Not Forget To Enjoy Life: Life comes up with different experiences and numerous ups and downs, but still one should try to enjoy one's life as much as possible. Celebrate every single moment of life. It gives you amazing experiences to learn from and makes you a better person. Live your life to the fullest and appreciate what you have. Don't miss a single opportunity which life offers you and go with the flow.
Some people meet every challenge with confidence, while others struggle to overcome them. Learning from the different phases of life and facing challenges will make you stronger and more optimistic. Even if you have some academic problems, don't avoid them rather try to work on them and if still, you are unable to work, then let us handle your assignments. We, at Global Assignment Help provide you with the best assignment Writing Service from the experienced academic writers.
Lowest price
USD 7.13
Get A+ Within Your Budget!
24/7 Customer Support
100% Customer Satisfaction
No Privacy Infringement
Quick Services
Subject Experts
Innovative Documents
FREE Tools
To Make Your Work Original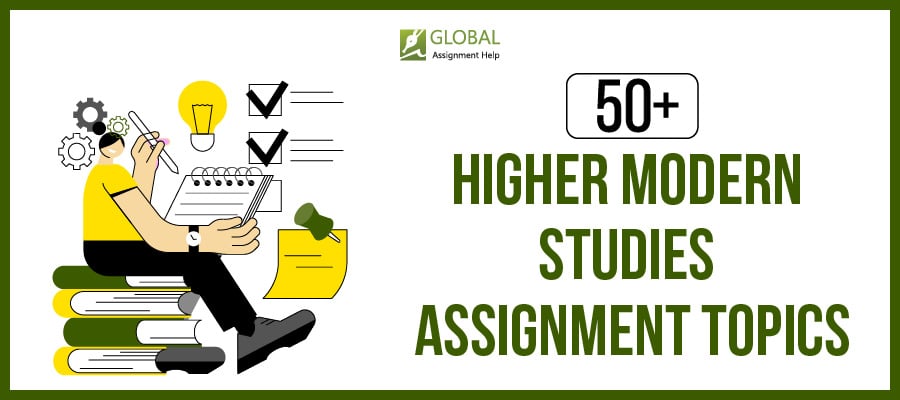 50+ Higher Modern Studies Assignment Topics to Ace Your Paper!