Want to Improve Thesis Writing Skills? Structure to Editing All Explained in One!
Students in higher education are required to work on long documents where they have to discuss in detail about a selected topic. It will require them to do detailed research work, extensive writing, data analysis, and convincing the reader with arguments about one's theory. The thesis is one such document. Sometimes students find it hard to manage time for such work with other activities. They look for thesis writing service online to hire professional writers to sort their situation out.
Here we are providing you with detailed guidelines to help you out with your thesis, but let's first understand the basic definition.
What Is a Thesis?
It starts with a thesis statement where you propose a theory. It is not a mere title, but it reflects your opinion or understanding of the subject. By reading a thesis statement, a reader should understand that they have got the basic idea of what the writer is going to talk about. After that, comes several chapters starting from the title page to the appendix. It is a long document, and every chapter has its own importance, which cannot be ignored. It is a must for the writer to keep the arguments focused on the thesis statement throughout the document. Any deviation can result in the user losing interest in your theory. You must include other point of view regarding the topic in it and can provide counter-arguments negating them. In the end, the goal should be proving your theory above anything else. This is done by following a standard structure so that the document remains reader-friendly. Let's take a look at it.
Structure of a Thesis
The chronology of chapters is fixed in a thesis, but chapters can be included and removed based on their requirements, according to the experts of the thesis writing service Australia. Most commonly a thesis should include the following chapters;
Title Page: Along with the main title, it includes a subtitle, name of the author, field of study, professor, university of the student, research guide with all their email addresses.
Abstract: It is the first page that a reader reads in your document. It should contain major statements like why you started the effort, what have you found and what is its implication. It should be precise and readable. It should create curiosity in the person to read further. It can contain some major data points that are crucial for your final observations.
Table of Contents: It is the outline of your document with headings and subheadings listed along with page numbers. It helps a reader in searching for information later. A good table of content also lists the page where a subheading or section is going to end.
List of figures: This section includes all the figures used in the document with page numbers. The figures here can be given small titles to help one understand the relevance.
List of Tables: This section includes all the figures used in the document with page numbers. The figures here can be given small titles that help one understand the relevance.
Introduction: Though it appears at the beginning of the document, mostly it is written when everything else has been completed. It should introduce every aspect of the title and should also contain some interesting findings from your research so that the reader is drawn in from the start. Present the goal of your paper, the previous work done, areas you have covered, and what the reader can expect out of it.
Methods: It contains the information regarding your research and data collection techniques in such details that others can recreate it. This establishes that you have used real data and have not cooked the numbers up. It should also have the techniques of analyzing data, assumptions, and limitations. It is a detailed section, but don't go into minute details of each and every object you have used. You can refer the reader to the appendix section for that.
Results: Here, you list your findings after a complete analysis of data. List whatever observations you have made with every graph, table, or picture. Do not start discussing them yet that comes later.
Discussion: It should start with your biggest finding throughout the research. It is important to build a foundation for the reader. Discuss each finding in detail but keep your observation separate from inferences. It should be clearly mentioned at the beginning of each sentence, whether you are sharing and observation or inference. Discuss the work previously done on the matter and analyze them critically using your findings. Mention both positive and negative findings with regards to your thesis statement and also discuss in detail why you think a particular result came negative from your theory. The discussion should be the core of any thesis and should be done without your personal biases based only on findings. Don't try to bend the results in your favor, state it as it is.
Conclusions: State the single biggest take away for a reader from your document. Discuss the implications of your finding and what the future holds.
Recommendations: Suggest ways in which things can be changed in the future for better or worst. Suggest what you think is the right path to take to improve from the present condition. Do not become a preacher but suggest changes based on your findings to give it a context.
Acknowledgments: List the people that you think made an important contribution to your study. If you used test subjects, list them too. In case you needed financial help for research resources or field study, mention them too. Your professors who guided you through the hurdles should be given priority.
References: It takes a lot of research for such documents, and one tends to forget from where exactly he used some theory or principle. Providing references to every data point, every theory and every information is important because it provides credibility to your work, and a third person can go and check it for verification.
Appendixes: Big data analysis, source of information that is publicly not available, any mathematical number crunching, list of equipment/software used, customized settings for these pieces of equipment, and also put raw data that you have collected, including survey forms.
This is the basic structure that is followed by many students. One other query that baffles many is how to present the data one has collected in the course of their research. Below are a few ways of presenting data and their features, as explained to us by the online thesis help team.
Data Presentation
There are two types of data in a thesis, quantitative and qualitative. One needs a simple but versatile means to represent this data. The use of charts is popular among students as they are simple to create and are flexible in use. One thing one must understand that you never put your raw data in your thesis's main body. Use the appendix for that if needed. Here are some popular ways for data representation: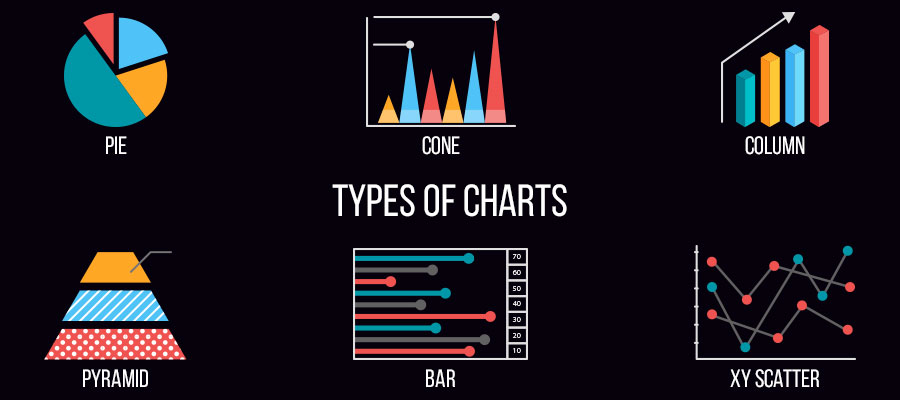 Pie Charts: They are best used when you have to represent the percentage distribution of your data like the percentage of people in different age groups from your whole sample. They lose functionality when the number of different groups is more than 7-8. You can club groups with small percentages under "˜others' slice if needed.
Line Graphs: They can represent the progression of certain elements over time or with an increasing factor like age, months, years, etc. in your study. The advantages of line graphs are that on a single graph, you can fit in multiple elements and show comparison and relation between them. For example, you can represent with increasing age how the number of sleeping hours change and the number of hours spent in physical activity on the same chart. This can explain the effect of physical activity on sleeping hours. You can put calorie intake, water intake, happiness index, anxiety level, and others on the same graph.
Bar Graphs: Changing levels of different elements over time can be represented easily with this with a side by side comparison. Like you can compare changes in the unemployment rate over the years with consumer spending, household savings, loan applications filed, etc. in the same graph and showing a relation between them. But, don't fit more than 3-4 elements in it, it will make it hard to understand.
Bubbles/Circles: They can represent quantity, which you can compare with sizes of different bubbles. They can be put on a map to compare the quantity of an element in different regions.
Area: These charts are used when the product of both the axis is also a relevant data point, like when you have to compare the number of units sold for different items over 5 years, the area under the curve represents total items sold and presents an overall visual comparison.
There are other types of charts too, with different qualities like Stock, Doughnuts, Radar, XY Scatter, and a combination of these. When these charts have represented your data in an easy to understand visual format, it also becomes easy for you to discuss your observations and results based on them. Few things that you need to remember in this chapter are as follows.
Discussing Observations and Results
This chapter is all about the analysis of the data collected and making observations about your finding. It should be done while keeping in mind your audience from different fields of work or from the same field but with different techniques.
The discussion should follow a fixed structure for different sub-topics that you have for discussion. Changing patterns with each section can confuse the reader. The pattern can be as follows:
Explain the subtopic and its relevance to the main topic.
List your research approach, its parameters, and its limitations.
Include the analyzed data.
Share your findings and observations, give some exceptional cases that you came across.
Present your results in an unbiased manner.
Discuss them, keeping in mind your sub topic and main topic with citing its implication and importance regarding the whole document.
List out, if any, negative results that deviated from your thesis and explain your understanding about them.
You can combine the main points from each subsection when you are writing a conclusion for the main thesis.
This section must include previous texts in the same area of work, and one should discuss their demerits and assert why your research is much more relevant and comprehensive than others. The importance of your thesis should be understood by the reader, and contribution should be realized.
After completion of the document, reviewing it thoroughly is important. Small errors, data misrepresentation, the flow of the structure, and other things are covered in editing. Grammatical and sentencing errors are covered in proofreading.
Editing and Proofreading
Take a few days off, away from your work before you start this process. It needs a relaxed mind for this work, and a clean slate is important to find mistakes in it. For editing and proofreading you need to keep in mind;
The logical flow of thoughts.
Avoid repetition of data points.
Cross-check your data and data placement.
Check all the graphs and tables for the accuracy of the location.
Match their order with the order in the list of tables and graphs.
Clearly state acronyms when used the first time.
Do not insert points that are irrelevant for your thesis.
Proofread it several times.
Use a spelling checker for unintentional mistakes and grammar checker for sentence formation.
Keep your sentences small and avoid run-on sentences.
Keep your tenses consistent.
The subject and verb should agree in quantity.
Take the help of a friend or colleague for comments.
It is always advised to get your document edited and proofread by others or professionals. It is easier for them to point out small mistakes that may have skipped your eyes. They can also comment on it qualitatively too. Professional thesis and dissertation help can be found online for your assistance as these documents are long and can take a lot of your important time.
You may also like: How to Write a Dissertation? Complete Guide to Students
How Global Assignment Help is Best Choice for Thesis Writing help?
Students are busy creatures involved in various personality and relation-building activities. Socializing is an important part of student life. This type of coursework can become a burden for you when you have so much more to do. You may not like to miss out on important college festivals, competitions, events, and cultural nights because of this work.
Here comes in the help in the form of professional writers and editors of Global Assignment help for all kind of thesis writing service in Australia. We have been approached by thousands of students in the past decade for online thesis writing help and dissertation help. The quality of the documents that we have provided resulted in improved grades for many students. With our online thesis help, you also get some perks listed below for FREE:
Topic Creation
Outline
Unlimited Revisions
Editing/Proofreading
Formatting
Bibliography
You get all these features for free when you opt for thesis writing service with us. That is why we have been rated the best online thesis help provider by students for years.
Lowest price
USD 7.13
Get A+ Within Your Budget!
24/7 Customer Support
100% Customer Satisfaction
No Privacy Infringement
Quick Services
Subject Experts
Innovative Documents
FREE Tools
To Make Your Work Original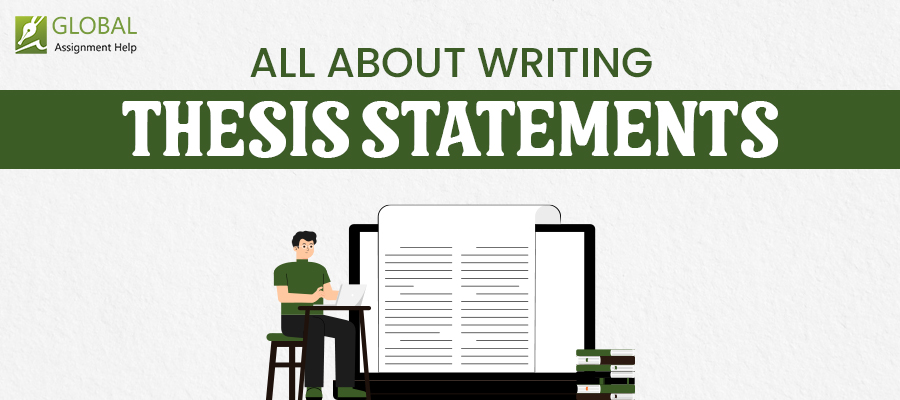 How to Write a Thesis Statement that Covers Every Essential Aspect?
06-07-2023
322
14 minutes