6 Times When Technology Went Complete Bizarre
Although computer technology has been a boon to the human kind in many ways and has solved half of our daily life problems, it has sometimes been a big failure as well and has lead to some serious unwanted situations which cannot be ignored. Here in this write-up, we have discussed some of the bizarre incidents that technology has caused over the course of time. Go through them to know more:

1. Human Death Caused by Robot
Artificial Intelligence has made our world an easy place to live, but sometime in 1979 during the initial phases of its development, an official who worked at the Ford Motors was killed by a robotic arm in an unfortunate incident. Being a machine, it went on to complete its work without realising what has happened, half an hour after which the body was recovered. Another similar case happened in 2015 when a professional machine technician named Wanda Holbrook was killed while repairing an industrial robot.
2. Google Homes Chatting With One Another
You might be knowing that Google home has this great feature where you can ask the assistant to search or find something for you on the Internet. However, this would be alright till you are asking relevant questions, otherwise things might turn out to be little weird. At one time, two Als Google Home were made to talk to each other, and everything was going on right until they start talking rash on certain points of disagreement.
3. The Blue Whale Game Killing Children Around the Globe
This has been the recent case all around the world where significant death rates have been calculated. This game became so addictive that it urged the gamer to kill himself in order to win it. Although it is not recommended to indulge yourselves in such games, there have been cases where children have shown psychologically misleading characters which have lead to their death.
4. Self-driving cars which lead to death
Self-driving cars are the recent innovations and are best for those who do not know driving. However, in an unfortunate incident in the year 2016, a man named Joshua Brown who owned Tesla's autopilot system got killed as the system failed to apply brakes when it was needed. Also, there have been certain other technical issues and this product has been noted to steer dangerously.
5. Wiki Bot Feuds Which Has Lead to Spoofing
The best and worst thing about the Wikipedia pages is that they can be edited by any anonymous person, the consequence of which has lead to editing wars and varying opinions among the people around the world. Wikipedia bots, in particular, are meant to make changes in the linking process between the pages and fixing breaks, but they have been fighting with each other for the integrity purposes. One such case happened when two bots named Xqbot and Darknessbot fought over editing issues for around 3,600 articles which lead to a thousand of edits.
These were some of the incidents when technology has severely affected the lives of the people and caused unwanted incidents which have lead to serious issues that remain unsolved in this field.
We, at Global Assignment Help, are highly dedicated to providing the best online assignment writing services to the students based in the US, UK UAE, Australia, and several other countries across the globe. We have helped out a large number of students at different academic levels who have praised us for our online assignment writing services, which can be reckoned from the reviews that they have given us for our orders. You will surely not be disappointed with our services and would get the assurance of securing top-notch grades. So, take our services today and get amazing discounts!
Related Blog: Amazing Technologies Which Will Transform the Medical Science
Lowest price
USD 7.13
Get A+ Within Your Budget!
24/7 Customer Support
100% Customer Satisfaction
No Privacy Infringement
Quick Services
Subject Experts
Innovative Documents
FREE Tools
To Make Your Work Original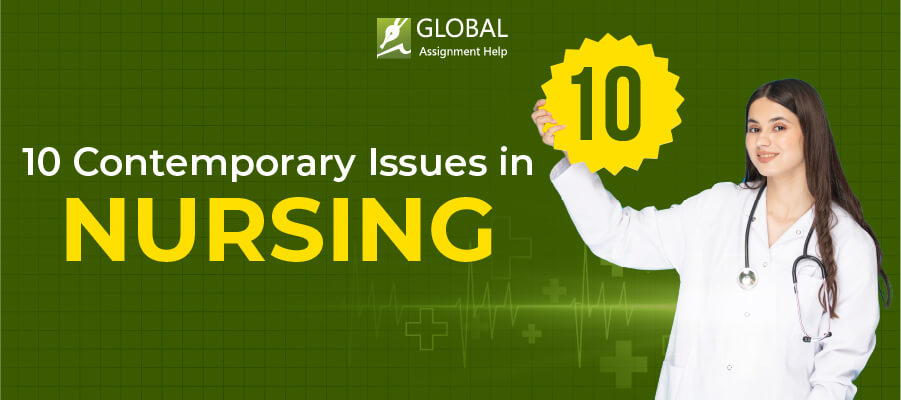 10 Contemporary Issues in Nursing Practise and Study
01-09-2023
291
14 minutes