7 Hobbies That Can Help You be a Smarter Student
Table of Contents
Getting up, going to the class, completing the assignment writing task, etc., can become boring if repeated daily, and this is the reason why everyone needs a hobby. Hobbies can develop our passion in life. It is seen that some scholars ask for the assignment help because they find their hobby much thrilling than studies.
The hobbies are also proven to improve the productivity and the smartness in the college-goers. So you should have a hobby or two! In case you are looking out for a new hobby to continue, then read this blog and know about some of them that will help you to improve your skills.
Cooking
It is one of the most popular hobbies and the one that every individual must try. In studies, you are needed to concentrate deeply on efficient planning to complete your academic documents. In the same way, cooking requires you to entirely concentrate on the food and make plans before their implementation.
Painting
Painting can enhance your visualising skills, and it is also proven beneficial for unleashing the creative side in you. This means you will not need to put in extra efforts for creative tasks assigned in academia as well.
Writing
This is considered the most productive of all the hobbies. Also, it improves the writing abilities of the students which can help them further in their assignments and for handling other academic documents.
Reading
One of the world's most common hobby is reading. If a scholar is indulged in reading, then (s)he is exposed to new words and sentences. This means that they can easily understand the context in which the words, sentences and paragraphs are used and eventually it can help them in writing better.
Playing an instrument
Music has positive effects on the university students. It is seen that the scholars who play instruments can perform multiple tasks quite efficiently, as for playing instruments also they need to have synchronisation between the brain and hands. This helps them in academics as well.
Walking or Running
Even if we keep aside the fitness level, walking and running are quite beneficial to everyone. It can help you clear your mind, and it releases a hormone known as endorphin, which is good for your health.
Playing video games
Yes, these are considered a waste of time, but the ones constantly playing the video games have better qualities than others. For example, they have higher concentration levels, they try again and again even after failing, working in a team to accomplish a common goal, etc., which are useful traits.
These are a few hobbies that you can pick for yourself and boost your productivity in academia and non-academic tasks. Choose one and start working on it from today itself!
If your pending academic documents with upcoming deadlines are making you restless and you cannot concentrate on anything else, then instantly connect with us. We, at Global Assignment Help, have the most efficient team to compose an academic document along with the experienced professionals for proofreading and editing so that your documents are perfect and free from errors.
You can also take benefits of some incredible guarantees when you choose us as your assignment writing provider. Place your order now and get the best seasonal rebates!
Read this blog: Have Smartphones Destroyed Our Generation?
Lowest price
USD 7.13
Get A+ Within Your Budget!
24/7 Customer Support
100% Customer Satisfaction
No Privacy Infringement
Quick Services
Subject Experts
Innovative Documents
FREE Tools
To Make Your Work Original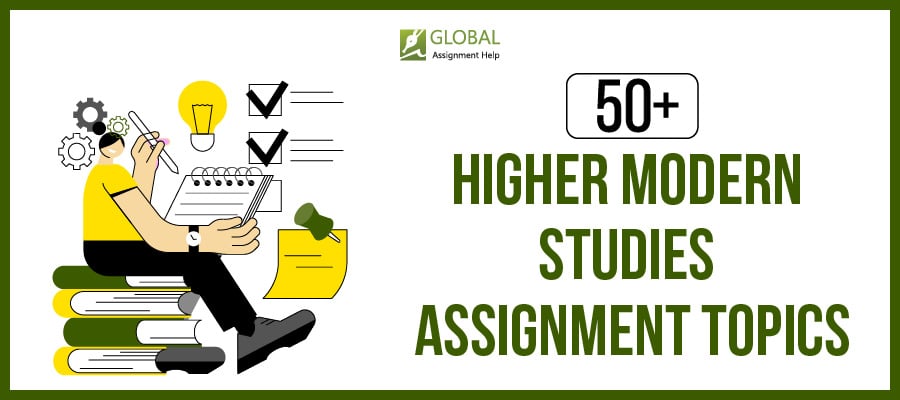 50+ Higher Modern Studies Assignment Topics to Ace Your Paper!