5 Steps That Will Lead You to Become a Pro-Active Student
Every student strives for good grades, but some cannot attain their desired goal because of the lack of concentration on certain factors like work experience, extra-curricular activities, etc. In most cases, the students achieving good grades are found taking an assignment writing service. This practice is becoming quite popular in the university students of the UK, US, and Australia.
No doubt, these services guarantee you the top grades, but some other measures will help you boost your productivity which will have a clear effect on your overall personality as well. Here goes the list of do's and don'ts for the same:
Take proper breaks
While studying your subjects, do not forget to take small breaks at regular time intervals as the efficiency of the brain decreases considerably while working for elongated hours. By studying continuously, you can obviously read more, but will hardly remember anything. Apart from this, take a small break from academia itself. Get yourself indulged in small activities that upgrade your skills. Don't be the one who completes the degree course, but lacks experience in any other field.
Say no to much fiction
This doesn't mean that you should distance yourself from fiction books, invest time on them too. But, the focus should be on reading those books which have purpose to explain and inspire. Look out for the books that enhance your skills or guide you regarding your career.
Get company of active students
You would have witnessed some students that excel not only in studies but in other extra-curricular activities as well. Find some of those in your university who have diversified interests. You can seek their assistance, and listen to what they have learned in all those years. This will surely transform you into a better version of yourself.
Kill the social media time
Socializing has become a basic necessity; this doesn't mean that a major portion of your time should be invested regularly on social media websites. You can download various apps that prevent your gadget from generating notifications. By cutting down the time socializing online, you can devote some extra minutes to your grooming.
Be organised
This should be the priority as the amount of clutter is directly proportional to the distractions you are exposed to. Everything important can be moved to the Evernote account(an online service). The number of unread e-mails are surely something you need to bring down to a minimum; this will reduce the distractions while you are indulged in some activity.
Hope this write-up has made you aware of a few tactics that can surely make you a "pro" among the fellow students. These steps along with efficient use of smart gadgets and apps will surely help you become a pro-active student in your university. Other than this, the students residing in the UK have the special privilege of getting the aid just by saying - "I need the best assignment writing service in the UK." There are plenty of them ready to serve at your doorstep, but only a few will generate the desired result. So, be wise while selecting your service provider. 'Global Assignment Help' is the best one to take assistance from if you run behind perfection.
Lowest price
USD 7.13
Get A+ Within Your Budget!
24/7 Customer Support
100% Customer Satisfaction
No Privacy Infringement
Quick Services
Subject Experts
Innovative Documents
FREE Tools
To Make Your Work Original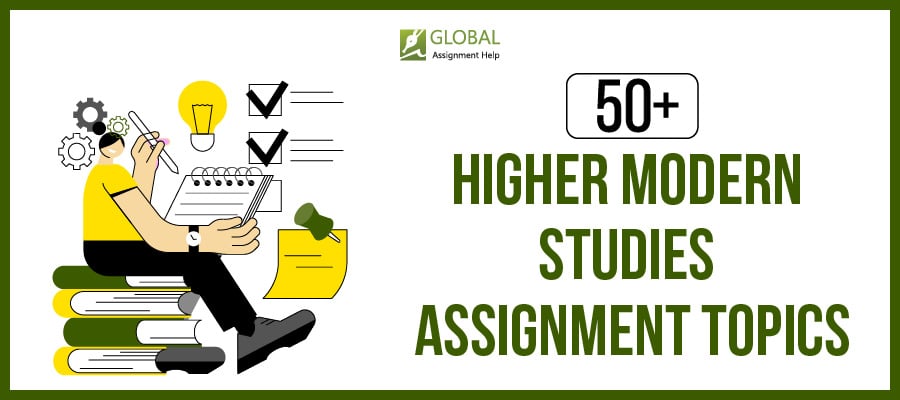 50+ Higher Modern Studies Assignment Topics to Ace Your Paper!
26-09-2023
143
13 minutes