How to Start a Speech? Strategies to Capture Listener's Attention!
Well everyone says, "The first impression is the last impression." And that's true too. No one gets a second chance to prove themselves. The same goes for your speech.
One of the hardest things for the students is to know how to start a speech. The opening line of a speech makes the first impression on the audience. But many students fail to impress their audience. They need some interesting ways to start and write the speech to have engagement with the listeners. So, they have to write the paper in some interesting ways.
But the opening line helps you to hook the audience and capture the audience's attention throughout the speech. So, there are ways to make sure that you nail it every time. Let's explore the ways to start the speech.
How to Start a Speech to Grab the Attention of the Audience?
When it comes to inspiring and influencing the audience, your speech's most essential part is the opening. If your starting line is boring, no one would like to listen further. So, there are 5 ways through which you can get the audience on your side without any hassle. Let's read further and get a detailed description of these ways.
Quote: When you start reading this blog, you must have seen one popular quote that matches the topic. It is one of the ways to grab attention. People always feel motivated and inspiring when they hear quotes. Starting with the quotes helps to set a tone for the speech.
Rhetorical Question: A rhetorical question is one of the best ways to get your audience to engage in your speech. It is a powerful communication tool that helps in grabbing attention. Also, it helps to control the speech and know the audience's thoughts. So, a good speaker knows how to make your audience move with your message.
'What If' Scenario: Creating a what-if situation helps in drawing attention towards your speech. It helps in putting the audience in a situation, like imagination. So, make sure your what-if scenario gives an amazing outlook to the audience.
Personal Experience: Another best way to start your speech is, share your personal experience to make the audience feel connected. By telling your experience, it gives the feeling that the audience is listening to the story. Everyone loves to hear the story. So, this will surely help you to gain the attention of the listeners.
Humor: While you may not be able to make the entire speech humorous, but the starting can be. But make sure you carefully use the humor line in the starting as it can offend the audience. This way, you can make the listener aware of your saying. So, using a humor statement is a genius trick to get your audience's attention in your speech.
These are the ways through which you can start writing your speech. After having a good start, you must be feeling that most of the audience gets bored in between the speech. Due to this, they lack interest and do not hear till last. So, here are 3 ways from the concept to completion to make your speech memorable.
Also Check: 6 Stages of Gibbs Reflective Cycle
3 Memorable Ways to Write the Speech! (From Concept to Completion)
In the speech, there are 3 main parts; introduction, main body, and conclusion. You do not just have to focus on the starting part. You have to focus on all three parts. There are 3 ways that would make these 3 headings interesting. So, let's move further.
1. Speech Introduction
You have only a few minutes to make your starting memorable as by this time your audience will judge you for your performance and decide whether to listen to the entire speech. So, there is an intro model that would help you to grab attention- That is interest, needs, timing, route map, and objectives.
2. Middle of the Speech
Speeches are listened to get information on various topics. Further, the main body is where the majority of information is given. In this, the audience gets to know about the subject and the reason behind conducting the speech. Here you need to explain the arguments with the evidence or examples.
How to write a speech can be a difficult question for many people. For that, the simplest way is to state the 3 main points on which you are going to talk. After that, explain each point with a simple, memorable, and meaningful description. This way, you can keep your audience interested and grab their attention in the middle of the speech.
3. Methods to End the Speech
After holding the attention of the audience till the mid of the speech, now it's time to give some statements that leave a lasting impression. Here you need to summarize the key points, provide some further ideas to take away with them. In the last, thanks to the audience to give their time to listen. Moreover, to end the speech there are some methods that would help you to conclude the statement. Those are Quotation Close, Bookend Close, and Open question. These are the methods that will really help you to close your speech without any hassle and would give a lasting impression.
Read Also: 30+ Informative Speech Topics to Keep Things Interesting for You!
Now, you have learned the ways to write the speech, let's have some speech examples. Many of you still might be confused about how to get started. For them, here are some speech examples to assist you in understanding how the other speeches are written.
3 Interesting Speech Examples to Leave a Lasting Impression!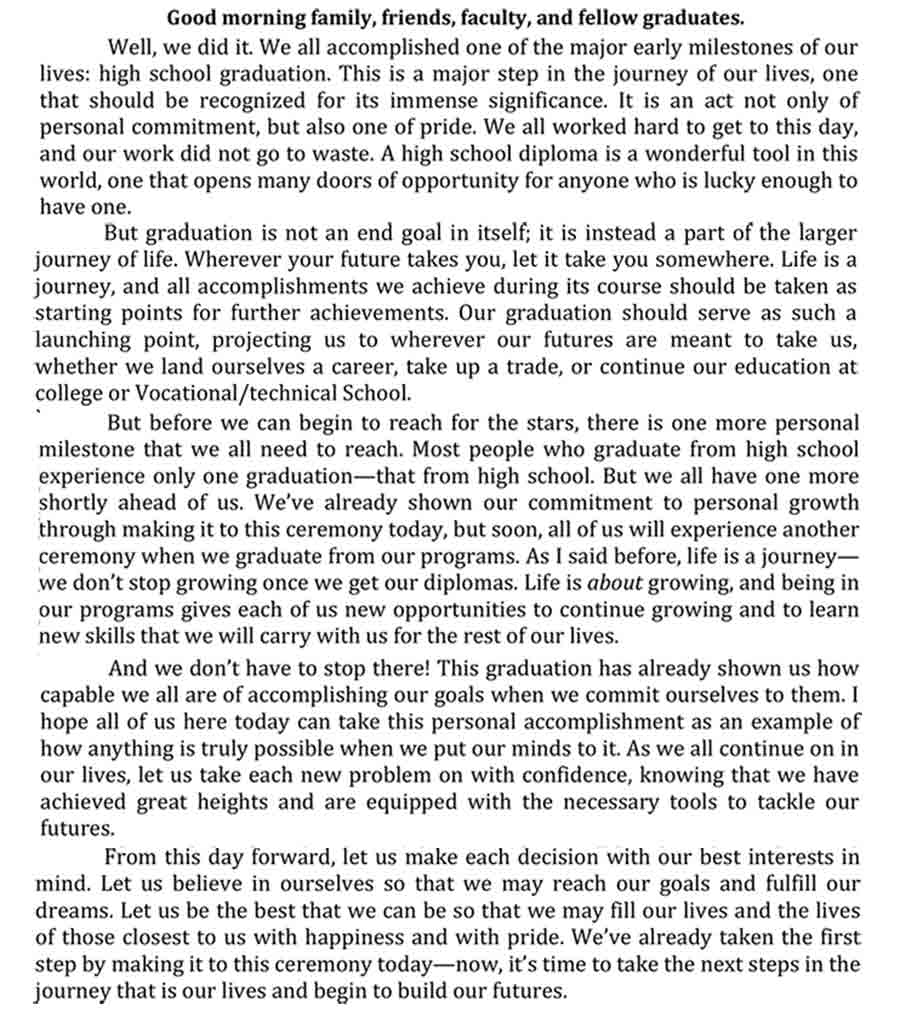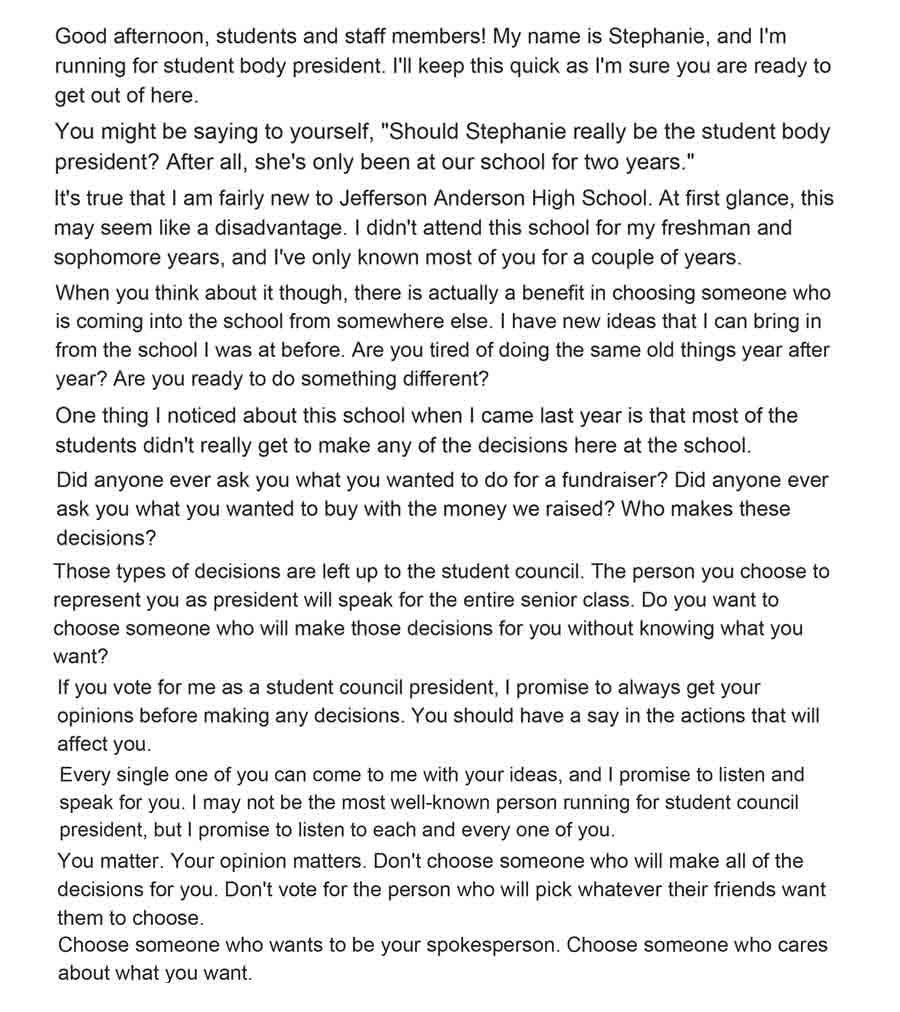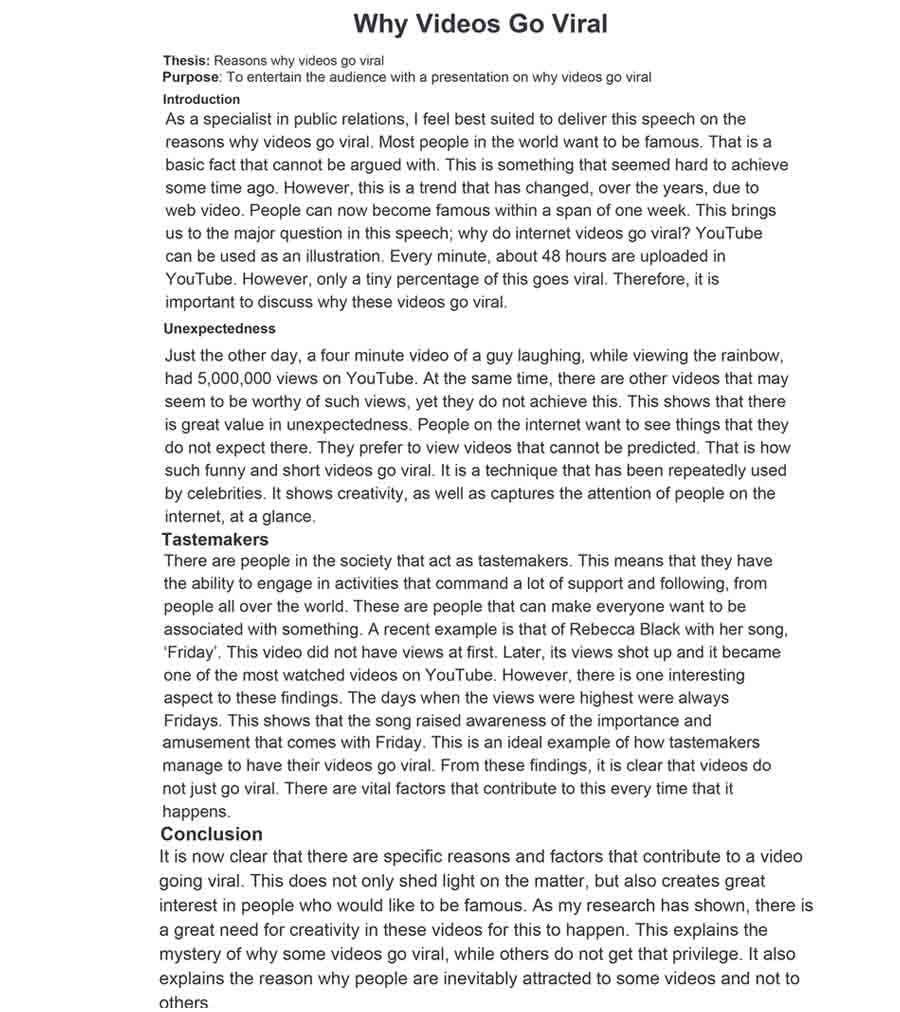 Unable to Write Speech Introduction? Get Experts' Help Right Away!
After reading multiple examples for speech, if you cannot write the introduction, you definitely need an expert. The professional writers will make sure to have an outstanding speech without any doubt. If you are facing any problem in starting or writing the paper, then Global Assignment Help is there for you 24*7. You can ask for assistance at any point in time. So, make sure you go to a reliable website and get a satisfactory answer for assignment help and homework help.
Along with this, many guarantees are provided by the experts. Those are:
100% original work
Zero plagiarism
Privacy is guaranteed
Get the document before the deadline
So, after getting all these guarantees, you would not go anywhere else to take help. So, make sure you go to the Global Assignment Help website to get experienced and certified writers for your speech.
Lowest price
USD 7.13
Get A+ Within Your Budget!
24/7 Customer Support
100% Customer Satisfaction
No Privacy Infringement
Quick Services
Subject Experts
Innovative Documents
FREE Tools
To Make Your Work Original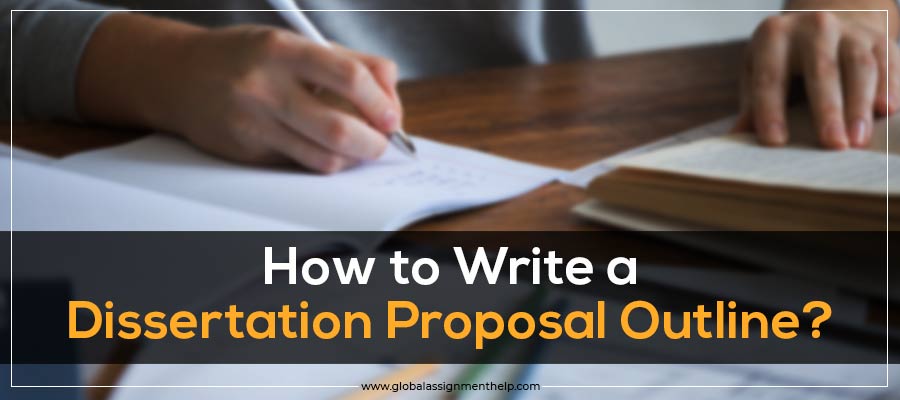 How to Write a Dissertation Proposal Outline? 5 Steps to Instant Approval!
04-01-2023
815
12 minutes minutes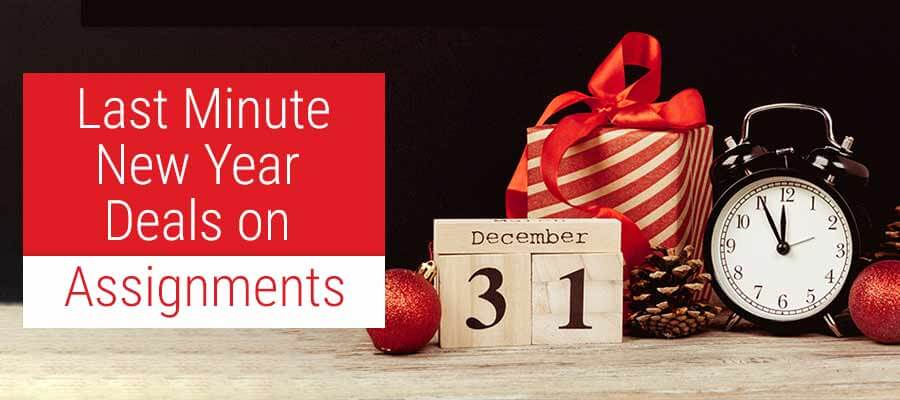 Exciting New Year Deals And Discounts on Assignment Help 2023
29-12-2022
840
5 minutes minutes