5 Mouth-Watering & Super Easy Halloween Dishes with Recipes
Table Of Contents
Who doesn't love Halloween? It is celebrated across the globe with tremendous joy. People come together to have fun by wearing different costumes, decorating houses in creepy style, and narrating horrific tales of ghosts and witches. And preparing mouth-watering & spooky delicacies is one of the essential parts of this celebration.
We understand that when the world is struggling with COVID-19 like a pandemic, celebrating Halloween is not like every year. You have to maintain social distancing, weak masks, and follow a proper sanitization.
But, here is the good news!
You can plan a small house party and invite some of your close friends and prepare some spooky delicacies to enjoy Halloween 2020 eve with unforgettable memories. To help you with the preparation, here we are presenting 5 mouth-watering dishes with recipes that you must try.
5 Quick & Lip-Smacking Halloween Recipes
1. Ghost Cake
C'mon, it's Halloween. People are out to have fun and make scary memories, and having ghost cake on your dining table can play a significant role. It is super tasty and looks scary to eat.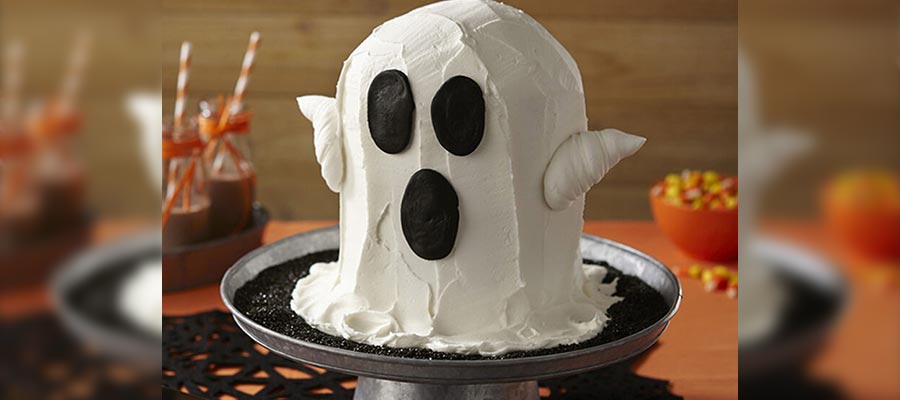 Check the ingredients and directions to make the cake as mentioned below:
Ingredients
For the Cake
Cooking Spray
2 Cups All-purpose Flour
3/4 Cup Unsweetened Cocoa Powder
1 tsp.Baking Soda
1 tsp.Kosher Salt
1 CupHot Coffee
1 Cup Granulated Sugar
1/2 Cup Packed Brown Sugar
3/4 Cup Vegetable Oil
1/2 Cup Sour Cream
For the Ghost Meringues
1/4 Cup Granulated Sugar
1/4 Cup Powdered Sugar
4Large Egg Whites
1/4 tsp.Cream of Tartar
1/2 tsp.Pure Vanilla Extract
For the Ganache
1 Cup Chocolate Chips
1/2 Cup Heavy Cream
Buttercream
Directions
Step 1: Preheat oven to 250°. Line two 6" cake pans with parchment and grease with cooking spray. In a large bowl, whisk together cocoa powder, flour, salt, and baking soda.
Step 2: Take a big cup, whisk hot coffee and sugar. Now, you need to add oil and sour cream and whisk to mix it up. Add some dry ingredients and whisk until they get mixed.
Step 3: Pipe ghosts onto prepared baking sheets by piping a big circle, lifting slightly and piping a slightly smaller circle, then lifting slightly again and piping another slightly smaller circle.Bake meringues until the boundaries are hard, 1 hour and 30 minutes. Let it cool completely.
Step 4: It's time to unwrap the cake layers and, using a serrated knife, level tops of cakes only if needed. Place one or maybe two layers on a serving platter and spread about half of the frosting on the top with an offset spatula. If you have placed the second layer - frost tops and sides with remaining frosting. Use a bench scraper to smooth sides and top.
Step 5: Pour about 3/4 of the Ganache onto the top of the ghost cake and use an offset spatula to smooth the Ganache. Gently push it to the edges of the cake and help guide the chocolate to drip down. You can always consider adding more Ganache as needed. Arrange ghost meringues on top of the cake.
You're Done!!
2. Bloody Mary Syringes
It is apparent that no Halloween party is complete without a little blood, right?
Making bloody mary syringes is easy when you have the following ingredients.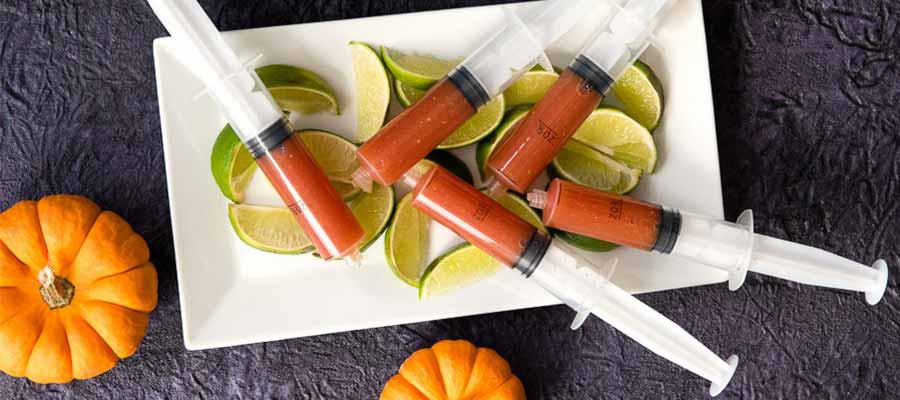 Ingredients
2 Cups of Tomato Juice
8 oz. Vodka
2 tbsp. Worcestershire Sauce
1 tbsp. Horseradish
2 tsp. Hot Sauce (such as Tabasco)
Juice of 1/2 a Lemon
Freshly Ground Black Pepper
Directions
Step 1: In a large bowl or cup, combine vodka, Worcestershire, tomato juice, horseradish, hot sauce, lemon juice, and pepper. Whisk to combine.
Step 2: Now, fill the paste in syringes. Serve cold.
Your bloody mary syringes are now ready.
3. Spooky Fingers
Inviting your friends over Halloween party and offering spooky fingers to eat is the best way to scare them. It is easy to made and require very less ingredient.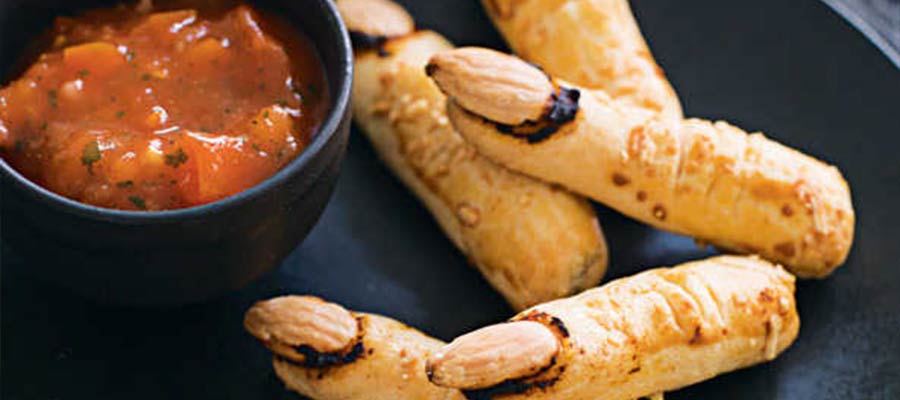 Ingredients
8 oz.White Chocolate
20Pretzel Rods
20Pepitas (Pumpkin Seeds)
Directions
Step 1: You need to line a cookie sheet on a waxed paper. Place chocolate in a spacious microwave-safe bowl or cup. Microwave on high in 45-second increments until almost melted, stir occasionally until smooth.
Step 2: Holding 1 pretzel rod at a time over the melted chocolate, spoon some chocolate over pretzel to coat, leaving about 4 inches at one end. Carefully place on a prepared cookie on the sheet. Immediately press 1 pumpkin seed onto coated tip to resemble a fingernail. Repeat the process with the remaining ingredients.
Step 3: Refrigerate 20 minutes to set chocolate. Fingers can be kept at room temperature in an airtight container for up to 3 weeks.
These steps help you prepare the best spooky fingers.
4. Pizza Skulls
No one on a planet Earth dislikes pizza. If you are reading this, you must be craving for it too. But, having a pizza in the shape of the skull is something you haven't heard of.
Does this ring a bell? If yes, and want to know how to make a pizza skull, then know its ingredients and directions to make.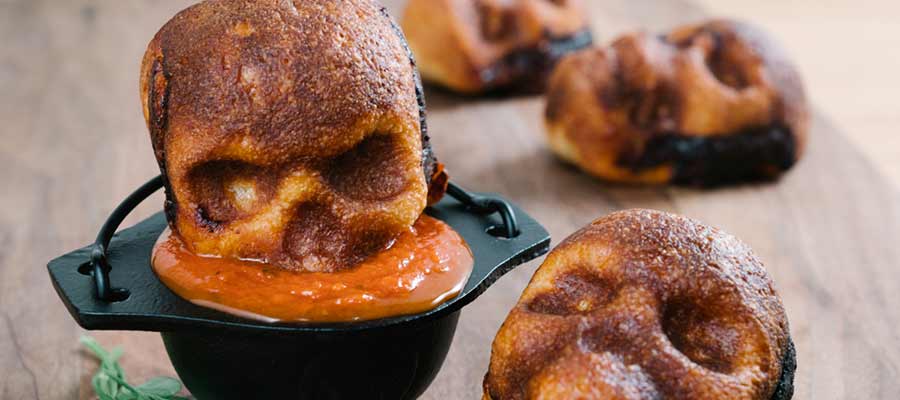 Ingredients
1(13.8-Oz)Can Refrigerated Pizza Dough
6tbspPizza Sauce
1½CupsShredded Mozzarella Cheese
¼CupCooked and Crumbled Italian Sausage
24SlicesPepperoni, Chopped
Directions
Step 1: Preheat oven to 350ºF. Spray skull the cake pan with a cooking spray and set it aside.
Step 2: Unroll pizza dough and press hard into a 20×15-inch rectangle. Cut into 8 strips. Drape the each strip into skull cavity.
Step 3: Sprinkle with a little cheese, top with 1 tsp of hot sauce, 4 pepperoni slices and some crispy sausage. Top with the left cheese. Now, you need to fold the entire dough over and press seams to seal.
Step 4: Bake the dough for 23 to 25 minutes, or until golden brown.
Here you go, you have a delicious pizza ready.
5. Halloween Marshmallow Spiders
Offering a welcome drink at Halloween party is a must. Have you ever thought of topping your mug with a spider? Never, right?
Now, you need to think again because when you know that preparing a dish called Halloween marshmallow spiders is easy, you will get scared! (Haha, kidding your friends will love it.)
Want ti know about the ingredients and how to prepare this dish? Scroll down.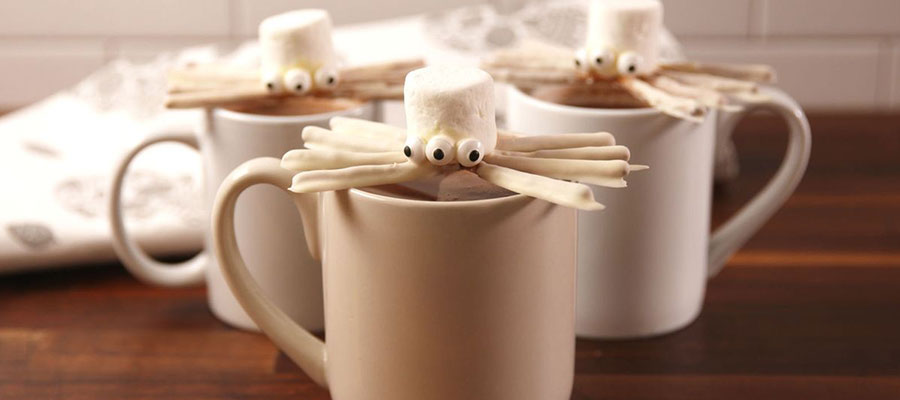 Ingredients
6 Marshmallows
48 Pretzel Sticks
1 Cup White Chocolate, Melted
1 tsp.Coconut Oil
18Candy Eyes
Hot Chocolate for Serving
Directions
Step 1: Line a small and thin baking sheet with parchment paper
Step 2: In a small cup, microwave white chocolate in 45-second intervals on low until completely melted
Step 3: Dip 8 pretzels in the white chocolate and place on the baking sheet like spiders' legs, four on every side, and meeting from the middle. Dip one side of the marshmallow in the chocolate and place your three candy eyes in a line, using the chocolate as a glue.
Step 4: Dip the bottom of a marshmallow in the white chocolate and press hard into the pretzels where all of their ends meet, joining them.
Step 5: Repeat the entire process with the remaining ingredients. Place the dish in the freezer to harden, 10-15 minutes.
Here you go, your dish is ready. Top the welcome drink with these spiders.
These are a few of the many lip-smacking and spooky dishes that can be prepared easily and will surely amaze your friends at Halloween 2020 eve. They will help in making your evening the best. However, to save the next morning, you have to spare some time.
Wondering what is all this about?
Amid all the happiness, you may have forgotten that your university assignments are still pending. Don't worry; there is nothing to fear when we are here - Global Assignment Help writers are dedicated to delivering top-notch quality work right on time to get you your desired grades. If you are thinking that relying on our expert writers is of worth or not, then go through the succeeding section now.
How Our Writing Services Can Add More Fun to Your Halloween 2020?
If you are worried about your university assignments, then don't ruin your Halloween 2020. All you need to do is spare a few minutes before the party begins and place your assignment order with us. You must know that enjoying life with friends is also important, which you should not sacrifice due to the assignments. We understand that your grades and overall academic performance will get affected if you fail to submit the assignment on the promised date. Due to this reason, we always act as a helping hand to provide you with the best document at the lowest prices.
Global Assignment Help is a world-class writing service provider across the globe. Students from different corners of the world seek assignment help from us. It is because not only we provide quality work but also offer numerous features, which are as follows.
Free Unlimited Revisions
100% Confidentiality
100% Ownership
Money-Back Guarantee
Guaranteed A+ Grade
Authentic Work
Free Plagiarism Report
On-Time Delivery
Our customer representative team works 24*7 to be at your service whenever you need us. No matter how complicated your topic is, we will write a class-apart document for you.
Have a word with us and know more about our top-notch academic writing services!
Check out Offers on this Halloween.
Lowest price
USD 7.13
Get A+ Within Your Budget!
24/7 Customer Support
100% Customer Satisfaction
No Privacy Infringement
Quick Services
Subject Experts
Innovative Documents
FREE Tools
To Make Your Work Original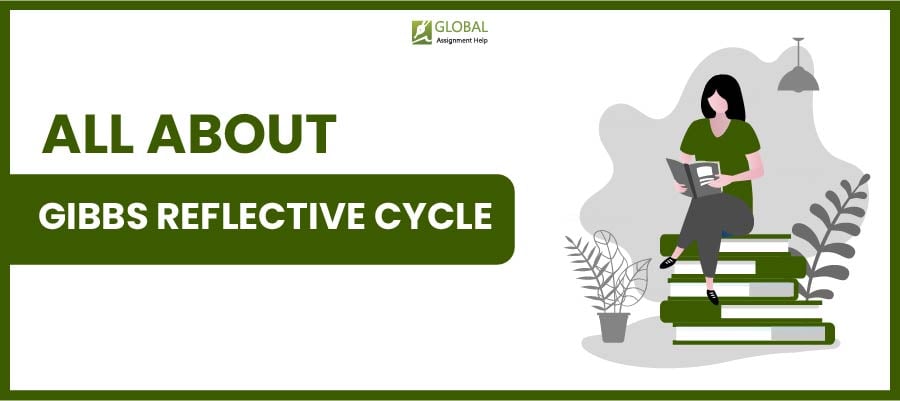 What Is Gibbs Reflective Cycle in Nursing? An Expert Overview
21-08-2023
1796
13 minutes