7 Most Sough-After Nursing Career Specialties You Can Opt For
Nursing has become one of the most sought-after career options for individuals who desire to support people and care for them in times of need. The professionals working in this field are on the front line of administering and evaluating a patient's treatment and can be considered as the heart and soul of the healthcare system. With their knowledge and expertise, nurses understand the complications and implications of illness and provide invaluable care to patients.
The nursing field has seen incredible growth in recent years, and it is expected to continue for the foreseeable future. And that's why the demand for nurses is continuously increasing, and the career prospects are getting exciting. So, if you're intrigued to make a career in nursing, then you should go for one of the specialties listed below:
1. Neonatal Nurse
Neonatal nurses work with infants and provide extensive care for premature or ill newborn babies, most often in a neonatal intensive care unit (NICU). However, they also work closely and effectively with nurses and doctors from other specialties. To work as a neonatal nurse, you at least need a bachelor's degree in nursing and also some specialized training and significant experience in working in neonatal units. You can expect an average salary of $65,000.
2. Nurse Midwife
It is a type of advanced practice registered nurse who provides support and care for mothers and expecting mothers. Nurse midwives also perform births, and work with mothers before, during, and after childbirth to ensure their good health and their child's well-being as well. To become a nurse midwife, you should have many years of experience as a nurse, and a master's degree in nurse-midwifery. The average salary can be $79,000.
3. Clinical Nurse
Clinical nurses diagnose and treat patients who have severe health conditions in most cases. Many of the patients have chronic illnesses, such as heart and lung disease, cancer, or many others that require specialized care. To be a clinical nurse, you need to have a BSN, and also an MSN. You must also have specialized clinical nurse training. The average salary can be $67,000.
4. Critical Care Nurse
Critical care nurses work with patients with serious health conditions in the intensive care unit, or ICU. They work in hospitals, nursing homes or hospices and spend most of their shifts in the ICU carefully observing the health status of patients. To work as a critical, you can have a BSN, but a higher degree can get you exciting opportunities and a salary up to $61,000 in critical care. You should also have at least two years of work experience in an ICU.
5. Dialysis Nurse
Dialysis nurses take care of patients with chronic kidney diseases who need dialysis on a regular basis to live a productive life. They help patients with dialysis, a process that removes excess water, solutes, and toxins from their blood using a machine. These nurses are pro at all kinds of dialysis, including hemodialysis and peritoneal dialysis. Dialysis nurses also provide extensive care and support to patients who recently had a kidney transplant. A BSN along with in-depth knowledge of nephrology and pharmacology is required. One can expect a median salary of around $64,000.
6. Nurse Anesthetist
Certified Registered Nurse Anesthetists (CRNA), or simply nurse anesthetists deliver and manage anesthesia procedures to patients in operating rooms, hospitals, and private practices. They are also responsible for carrying out complicated procedures, such as arterial line placement, tracheal intubation, mechanical ventilation, pharmacological support, extubation, and epidurals. To be a Nurse Anesthetist, you should get a master's degree in nursing and a minimum of one year of work experience in an acute-care setting. The average salary for this specialty is around $173,210.
7. Trauma Nurse
These types of nurses are always high in demand. They usually work in emergency departments, trauma facilities, and urgent care centers. Working as a trauma nurse is highly challenging since you will be the first person to treat a patient when he/she is rushed in from an ambulance. You will be expected to work for long hours and come across some serious injuries. If you are determined to become a trauma nurse, then you need to have RN with your BSN and an emergency nursing certification. One or two years of experience working in an emergency department or trauma center is also required. You may get an average salary of around $65,000.
If you've what it takes to become one of these specialized nursing professionals, then you should opt for it. These roles will provide you with valuable experiences and help you succeed in this field. In case you are struggling to compose your college papers, then seek help from our experts who have been providing nursing assignment help to students for many years. Contact us today!
Take help from these blogs
Reasons Why You Should Never Let Go of Your Dream
Reasons that Make Optimism a Necessity in Student's Life
Unbelievable Myths About the Saint Patrick's Day Celebration
Morning Habits You Should Know for a Happier Life
Lowest price
USD 7.13
Get A+ Within Your Budget!
24/7 Customer Support
100% Customer Satisfaction
No Privacy Infringement
Quick Services
Subject Experts
Innovative Documents
FREE Tools
To Make Your Work Original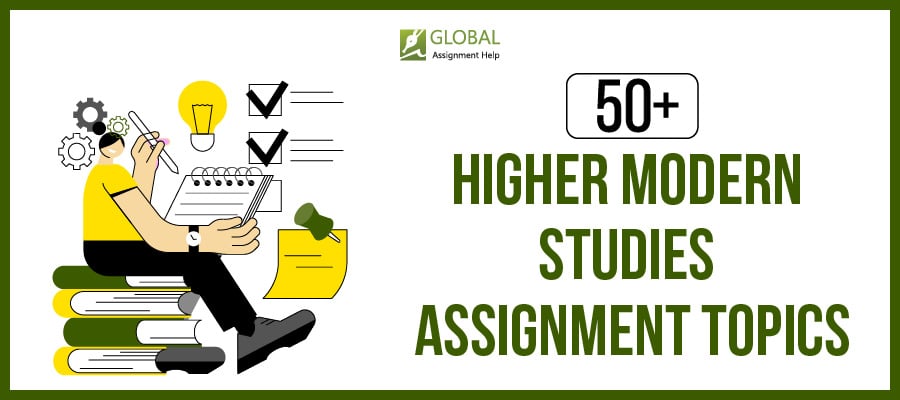 50+ Higher Modern Studies Assignment Topics to Ace Your Paper!
26-09-2023
117
13 minutes