7 Incredible Facts About Yoga That Everyone Should Know
Yoga is an old practice from India which helps in improving health. Lord Shiva is the supreme lord of yoga, as per the Hindu mythology. It uses various breathing techniques, meditation and exercise. According to a study, in 2008 around 16 million Americans practiced yoga and spent about 5.7 billion dollars in a year on it. Not only this, there are some more amazing facts about yoga that you should be aware of.
Increases lifespan
A person who practices yoga regularly lives longer as compared with an individual who doesn't practice it. Yoga helps in strengthening lungs and also benefits the heart.
Yoga is not only about Asana
There are eight branches of yoga that include Yama, Niyama, Asana, Pranayama, Pratyahara, Dharana, Dhyana and Samadhi. Asana is the third limb of yoga which consists of 84 classic asanas, referred to as postures. An individual who is doing yoga moves from one asana to another. For instance, there are twelve poses of asanas in sun salutation (also known as Suryanamaskar) which help to balance human body and soul.
Oldest yoga instructor
An 85-year-old lady Bette Calman from Australia holds the Guinness World Record on her name for being the oldest yoga instructor.
Banned in Malaysia for Muslims
Yoga is prohibited for Muslims who live in Malaysia as they believe that yoga practice doesn't go with their culture. The top Islamic body in this country claims that the elements of Hinduism in the ancient Indian yoga could corrupt them.
Reduces the risk of heart disease
According to many studies, practicing yoga regularly brings a deeper awareness of the mind, body, and emotions allowing the person to become more in tuned with his/her mental and physical health.
Yoga reduces blood pressure, treats diabetes, builds cardiovascular health, expands lung capacity, and boosts respiratory function and even minimizes the risk of asthma attacks.
Yoga for dogs
'Doga' is yoga for Dogs and was started in the year 2002 by Suzi Teitelman in New York. People practice this to secure a bond and connect better with their dogs. They use their pets as a prop during stretches or help them in their own poses.
Yoga is not a religion
Yoga is a science of well-being, integrating mind, body, soul and youthfulness. It helps people to find spirituality and is being practiced by a large number of individuals from different religions.
These are a few interesting facts about yoga. The popularity of yoga has been increased in the last few decades. Not only its benefits have been proved by research, but also many celebrities and professionals have recently adopted this practice. Yoga involves all aspects of lifestyle such as diet, mental attitude, choices in life and philosophical studies. If you've found this blog useful, then do share it with your loved ones.
Global Assignment Help is one of the leading assignment writing service providers and has assisted many college students with their academic writing tasks. We provide world-class services to the scholars based in the UK, US, Canada, Australia, Malaysia and New Zealand. If you are seeking help in completing your assignment, essay, dissertation, coursework, homework, report and presentation, then you can contact our team right away and get assured of securing top-notch grades. Hurry up! Call us now and avail amazing discounts and offers.
Lowest price
USD 7.13
Get A+ Within Your Budget!
24/7 Customer Support
100% Customer Satisfaction
No Privacy Infringement
Quick Services
Subject Experts
Innovative Documents
FREE Tools
To Make Your Work Original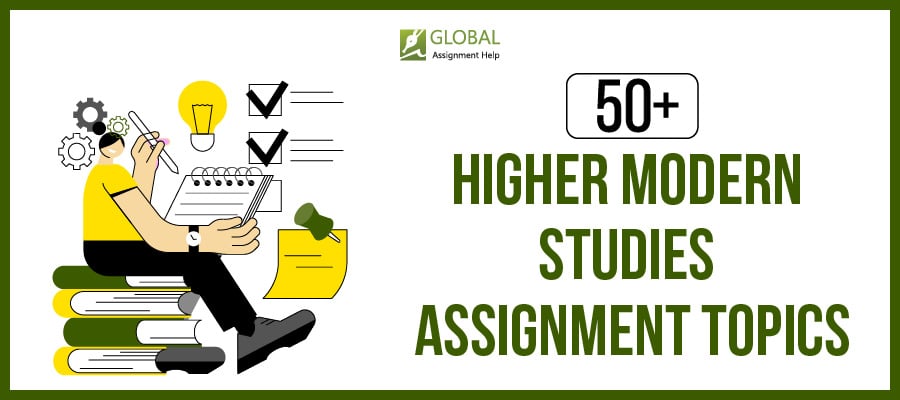 50+ Higher Modern Studies Assignment Topics to Ace Your Paper!
26-09-2023
161
13 minutes