How to Improve Your English Communication Skills?
Many college-goers, especially those who have English as a second language find it difficult to communicate properly. If you face the same problem, then let us tell you that learning English is not that tough, and you really need not mug up all the tricky grammatical rules. There are plenty of things that you can practice on a daily basis to enhance your linguistic skills, many of which can actually be a lot of fun. Here we have enlisted a few handy tips for the same:
1. Think in English
The most difficult part of communicating in a new language isn't speaking or writing in it, but creating your ideas. Most of you might think in your native language and then translate it to English. But translating isn't that easy as you might have noticed that many terms from your vernacular do not match a proper word from the English dictionary. So, even people fluent in two or more dialects have trouble switching between them.
The solution is to think in the language you're trying to learn. Try to use English when you are planning something in mind or thinking about a situation.
2. Talk to yourself
Practice soliloquy whenever you are alone. Speaking to yourself in English when there is no one to point your mistakes will help you become more comfortable in speaking the language. Moreover, take a few minutes every day to stand in front of the mirror and speak. This will help you improve your pronunciation and body language. While trying the mirror exercise, try to speak without stopping or pausing between words the entire time.
3. Read English books/newspapers
Reading is the best way to learn a new language. But you need not read the books on grammatical rules, rather pick something interesting such as a fiction or an autobiography. If you are a beginner, then it's best to start with reading a newspaper as it uses simple language. While reading anything, focus on the sentence formation, use of phrases, conjunctions, and prepositions.
4. Listen and repeat
Watching TV shows or YouTube videos in English is a good way to improve your verbal fluency. While watching something focus on the pronunciations and body language. Listen to where the speakers place the emphasis when they speak, and try to mimic. Also, choose a short part of a show and try speaking it line by line.
5. Make notes of new vocabulary
Whenever you come across a new word while reading or watching videos, make sure you make a note of it. Learn the meaning, pronunciation, and usage of those words in different contexts. It's also worth making a note of the translation into your own language.
6. Learn phrases
You might be using correct grammar, syntax, and vocabulary, but your language would still not sound impressive like a native speaker. One good idea is to learn the phrases and expressions that will be helpful for sounding more natural when you speak. Learn the most commonly used phrases and words in English.
7. Practice
You might have developed a good command of grammar and vocabulary, but this is a passive knowledge that must be activated somehow. Practice is undeniably the easiest way to learn and improve your English communication skills. Writing is one way of practicing a language; it may help you get used to and reflect on the ways it operates, which, in turn, prepares you as a better orator.
It's a well-known fact that different people are compatible with different learning methods. So, it might be possible that not everything from the list will work for you, but if you practice these techniques in your day-to-day life, then you'll certainly see improvements. In case loads of academic projects are impeding you from practicing these tips, seek help from our assignment writing experts. We have professional academic writers for different subjects to help you with high-quality assignments that too at reasonable prices.
Read these blogs
Why Is Taking Criminology Assignment Help Important for Students?
Prewriting: Developing Logical Ideas for Academic Writing
Top 4 HR Assignment Challenges and How We Help Them Overcome
How Have Universities Across the World Changed Over Time?
Lowest price
USD 7.13
Get A+ Within Your Budget!
24/7 Customer Support
100% Customer Satisfaction
No Privacy Infringement
Quick Services
Subject Experts
Innovative Documents
FREE Tools
To Make Your Work Original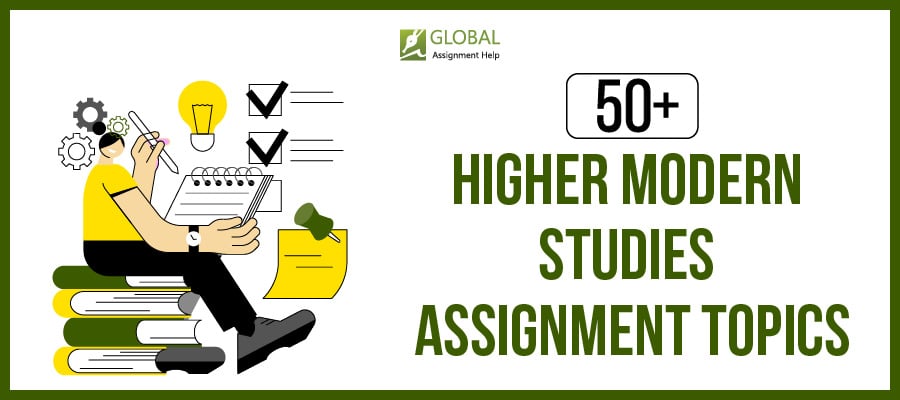 50+ Higher Modern Studies Assignment Topics to Ace Your Paper!
26-09-2023
127
13 minutes