3 P's to Write a High-Quality Assignment
You are expected to write the assignments on different topics in your academic career. Each assignment needs different concepts, aspects, and structures to make it perfect. You need to give your valuable time for collecting relevant data in a short time frame. If you are running out of time and unable to draft the papers, you can take online assignment writing help from our expert professionals.
If you have proper guidance and assistance, you can develop a high-quality assignment with unique concepts. We at Global Assignment Help provide reliable writing guidance to make you achieve top grades. A top-quality assignment needs three 'P's i.e. Planning, Presentation, and Perfection. This blog unfolds three essential tips for assignment writing that is provided by our professional experts:
1. Planning: You may not write the well-structured assignment without knowing the motive of it. First try to know that what the essay or assignment is asking you to do. When you have understood the purpose of the argument, it's time to do planning.
Make a list of your all important tasks and work out priorities among them.
Set targets for each priority and keep focused for that.
Organize your time to draft the papers before deadlines.
You must have proper plan to collect the needed information for your papers:
Ask yourself "How will I collect all relevant data?
You can become more productive when you have right plan and organization. You can start researching after all preparation. Go to the library and make the notes or you can also get the relevant information on the Internet.
2. Presentation: When you have collected the raw material, it's time to start writing.
You can use your notes to sketch out the main points you need to cover in your papers.
You should use maps, diagrams to make it more engaging.
Avoid repetitive and confusing words, and try to write with a good flow.
Divide your essay or assignment in a different section, and write it in the most logical way.
The assignment is all about presentation, so your documents must be represented well with the correct format.
3. Perfection: You must draft the documents with perfection and without any error. You should give enough time to edit and revise after you have finished writing the papers.
Always double check all the documents to ensure that you did not miss any significant detail.
Make sure that your content is plagiarism-free.
Check spelling or grammatical errors and correct them.
Always review that all your references are included correctly.
You must create a balance between argument and relevant details in your essay and assignment. Remember that your every document must be written with unique and genuine details.
Our intention is to help numerous students worldwide through effective and accurate work.
If you are running short of time and looking for a trusted assignment or essay writing service, you have landed at the right place. We at – Global Assignment Help provide certified professional writers to offer reliable assignment writing help. Moreover, we offer free paper reports with 100% non-plagiarism guarantee.
Lowest price
USD 7.13
Get A+ Within Your Budget!
24/7 Customer Support
100% Customer Satisfaction
No Privacy Infringement
Quick Services
Subject Experts
Innovative Documents
FREE Tools
To Make Your Work Original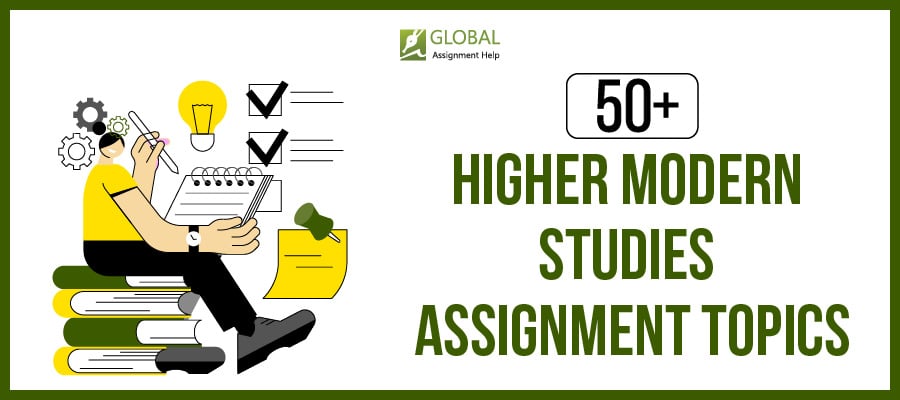 50+ Higher Modern Studies Assignment Topics to Ace Your Paper!
26-09-2023
119
13 minutes