Success Guide For Every HR Professional
Let's face it, Human Resource is never a comfortable career option. To start a career in human resource, first, one has to be a people's person and secondly, he/she should enjoy helping others. But this is not all, as the above-mentioned reasons are maybe sufficient for a starter but not good enough to be great in this segment.
After deep analysis and understanding of the HR field, we have listed a few reasons about what it takes to be successful in this profession.
1.Be a strategic planner
For every organization, it is important to have HR leaders who can align themselves with the company's goals by understanding and provide support to the system.
Human Resource of any company is much more than a department. These people are responsible for taking decisions on behalf of the team for the welfare of the organization. For taking important decisions, an HR professional should be very efficient in decision making and strategic planning as well.
2.Improve your communications skills
There is a thin line difference between a good professional and a great leader, and the difference is their ability to talk with others. An HR is considered as the voice of the team in the organization, so it is vital for every Human Resource professional to have excellent communication skills.
They should easily communicate with their co-workers and bring out necessary changes with decision-making within the company.
3.Learn to have an influential character that can change lives
A great HR is responsible for imparting a profound positive influence on the team. (S)he should constantly work for the employee's welfare and understand the needs of the organization.
Moreover, a human resource professional should also carry out interesting activities that can help to encourage the employees. They should be active in arranging games, inspiring lectures or job training that can help the co-workers to grow professionally.
4.Become tech-savvy
There are numerous technology gadgets and applications that can help to improve the effectiveness of an HR. Every HR professional can use these applications to articulate their ideas and to make the team participate in the decision.
Other than this, they are also responsible for tracking the employee's presence and making decisions regarding the salaries of the employees. Even for such purposes, they should know how to make use of applications such as HR information systems and employees tracking systems, etc.
5.Learn to be flexible
As an HR you are expected to be highly active and curious to discover new things on a regular basis. You should not be a conventional person who loves comfort. An HR should learn new things to match the pace and volume of change throughout the industry. With the constantly changing world, the static policies that you must have learned in the past need updating.
Also Check: Cheap Resume Writing Services
Therefore, as an HR you should be a wise change master; you are on a platform where you need to study, lead discussions and influence changes. To make important decisions, you will need to have an open and flexible mindset which is required to manage all the important stuff in the organization. Be a great leader and inspire your fellow mates.
If you are looking forward to a successful leadership position in an organization with having a lot of responsibilities, then you are probably a good candidate for an HR degree.
Do you wish to be a successful HR professional? If yes, then try to adapt these simple habits & learn about the functions of human resource management which will help you to be successful in your career. Following these simple guidelines will help you to grow your interpersonal skills and you will notice that people, especially your managers and co-workers are appreciating your presence.
An HR degree offers great career opportunities and salary. It is usually the combination of coursework, examinations and a lot of assignments throughout your college life. Students find it really difficult to cope with all these academic documents and often look for a reliable help.
If you too are stressed about drafting your academic document, then look no further and connect with our professionals. The well-versed writers of Global Assignment Help provide HR assignment help to all the students who are looking forward to a successful career with their HR degrees.
Lowest price
USD 7.13
Get A+ Within Your Budget!
24/7 Customer Support
100% Customer Satisfaction
No Privacy Infringement
Quick Services
Subject Experts
Innovative Documents
FREE Tools
To Make Your Work Original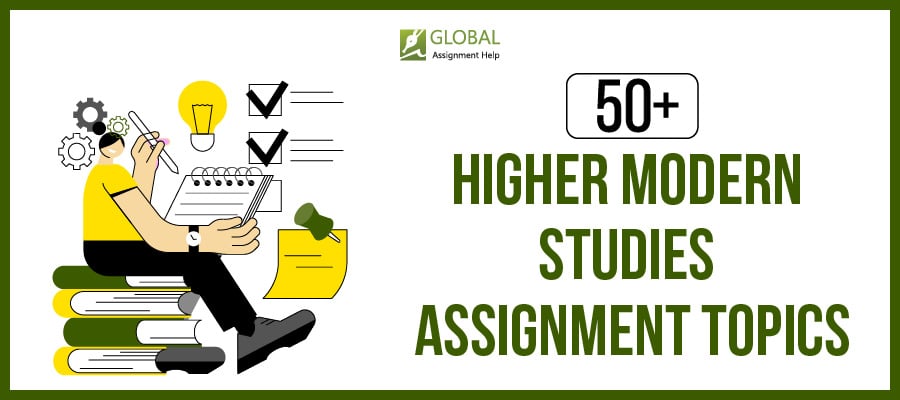 50+ Higher Modern Studies Assignment Topics to Ace Your Paper!
26-09-2023
117
13 minutes